Contents
---
---
One of the most beautiful wedding traditions is to shower newlyweds with flowers, coins, rice, sweets and other elements symbolizing wealth, love, prosperity. Nowadays, you can see friends or relatives showering newlyweds, and the most popular material for this tradition is rose petals for a wedding. Bringing such jewelry, those present wish the newlyweds to love each other forever, because a rose is a symbol of love and fidelity.
Varieties of rose petals
Rose buds can be both live and artificial. It is problematic to purchase a large number of petals, because you need to agree in advance with sellers in flower shops, and it is not a fact that the desired number will be collected by the scheduled date. Therefore, wedding planners prefer to buy silk counterparts, which are almost no different from natural ones in quality, do not stain clothes, and are stored indefinitely. Watch in the video how artificial rose petals look beautiful and bright at a wedding:
How to use rose petals at a wedding?
There are a large number of options for using natural or artificial rose petals, and we will consider the simplest in execution. So, you can decorate with petals:
Banner with lined and glued hearts or cupids.
The arch of the house in which the bride lives.
Doors to the apartment of the beloved.
Lawn lawns on which any inscription or ornament can be laid out with flowers.
Wedding table decoration with rose petals
A wedding table decorated with flowers is elegant and luxurious. The decoration can be very diverse: from decorating dishes with rosebuds, to randomly scattering petals around the table. Cake newlyweds, decorated with rose petals, will be the pride of the bride and groom and the main decor of the banquet table. This is the simplest and most successful wedding banquet decor solution..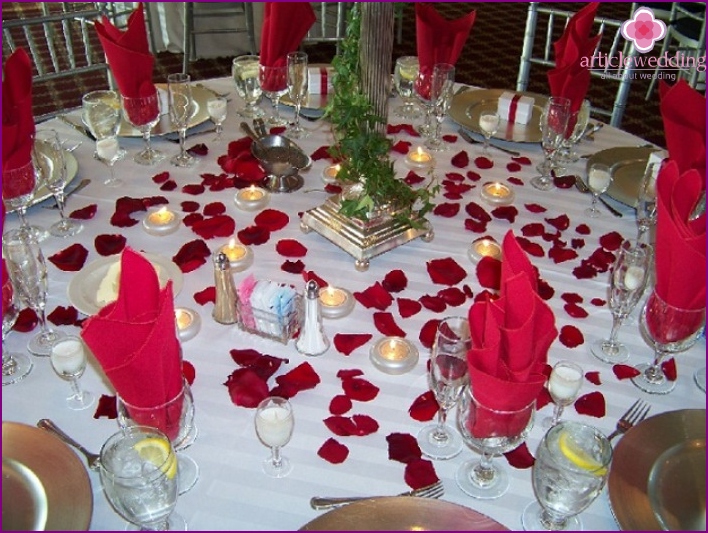 Artificial petals for the decor of wedding cars
To decorate a wedding procession with silk rose petals is an original idea. They are ideally combined with all wedding decor: ribbons, balls, tulle, dolls, brides. When decorating a car, it is advisable to follow a simple rule: if the car is dark in color, then it is better to choose light petals, and vice versa, when the car is white, then artificial decorations should be darker. This decor looks chic, especially since the silk rose petals on a car cannot be distinguished from real ones.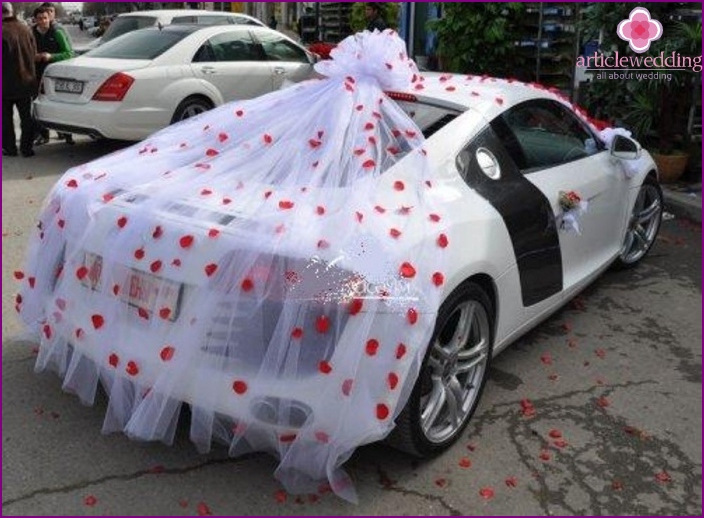 Showering young rose petals
The ceremony of showering the newlyweds at the wedding with flowers came to Russia from the West. It is quickly and firmly rooted in our country thanks to its beauty, simplicity and sophistication. Those present shower the bride and groom with rose petals:
upon exiting the registry office;
at the entrance to the banquet hall;
on a wedding walk;
on photoshoot;
when the groom carries the bride in her arms from her parents' house.
As a rule, friends or relatives of young people are engaged in shedding newlyweds, but you can entrust action to small children. This will cause emotion among those present and give the kids pleasure. The tradition will look stylish if you dress the children in identical clothes and add coins, rice, millet or other attributes to the colorful petals, symbolizing well-being, health, well-being at the wedding.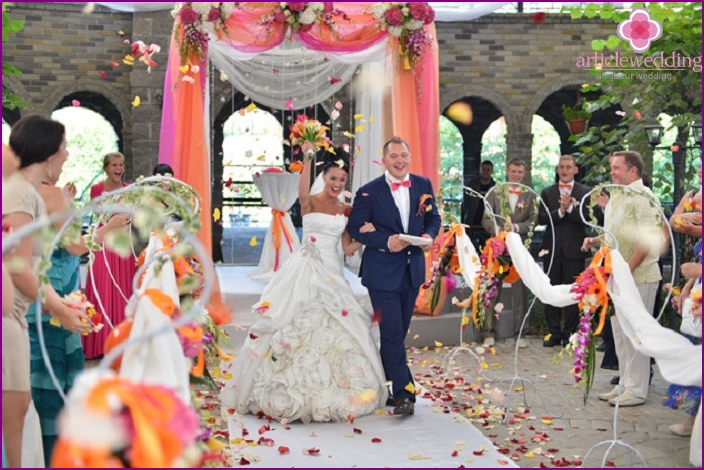 To decorate the newlyweds bedroom
Most couples prefer to spend their wedding night in the penthouse of a fashionable hotel where staff always decorates the newlyweds' bed with rose petals. But if the young ones decided to spend the main night in their life at home, then filling the bedroom with a loving atmosphere of romance is easy on their own with the help of artificial roses, colorful petals, unblown buds and aromatic oils.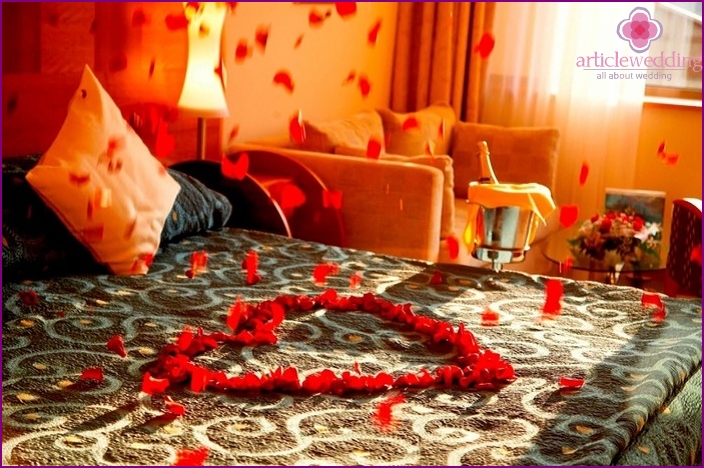 For a wedding photo shoot
After the wedding, the newlyweds for many years looking excitedly at the pictures captured on the day of the celebration. They reflect the magic of lovers' views and the magic of the holiday, especially if shot by a professional photographer. To conduct a wedding photo session, masters of their craft always use rose petals, skillfully combining them with other bright accessories: flying fabrics, ripe fruits, musical instruments and a variety of unexpected objects that look unusual and original on wedding photos.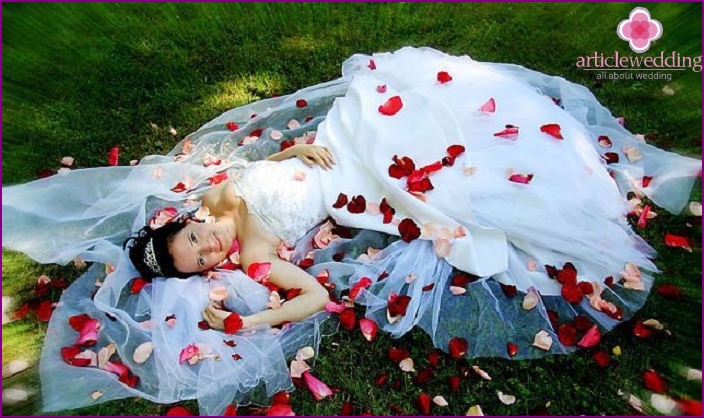 Where can I buy rose petals?
Silk rose petals for a wedding can be purchased at any online store that sells wedding accessories. A variety of color schemes of this decor for a wedding is amazing, therefore newlyweds prefer artificial flowers. After all, they will not suffer during rain or snow, they do not need to be stored in the refrigerator, and you can buy even six months before the appointed date.
Recommendations for the purchase of live rose petals
If the newlyweds nevertheless decided to buy live rose petals in the flower shop, it is better to order them in advance so that a sufficient amount is accumulated. You can also negotiate with special companies that organize weddings on the delivery of rose petals on a specific day and time, but this service will cost much more. On the Internet, you can also find such a service and pay in advance so that the courier delivers the order directly home.
How many rose petals are needed for a wedding
The number of petals needs to be ordered based on which objects will be decorated. For example, to decorate the interior of the bedroom of the newlyweds, you need about 30 roses. If you order only for showering the bride and groom when leaving the registry office, then in the flower shop you will be offered one plastic bag-shirt with live buds, and this amount is quite enough. To decorate the main wedding car, you need a very small number of buds, which you may well give away for free in any wedding salon.
How much to order and how long the petals are stored
You can order flowers for a wedding decor in 2 days, then they will retain their freshness by the appointed hour of marriage registration, only they need to be stored in the vegetable compartment of the refrigerator. If for some reason you were presented with a surprise - they brought live petals ahead of time, so that they do not fade for a long time, you can use the following ingredients to help:
semolina;
salt;
cardboard box.
For the preservation of live roses, at the bottom of the box, pour a layer of semolina about 6 centimeters, place the buds, and cover the groats with the same ball on top and close the box tightly with a lid. After a couple of weeks, the adhering groats should be removed with a brush and after this treatment the petals will remain fresh for a long time. Instead of semolina, many use table salt - the result remains the same.
Photo Ideas for Using Rose Petals for a Wedding
Rose petals are symbols of tenderness, romance, prosperity and love, therefore, at the wedding they try to decorate all objects. For example, the path on which the newlyweds will walk, decorated with flowers, looks very beautiful and extravagant. For its decor, you can use not only monochrome buds, but also a mixture of contrasting shades of flowers. We picked up photos of the best ideas for using rose petals at a wedding, we hope you find them useful.