Contents
---
---
A wedding is always a wonderful long-awaited event in the life of not only newlyweds, but also of their relatives, friends and relatives. On this magical day, two loving hearts move to a qualitatively new level of relations, create a cozy family union, which they plan to carefully preserve and develop throughout life. Preparation for this solemn event involves wedding chores, which inevitably take a lot of time, effort, energy. To minimize such costs, you should carefully consider in advance all the components of the upcoming event..
Submission of application to the registry office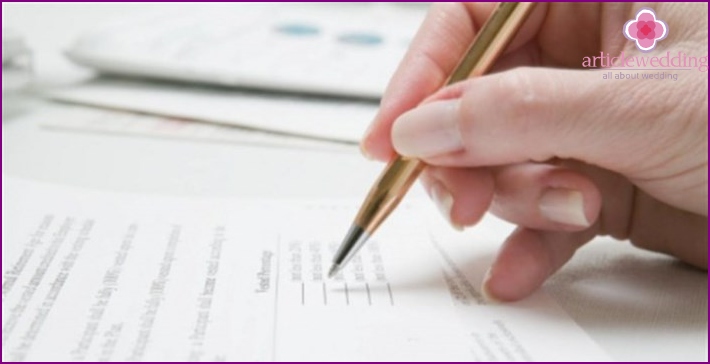 Pre-holiday chores primarily begin with the submission of an application to the registry office. It would seem that at this stage of planning the wedding, everything is extremely clear. However, filing an application for registration of marriage conceals several important nuances, the knowledge of which will help to avoid a young inexperienced couple of unforeseen troubles. Below are a few key points that newlyweds may face at this stage of preparation for the wedding.
The application to the registry office should be submitted no later than a month before the planned wedding celebration.
Keep in mind that on peak dates of summer and autumn there are practically no empty seats. As a rule, they appear miraculously only after a symbolic employee is offered a «thanks».
Often, young people directly in the registry office try to impose the services of a wedding photographer, videographer or host. Many even manage to frighten the fact that it is forbidden to enter the ceremonial hall with their specialists. Do not pay attention to such threats - they are absolutely groundless.
Budget planning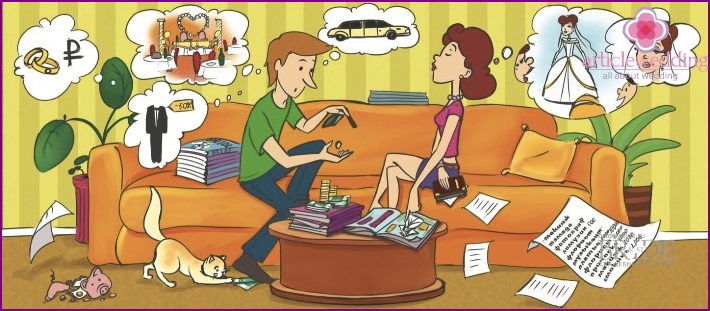 Budgeting is an integral part of the hassle associated with organizing a wedding celebration. A precisely calculated amount will help to avoid unforeseen expenses. This is the most unpleasant and time-consuming part of worries, which should be approached with particular care and responsibility. Planning your wedding budget, start by defining all the items of expenses that will be used to organize the celebration..
As soon as you calculate the approximate amount that will have to be invested in organizing a wedding event, start gradually phoning your options for wedding salons, ateliers, companies, restaurants. Then add about 10-20% to the resulting total amount - this will be a reserve for unforeseen expenses and troubles. Remember that only a precisely designed and carefully thought-out wedding budget can save you from unpleasant troubles in the future.
Wedding image of the bride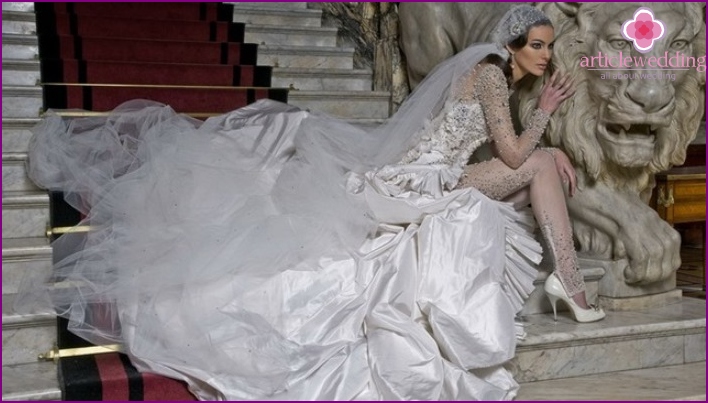 An integral part of the pleasant troubles is the preparation of the wedding image of the bride. Every girl wants to look perfect at her holiday, so she carefully thinks out not only the outfit, but also accessories, makeup, manicure, hair. Traditionally, the bride is the embodiment of tenderness, romance, beauty. However, modern bold young ladies often resort to vivid extravagant images, which also has a place to be, especially in the conditions of the existence of such versatile ideas about beauty in our days.
Wedding dress and shoes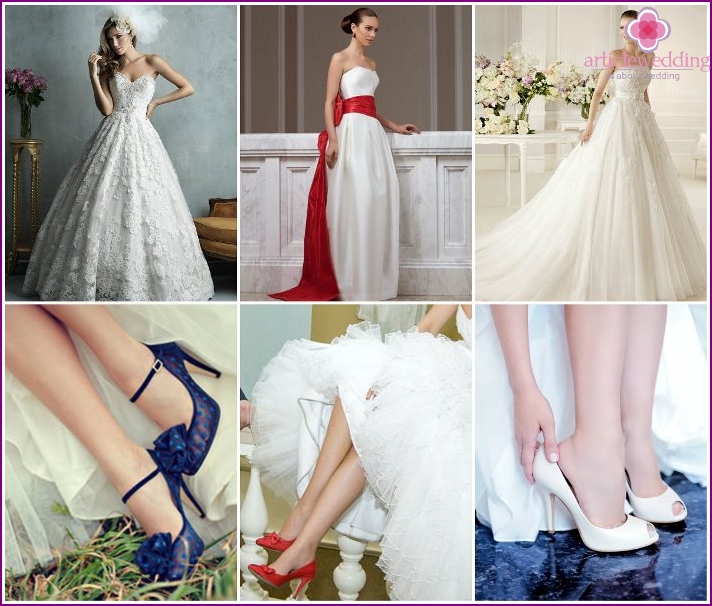 The choice of a luxurious wedding dress is one of the most pleasant moments in pre-holiday affairs. To look great, you need to carefully consider all the components of the image. The variety of various models offered by modern couturiers opens up an amazing choice for brides in which every girl can find the perfect option for herself.
Seductive fitting styles - the choice of slim long-legged beauties. Girls with magnificent forms should choose A-silhouettes or wedding dresses of a straight cut. The style with a fluffy skirt and a bow on the belt will help visually emphasize the slender waist, while hiding full or narrow hips. Particular attention should be paid to such chores as choosing clothes.
As for such hassles as finding the right wedding shoes, here every bride has the right to choose a model that matches her style and taste. Shoes should be in harmony with the dress, be as comfortable as possible. When choosing high hairpins, be sure to consider that you have to spend almost all day on them. If you can't deny yourself beautiful, but uncomfortable shoes, bring your replacement shoes with you to the restaurant, which will prevent unforeseen troubles.
Makeup and hairstyle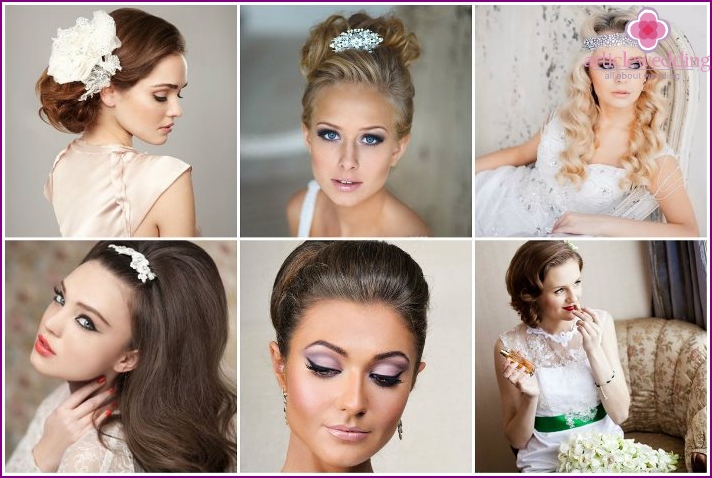 The wedding chores of the happy bride include the selection of suitable makeup and hairstyles. At a wedding ceremony or during a dance with her father, the hero of the occasion can be overwhelmed with emotions, so the makeup on her face should be waterproof. Give preference to soft pastel shades, because the bride personifies tenderness, charm. If you want to make a bright accent, highlight with red lipstick or black eyeliner.
The choice of styling is another part of pre-solemn cares. Wedding hairstyle should match the given style. The dress with an open back looks very impressive with the hair pulled back. The wedding toilet in retro style is emphasized by curls neatly laid on one side, complemented by a spectacular volume hairpin. Do not neglect the elegant ladies' hats - this season they are at the peak of popularity. The choice of hairstyles, dresses and makeup is a pleasant chore, so treat them with all your heart.
The bride's bouquet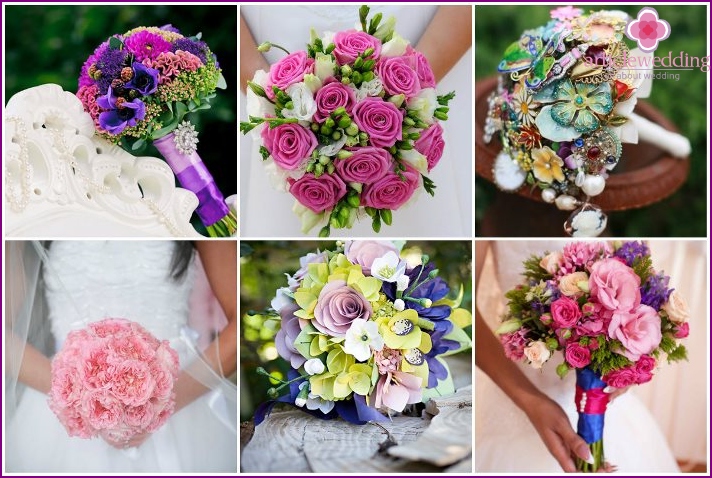 The bride's bouquet is another integral part of the wedding celebration and an important component of pre-holiday worries. Today, modern professional decorators and designers offer a rich assortment of all kinds of variations of floral arrangements for every taste and color. The choice of a wedding specialist is inextricably linked with pre-holiday chores. In addition, the bride needs to decide on a composition that is suitable in color and style.
Groom style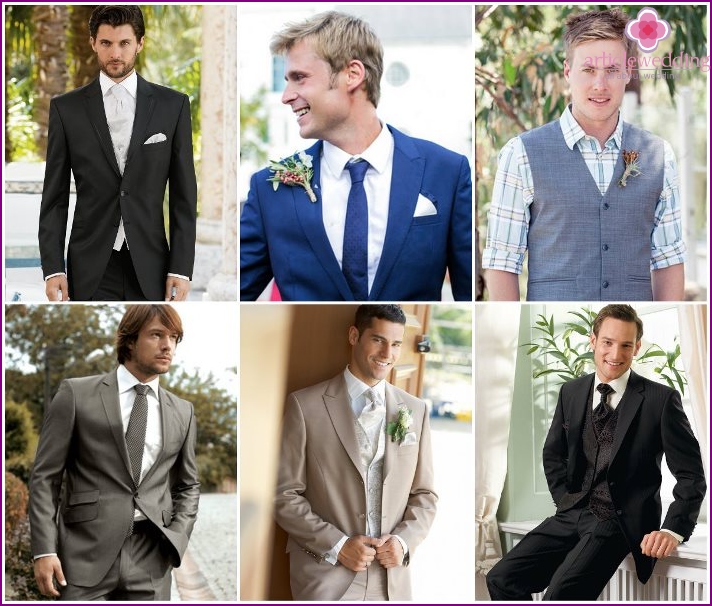 The pre-holiday efforts of the groom, as a rule, are limited to preparing a bachelor party and choosing a wedding attire. Here the hero of the occasion may prefer any type of costume: dress coat, tuxedo, three-piece suit or even trousers with a shirt and a fashionable vest. The main thing is that the wedding image of the groom is combined with the dress of the bride. It is important that the chosen wedding attire fits perfectly in the figure. Stylish jewelry in the form of a buttonhole, butterfly or pocket scarf will help to complement the suit..
Buying engagement rings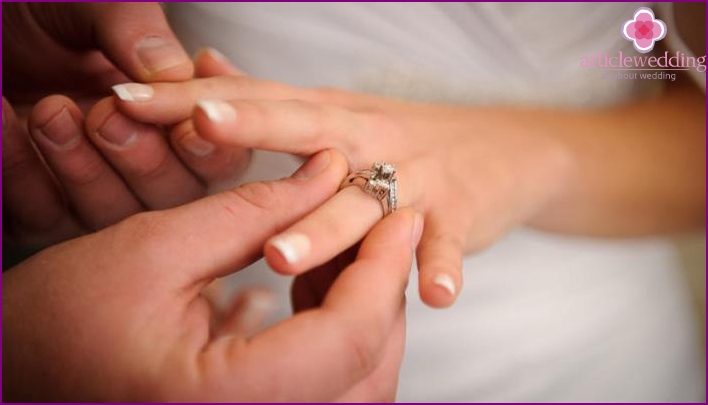 Exciting chores include buying wedding rings. When choosing symbolic jewelry, pay special attention not only to their appearance, but also to the metal or alloy from which they are made. Gold and platinum rings have always been especially popular. Silver products are less relevant, as they can be deformed over time, however, they are more profitable at a price.
The choice of wedding professionals
Concerns related to the preparation for the wedding event require a thorough search for responsible leaders and organizers who will not only provide invaluable assistance in planning the event, but will also be able to organize the entertainment program, including competitions, music. An important role in the festive chores is played by decorators who, with the help of thematic attributes, can create a romantic atmosphere.
To find a good specialist, a wedding agency or a professional host, you will have to cope with such troubles as studying a large amount of information presented in thematic electronic catalogs on the Internet. Carefully read the reviews about the wedding organizers you are interested in, find out during a personal meeting all the questions that concern you - this will help to be safe from the hassle that may arise in the future.
Banquet Organization
A festive banquet and its organization are a special part of the preparation of a festive event. Hassle in this case includes finding a suitable venue for the celebration, decorating the room, serving dishes and glasses, choosing cars, making a menu, planning the seating of guests, preparing many other related moments. This point of celebration should be approached especially carefully, responsibly. To minimize emotional troubles and time costs, it is not superfluous to turn to specialists for help.