Contents
---
---
Sometimes you want to celebrate the holiday so that it will be remembered for a lifetime! I want an unforgettable experience, romance, fun and comfort at the same time. More recently, a new service has appeared - comfortable club buses «Shikarus», it will allow you to combine all these wishes and organize a dream vacation for any person. With such a fun bus, you will spend an unforgettable holiday, fun and unlike previous.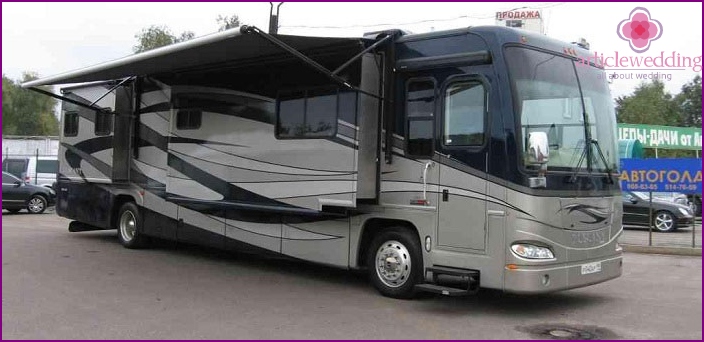 What is shikarus?
«Shikarus» - This is a comfortable tourist-type club bus, which has everything you need for life and celebrations of any duration. It is equipped as a living room, has large free areas and even slides - sliding walls that help to almost double the passenger compartment.
The club bus was named so because of its chic decoration - the interior of a comfortable passenger compartment resembles a famous limousine, only in bus dimensions. Club buses are a luxury that can be accessible to everyone, for this you need to order a suitable model of the car and enjoy a trip-party. Terms of operation are not limited. Driver services are provided. Such club caravans are a real find for lovers of spectacular, unusual, comfortable relaxation.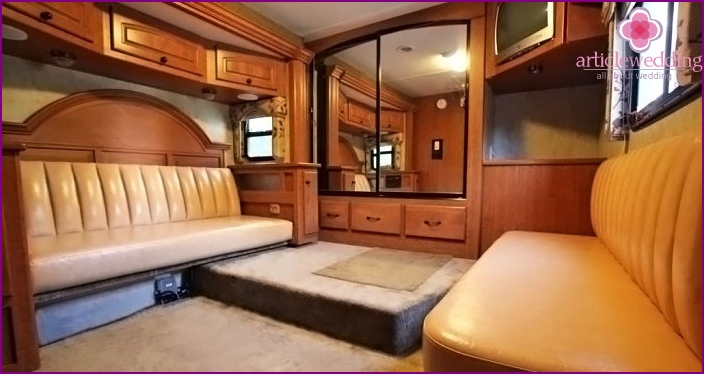 Club bus shikarus: description and photo
Shikarus is a club caravan with an internal area of ​​20-45 square meters. m, which is achieved by pushing the walls of the bus. The interior is divided into several parts:
Living room equipped with sofas, coffee table.
Lounge with leather sofas, mirrored wardrobe.
Buffet area with a bar, fridge, microwave, all necessary kitchen appliances.
WC, shower.
The club cars are equipped with climate control, water supply, television monitors, video players, sound equipment, additional lighting. Some copies are equipped with color music, karaoke, smoke machine, which will allow you to organize a high-class party.
Club cars come in several varieties:
Party - an option designed specifically for organizing parties: screens throughout the passenger compartment, the best equipment, light insulation, dance floor, lounge area, retractable walls, excellent air conditioning, light music, laser show.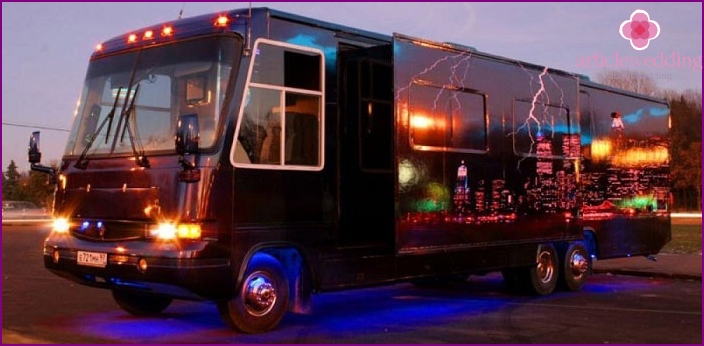 Limo - a limousine in the dimensions of the bus. It has smaller dimensions than other models, but the room for passengers is spacious and long (following the example of limousines). Glamorous decoration, excellent technical equipment make it one of the best options for holiday trips and gathering parties.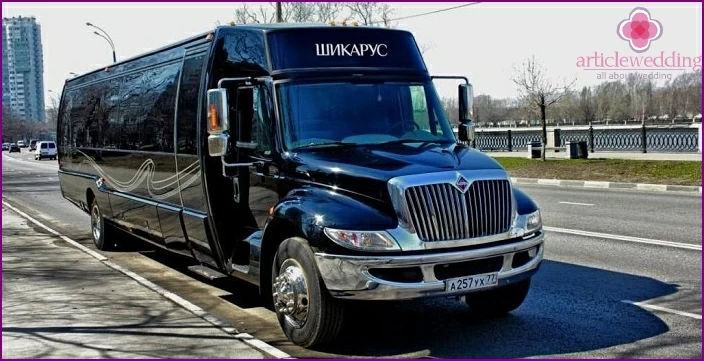 Comfort is an option for small companies (half as much as other models). Equipped with everything necessary: ​​a toilet room with a shower, a relaxation room, a buffet area with a sink, a microwave, a refrigerator, a water supply system, climate control, high-level equipment, an autonomous generator.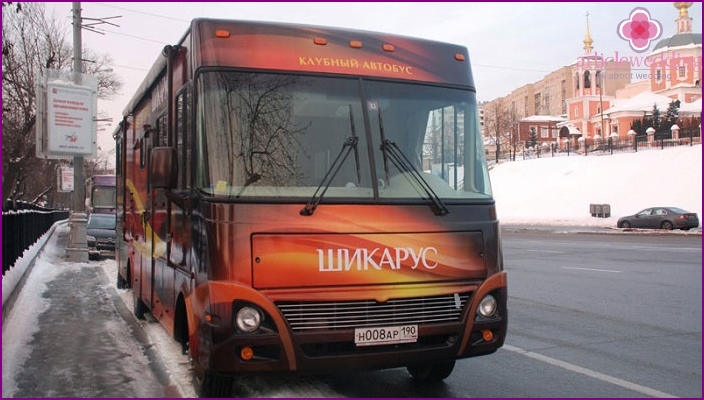 Deluxe Sunny is an option for the most demanding customers. Longer and more spacious than the others, it has three retractable walls, all the necessary equipment for parties - a stereo system, light music, smoke machine, karaoke, monitors.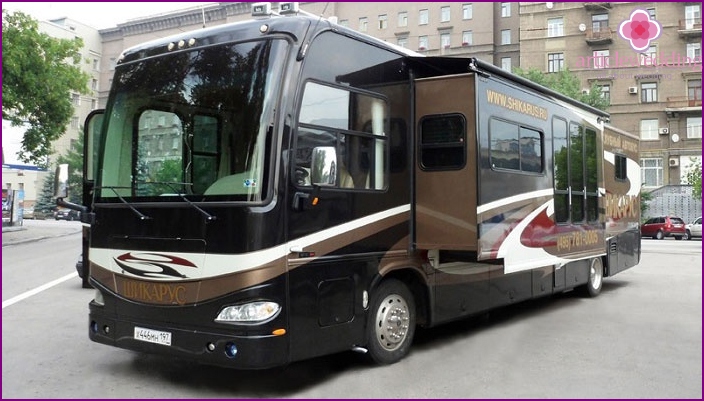 Deluxe Lunar - long, roomy, with four retractable walls, a spacious kitchen area, hot shower, toilet, separate lounge, dressing room. There is the best equipment to turn the bus into a real club, as well as the kitchen equipment necessary for life.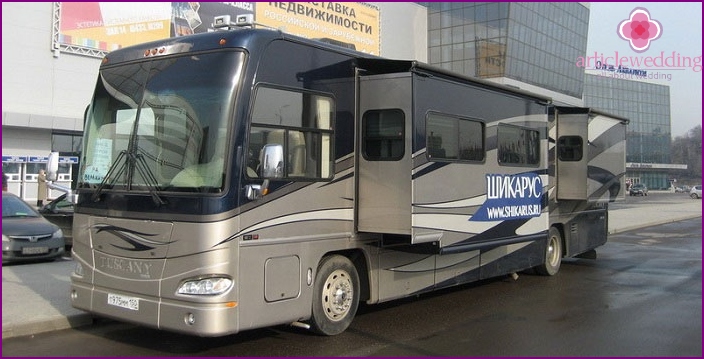 To learn more about club buses, watch the video:
When can I take a bus rental
The interior of the interior allows comfortable club buses to perform the following functions:
be a living quarters;
Club type room for parties;
tourist transport;
a summer cottage type (for nature trips);
dressing room, a resting place for artists;
long-distance transport;
a place for filming;
event venue.
Shikarus party at the bachelor party or hen party
An abundance of club equipment, equipment, necessary amenities - make it possible to make a real imitation of a club party. A separate room will allow everyone to change into the right costumes or invite actors. Girls at the bachelorette party do not need to worry about how to get home after the party, because the driver will carry everyone. A wonderful finale will be arriving in a wonderful place where everyone can take pictures and gain new experiences.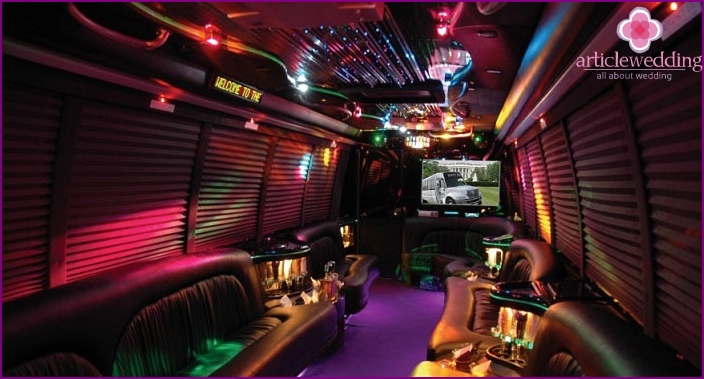 For birthday
Celebrating in a comfortable mobile club house will allow you to use every minute of your birthday to good use. You choose the place where you would like to go. Take the club bus, where the main festivities take place, and for dessert you get to the right place to enjoy the beautiful views or visit your favorite places. And the interior with all amenities will make you feel comfortable.
For the wedding
Even such an important celebration as a wedding, the newlyweds can conveniently celebrate in the club-house on wheels. There are two options:
If the wedding is widespread, a comfortable club motorhome can become a place of temporary celebration between the ceremony and the official feast, where close relatives and friends will gather and be the first to congratulate the newlyweds.
In the case of a small wedding (no more than 25 guests), a club camper is convenient to use as the main venue for the celebration. Then a trip to the sights of the city, to the church, other newlyweds can combine other desired places with a feast, which will make the wedding especially rich and vibrant.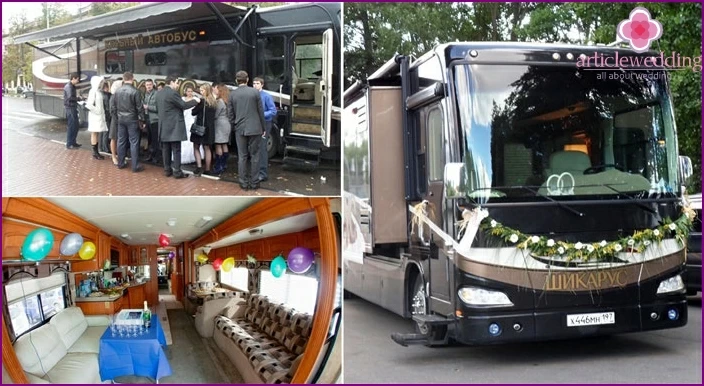 Reviews about Shikarus
Marina, 35 years old: «We celebrated our daughter's cheerful birthday on the club bus. We are glad that it was warm and had enough space for everyone. Every year we will celebrate like this - it's better than a cafe!».
Eve, 28 years old: «Shikarusnuli famously! We went to Klyazma on an excursion. We decided to have breakfast, the bus parted the panels, and we were delighted! Forgot about food - half an hour just took pictures!».
Anna, 23 years old: «Celebrated mom's anniversary on this bus! He is incredibly big when «spread wings»! It has a ballroom, a kitchen, a mirrored wardrobe! And most importantly - a cozy atmosphere!».
Julia, 46 years old: - «We rented Shikarus for our daughter and her friends, but we ourselves were thrilled! This bus has everything you need to hold a party at a high level, following to a beautiful place!».