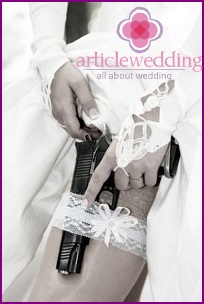 The best way to preserve memories of pleasant moments in life is to capture them in a photograph. That is why wedding photography is in such demand, because in life what could be nicer than the day when you connect your destiny with your loved one? There is, however, one problem. From wedding to wedding, a number of "hackneyed" photos roam: we sign, we leave the registry office, we are witnesses on the waterfront, and here everyone got drunk at a banquet. Although these photos retain the memory of past events, it will be difficult to boast of them in front of friends - there is a risk of hearing: "Oh, and we also took pictures here".
We are confronted with the task of looking for new stories. Original footage is everything!
Our city is full of unusual places. Each house in the center of Moscow can be considered an architectural monument. We are ready to argue that not one narrow Moscow street is associated with some romantic moment in the life of your couple. You probably admired the lights of the night city from the height of the Sparrow Hills, fed ducks together at the Patriarch's Ponds and made an appointment at the monument to Pushkin. All these lovely places can have articles as a great backdrop for wedding photography. And even on the embankment, a professional photographer will find such unique angles that even a person passing by this place does not recognize the place of photography.
In Moscow, there is enough space for a fantasy flight. Want to enhance the impression of ancient architecture? Play a role-playing game. The bride and groom can choose for the wedding costumes of the era of the 20s - 30s of the last century. Choose your own cultural style: prim Britain, gangster America, the militaristic USSR. Ask witnesses to wear similar clothing..
Need some paraphernalia? Walking sticks, smoking pipes, Thompson guns - all of this will do. In addition, you can rent an Excalibur Lincoln Phantom retro limousine. Being the background for your photos, such a car will maximize the spirit of the desired era. And if you won't surprise anyone with an ordinary limousine, when you look at such a retro car, few can say the hated "And we too ..."
Think over the scenario of the game. Let your imagination run wild, and your wedding photography will be not only an occasion for pleasant memories, but also a unique work of art. And do not forget that your wedding photographer must be warned: the pictures must be taken so that in the future they can be applied with a sepia effect - the effect of old yellowed photos.