Contents
---
---
If earlier weddings were held in restaurants or cafes, now the newlyweds are looking for more original places for a celebration. One of these unique corners is the roof. Towering above the metropolis and admiring the cityscapes, you will share the joy of marriage with your dear people - such a wedding celebration will be remembered by you and your guests for a long time.
The roof is like a blank canvas on which you can create the holiday of your dreams. How to do this, tells the portal www.articlewedding.com.
Rooftop Wedding: Pros and Cons
Among the advantages of holding a rooftop wedding are the following:
The opportunity to conduct an unforgettable marriage registration high above the earth, in the truest sense of the word having married in heaven.
Rooftop wedding is original and unusual.
On the roof you can arrange a wedding for two, because there is no more secluded and romantic place in a noisy metropolis.
You can decorate the wedding space as your heart desires.
You and guests can enjoy the beautiful sunset..
Amazing photos of the city.
What other place will allow you to perform a wedding dance under the clouds, surrounded by stars and city lights?!
Disadvantages of a rooftop wedding:
A small selection of sites, which is why it is better to book them in advance.
The high cost of organizing exit registration and banquet in comparison with conventional venues for weddings.
The vagaries of the weather can become a problem if you don't have a tent, tent or any shelter in case of rain and wind.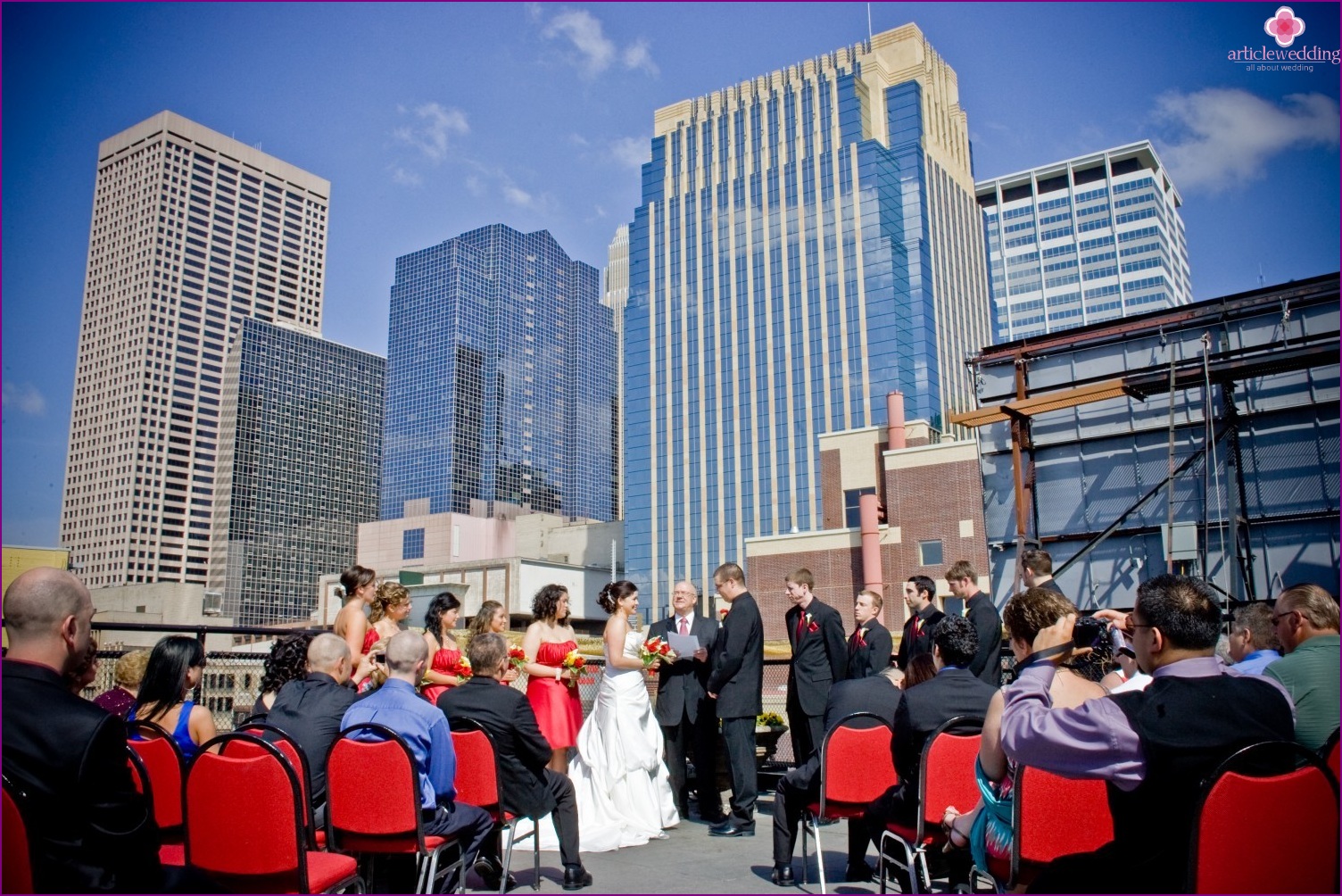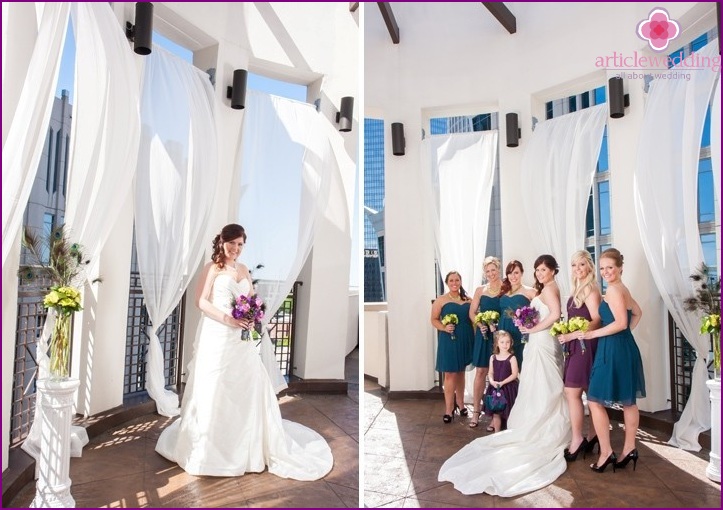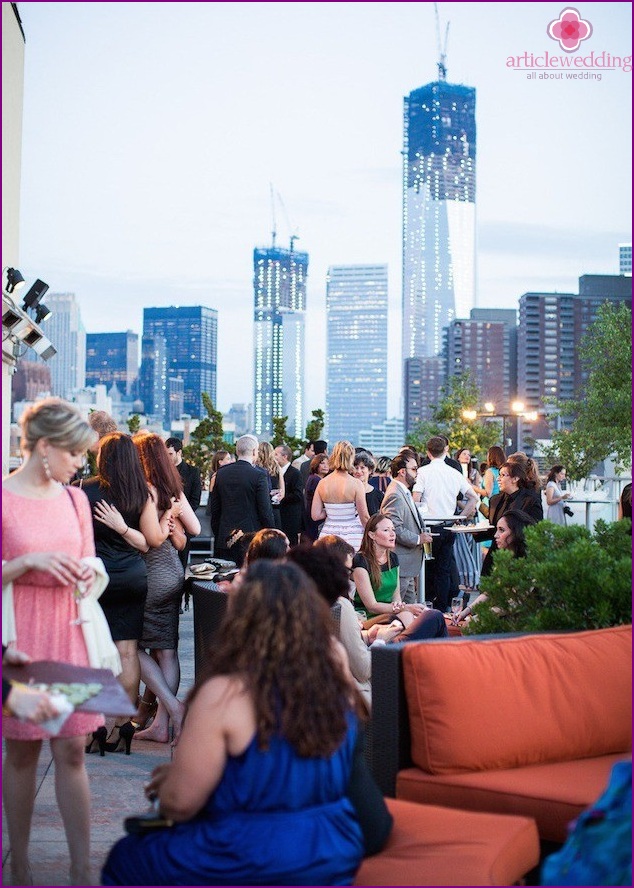 Organization of a rooftop wedding: finding artists and venues
It's possible to organize a rooftop wedding on your own, but it's better to contact the event agency, whose specialists will select a site for you and decorate it, take care of safety and take into account all important points.
As a rule, the most difficult thing when preparing a rooftop wedding is to find a suitable place. So far, the simplest options are cafes and restaurants located at a bird's eye view. However, no one forbids you to organize a banquet on an ordinary roof, the only thing you need permission from the authorities. And if your chosen venue is not a restaurant, then you will have to use the services of a catering company.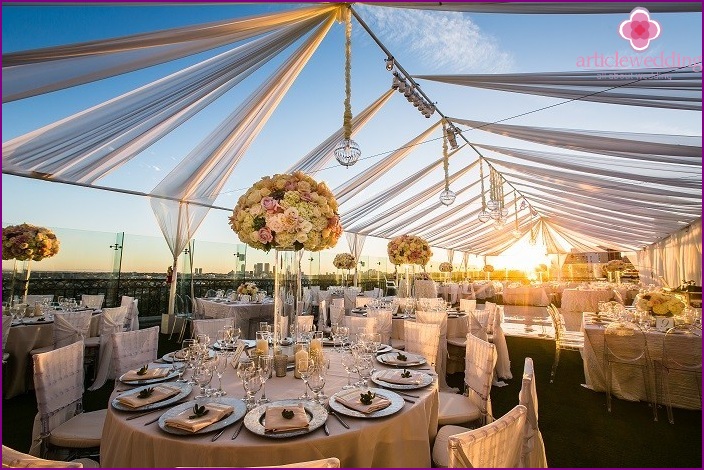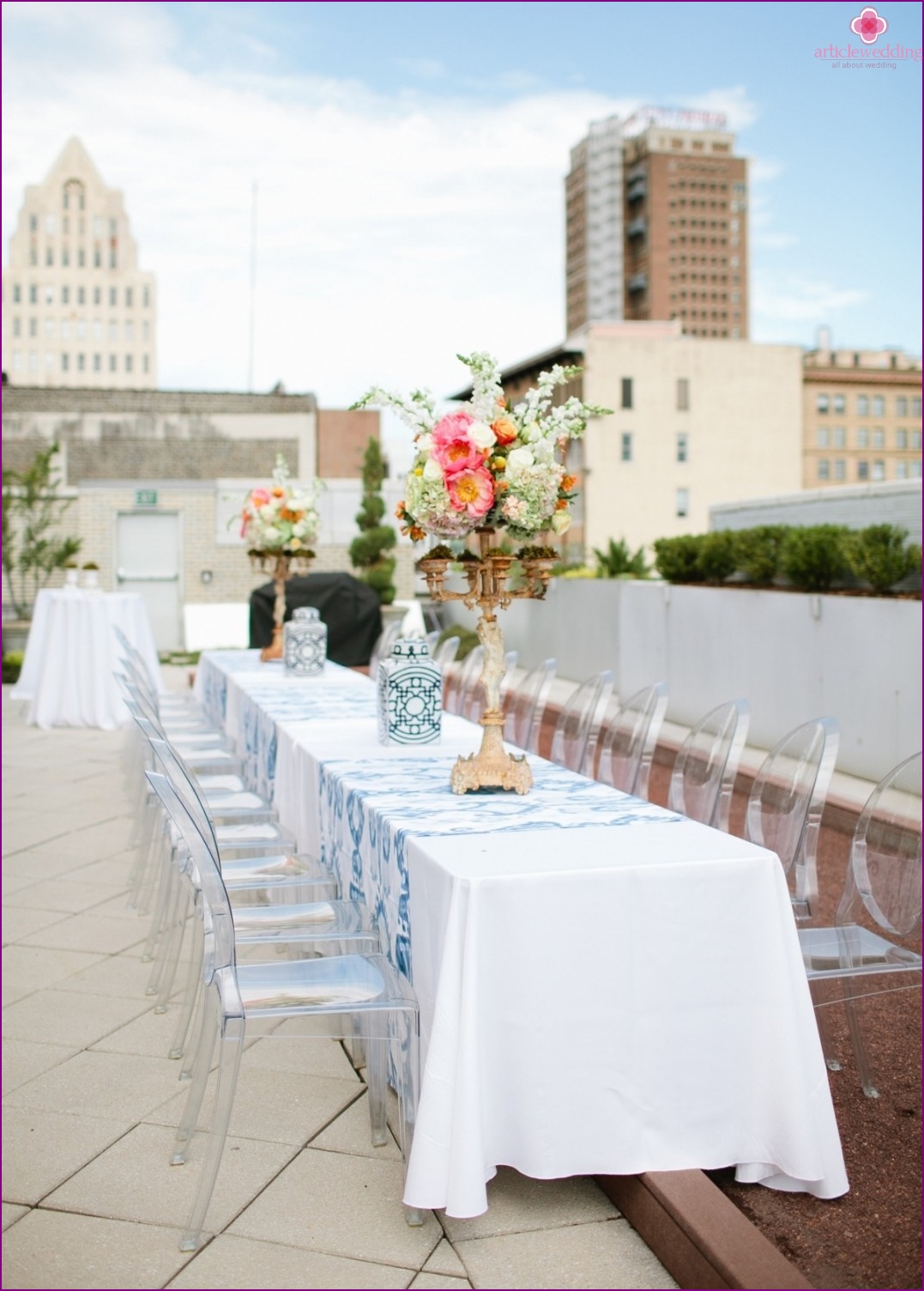 The image of the newlyweds
There are no special requirements for the image of the groom, I want to say separately about the image of the bride. For such a celebration, she should choose a light, flowing dress with a tight-fitting silhouette, a mini dress and a dress with a train. It is best to collect hair in a bun so that they do not interfere, fluttering in the wind. To fix the hairstyle, ask the stylist to use a lot of varnish so that the neat look of the hairstyle is preserved throughout the day, the portal www.articlewedding.com advises.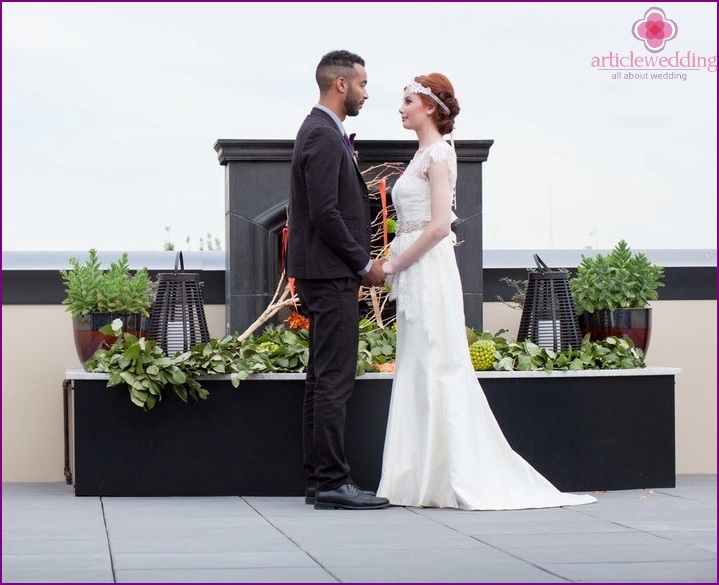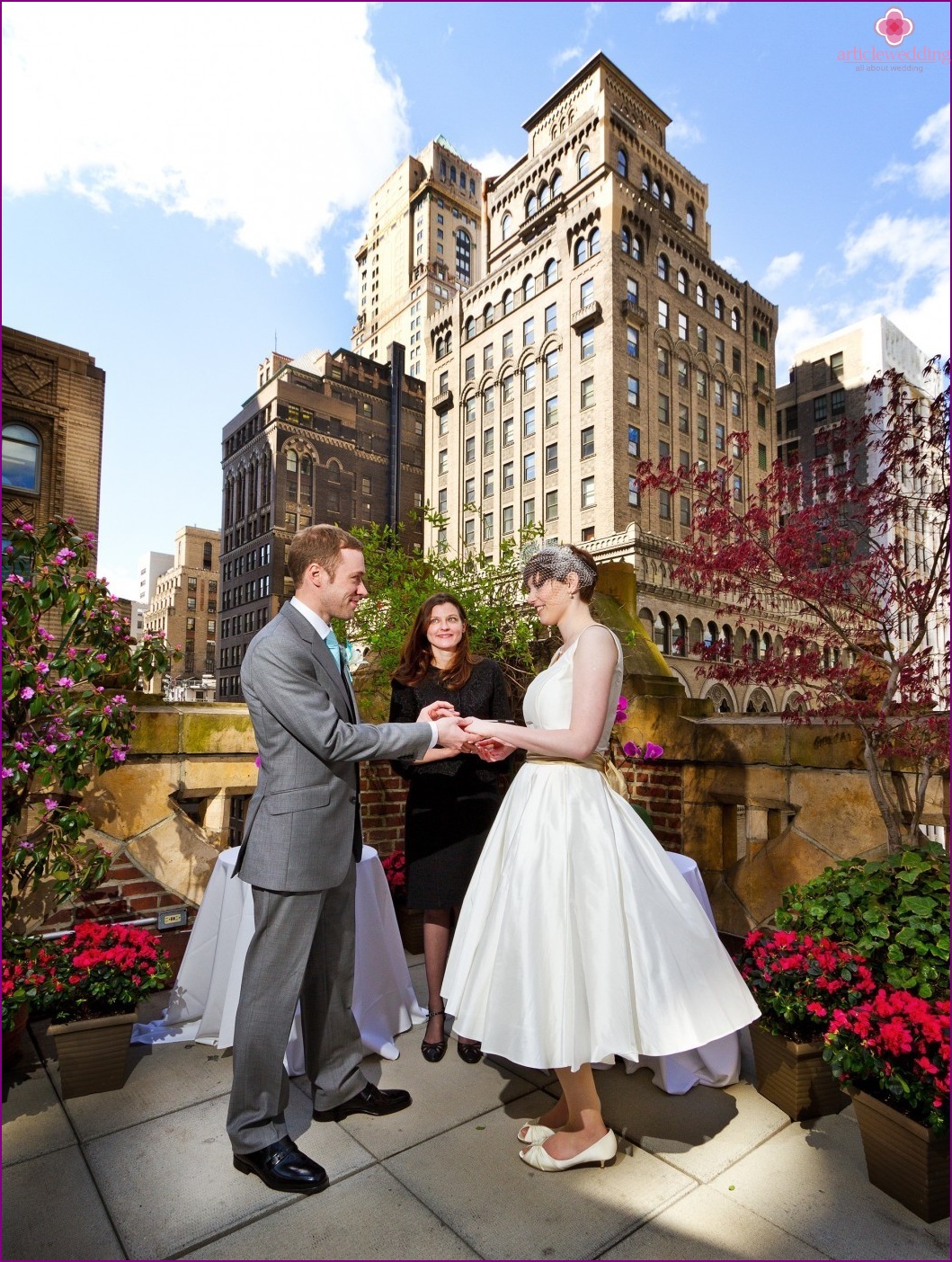 Roof wedding zoning
For a comfortable stay of guests on the roof, divide the wedding space into zones:
A place for exit registration with an arch, chairs for guests, etc..
Banquet or buffet area with refreshments, including cake.
Photo zone and entertainment zone (it can be musicians, DJ, board games, etc.).
A lounge area where you can put sofas, ottomans or even sunbeds, on which guests can relax.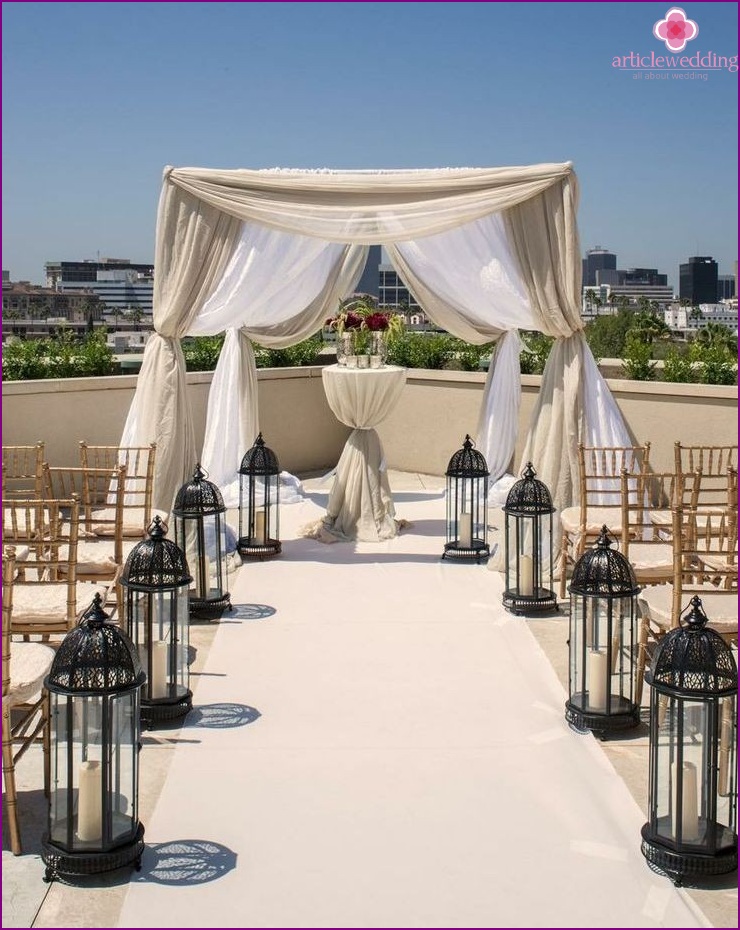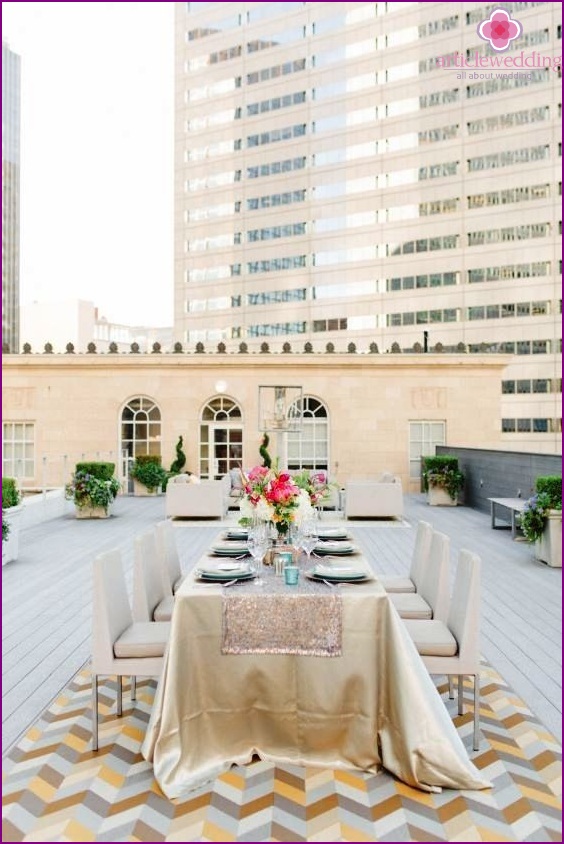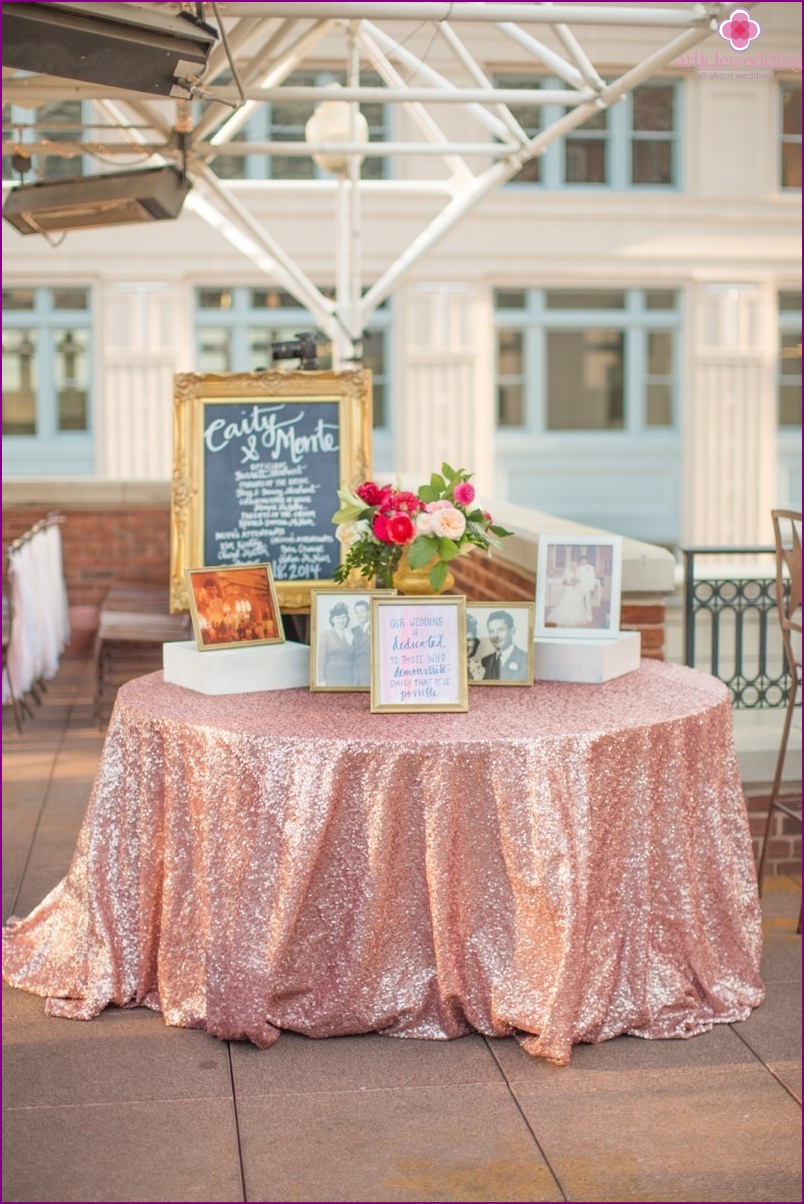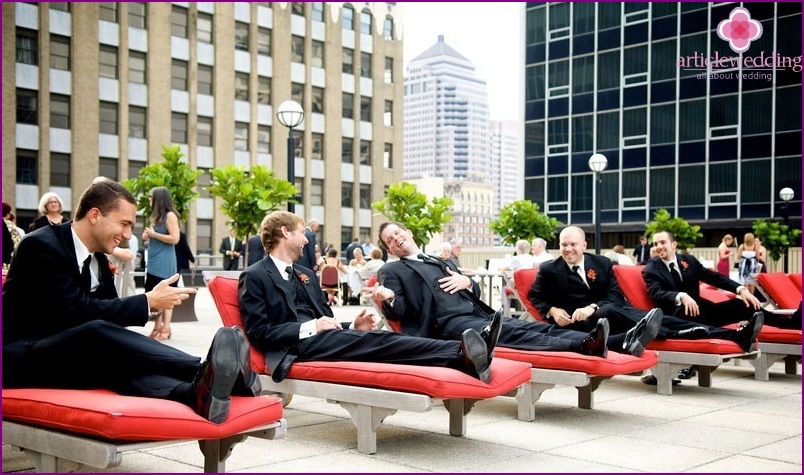 Reception or banquet: what to choose?
If no more than 15 guests are invited to the wedding, most of which are young people, then a buffet would be more appropriate. Guests will be able to stroll in the fresh air, feast on wedding dishes and communicate with each other at ease. Various food bars will help to diversify the standard tables with snacks: a candy bar, chocolate, cheese, tea or coffee, a bar with ice cream or lemonade - it all depends on your imagination.
If the number of guests is more than 15-20 people and allows space, you can arrange a banquet with long or round tables.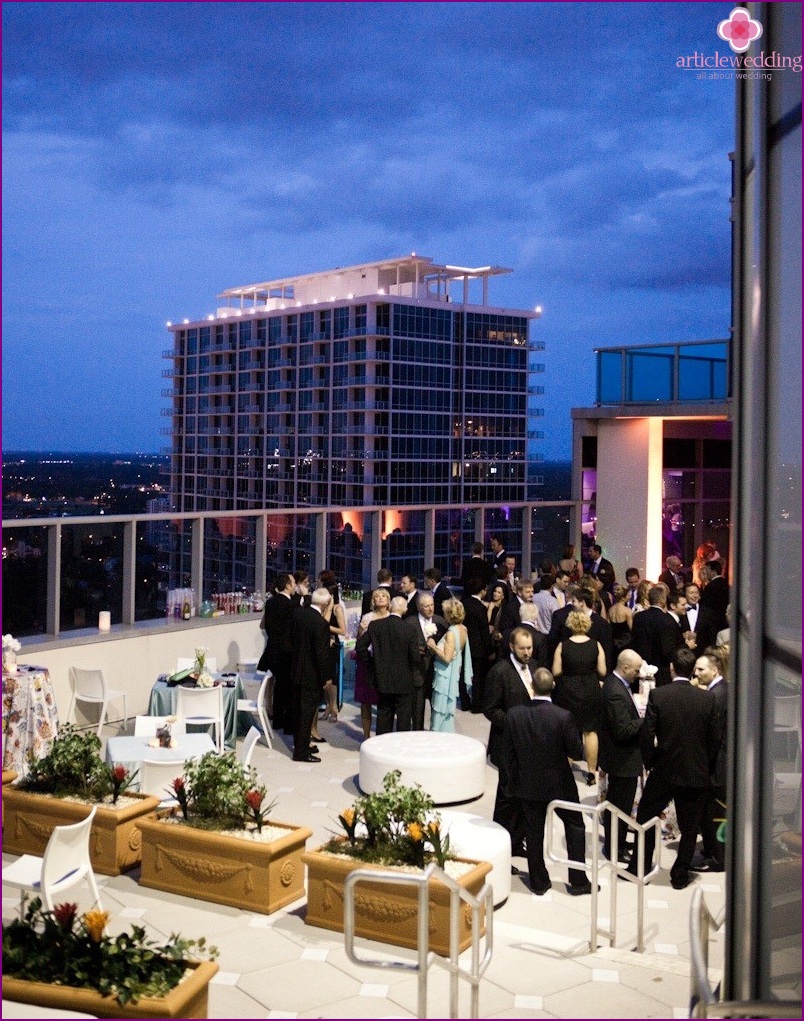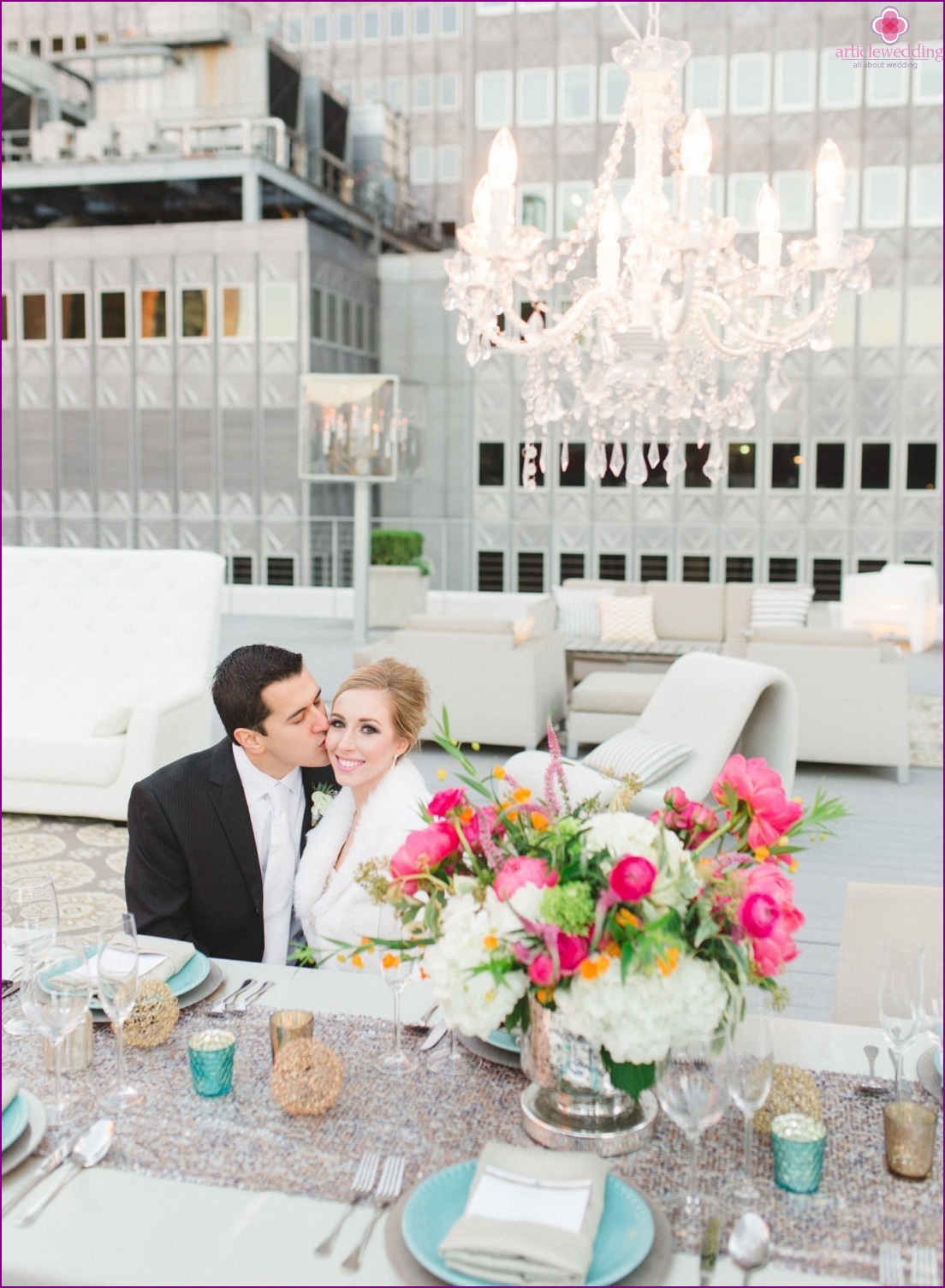 Wedding decorations
You can decorate a rooftop wedding with fresh flowers, both in vases and in pots, balloons, luminous garlands, etc. Do not forget that the main highlight of the wedding decor is the cityscape itself and the beautiful sky, which should not be covered by any elements. The only thing worth making is a canopy that protects guests from the scorching sun, wind and rain.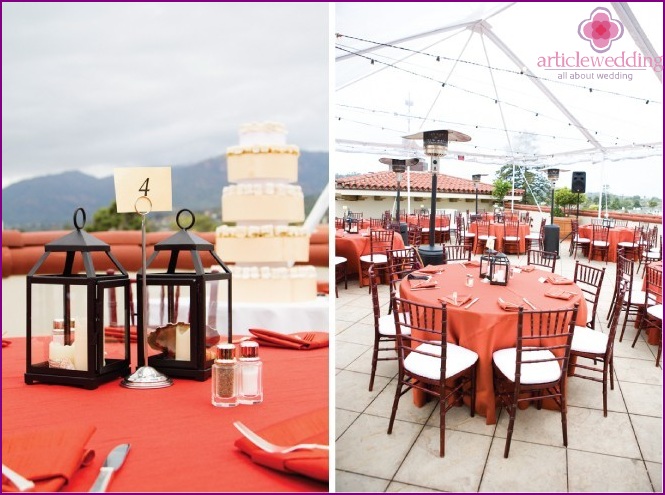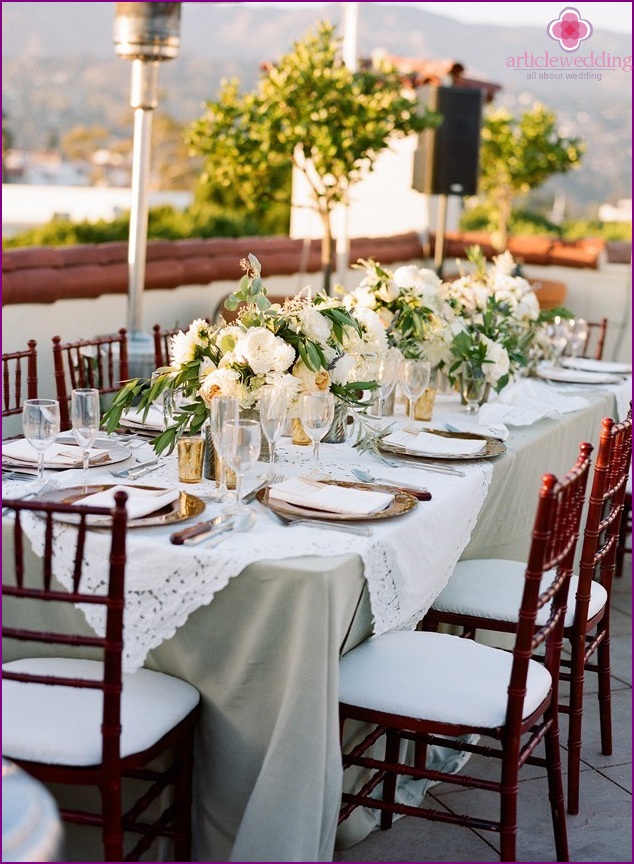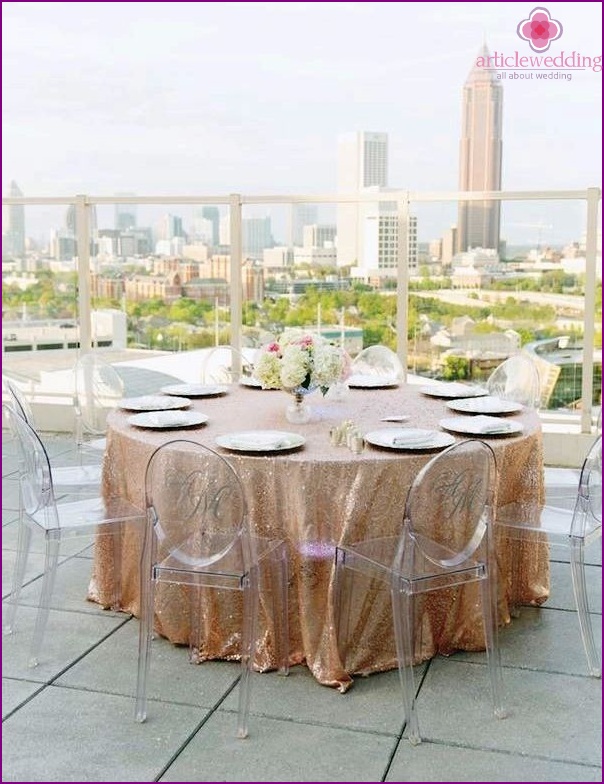 The wedding arch and the place of registration can be decorated with fresh flowers and leaves, as well as luminous garlands that will look just fantastic against the background of the evening city.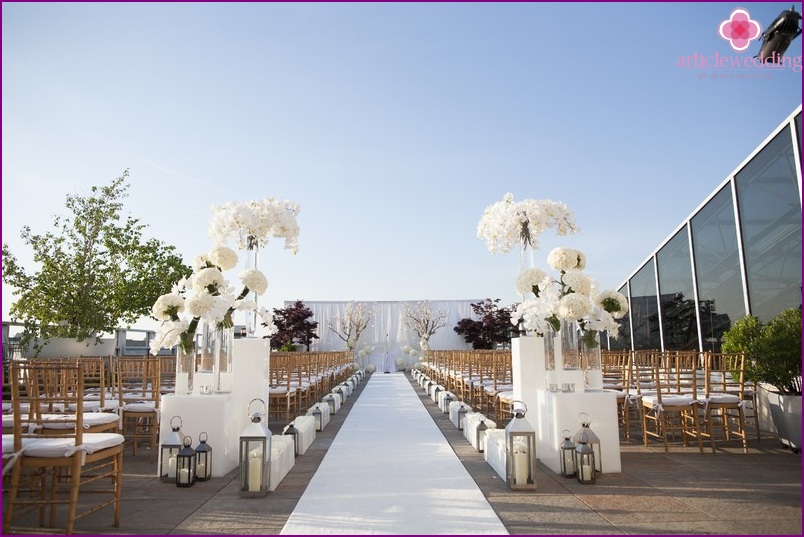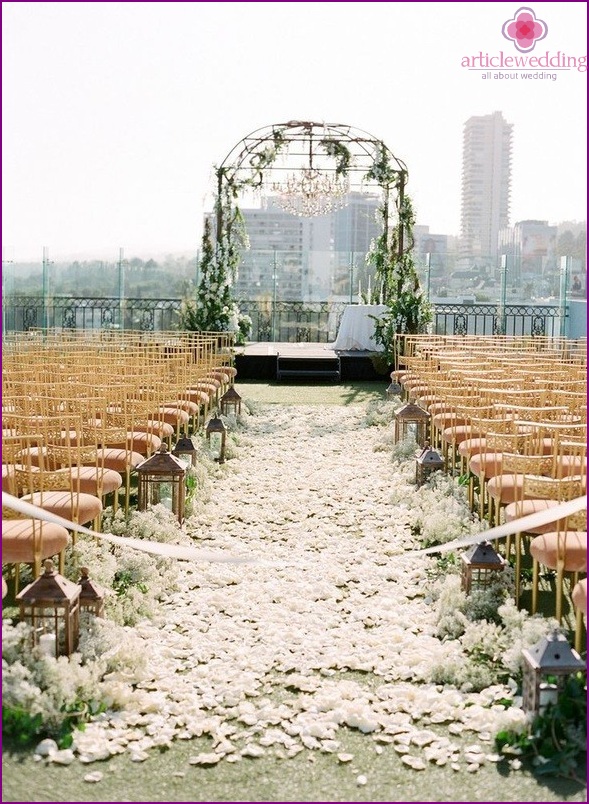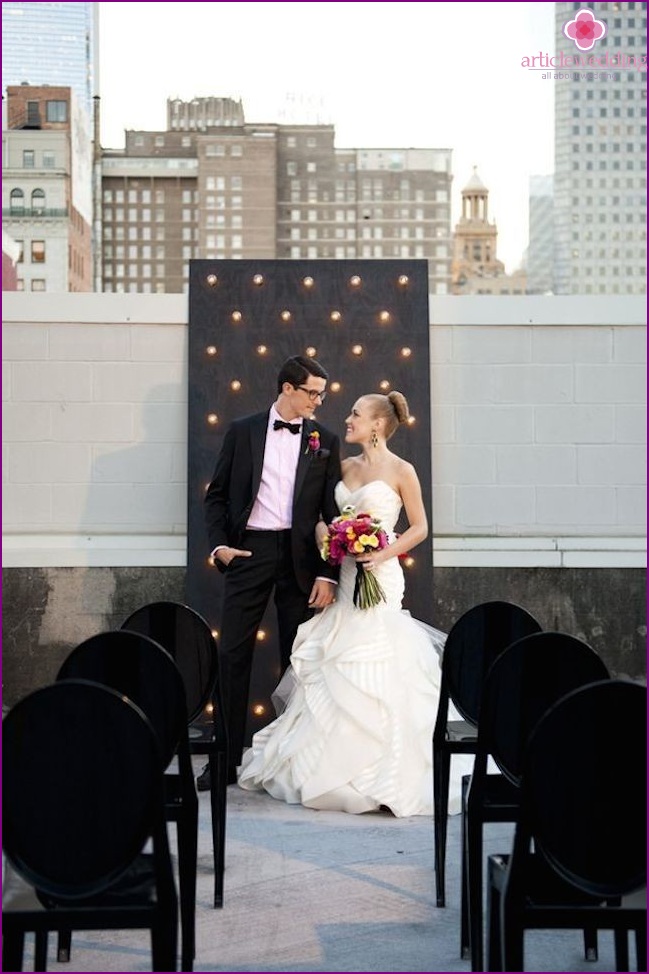 To illuminate a rooftop wedding, you can use spotlights, as well as luminous garlands, paper lanterns and candles, which will give the wedding evening romance and comfort.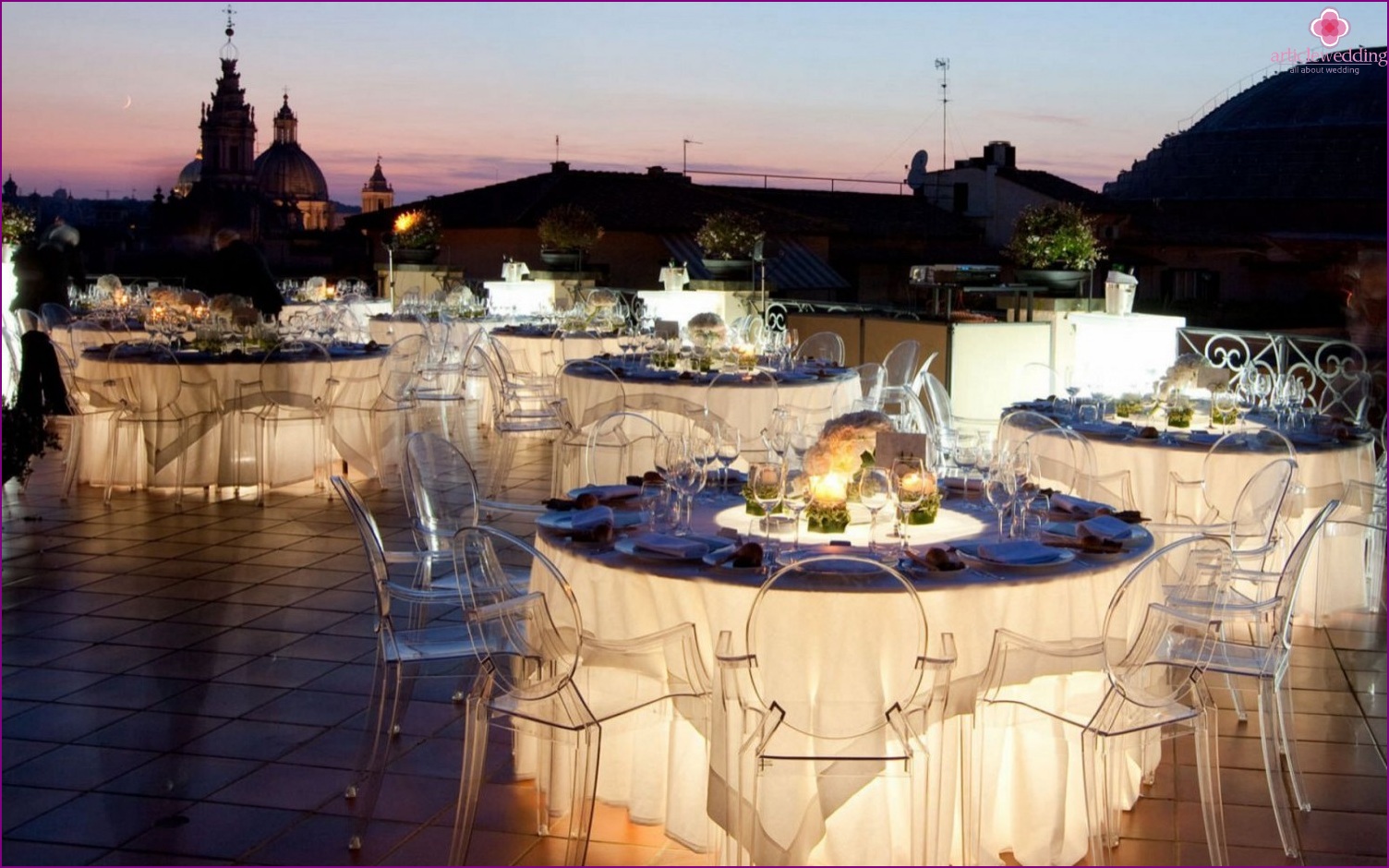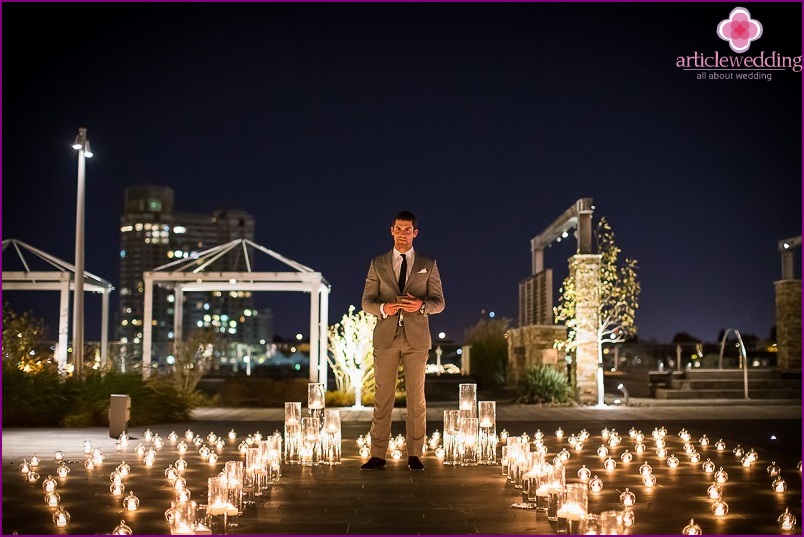 Entertainment for guests
In addition to standard wedding entertainment, be sure to prepare a sky lantern for each guest. You can start them when it finally gets dark. Such a spectacular action will cause a storm of positive emotions in your guests.
The evening may end with a salute that your guests can admire directly from the city roof. However, its launch will also have to be coordinated with the city authorities..
Holding your love in marriage high above the earth, you will finally understand what it means to be in the seventh heaven with happiness! And your guests will remember such an unusual celebration for a long time!