Contents
---
---
If you decide to organize a wedding on the shores of the blue ocean, then start preparing for this solemn event right now! To organize an unforgettable beach wedding, there are a number of important points to consider, which the wedding portal www.articlewedding.com will help you figure out..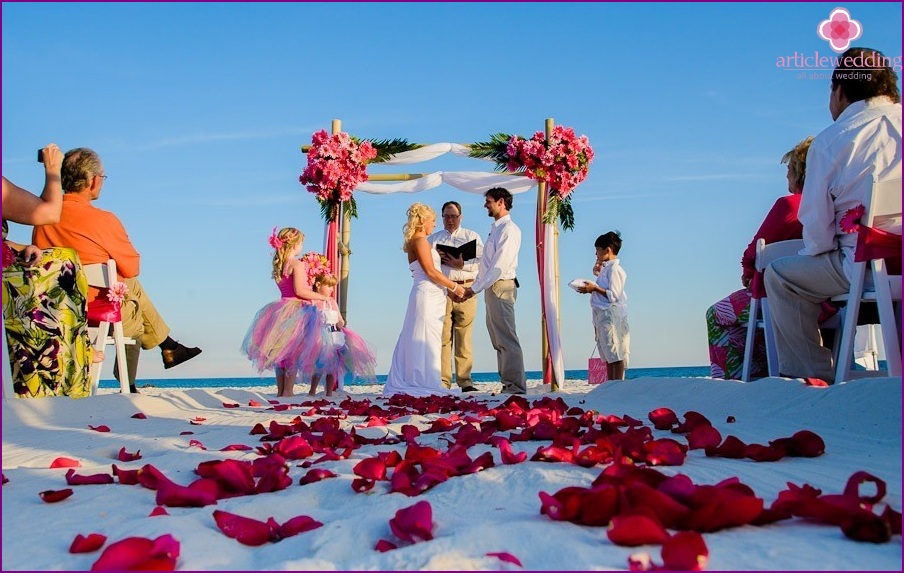 Preparation: choosing a place and date
The choice of venue for the wedding, each pair is individual, and depends on the personal preferences and financial capabilities of the young.
Choosing a wedding date is in advance. Moreover, it is worth exploring Internet resources and making sure that your wedding day will not be spoiled by torrential rains or storms. It is also not recommended to appoint a wedding ceremony on a hot afternoon. Early or afternoon hours are best. Make sure that the certificate of marriage, in a particular country, will not be only symbolic.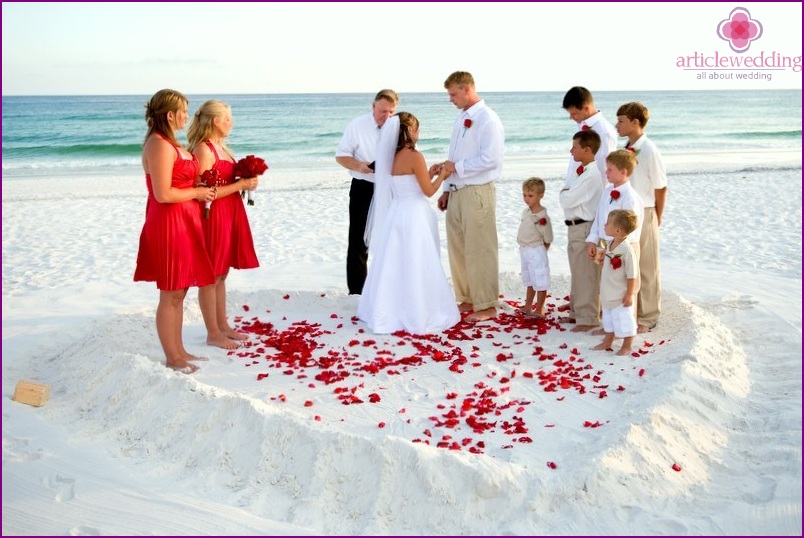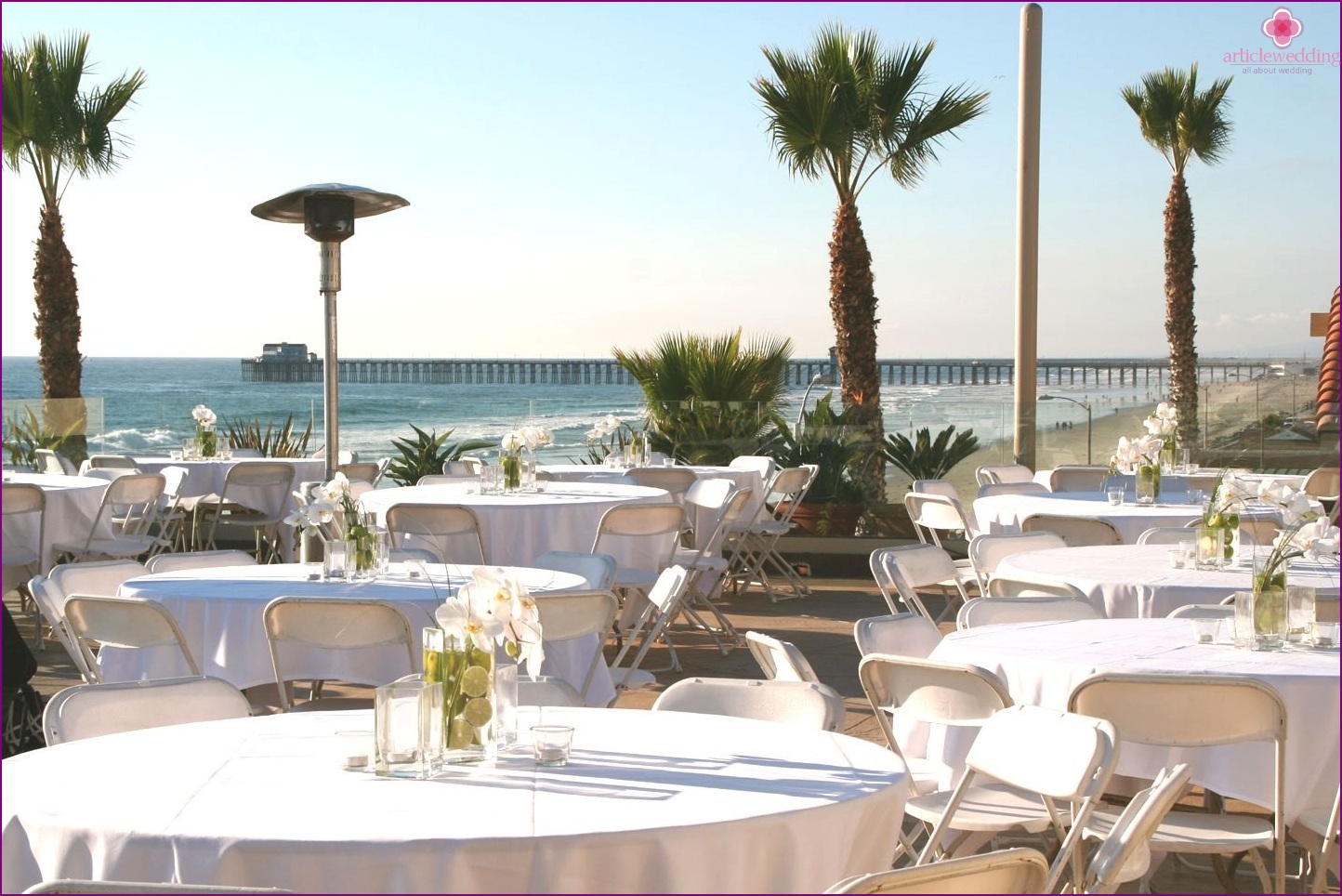 Transport
Find out about possible vehicles that can deliver you and your guests to the ceremony venue. Also specify the availability of parking spaces for the wedding procession.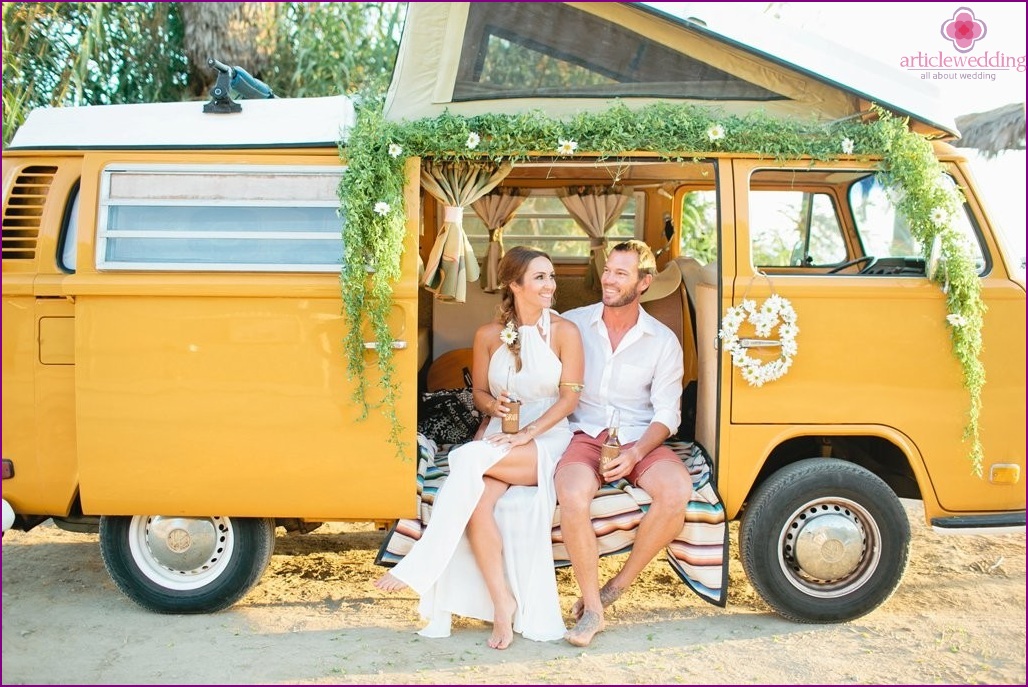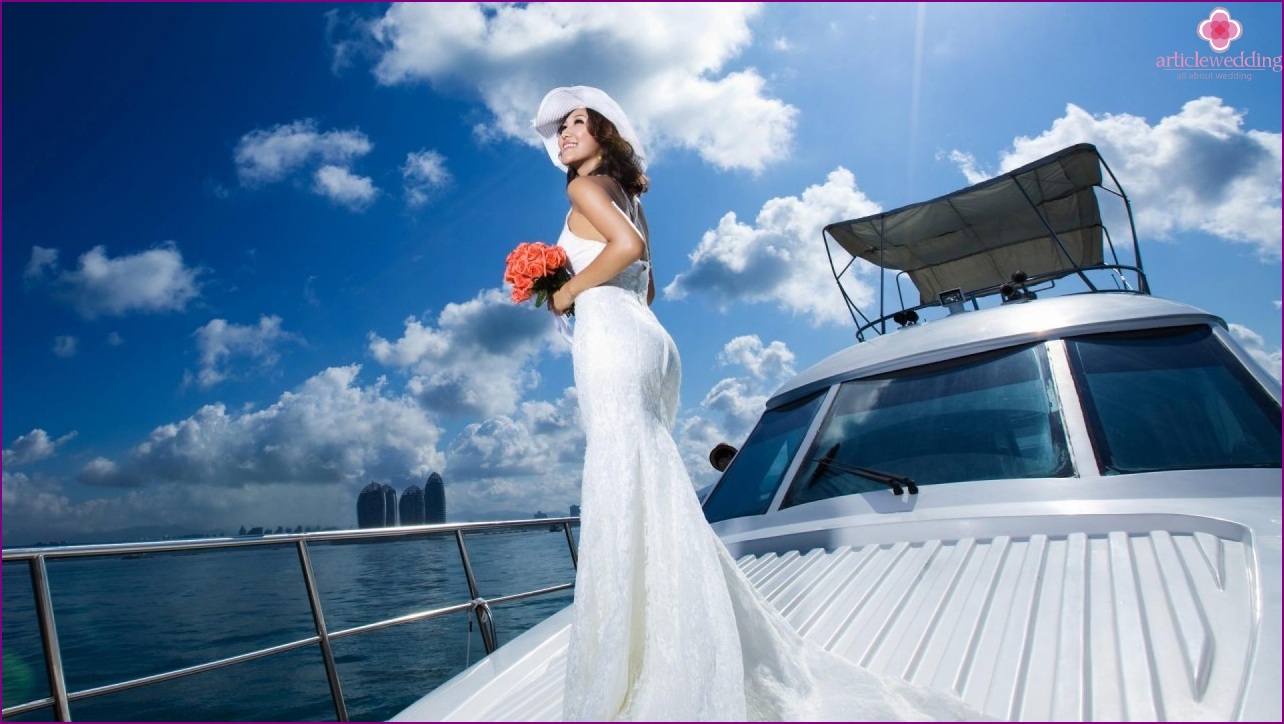 Invitations
No wedding has been complete without invitation cards. Take care of the appropriate design of your invitations and their sufficient number for each guest. Since the wedding is connected with the marine theme, then wedding invitations should be designed in a common style. A good idea for this case will be invitation cards, decorated on shabby paper and enclosed in a bottle with sand grains and shells..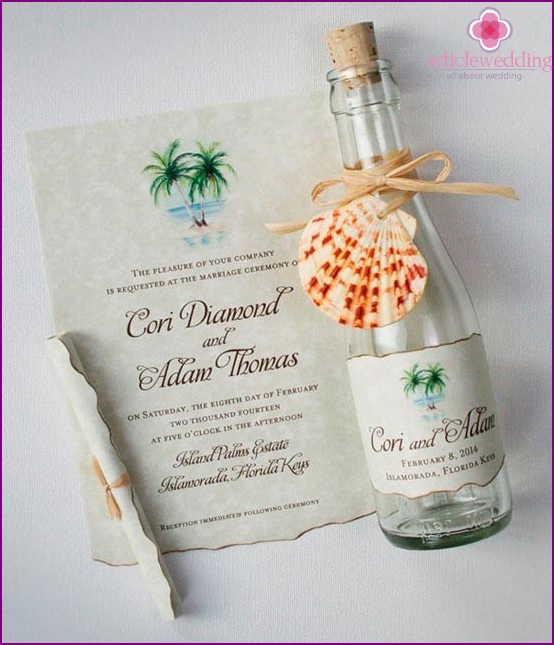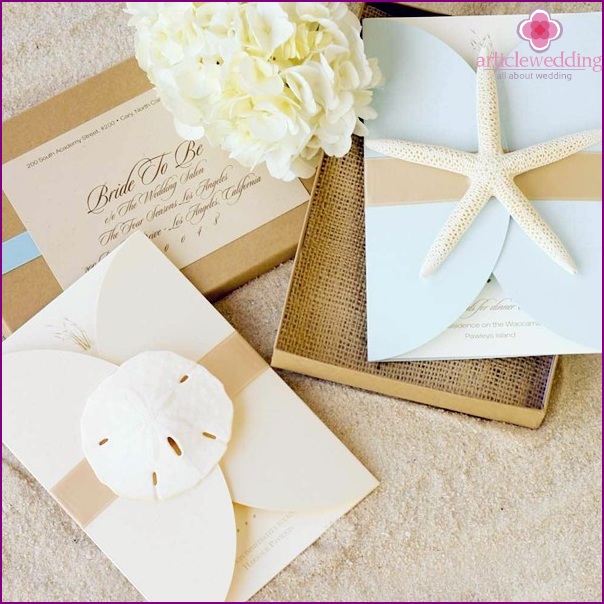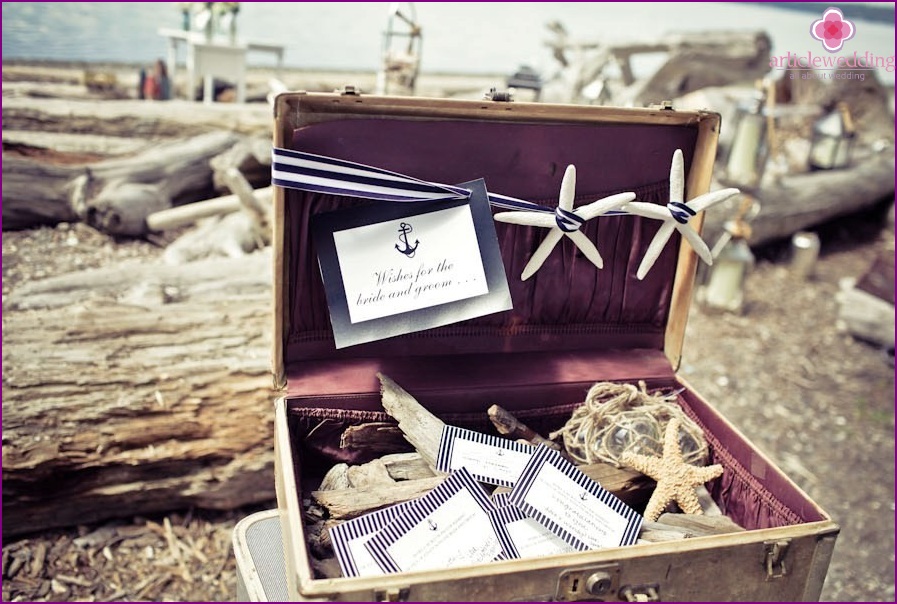 Decor and indoor areas
Since a beach wedding involves a hot day, in this case, the site www.articlewedding.com suggests, you need to consider the location of tents and covered canopies. Special guests can stock up on individual umbrellas. However, in case of rain, it is better to arrange a celebration at the nearest hotel.
An arch decorated with exotic flowers and ribbons will help to arrange a wedding venue. A path for the newlyweds can be made of colorful flower petals. Shells, boats, starfish, textile in blue and white, all this will complement the festive decoration. Arrange original floral arrangements in baskets along the path for the bride and groom, decorate the guest rooms with light textiles. Invite guests to wear floral wreaths and garlands.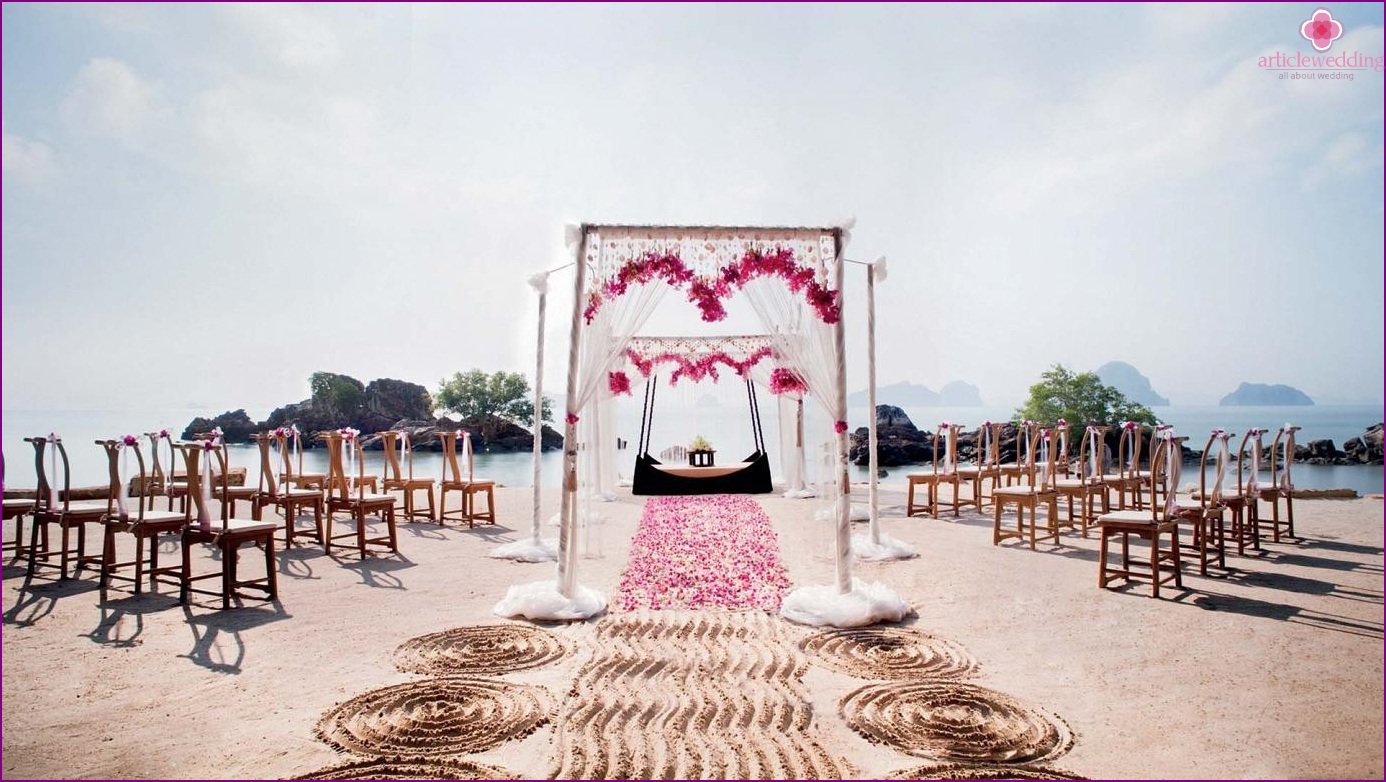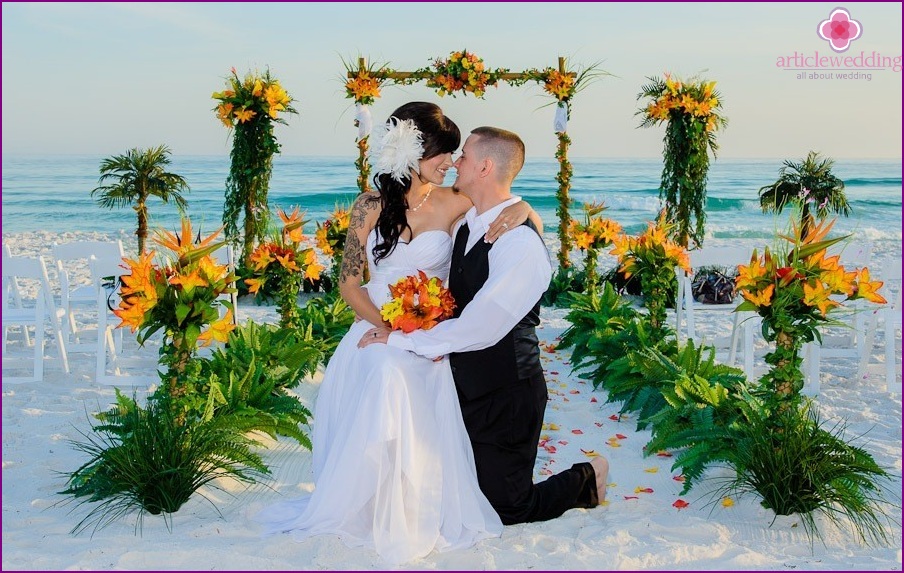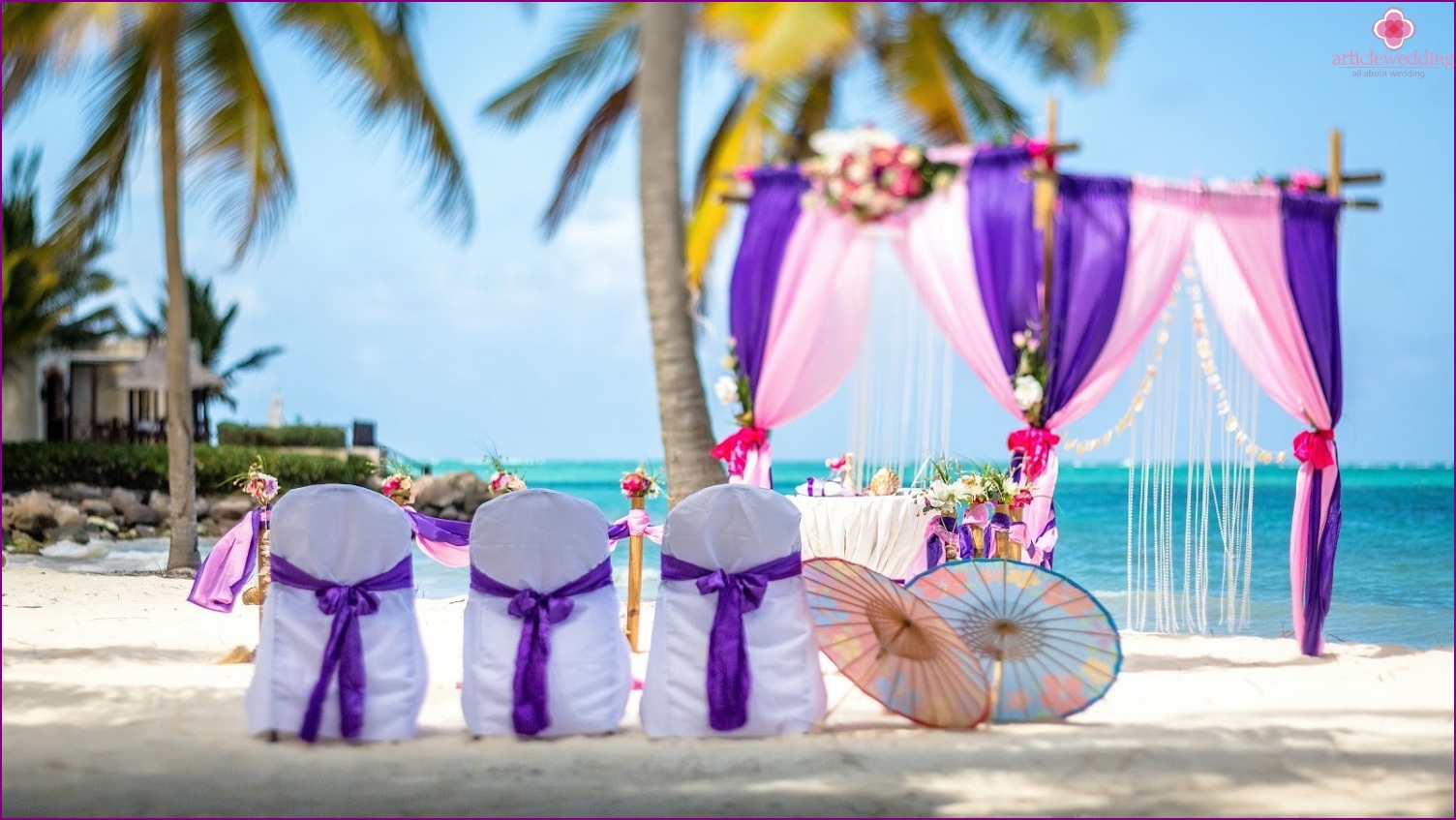 For an evening celebration, get flashlights that you launch into the sky in complete darkness. Arrange large candles of different shapes. Decorate the area with sand figures and sculptures.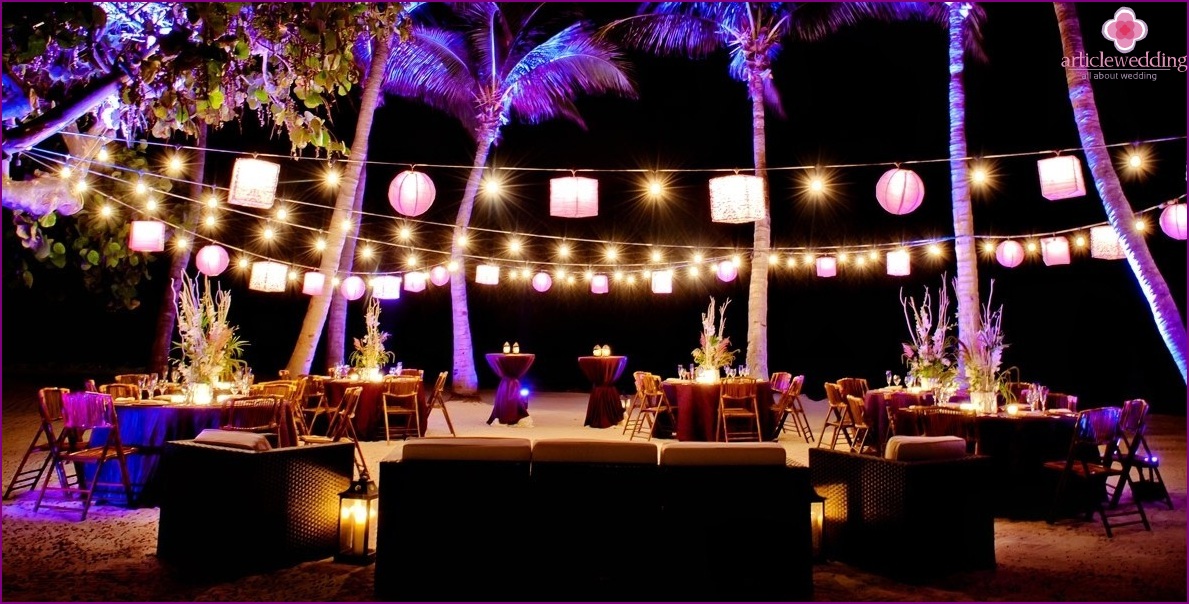 Images of the newlyweds
The most important thing that wedding dresses should be different for such a wedding is lightness, naturalness and comfort. In this case, there is no place for strict suits and classic dresses. Since this is a beach wedding, it is best if the bride and her bridesmaids are wearing Victoria's secret fashion swimsuits, complemented by pareos, or flying dresses. Bathing suits that combine shorts and light shirts with bright prints or striped vests are suitable for the groom and his friends.
As for shoes, it should be comfortable flip flops or sandals. Perfect if the shoes will be decorated with marine elements..
Regarding hairstyles and makeup, do not bother, anyway, what is suitable for traditional celebrations on the beach will look ridiculous. So, we use cosmetics to a minimum, and we decorate the hairstyle with a flower or a hoop.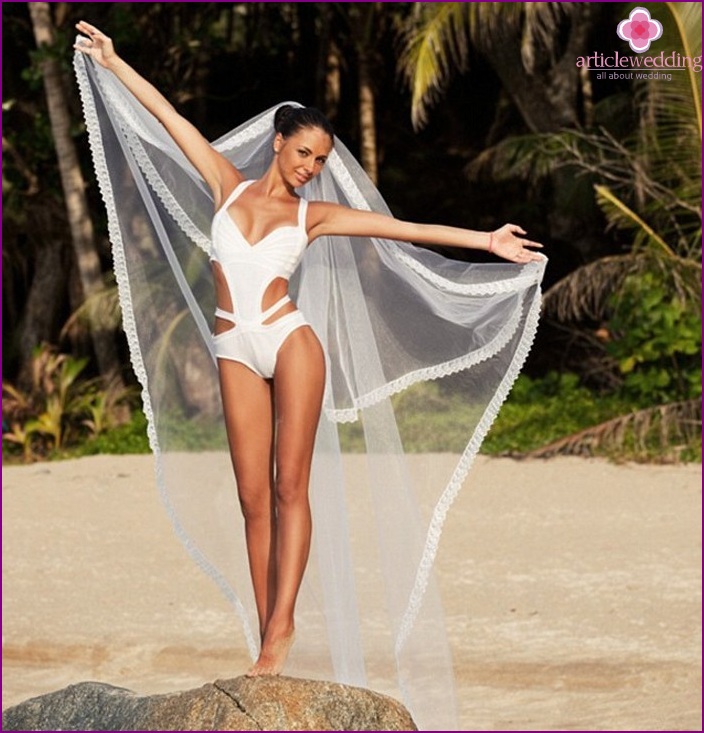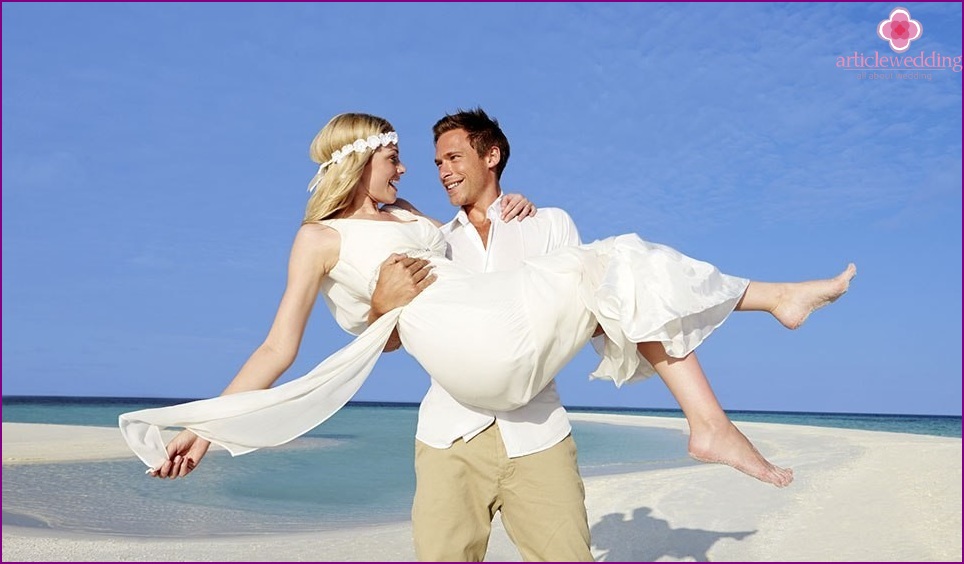 The main thing is do not go barefoot on the hot sand and do not forget to use sunscreen.
The bride's bouquet
To create a bride's bouquet, you should be creative. Use decorative sea trifles and multi-colored ribbons. The bouquet can be given a little tenderness and sophistication by adding pearls, or make it extraordinary in the shape of a starfish.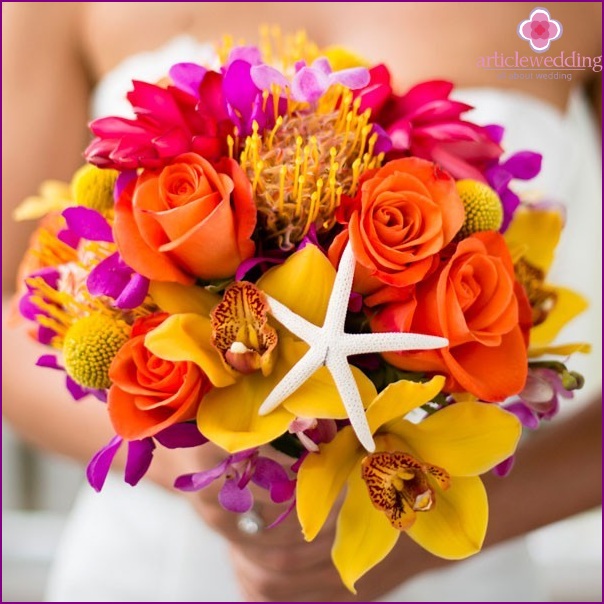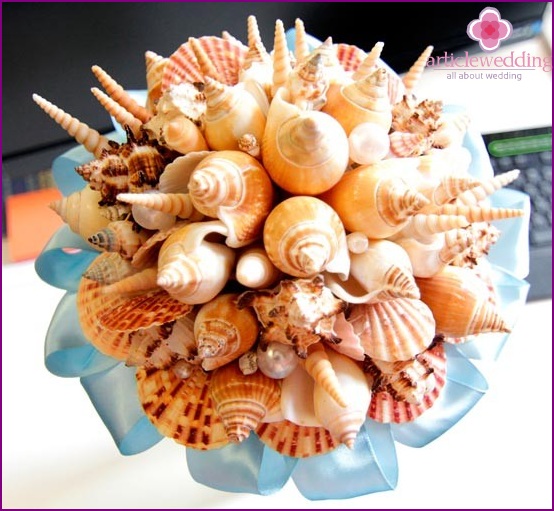 As boutonnieres, brooches in the form of starfish or figures of sea conics can act. Original, extraordinary, stylish!
Menu
Limit your wedding menu to light snacks, vegetables, fruits, and low-alcohol drinks. Prepare supplies of cool water, juice, and ice. The ideal option is a buffet. To organize a wedding celebration, hire the appropriate specialists, otherwise you just can not cope with the preparation of the wedding. And don't forget about the wedding cake!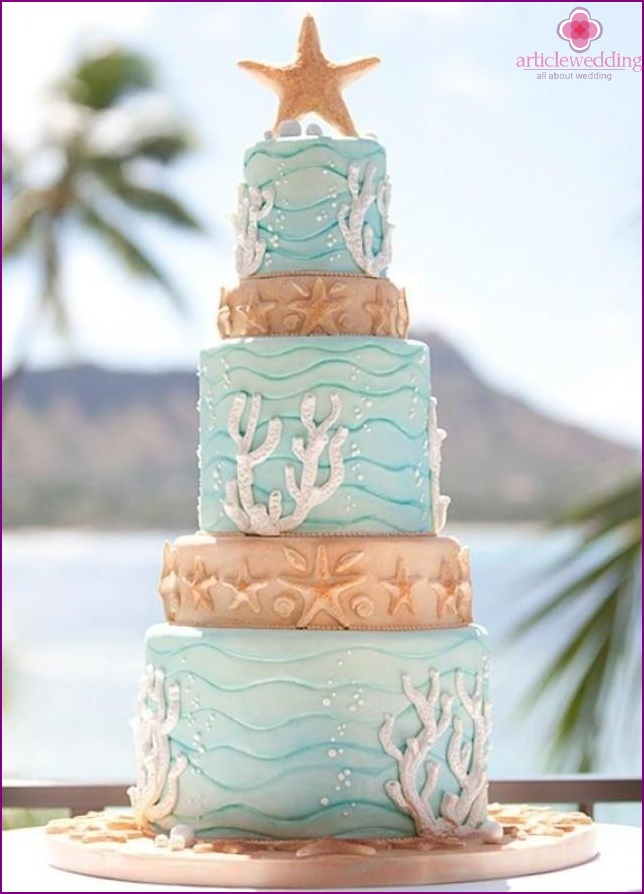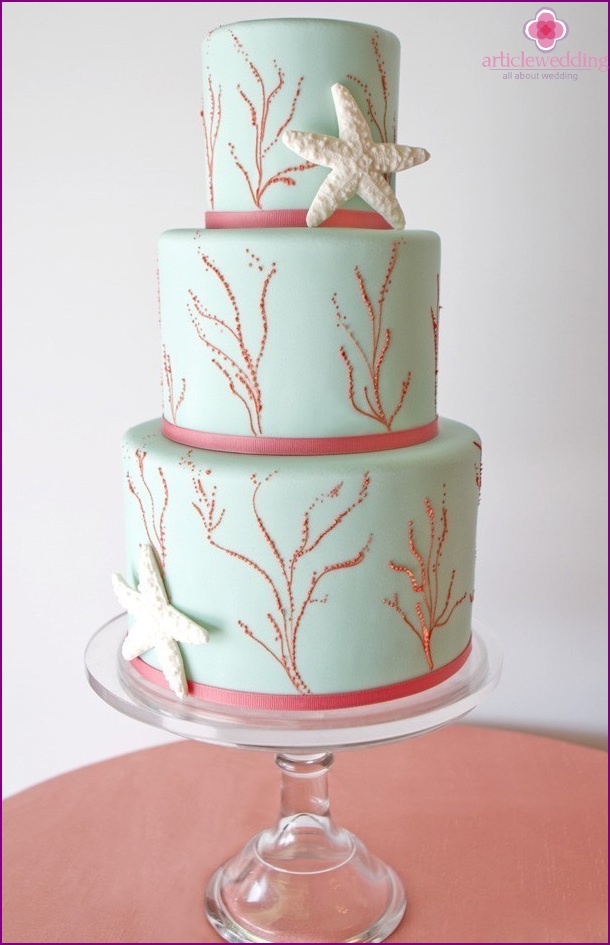 Music and entertainment
To diversify the official wedding ceremony, invite local musicians. Live music is a great alternative to club DJ.
To entertain guests, offer them some entertaining activities. Limit your games to land. And don't forget about the beach photo shoot!
Perhaps holding a wedding by the sea will cause more trouble, but the pleasure of holding such a celebration, you will get many times more!