Contents
---
---
Many young couples dream of a romantic wedding on the shores of the beautiful sea, although for most this desire remains unfulfilled. Why? Most often, the newlyweds are scared of the extra chores that they think may occur during the organization of such a celebration. However, at the moment it is quite possible to realize this bright dream of the bride and groom. We invite you to consider the nuances of organizing a wedding in Cyprus.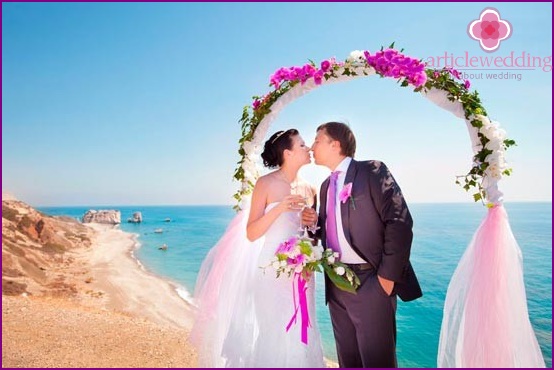 Why Cyprus?
Firstly, the wedding in Cyprus is a bright event on the island of love, legends and poetry by the Mediterranean Sea. Having been here once, the newlyweds will want to return there again. After all, the beauty of Cyprus will be remembered for a long time at home.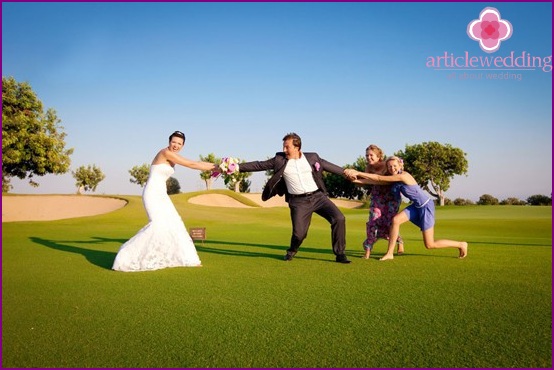 Secondly, the island of Cyprus is famous for its ideal climate for wedding ceremonies. About two hundred days a year the bright sun shines here and is very warm. So the wedding will be bright and colorful! And, of course, the photos will turn out amazingly beautiful..
Thirdly, in Cyprus you can choose different places for a wedding: yacht, beach, hotel, marina, garden, amphitheater. Any scenario will be easy to translate into reality. In addition, the wedding can be celebrated in different and very interesting cities - Paphos, Limassol, Ayia Napa, etc..
Fourthly, in Cyprus you can have an unforgettable wedding. There are many traditions and signs on the island that, when borrowed, will make the celebration delightful! What is one wedding ceremony in Cyprus? He will be remembered by you for his amazing beauty for life. For example, when leaving the church, the newlyweds are usually showered with rice, and invited guests give them gifts immediately. After the first wedding dance, the husband and wife cut a snow-white cake and feed it to each other. In general, local holidays are characterized by an abundance of delicious food, excellent wine and fiery dances until the morning.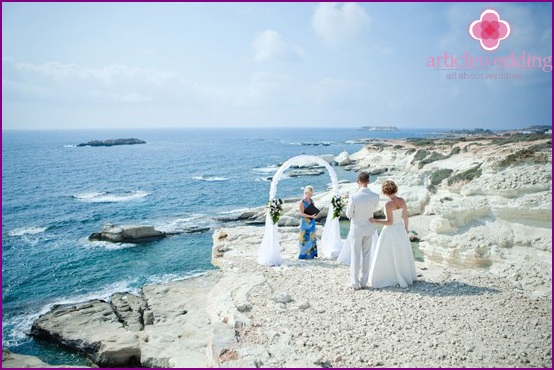 Which city to choose?
On the island of Cyprus, you can choose a city for your wedding that will be most close to you in spirit.
Three most famous cities:
Limassol. This city is the main port of the island, the center of winemaking and shipping. Attracts the attention of many tourists with its cultural and historical sights..
Pathos. The ancient Roman capital of Cyprus, although today the city is a quiet and very cozy fishing place. There are good hotels and a very beautiful harbor. The town is striking in the abundance of greenery. There is a legend that the Goddess Aphrodite appeared from sea air foam right here.
Ayia Napa Golden beaches, vibrant nightlife have made this city a real paradise for lovers of nightly entertainment and sea bathing. This corner is also famous for a small fishing pier, windmills and a medieval monastery in the very center of the city..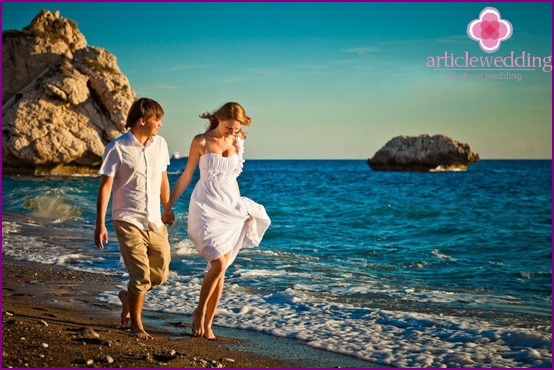 The cost of a wedding in Cyprus
The price depends on whether you will take guests with you. It is equally important where the newlyweds decide to marry: in the municipality, which is usually cheaper, or elsewhere. Documents must also be paid for, but the amount will not be sky-high. In any company that organizes weddings abroad, they will tell you everything in great detail. You will be able to choose your own celebration scenario, an acceptable price and city.
Therefore, as you see, today it is not so difficult to organize a wedding on the island of love. But such an event will become for you the most romantic and unforgettable adventure in life!