Contents
---
---
Preparation for a solemn day in the life of every person – the wedding begins with inviting guests. Wedding salons are filled with a large selection of invitation cards that a couple can buy based on their taste. However, if you want to make the celebration day memorable and original, you should give preference to the unusual design of this attribute. It's best if they are handmade invitations to the wedding, because you can convey on paper all your emotions, put your soul into them. Guests will appreciate this sign of attention..
How to make original invitation cards yourself
To create a beautiful invitation card for guests yourself, you will need a lot of patience, perseverance, and most importantly – good mood. It is not necessary to have incredible creative talents, it is important to do it with a soul, a positive mood. Connect your family and friends to the process so that the preparation for the wedding is easy, fun and easy.
To create handmade invitations, you need to know the theme of your wedding, the color scheme. After all, they will be the hallmark of this significant day. Get the right decor, use ready-made layouts from the Internet. Get design and graphic friends to join.
If you decide to use ready-made samples, try to add something unusual to them. A simple invitation card for the wedding should be supplemented with beautiful satin ribbons, decorate the envelope, and supplement the layout with a photo of the newlyweds.
An interesting solution for a wedding is to use a chewing gum wrapper «love is..» or the design of a wedding invitation in the form of an old scroll. Decide what you want to see: more romantic and classic invitations, funny or funny, perhaps themed designs. Sweet lovers will be delighted with edible invitations on sweets, chocolates and other tasty carriers.
Another option for an invitation can be photos of future spouses in childhood and a special photo session held a month or two before the wedding. Make the photo black and white, as before, so that the whole composition merges together. It will look individually, stylishly and with a twinkle..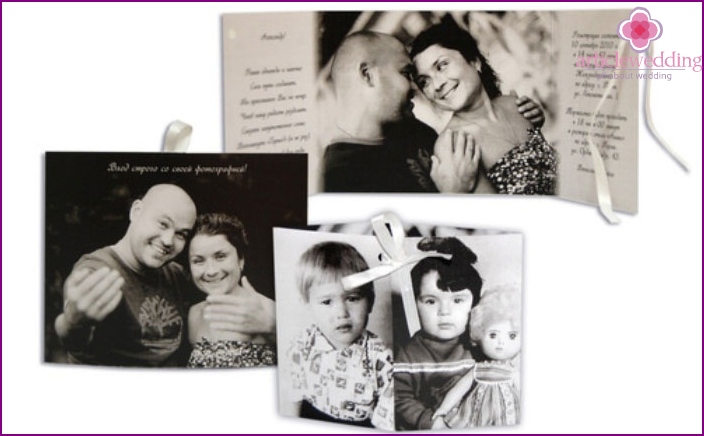 Be prepared to spend money and valuable time creating invitations. Making invitation cards with your own hands will take more than one day. It all depends on the number of guests and the complexity of the chosen postcard. Have patience and strength to craft your own invitational greeting cards for guests. Manual work is laborious, but is distinguished by its exclusive appearance and value for you and loved ones.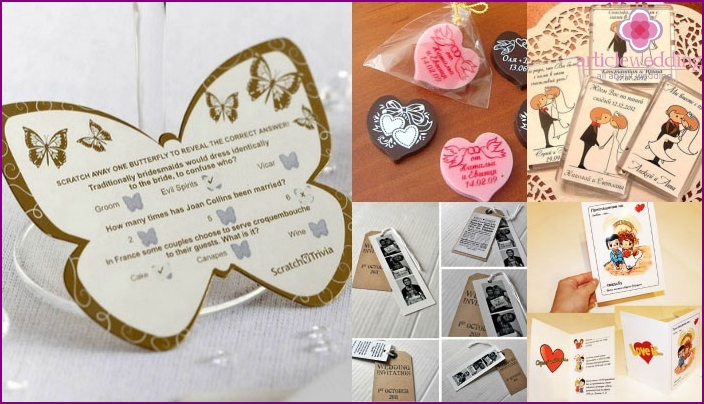 What may be needed
Before completing the work, make sure that you have all the necessary materials, tools, templates that you will need to create your wedding invitation. It's not necessary to buy professional scrapbooking kits, artist brushes, etc. Get only the right materials, and the tools can be found in your home. Prepare:
Thick white paper
Colored cardboard or colored paper;
Fabric ribbons (it can be silk, satin);
Lace.
Templates, samples.
Decorations (beads, stickers, rhinestones, bows);
Scissors;
Glue;
Stationery knife;
Double-sided tape;
Ruler.
Depending on the chosen design, colors, materials, this list will also change. There are ideas for which paper is completely unnecessary. For example, an invitation in retro style, which is made out on a regular vinyl record, or in a marine style - an inscription on a shell. Invitation option in real chocolate is also popular. On the chocolate itself can fill any inscription to your order. Nobody will refuse such an invitation made by themselves.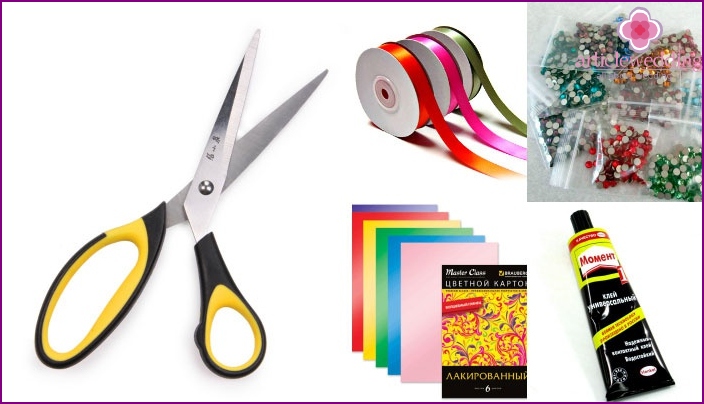 Where to get invitation templates
You may not need to draw layouts yourself, cut out samples. If you can draw beautifully or skillfully use programs such as Photoshop, CorelDraw, then the best option would be to prepare the templates yourself. If you plan to ease your task, there are services where it's easy to download a suitable template online for free or for a fee.
A popular service for creating DIY wedding invitations based on templates is printclick, where you can quickly simulate the option you need. Among the huge selection, choose the option for a wedding of any style, color, taking into account your tastes and preferences. You can also make a layout from a regular background by simply cutting it correctly in any editing program.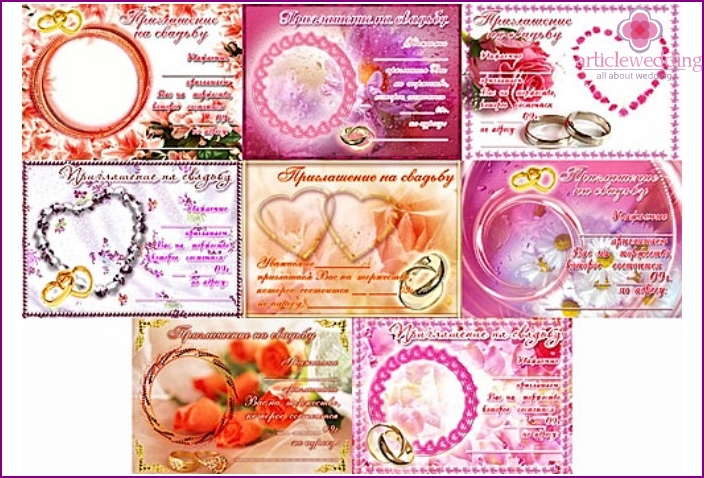 How to write text and sign an invitation
A beautiful wedding invitation card will surprise only the outside «packing». Your contribution to the creation of these memorable wedding attributes will be more significant if you add sonorous and beautifully designed words there. Here are some tips for selecting and composing texts for wedding invitations:
If you invite a large number of people, writing individual texts on invitations will be a difficult task. Prepare several templates in advance for relatives, friends and acquaintances, sign them correctly and in an original way. More informal greetings may be used for those closest to you..
According to the rules of etiquette, if you are contacting people with whom you are not connected by close contact, you should start the invitation with the words: «dear», to emphasize the polite tone of treatment. For loved ones, parents, friends, an appeal may begin with the words: «darling». For everyone to feel their importance, approach the process responsibly, select the right text template for all guests, contact by name.
It is important to indicate the date of the wedding, the address of the wedding ceremony and the venue of the wedding banquet. If you are planning a theme celebration, a specific dress code – be sure to inform the guests in the wedding invitation.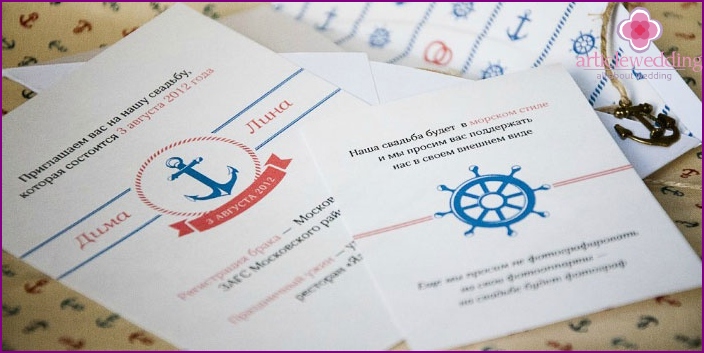 There are a huge number of text patterns in prose or poetic form. Which option you choose depends on personal preference. The text for godparents, grandparents should be thought out individually, choose a beautiful verse or just write from yourself, from the heart. It can be designed using an interesting font, printed on a printer, or written by hand.
DIY wedding invitations step by step instructions
Create or print your own invitation cards. So your wedding invitations will be exclusive, unusual, not like everyone else. Here you can give freedom of your imagination, have fun from the heart, and also connect your loved ones to complete this difficult but exciting task.
For this work, you will need the following materials and tools:
black and beige cardboard;
wide ribbon of red color;
ruler;
scissors or clerical knife;
folded bone;
the pencils;
double sided tape.
Walkthrough:
We cut a piece of beige cardboard in half (cardboard of A4 format). At the first stage, we will use only one half of the cut cardboard, and leave the second. Next, take the black cardboard and cut half a centimeter from the short part of the sheet.

We put half of our beige sheet on top of black, after which we mark about three centimeters from the right edge.

We take a ruler and with the help of a folding brush we leave marks on the ends of beige paper.
Next, bend all the marked edges.

We get a ready-made invitation base, on which a beige strip should be slightly noticeable.
So that the invitation could close, take a wide red ribbon. Wrap it with this ribbon, leaving a small overlap. Double-sided tape helps us staple the edges with ease.

Let's start decorating: in our case, we use a neat twig silhouette. This elegant detail will add to your invitation an unprecedented sophistication, charm. Use any decor you like, adding a twist and personality to your wedding attribute..
An elegant small card will help complement wedding invitations so that guests can confirm their presence at the wedding or write a reason why they will not be able to come. It should be small in size and fit in an envelope. Cut off the black cardboard and the smaller beige. Glue the beige part to the black one, cut off the ribbon of the desired size and repeat what was done with the main invitation card. That's it, your invitation is ready to send.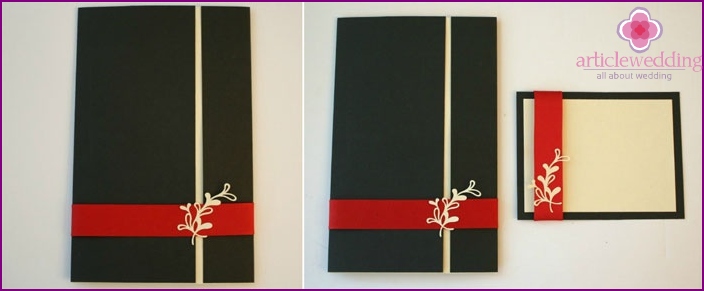 Do-it-yourself original invitation scroll: photo