Contents
---
---
Choosing a place to hold their own wedding, many want something unusual, memorable and, if possible, somewhere on the edge of the Earth. You can realize such a completely romantic wish if you prefer such an option as a wedding in Switzerland. This beautiful country fascinates with its beautiful landscapes, nature, cleanliness around and the standard of living. You will certainly want to learn about the traditions of local painting and its features, as well as experience what the scenario of your Swiss ceremony can be..
Traditions and customs of a Swiss wedding
If you decide to have your wedding ceremony in Switzerland, then you should definitely familiarize yourself with the local traditions. You should understand at least approximately how your wedding celebration will take place, know the order of the ceremony, rules and customs. Next, you will find a more detailed description of the traditions at a Swiss wedding according to the points:
A wedding banquet in Switzerland is very different from the one that Russian newlyweds arrange for themselves. From the outside, it looks like a modest buffet with a small amount of sandwiches and an aperitif. Such a feast is perceived as quite normal for residents of Switzerland and does not imply magnificent fun.

Such an indifferent attitude in Switzerland to a national wedding is explained by the fact that this country keeps in its history more than 400 different types of traditions with original rites and costumes. As a result, it becomes difficult to give preference to any one kind of national wedding celebration..
In Switzerland, it is customary to publicly announce the legal registration of a marriage. You may be surprised, but for the local population it is important to communicate this news through the local media in order to exclude any possibility of polygamy..
At a Swiss wedding, it is not customary to give flowers to the bride and groom. Only a bride can be with a wedding bouquet, which she at the end of the mural ceremony simply gives her friends as a symbol of happiness and nothing more.
At the expense of entertainment at the wedding: the Swiss are not alien to various funny competitions, rallies, theft of the bride, her ransom. So, in spite of other conservative moments of the local wedding, a Swiss wedding will not seem like a boring party for your guests.
A symbol of wedding decoration in Switzerland is a sunflower. They strive to decorate literally everything with this flower: a wedding procession, a feast, a ceremonial arch. It is believed that a sunflower brings a happy life with a newly-made family, filled with joy and solar energy.
According to the ancient traditions of Switzerland, the bride had to burn her wreath. By how much this accessory burned, they determined how happily the further family life of the newlyweds.
But the attitude towards wedding gifts in Switzerland is pragmatic: all invitees are provided in advance with the same lists of necessary items that will be useful to newlyweds. They go to specialty stores and purchase souvenirs from the list at their own discretion..
In Switzerland, there is a special relation to engagement rings: this is one of those rare things for which no Swiss will spare money. Local newlyweds order special rings for this event called «alliance» at the jewelry master. They should be made according to individual sketches, with the obligatory use of precious stones and gold of the highest standard. Such a pleasure costs the Swiss a lot of money, so it is possible to assume the reason for the modest holding of weddings in Switzerland.
In some regions of the country, newlyweds must plant a young pine tree after the wedding. According to the ancient customs of Switzerland, when this tree grew, a cot was made from it for the first baby.

It is worth noting the dress code of the Swiss wedding: the locals have a simple attitude to the choice of attire. Guests can wear traditional evening toilets as well as casual items such as jeans or shorts. In Switzerland, it will not be shameful for anyone present at a particular wedding.
Features of a wedding in Switzerland
A wedding in this beautiful country differs from other countries in that you must be prepared for the specific organization of the holiday. Switzerland does not accept to arrange lush banquets, outdoor celebrations. The newlyweds spend a relatively short time on the invited guests at the wedding, provide a modest buffet after the official registration of the marriage at the City Hall, a small entertainment program, and then go on a romantic trip. So they try to maximize their time to each other and devote themselves fully to the holiday of their own wedding..
How to organize a wedding?
If you are an enthusiastic person who likes to arrange any kind of event with personal participation, then you will like to independently organize a wedding in Switzerland. In this case, you will have to look for a hotel, restaurant, choose a place for painting or weddings, arrange and organize a wedding ceremony on the spot. This option will suit those who prefer to find all of the above at the lowest possible prices..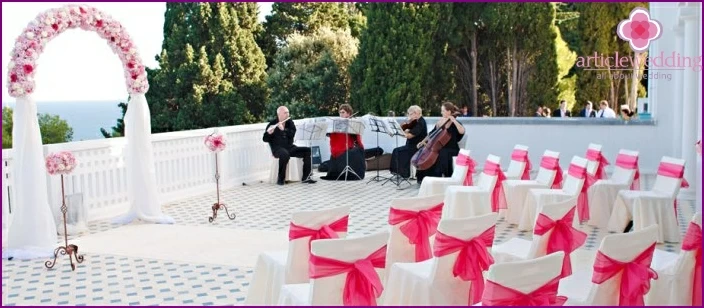 Another option is also possible: contact a wedding or travel agency, which will gladly offer many interesting options. Such a wedding organization will seem most convenient to you, because here all the wishes of the newlyweds who want to legitimize their relations abroad will be taken into account. You will also receive additional advice on what can be taken into account during a wedding in Switzerland..
Where to hold the ceremony?
Having definitely decided on the wedding ceremony in Switzerland, it's time to think about the place where this event will take place. It can be picturesque landscapes of wildlife and mountains, beautiful city beauties among the original architecture of Geneva, Lausanne or Montreux, the blue waters of the purest lakes in Switzerland. Choosing a wedding venue depends only on yourself, or rather, on what is closer and warmer to your heart. The main thing is that the memories remain impressive and unforgettable.
Zurich
Zurich is a city of chic and natural beauty. Here you will find many panoramic views of the famous Alps, which seamlessly fit into the urban landscape. Zurich is dissected by a variety of ancient streets, the bends of which are still remembered by the ancient Romans. This is a wonderful place for a wedding photo shoot and festive painting.
Lugano
For the wedding ceremony in Switzerland, choose the beautiful town of Lugano, something reminiscent of Rio. Here you will see a lot of Spanish color among the local traditions, enjoy the beauty of local landscapes. Lugano forms a small bay on the shores of Lake Ceresino, spreading widely at the foot of the mountains of Monte Brae and Salvatore. The perfect place for a dream wedding in wonderful Switzerland!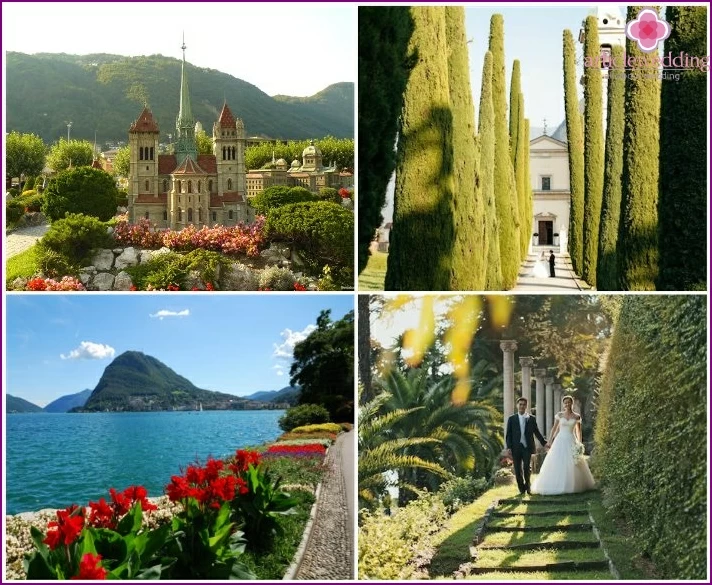 Morkote
A small European village in Switzerland, Morcote is called a pearl, located on the Cerecio Peninsula. You will be captivated by unforgettable views of the colorful local houses that have comfortably taken their places along the coast. Arrange a wedding ceremony in the middle of the Scherer Garden - and an indelible wedding experience away from the bustle of the city will fill this special moment with harmony, happiness, love.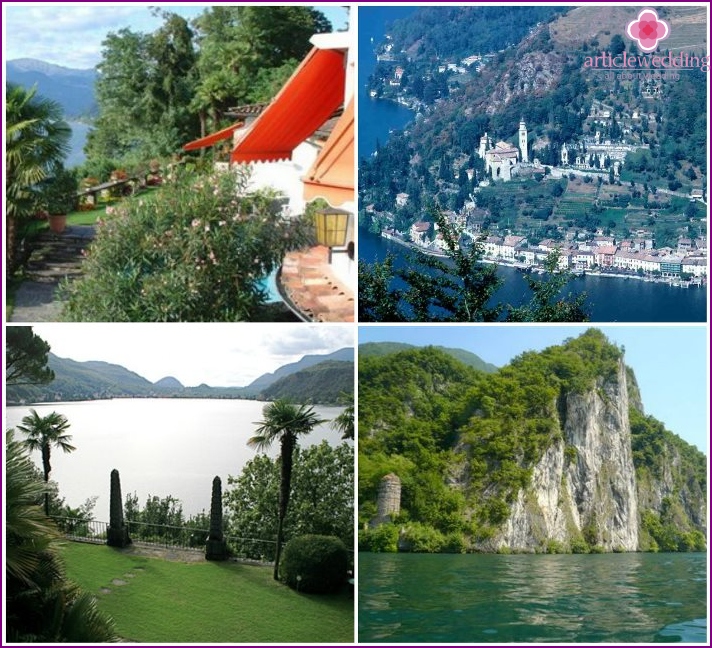 Zermatt
If you are a couple who enjoys skiing or loves the high mountains and exploring them, consider a wedding venue like Zermatt. This peculiar village is famous for its mountain slopes and is considered the best resort in all of Switzerland. You will get many indescribable impressions of the wedding spent in this amazing place..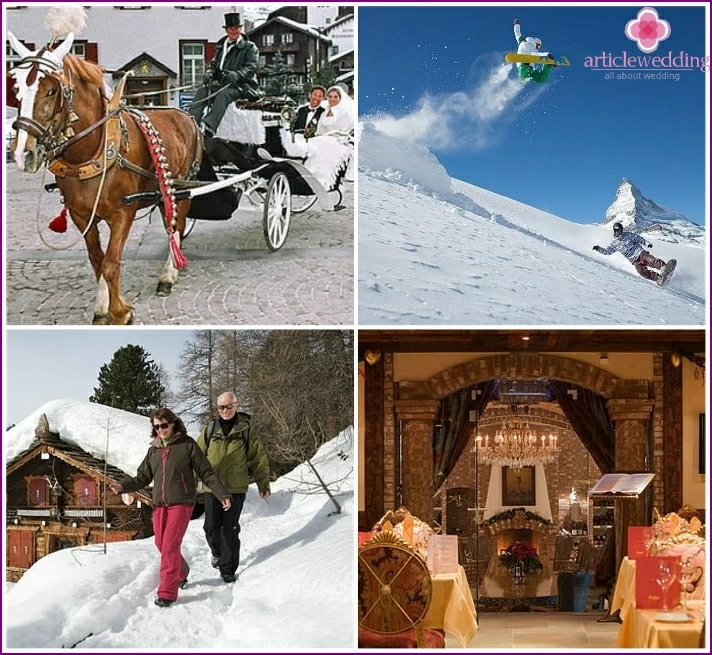 Lucerne Lake
The ideal place for a wedding in Switzerland is Lake Lucerne. This enchanting pond resembles the shape of a cross when viewed from above. Many legends have created mankind about this unique place located in the heart of Switzerland. It will be a truly unforgettable wedding if you organize a visiting mural ceremony right on the shore of Lake Lucerne.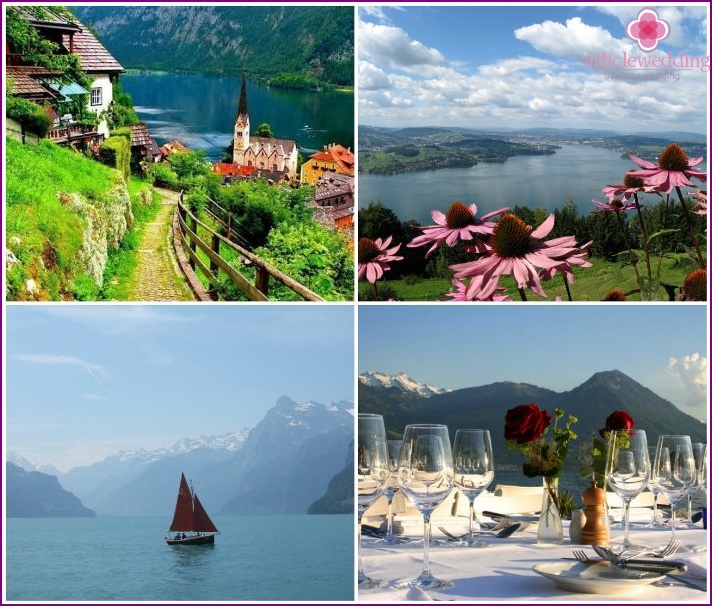 Lake Geneva Resorts
Lake Geneva is a place that inspired Byron himself with his unforgettable landscape. Therefore, it will be exciting for you to drink a glass of champagne after the coveted words of consent to carry out an alliance at one of the resorts in the area. No wonder that Geneva is famous for its measured pace of life - here nature itself ordered to enjoy every lived minute of your wedding.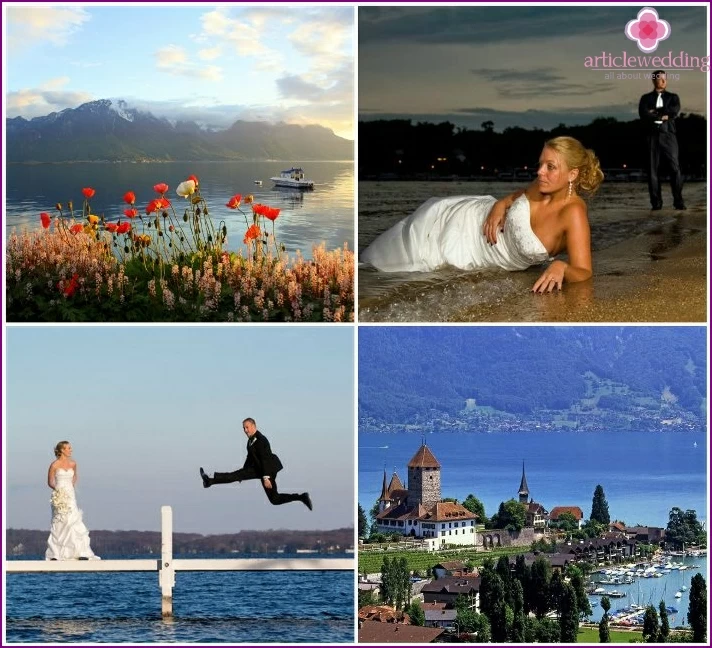 Switzerland Wedding Scenario
Wedding morning in Switzerland
The bride brings beauty to the hotel room. The groom calls for a sweetheart in a luxury executive car. The girl goes to the balcony, and the guy sings a romantic serenade. After sincere words of love, the enchanted bride goes down, and the newlyweds together go to the wedding venue. Guests are looking forward to the newlyweds at the ceremonial altar on the Swiss Lake Lucerne.
Newlyweds walk along a white path leading to a beautifully decorated arch on the banks of a picturesque pond among the mountain peaks. Guests shower with rose petals and cheer cheerfully.
Words of the host of the wedding:
- This day will be remembered by the fact that two lovers of love decided to conclude their union in the most beautiful place on Earth - Switzerland. Their love and family relationships will be incredibly strong thanks to the energy received in this place. May your union be eternal, and your relationship - reverent, affectionate and respectful. Fill each other with joy, harmony and happiness. Let your friends be always there as they are now. Fasten your union by exchanging rings and a gentle kiss. Switzerland congratulates you on your new status! Bitterly!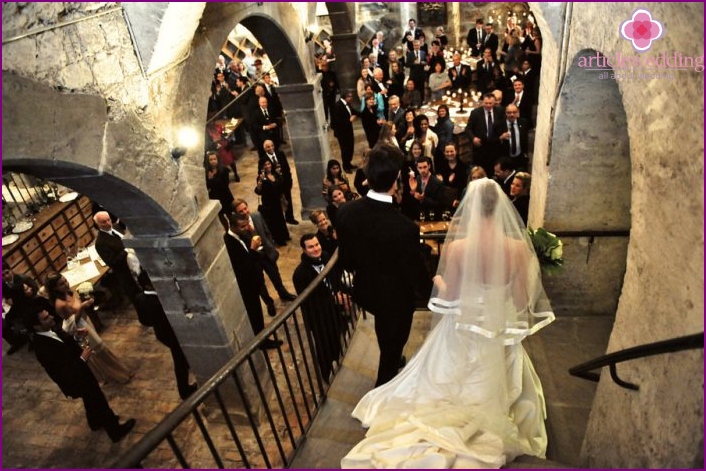 Wedding banquet with entertaining contests
After the wedding ceremony, the guests, together with the newlyweds, approach the festively covered small buffet table near the place of painting. Here is the congratulatory part of the wedding with the presentation of gifts: guests take turns approaching the bride and groom, congratulate and leave their gifts on a special table.
The final part of the wedding
After a short feast, the newlyweds dance a wedding dance and invite guests to watch the fireworks. After that, everyone goes on planned excursions, traveling around the picturesque country of Switzerland.
Video: holding a wedding ceremony in Switzerland
Switzerland is a country in which a high standard of living, beautiful views of natural beauties, interesting cuisine. Holding a wedding here is a wonderful option for those who want to get a lot of unforgettable experiences. Watch the video from the wedding ceremony in Switzerland, where you will find many interesting moments. The celebration style will surely impress and inspire you..
Wedding photo shoot in Switzerland
Having been in Switzerland at your own wedding, it is a sin not to order a luxurious photo shoot among the local landscapes. Let the photographer work with you for more than one hour, but the result will exceed all your expectations. You can not only enjoy the color of the country, walking along the original streets of Swiss cities, but also capture breathtaking shots in wedding dresses. Such a wedding with a photo shoot will be for you a wonderful memory for many years of a happy life together. See the examples below for examples: