Contents
---
---
There is no more romantic moment for a couple in love than their wedding day. All newlyweds strive to arrange an unforgettable wedding ceremony and spend an amazing honeymoon. In preparation for the celebration, some brides and grooms refuse the traditional wedding in their home country in favor of a more romantic, colorful registration in a tropical island. A wedding in the Seychelles is one of many options for turning a family's day into a bright, memorable and fabulous holiday. Here you can combine the wedding with the honeymoon.
How to organize a wedding in Seychelles
An ideal venue for a colorful wedding ceremony is Seychelles. Unique landscapes, picturesque ocean, green palm trees, sandy beaches will become a natural background for your holiday. If you think that organizing a wedding outside your home country is problematic, entrust the entire preparatory process to professionals from a wedding agency or travel agency. They have experience in conducting such special occasions, they have established contact with workers in the Seychelles wedding industry.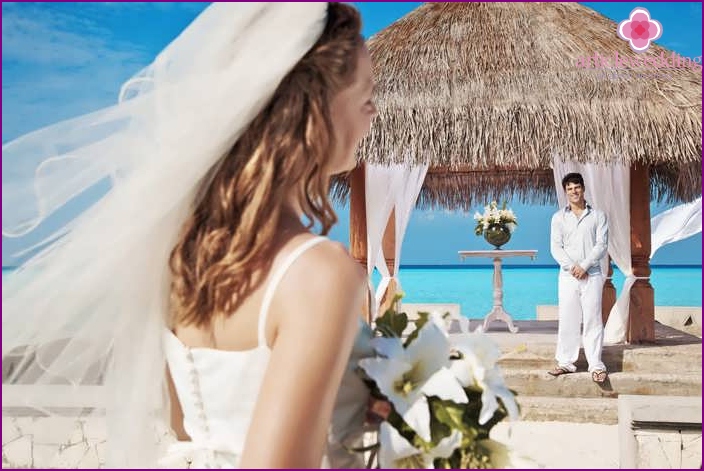 A wedding in the Seychelles is a great way to combine business with pleasure. Do not rush to return home immediately after registration of marriage. Book your hotel for a long time, and then you can spend an unforgettable honeymoon in the colorful Seychelles by the sea. The islands have many wild beaches where newly made spouses can retire and spend a day with each other.
When organizing the wedding, discuss with your wedding agent the possibility of holding non-traditional ceremonies. Seychelles offer newlyweds different types of weddings: in a hotel, in a forest, by the ocean, in a tropical garden, under water by a coral reef, on a yacht. Marriage concluded in the Seychelles according to all regulatory rules will be valid in all countries. But the islands provide services for a symbolic wedding ceremony..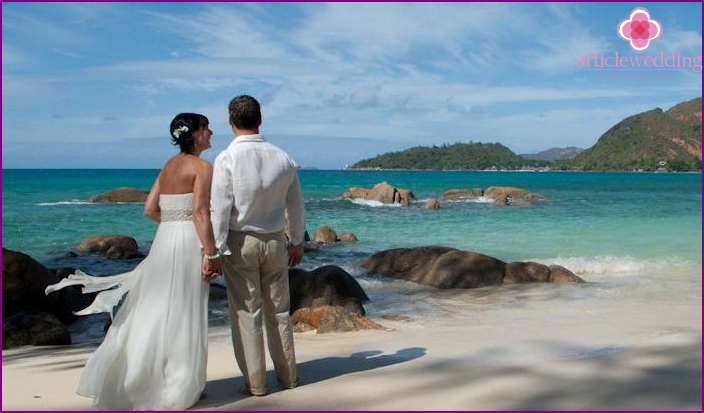 Where to have a wedding
Seychelles is a large archipelago that brings together more than 100 islands. Each of them is unique and inimitable. Whatever you choose, you are guaranteed a fabulous wedding, these places are considered the most beautiful territories of the planet. A special climate reigns here, which provides year-round warm weather without sharp temperature fluctuations, so you do not have to worry about acclimatization. Popular destinations for weddings are the island of Praslin, La Digue, MAE.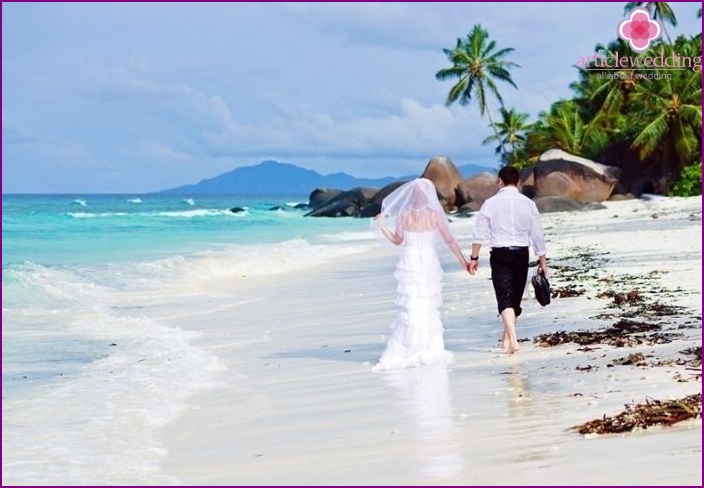 On the island of Praslin
Newlyweds who want to meet magnificent sunrises and sunsets, enjoy the amazing beauty of nature, must choose the island of Praslin for their ceremony. Its beaches are considered the best in the whole world. On Praslin there is a unique grove of coconut trees, which has no analogues in the world. There you will be able to conduct a unique wedding photo shoot. A rare bird that can be found only in the Seychelles - a black parrot can get into the frame.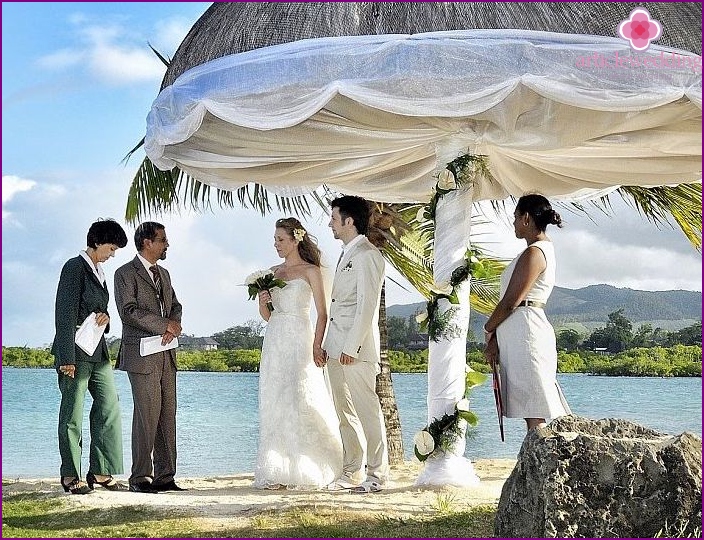 On La Digue Island
One of the largest islands of Seychelles is La Digue. It is distinguished by its beauty, unique nature. To get to La Digue, you have to use a boat or a helicopter. Like other Seychelles islands, La Digue has rugged vegetation, beautiful landscapes. Your holiday can be complemented by a rare bird - a paradise flycatcher. The wedding will be surrounded by unique landscapes. If you decide to arrange a ceremony by the ocean, a unique pink shade of sand will give the celebration even more fabulous.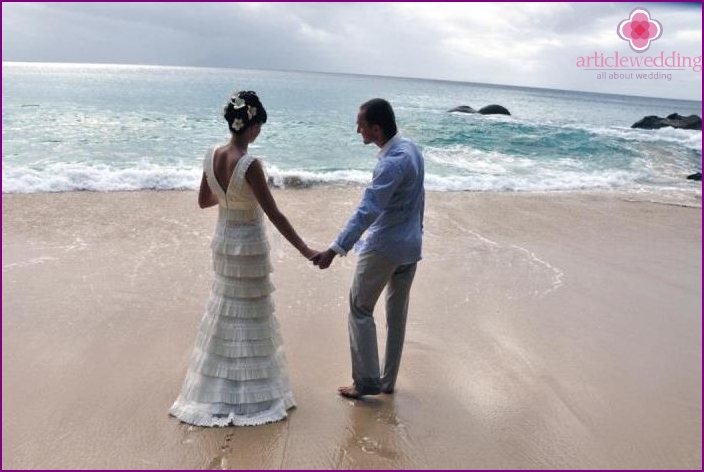 At the MAE
A wedding at the MAE is suitable for those couples in love who want to not only find themselves surrounded by tropical nature, the Indian Ocean, but also attend social parties, and visit expensive luxury restaurants. This island is full of touching beauty, fabulous romance. It combines a unique atmosphere, joyful mood and amazing nature. Having married in the Seychelles, you can plunge into the nightlife of the island during your honeymoon, visiting elite night clubs, discos.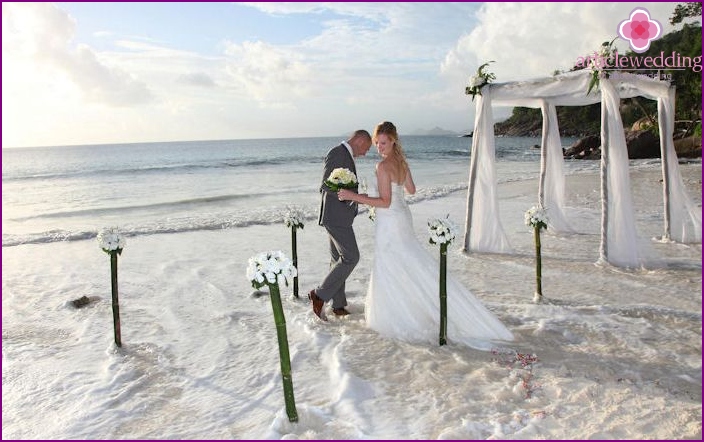 Necessary documents for marriage
If you decide to have a wedding in the Seychelles, a wedding agency or travel agency will tell you a list of documents that will be required to register a marriage. You will need:
photocopies of all pages of the passport of the bride and groom;
birth certificate for both women and men;
the so-called Affidavit - a document on freedom;
if a widower or widow marries, then a death certificate of the former spouse or a previous marriage certificate will be required;
for divorced people, it will be necessary to provide a certificate of conclusion and termination of the previous union;
certificate of adoption, if you register the relationship will be a person previously adopted;
if necessary, you may need a copy and an original about the change of surname, name;
notarized permission from parents for marriage, if the marriage will be held for persons under the age of 18.
The package of necessary documents should be submitted to the company organizing your wedding no later than a month before the solemn day. For all documents and references it is necessary to make a translation into English, to be certified by a notary. The originals of all documents must be with you upon arrival to the islands. Upon completion of registration, the marriage certificate is transferred to the Russian Consulate in the Seychelles, where the marriage is certified and translated into Russian, according to the country's regulations.
How much is a wedding in the Seychelles
Here couples in love can play both an official wedding, a certificate of which will be valid in all countries, as well as symbolic. The second option is a fabulous ceremony, no different from official registration, but at its end a marriage certificate is not issued. The final cost of the holiday will depend on what type of wedding you choose, as well as on the venue of the celebration..
Official marriage
The exact cost of the wedding will tell you only the wedding agent involved in the preparation of your celebration. The price will vary depending on your preferences and wishes. Tours for newlyweds are selected individually. The minimum cost of the official ceremony will be compiled as a result of the calculation of prices for several services. Here is their approximate cost:
Preparation of documents, translation and certification of the wedding certificate at the Russian consulate in the Seychelles - 250 euros.
Escort of a Russian-speaking wedding agent and assistant at the place of arrival - 110 euros.
The minimum price for an exit ceremony in the Seychelles: MAE - 1800 euros, Praslin - 750 euros, La Digue - 475 euros. The price includes preparation of the venue for the celebration, cake, reception services, transfer, flower arch.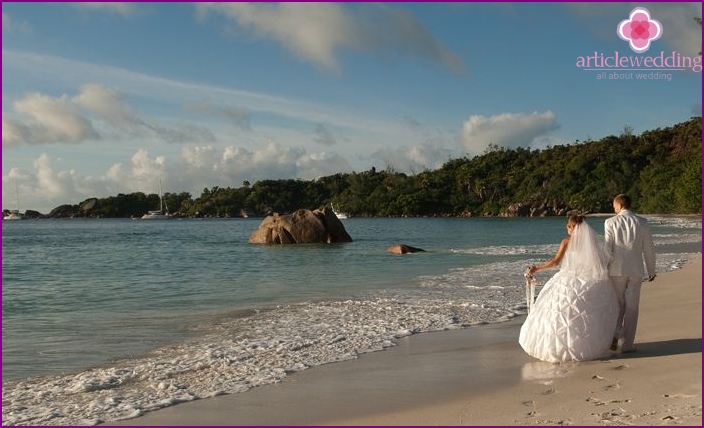 If your wedding falls on a weekend or holiday, you will be charged extra. The same applies to cases when the newlyweds are late with the provision of documents, and submit them later than two weeks before registration. You may be expected to pay extra and depending on which hotel you decide to stay during the wedding ceremony.
Symbolic wedding
The cost of a symbolic wedding will not be much different from the official ceremony. But for such a marriage, you do not have to pay the preparation of documents for registration, the consular fee for processing a marriage certificate. Everything else will depend only on your wishes and capabilities. The more luxurious the ceremony you want to organize, the more expensive it will cost. The minimum price for a symbolic wedding is the same as for an official wedding.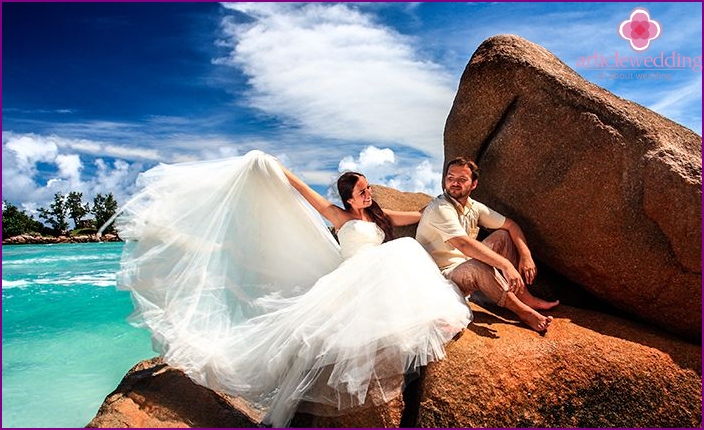 Video: holding a wedding in Seychelles
Seychelles offer newlyweds to play a unique wedding surrounded by the ocean, warm sun, blue sky and tropical birds singing. Do you want to arrange an unforgettable marriage registration ceremony or a symbolic wedding to tell each other how you are in love? Seychelles is the right place for this. You will get colorful photos and videos as a result of such a trip. And if you are still in doubt, a video in which the enchanting atmosphere of the tropics will help you decide in favor of Seychelles.
Reviews for a wedding in the Seychelles
Irina, 39 years old
Last year, on the anniversary of our acquaintance, my beloved and I went to the Seychelles to register our relationship. The wedding came out fabulous. The ceremony was held on the beach under the rays of the setting sun. It was magical!
Tatyana, 54 years old
When my son was about to get married, I decided to give him and the future daughter-in-law a beautiful wedding, choosing Seychelles for the event. The wedding agent advised me to go to the island of Praslin, and I did not regret it. The newlyweds were happy with such a gift..
Igor, 46 years old
My wife and I had a wedding in a distant youth, and it did not go exactly as we wanted, a sad sediment remained. Therefore, I decided to arrange another wedding, but one where we will be the only one together. A symbolic ceremony was held at the MAE in a tropical garden. This time everything went perfectly».
Wedding photo shoot
Nowhere else will you find such colorful landscapes and amazing places for a wedding photo shoot as on tropical islands. A wedding in the Seychelles is an action of unique beauty, during which every bride can feel like a princess. Bright, sunny photographs can be taken not only on the ocean, but also in beautiful gardens, forests, which the island is rich in. A wedding photo session with Seychelles will come out colorful, bright and joyful, because in such a place sadness will not be able to appear on your face.