Contents
---
---
When choosing a venue for a wedding, newlyweds often stop in Turkey, and this is understandable: a warm climate, beautiful sea, luxurious hotels and, most importantly, affordable prices for organizing a wedding ceremony for a couple in love do not leave anyone indifferent. The combination of European and Asian culture will allow loving people to fully know Turkey, enjoy its beauties and fall in love with this country. On the large Turkish territory there are many picturesque places in which newlyweds learn what paradise is.
How to organize a wedding in Turkey
To make the wedding memorable, you need to contact a travel agency that organizes wedding tours abroad. Newlyweds have a unique opportunity to combine a wedding ceremony with a honeymoon, because Turkey provides comfortable hotels for newlyweds at a very low price, when compared with other warm countries.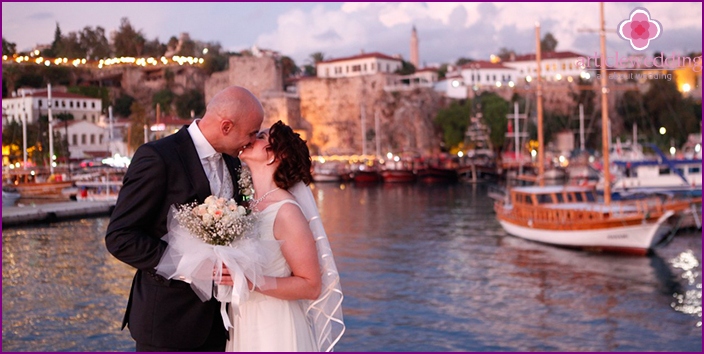 The advantage of a wedding in Turkey:
On the luxurious Mediterranean or turquoise Aegean, you can be in just 2 hours of flight.
A visa for newlyweds is issued at the airport upon arrival and no additional documents are required to visit this country.
In all cities and hotels there is a Russian-speaking staff.
Turkey is a museum country: towers, ancient mosques, ancient fortresses, ruins of old cities.
Where to hold a wedding ceremony in Turkey
Many cities in Turkey are characterized by a favorable climate and have many attractions worthy of attention. The newlyweds will choose a suitable venue for the wedding ceremony for themselves very quickly. We want to offer for consideration the six most popular tourist cities in Turkey, which are the best suited for a wedding.
In side
Side is one of the most beautiful resorts on the Mediterranean coast. Its sea panoramas are breathtaking, and clear waters allow you to view the bottom to the smallest detail. Newlyweds from around the world are attracted by snow-white sand and a picturesque coastline. If the bride and groom want to hold a wedding ceremony on a yacht, they can enjoy the magnificent scenery and get acquainted with the stunning nature of the coast of Side.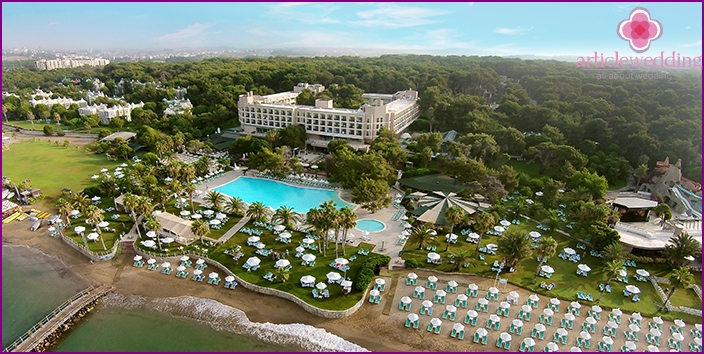 In Kemer
Although Kemer is one of the youngest resorts in Turkey, but it has already become a favorite of the Antalya coast of the Mediterranean Sea. Its peculiarity is an amazing combination of natural elements: on the one hand, the city is surrounded by picturesque mountains, orange gardens and coniferous forests, and on the other - sand and pebble beaches and a transparent sea, with the sea bottom visible at a depth of 8 meters. Kemer agencies will offer newlyweds to choose any program for their wedding:
ceremony by the sea;
national celebration at the hotel;
secluded celebration on one of the islands: Kekova, Imbros, Cedir.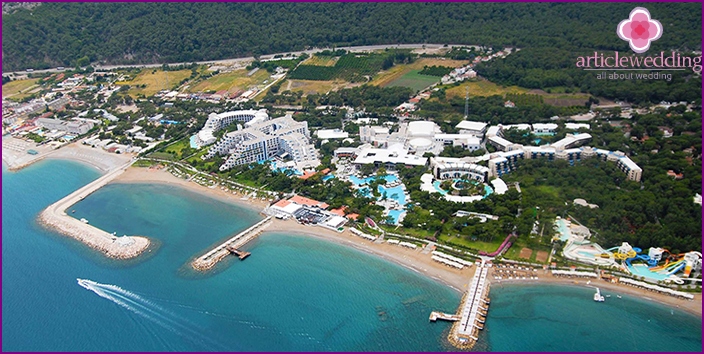 In Belek
Belek is famous for thickets of acacias, eucalyptus, cedar and pine forests. This is the birthplace of unique species of birds and a real bird paradise, headed by the owl Tuto-Alba, which has become a symbol of the city. This is the most expensive resort in Turkey, so there are not very many tourists here, which is ideal for newlyweds looking for privacy. Belek has no attractions, but if the newlyweds want to spend their honeymoon here, this problem can be easily solved: they will be taken to the best historical tour of Turkey by car.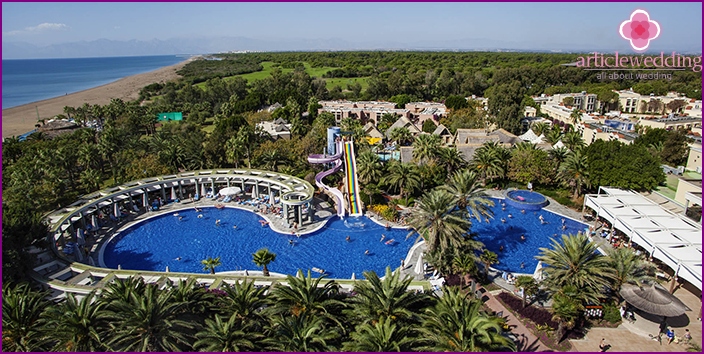 In Bodrum
Bodrum is located in southwest Turkey between the Mediterranean and Aegean. It organically combines secluded bays with clear water, golden sandy beaches, orange groves, beautiful mountains and pine forests. All the elite and bohemia of Turkey chose Bodrum for their pastime. Newlyweds will not have to get bored here, because in addition to the wedding ceremony in any place chosen by the couple, they will be able to enjoy the most chic and largest disco in all of Europe - Helicarnassus.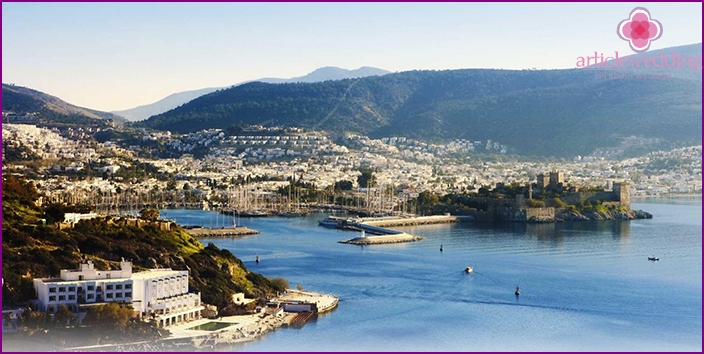 In Antalya
The climate of Antalya is no different from other Mediterranean places, and the sun shines brightly from April to October. In this Turkish resort, the newlyweds will organize a whole wedding tour, which will include not only the wedding ceremony, but also the wedding ceremony according to local traditions. And if the groom and the bride decide to invite guests to the wedding, then quickly arranging additional places for the celebration will not be a problem. Newlyweds can choose any place of Antalya for a solemn wedding:
snow-white beach;
orange garden;
Tamara lighthouse;
Pirates' ship;
historical temple;
a five-star hotel terrace;
ski resort.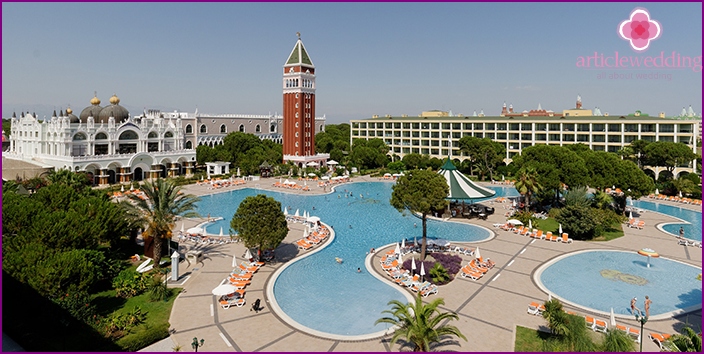 In the Stambul
Istanbul is a Turkish metropolis that combines the charm of the West and the special atmosphere of the East. It attracts newlyweds from all over the world who want to get married in a place full of charm, indescribable color, mystical secrets. The special charm of Istanbul is the harmonious combination of modern buildings with houses of ancient architecture. The Bosphorus Bridge, the Byzantine Palace Erebatan and other attractions will create an excellent background for a romantic photo shoot of the bride and groom.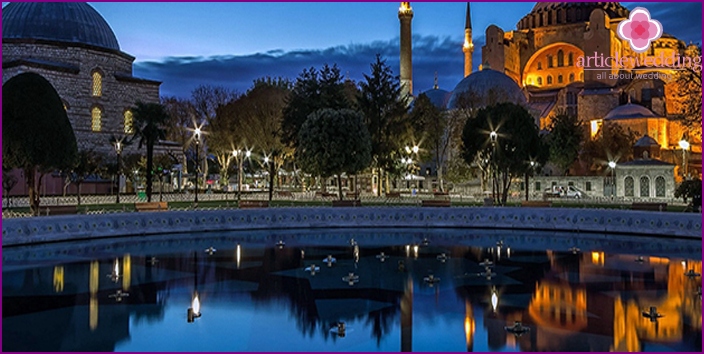 Required documents for registration of marriage
If a couple wants to hold only a symbolic wedding ceremony, then she does not need any additional documents, except for passports, insurance for the period of stay in Turkey and hotel reservation. Upon arrival, the newlyweds pay a visa fee for tourists, and then can freely stay in the country for up to 30 days. If the newlyweds decided to hold an official ceremony, then they need the following documents:
Foreign passports.
Passports of citizens of the Russian Federation.
Birth certificates.
Certificate of death of spouse or divorce (if any).
If one spouse has not reached the age of 18, then the consent of his parents, certified by a notary, is necessary.
How much is a wedding ceremony in Turkey
Turkey has excellent infrastructure, natural resources and experience in conducting wedding ceremonies, so the newlyweds are primarily considering this country for their marriage. Wedding prices are attractive here - this is a great option for couples with a minimal budget. Depending on the package chosen, the cost of a wedding on the coast varies, starting from $ 400.
Symbolic ceremony prices
A symbolic marriage ceremony is a celebration for an already registered couple in the Russian Federation. The minimum cost of a wedding ceremony in VIP-hotels can start from $ 400, but airfare, medical insurance, personal expenses will not be included in its price. As a rule, this includes accommodation in a room for newlyweds 6 nights / 7 days, meals according to the system «all inclusive», airport shuttle, two-hour wedding program to choose from.
Formal ceremony cost
Turkey is loyal to the newlyweds, therefore, it is allowed to formally register marriages between both foreigners and between a foreigner and a Turkish citizen. A ceremony with a public service representative, translator, marriage registration certificate will cost about $ 600. The administration of all issues related to compliance with the requirements of the law or with the mechanisms of the ceremony, it is better to entrust in advance to specialists who have experience of this kind in Turkey.
Video: holding a wedding for two in Turkey
If the newlyweds do not want to invite relatives to the wedding ceremony or have a small budget, the Turkish coast offers a huge number of options for holding a wedding for two. This is a marriage in heaven (private jet) or a ceremony on top of the famous Mount Olympus, in which the formidable Zeus confessed his love to the beautiful Hera, as well as a sea voyage on a pirate schooner (comfortable yacht).
Many young people choose an official ceremony on a Turkish beach with the obligatory decoration of a flower arch, a wedding cake, champagne, the services of a photographer, hairdresser, makeup artist. This budget option is no less attractive than lush weddings with many guests. Watch the video where the couple chose a beautiful beach for a romantic wedding for two:
Photos of wedding ceremonies in Turkey 2016
To easily find the perfect option for a wedding abroad, it is better to contact a travel agency. Its employees can not only offer the country and the ceremony to your budget, but also draw up all the necessary documents for this in a short time. Turkey is the first country on the list that agencies offer for weddings. She is loved for hospitality, comfortable living conditions, unique nature and visa-free entry.