Contents
---
---
Planning your own wedding takes a lot of time and energy, because every bride dreams of an unforgettable and unusual holiday. If you want to organize an original celebration, consider stylized wedding options - for example, a strawberry wedding is very interesting. With the right and creative approach using this design idea, the holiday will be catchy, outstanding and bright. The wedding, held in a strawberry style, is saturated with colors and freshness, so not only newlyweds, but also all invited guests will forever be remembered.
The bride and groom in a strawberry look
Search for wedding dresses can take a lot of time, but there is always a chance to return to the classic version - a snow-white dress of the bride, a light or black suit of the groom. To make a bright accent, use additional decor, original attributes (veil of red or pink shade, chamomile-strawberry bouquet, color tie of a young, etc.).


It is advisable to celebrate the wedding in the hot summer, because this is the perfect time for a themed strawberry wedding. The bride can put on a light, light dress, reminiscent of an air sundress, complement it with bright decor - a red ribbon, tied under her chest. If desired, the veil is replaced with a flirty hat or a straw headdress, which is better to decorate with strawberries or a flower and berry wreath.
The groom should wear a light shirt made of light natural fabrics, light trousers (very interesting, spacious, airy canvas pants look unusual). Instead of a boutonniere, you should take a sprig of strawberries (with or without berries), but you need to use only artificial attributes so that there are no ugly red spots on the light fabric. For a young bouquet, a composition of sweet berries, complemented by wildflowers, is perfect.
Strawberry Wedding Design Ideas
From the outside it may seem that organizing a wedding in a strawberry style is very difficult, because many of the nuances and small details of the decor require special attention. But with just a little effort, you can give the holiday a light berry mood. The ideal option would be to set a wedding date for the end of spring or the beginning of summer, when it is not difficult to buy fresh and fragrant strawberries, because this berry will be the main decoration for the decor of the whole holiday.
Banquet room decor
A strawberry wedding requires special decoration in the hall in which the festive banquet will take place. The main motto for the celebration is strawberries everywhere. Place on the table multi-tiered dishes filled with this fragrant, juicy berry. This decor is not only very beautiful, but will be just the perfect complement to champagne. If you decide to have a wedding in nature, then stock up with baskets of strawberries.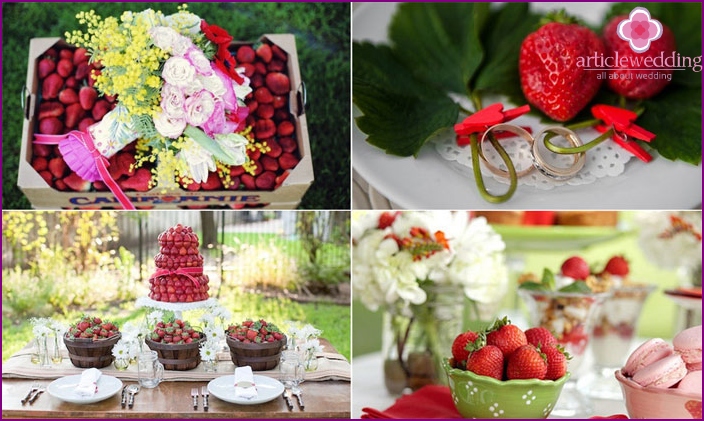 So that each guest remembers your wedding and he has only positive impressions, prepare a nice souvenir in advance - for example, sweet strawberry jam in a beautiful jar. Guests will be pleased to receive a bonbonniere filled with sweets (a small, beautifully decorated gift box). Complete the present with a thank you card or a ribbon that has a rich red color, because each element of the decor should fully correspond to the style of the wedding.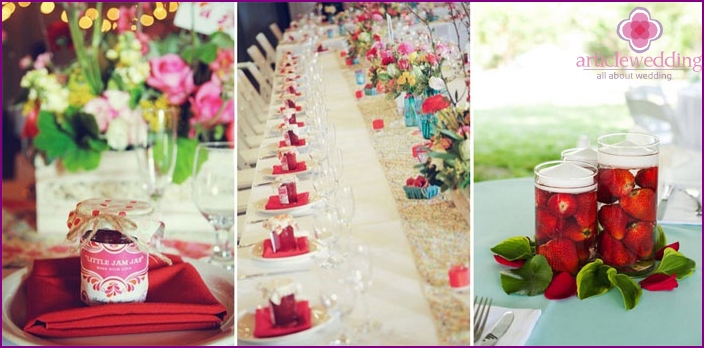 Accessories for a festive table
When designing a banquet table, do not forget about personalized cards with strawberries, and when laying the table, use napkins with a thematic pattern. You can treat guests with sweet cocktails, desserts made from this fragrant berry, supporting the style and decor of the celebration. Regarding the choice of flowers, it is best to give preference to strawberry branches, the aroma of which will turn your head. Place them in small teapots or vases - the green color is pleasantly refreshing, adding brightness to the overall decor. You can use any other wildflowers..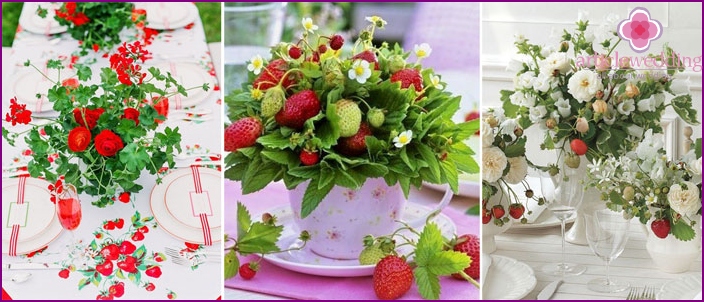 Strawberry Wedding Treats
A strawberry wedding implies a corresponding menu - for meat dishes it is worth choosing a fragrant sweet sauce made from this summer berry. There are options for salads, in which one of the main roles is played by summer berries, and in addition to it, mint leaves and other greens are added. It is necessary to make sure that on the table there are a variety of sweet strawberry desserts, which can have white and red colors.
You can put large dishes on the banquet table, filled to the top with juicy, ripe strawberries - this is not only tasty, but also incredibly beautiful treat. The only thing is that strawberries start juice very quickly, so you need to have a fresh supply in the refrigerator to replace dishes on time.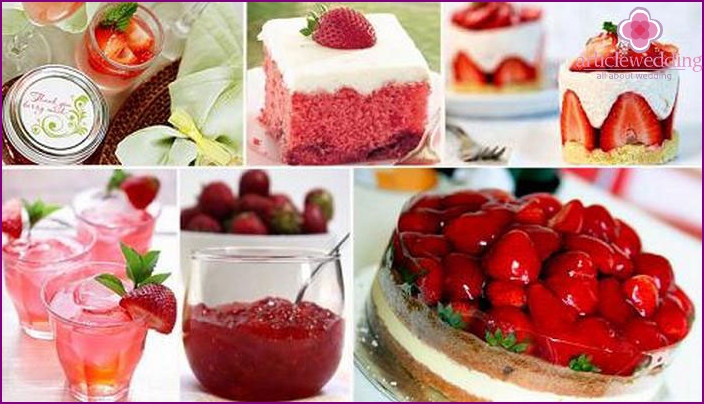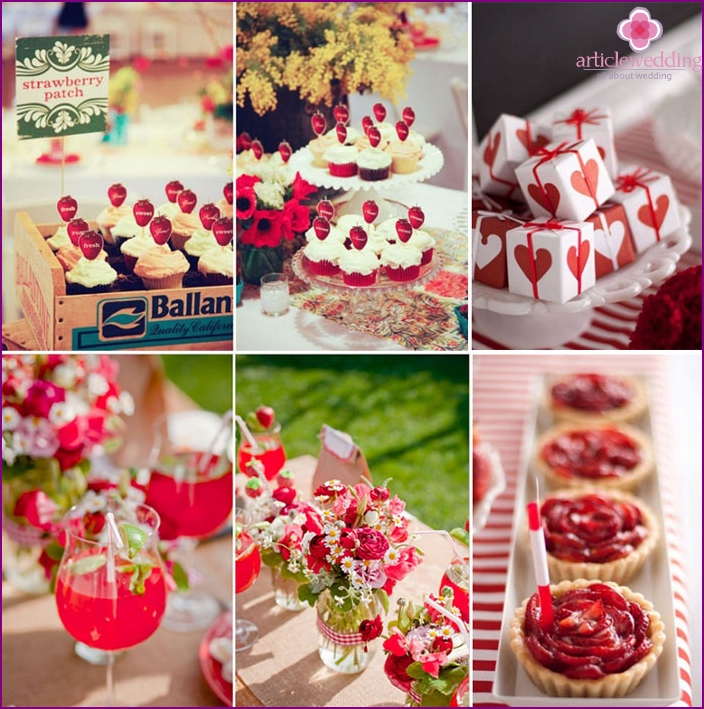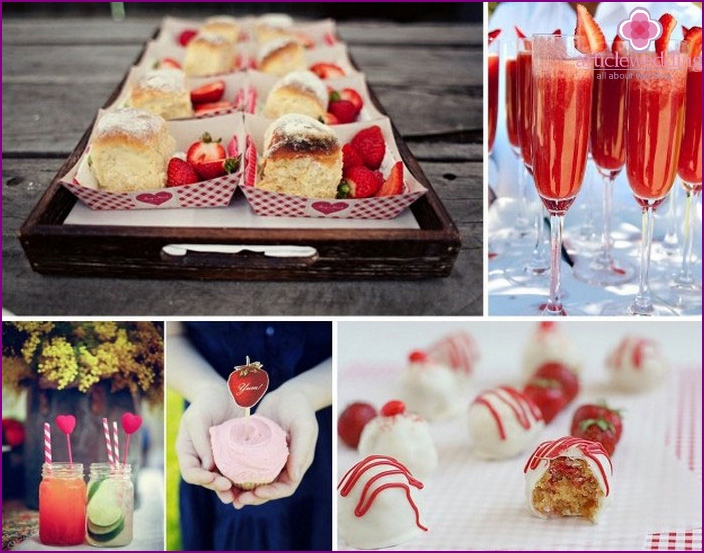 As desserts for a wedding, you can consider the following options:
a chocolate fountain, next to which is a vase filled with ripe strawberries;
lace pancakes with fruit and berry filling;
fruit and berry smoothie;
tiramisu with a berry layer;
dessert popsicles decorated with strawberries;
strawberry or strawberry jelly in beautiful rosettes;
baskets with strawberries or fruits;
fashionable desserts - cupcakes and macaroons with berry filling;
strawberry soft drinks that will appeal not only to children but also to adults;
chocolate fondue with strawberries (you can also use a variety of fruits - for example, melon, bananas, apples, pears, etc.).
Do not forget about the most important decoration of the festive table - a juicy, bright and beautiful wedding cake. This dessert must be with strawberries, while it can be used as a decoration or filling. You can safely choose a traditional white base or order an unconventional version of the cake that looks like a stack of pancakes. When organizing a strawberry-style wedding, it is worth remembering that some guests may suffer from allergic reactions to this berry. Therefore, ask guests in advance if they have strawberry intolerance..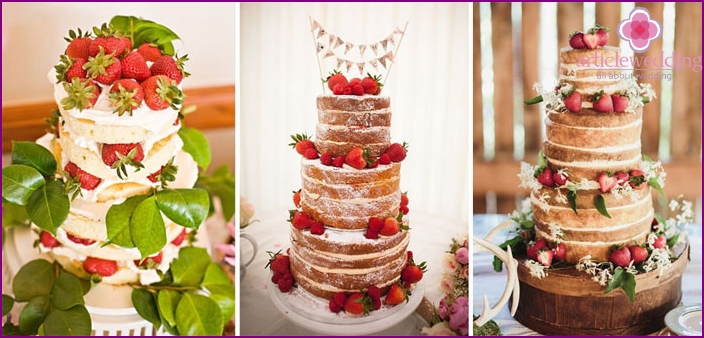 Strawberry-style wedding photo shoot
If you want to hold a fabulous photo shoot in strawberry style, it's not enough just to hang this berry on tree branches, you still need to create a light summer mood, recharge with a positive. As accents of the image, you should choose all kinds of accessories with a strawberry print - plaids, scarves, dishes. In the summer, it will turn out to use both the berries themselves and traditional dishes from them (for example, a husband's wedding tea party with his wife on the background of jars of jam).