Contents
---
---
It's a good tradition to go on a romantic honeymoon trip after the wedding to enjoy each other and take a break from the hassle that accompanied the process of organizing the festive event. The summer period opens up many opportunities and options for such a pastime, mainly for those couples who do not have the opportunity to visit warm countries. It is important for newlyweds who choose a tour for the July honeymoon abroad to take into account the climate in different resorts so that the trip gives only pleasure.
Features of rest in July
Summer is a great time for a wedding, and therefore for a honeymoon. July is a beautiful month that delights with a riot of greenery, warm sunshine that caresses the skin, air saturated with romance. This is an ideal period to go on a romantic trip, spend a honeymoon. At this time, many people want to relax on the seashore, go on a tour of European cities. Therefore, you should take care of choosing a resort in advance: book a hotel, make a route, prepare the necessary package of documents.

When choosing a resort, it is important to take into account the climatic features of different regions, because for one place it is an ideal vacation option in July, while in another it is excessive heat or the rainy season that can ruin everything. For example, the subtropics and African countries can hardly boast of an excellent vacation, because the sweltering heat is replaced by prolonged downpours, which in no way contributes to a fun holiday of a couple in love. Excursions to many cities in Europe, too, will not always be able to give pleasure, because wandering under the scorching sun through the stuffy streets is not what the newlyweds dream of.

But on the other hand, a honeymoon is an opportunity to enjoy the company of a loved one, privacy, lack of domestic problems, so no weather conditions should prevent a couple in love from having fun. The advantage of the July honeymoon is the opportunity to relax in domestic resorts that provide quality relaxation or go on a trip to the vast Motherland.
Where to go on a honeymoon
Loving couples wish to spend their first month of married life in a romantic setting, away from the usual places, everyday worries. In addition, this is a great opportunity to visit where you have not yet been, to get acquainted with a different culture, to see and enjoy the beauty of nature, which is saturated with the spirit of romance, or to walk through the streets of the ancient city, visiting various historical places. For a honeymoon, the newlyweds choose the islands, and for excursions - the countries of Europe. Watch the video with the best honeymoon spots:
Italy
The beauty, romantic atmosphere of Italy will provide an unforgettable vacation for young spouses in love. July is the middle of summer, and during this period it is very hot, the farther south, the more the sun burns. But the charm of nature, surrounded by greenery, various flowers, flowering plants make you forget about the high temperature and enjoy the views and relaxation. Italy presents many options for recreation, it all depends on the wishes of lovers:

Beach vacation. White sand, a light breeze that brings so much coziness to a sultry summer day and the azure sea - that's all that is needed for a romantic getaway for a couple in love who does not want to go on excursions. In the evening, a walk along the shore or the promenade, a candlelit dinner on the open terrace of the restaurant, where national dishes are prepared, are perfect. A great idea is to go for a walk around the city in order to enjoy the beauty of the architectural structures inherent in this region during the evening coolness..

Sightseeing tours. This is an ideal option for those couples who are not used to spending the day calmly, but love movement, strive to learn new things and are ready to visit more places in a short period of time. First of all, spouses choose the most popular cities, where there is something to see, whose story is breathtaking, and beauty is admired and remembered forever.
Venice is a city of lovers, where everything is saturated with romance and love is in the air. Here, every building, every street, river canal is ready to tell its story, share the most secret. Walking on a gondola will be a bright and unforgettable event that will leave a sea of ​​sensations. Having visited Venice once, you will fall in love with it and each time you will mentally return there, indulging in memories.

Rome is the historical center not only of Italy, but of the whole planet. This city is rich in historical places, architectural monuments. To visit all corners of the city, to get acquainted with all the sights it will take weeks, months, and for Rome to win its heart forever, it takes only a few seconds. This is a great vacation option for lovers..
Visiting festivals, fairs, entertainment events. July in Italy is rich in vibrant events, so lovers will certainly have something to entertain themselves with. You can get positive emotions and pleasure by visiting the opera festival in Verona, St. Rosalia's Day in Palermo or the Venice Festa del Redentor. These events will give a lot of unforgettable impressions, and the honeymoon will be remembered as a bright event filled with romance, joy and fun..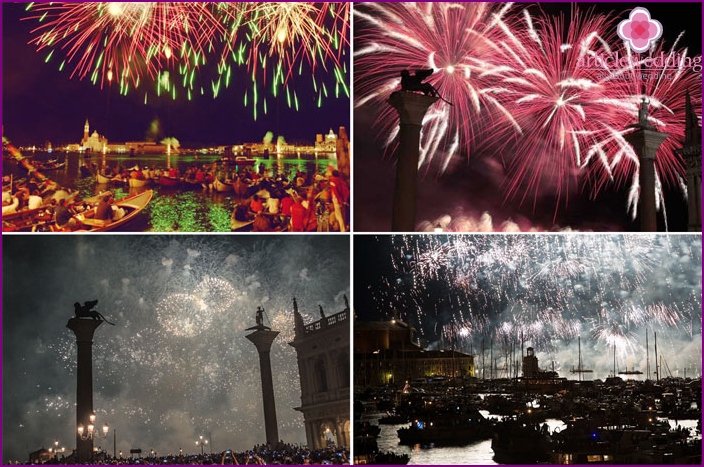 Greece
July is a great time for a vacation in Greece, when the sun gives a bronze tan, the warm sea caresses the bodies, and friendly residents are always ready to provide their services. Picturesque places, historical sights, clean beaches - these are the main advantages of a vacation in Greece, and the choice of resorts is wide, so each couple can choose a secluded corner to their taste:
Crete is a great place for lovers to relax, because its nature, architecture contributes to the creation of a romantic atmosphere. Here the newlyweds will be able to swim in the crystal clear sea, soak up on the white sand, visit historical places or engage in active sports.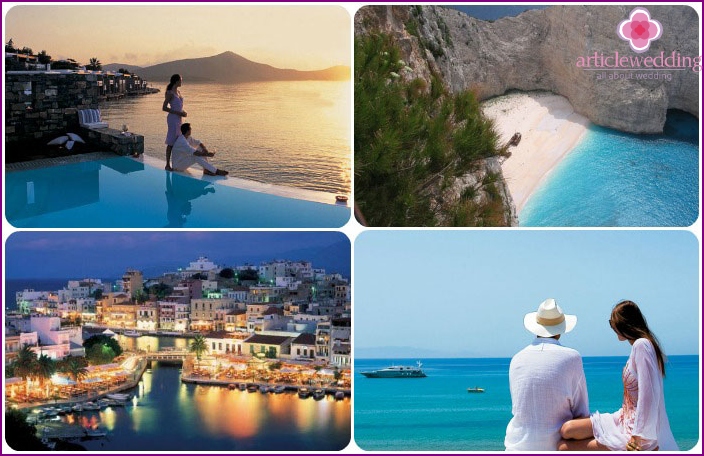 Rhodes. Here a couple in love will find everything for a wonderful vacation - charming beaches surrounded by beautiful nature, historical places, buildings that fascinate with their architecture.
Santorini. For some, Greece is associated with charming white houses located above the sea, so many newlyweds want to visit this island, where these buildings are its hallmark. The beauty of Santorini wins hearts at first sight, it is an ideal paradise for a honeymoon.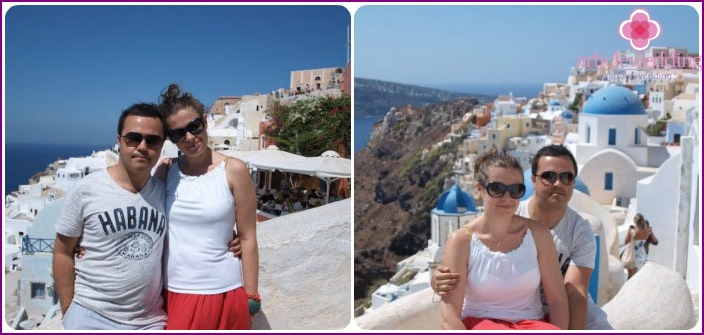 Spain
Spain attracts newlyweds with the beauty of nature, a variety of culture and various entertainments. Each couple will be able to find for themselves the perfect place for a romantic getaway by choosing a specific city or region..
Madrid is an amazing city where everyone will find entertainment to their liking: visiting museums of various directions, shopping, evening entertainment in clubs or a leisurely walk during which it is possible to enjoy the beauty and views of the capital of Spain.
Barcelona is one of the most beautiful cities in the world, its visit will leave an indelible impression. The city is rich in cultural attractions and places worth visiting. July in Barcelona is a great time so that lovers can enjoy walks in the enchanting city of madness, enjoying their love.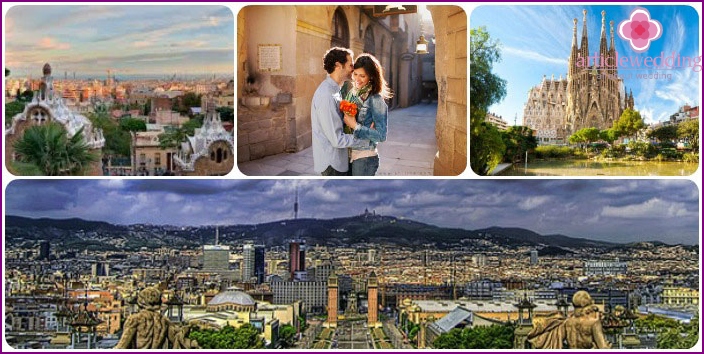 Croatia
Croatia is a beautiful European country with amazing nature and a quiet, relaxed atmosphere. Newlyweds who want to be alone and quiet, not looking for nightly entertainment and discos, this option is most suitable. In addition, the country is rich in mineral springs, so spouses can not only relax well, but also improve their health.
Zagreb is the capital of Croatia and a city that is definitely worth a visit when traveling around this country. This is an amazing place that combines different directions of culture, which makes it mysterious and bewitching. Here are cozy cafes where newlyweds can relax after walking along the streets of the city, many beautiful churches, cathedrals, from which it is impossible to take your eyes off, and visiting museums will provide an opportunity to get acquainted with the culture and history of the city.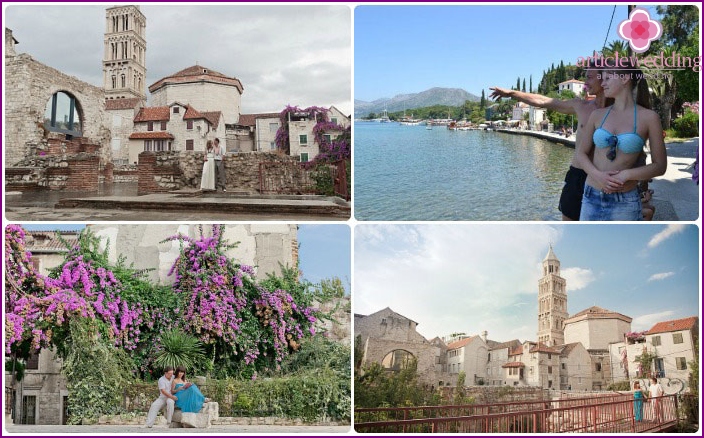 Bali Island
A honeymoon in Bali is a fairy tale that one day became a reality. Holidays on the island are popular in July and other summer months, since the weather is always dry and the likelihood of rains that can spoil the vacation is extremely low. Lovers will find here entertainment to their liking - relaxing on the beach, scuba diving to explore the underwater world. In the evening, visit the nearby cafe to enjoy dancing, fruit and delicious cocktails..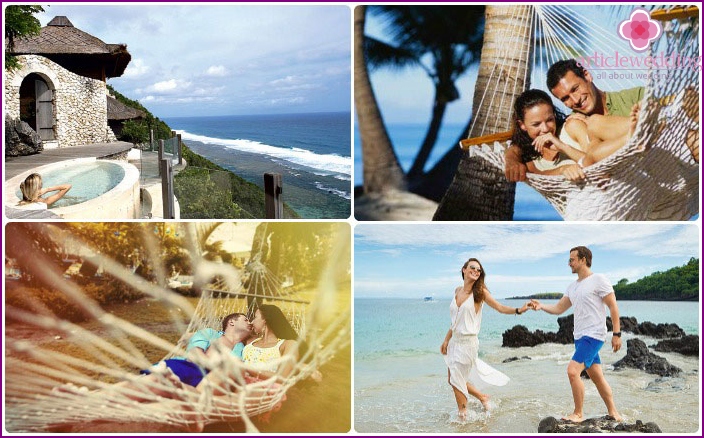 Canary Islands
A great place for a honeymoon is the Canary Islands, because July pleases with fine weather: there are no floods, baking heat. Such a vacation is suitable for couples who want to soak up the white sandy beach, plunge into the warm, clear water, and in the evening visit a club or have dinner, choosing a romantic restaurant. The picturesque nature, which is different on the southern and northern parts of the island, captivates the eye, so a walk through this area will bring only pleasure and enjoyment.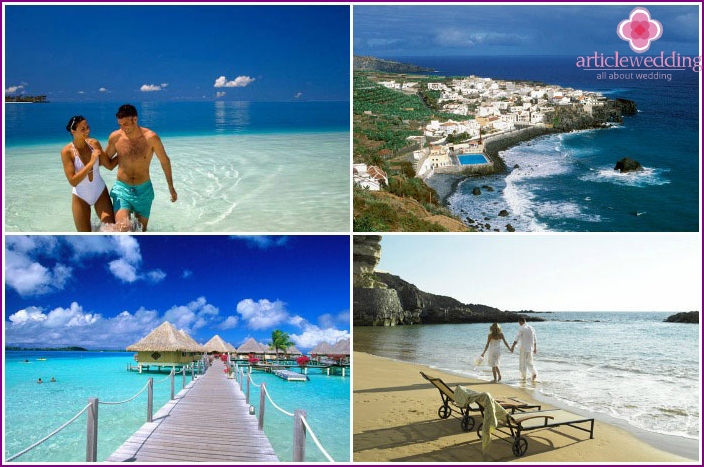 Where to spend a honeymoon is not expensive
Wedding is a very expensive event, so often the newlyweds do not have the opportunity to go on a honeymoon to where they dreamed of visiting. There are several options for how to have a wonderful July honeymoon:
Buy a last minute package at an affordable price, especially since July is rich in such tours and the newlyweds can choose the most suitable for them.
It will go to the south of our country, choosing, for example, Sochi or nearby regions.
Choose a pension that will please you with a forest or a pond near.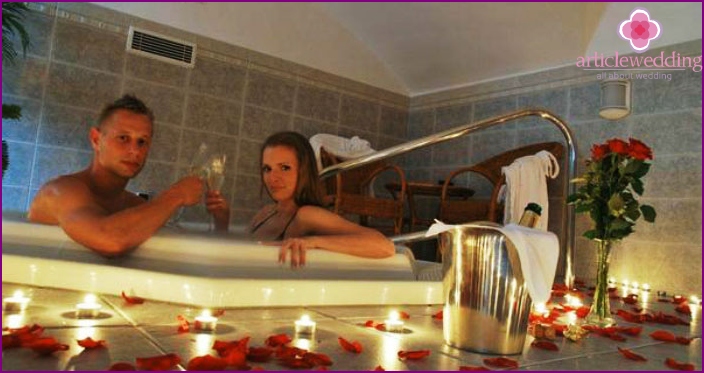 What to do on a honeymoon for newlyweds
The choice of activities and entertainment for the newlyweds during their honeymoon depends on where they are located. As a rule, spouses choose the following classes:
Relax on the beach, diving.
Visiting museums, exhibitions, festivals.
Walking around the city, acquaintance with culture and architecture.
Excursions, visiting historical sites.
Active sport, facilitated by warm weather.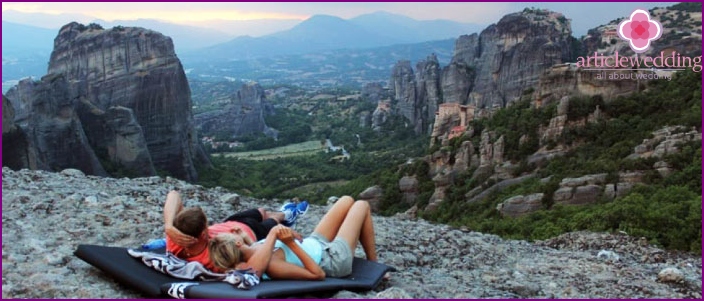 What is a good honeymoon in July
July is the middle of summer, for many countries it is the golden season, the most favorable for relaxation, especially if it concerns a couple in love. The beauty of nature and its favor, the charm of cities - this is a small fraction of the benefits available to the newlyweds during their honeymoon. In addition, July is a great time to relax in your country, because the climate contributes to this and affordable prices.
Honeymoon is a magical period in the life of newlyweds, when they can completely surrender to love, enjoy each other and spend time together, forgetting about all the troubles, worries, worries. In July, a wide selection of resorts and cities where you can go to spend time with pleasure, get positive emotions, a boost of energy and prepare for life together as a husband and wife.