Contents
---
---
According to the ancient tradition, it is customary for newlyweds to sprinkle rice, millet or coins at a wedding so that there is happiness, prosperity and prosperity in the house. Nowadays, sometimes they move away from traditional wedding rituals and sometimes shower young people with sweets or flower petals. And recently, it has become fashionable to introduce more and more unexpected moments into a wedding ceremony, for example, instead of millet and rice, fireworks from live butterflies are fired. Surely such an impressive sight will be one of the highlights of the celebration, which will be remembered not only by the newlyweds, but also by all guests.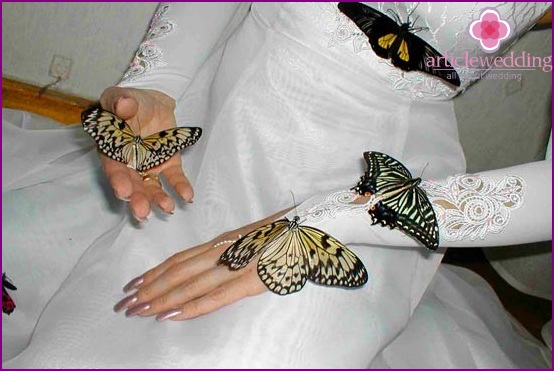 The wedding portal www.articlewedding.com found out how to organize a butterfly firework for a wedding, and what is needed for this.
Symbol of love and happiness
Butterflies are not in vain gaining increasing popularity in the organization of celebrations, including weddings. The custom of launching a salute from winged beauties during a wedding is rooted in the East. In Japan, for example, the butterfly has long been a symbol of family happiness. According to Chinese wedding traditions, the groom must give the bride a wedding jewelry or a pair of living butterflies that symbolize love. In the culture of many nations, butterflies are considered as the soul of a person who has broken free from the mortal body and gained freedom.
Thus, all over the world butterflies mean joy, love and light. It is not surprising that the salute of butterflies at the wedding took root in Russia, and a variety of signs are already beginning to associate with this custom. For example, it becomes a tradition, letting a butterfly out of its hands, telling it its cherished desire, which must certainly come true soon.
By the way, do not think that butterflies fly away as soon as they are released. For some time they fly among the guests, sit down on the numerous flowers in bouquets or the naked shoulders of the ladies present.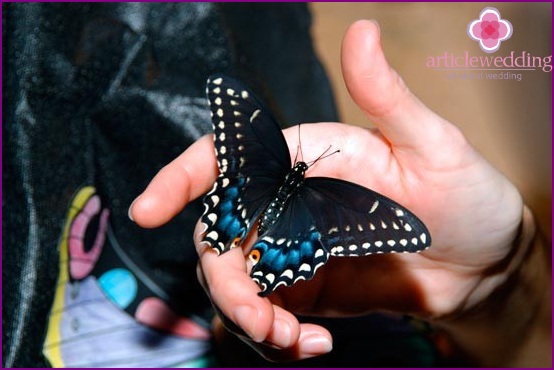 Organization of a live salute
The organization of a live salute from butterflies is carried out by specialized agencies, which for this purpose specially grow winged beauties. That is why if you decide to give the newlyweds or decorate your own wedding in such an unusual way, you should make an order in advance - at least 3-4 weeks before the celebration.
There are several ways to effectively beat this moment. You can simultaneously release dozens of butterflies from a large box at the same time, which, as a rule, is some kind of wedding attribute, for example, a heart. Such a firework is sure to impress everyone and deliver a sea of ​​positive emotions.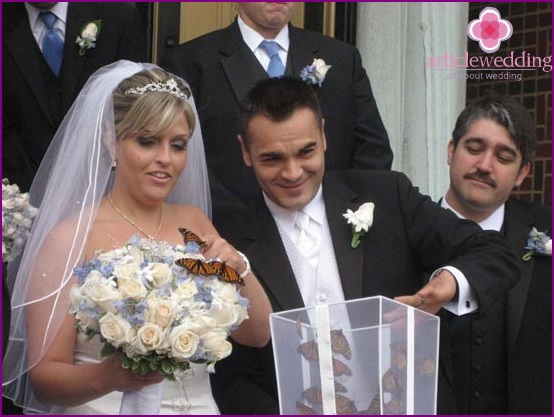 The second way to launch a salute is the individual release of colorful beauties. To do this, each guest receives an envelope with a butterfly, which, upon a signal, everyone opens simultaneously.
Of course, it is best to organize such a salute in the open air. However, if the wedding takes place indoors, a butterfly firework is also possible. Motley beauties will flutter around chandeliers and lampshades, creating a unique atmosphere of exotic romance.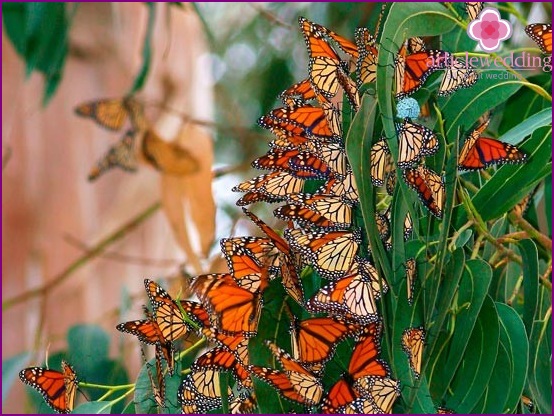 Special conditions
A butterfly is a very fragile creature, therefore, in order for a salute to be effective, it is necessary to take care of the most comfortable conditions for these insects. This is especially important if the wedding is held in the banquet hall. It should be noted that the temperature in the room should be kept at + 22-25 ° C. In addition, immediately after release, insects will rush to light sources, because powerful lamps must close the protective screen so that the butterfly does not burn wings.
The wedding portal www.articlewedding.com advises you to consider that the flight of winged beauties depends solely on their type. Therefore, when organizing a live fireworks for the wedding, it is worth ordering butterflies of various types - from small to largest, then the wedding fireworks will be the most spectacular.