Contents
---
---
Have you ever heard the discontent of young and invited that the wedding was boring, sluggish, uninteresting? If so, then regarding your wedding celebration you will have to give all 200% to avoid such statements.
It is clear that guests come to the wedding to have fun and enjoy the happiness of the young. But a long marriage registration ceremony, a subsequent wedding walk and a photo shoot can tire even the most energetic person. Therefore, when you get to the festive table, when everyone is already tired and drooping, you need to start cheering and entertaining the guests if you do not want your wedding to remain a banal feast reminiscent of gatherings at home.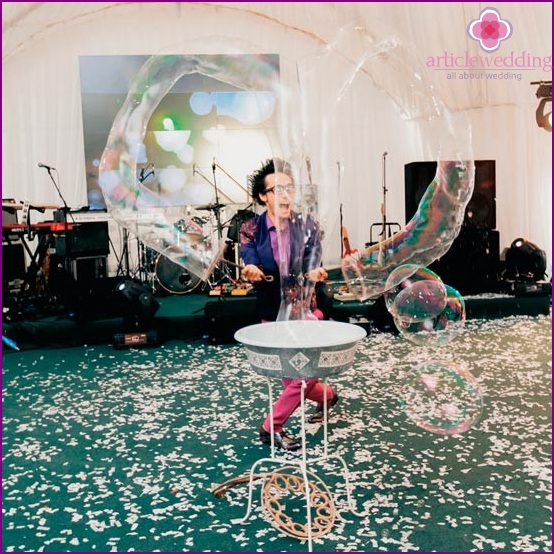 Of course, the choice of artists is a difficult and very responsible task. To get truly positive and enthusiastic emotions from the holiday, you need to think in advance and provide entertainment for the guests. The site www.articlewedding.com will help you with this difficult task. It will give you important tips and suggest where you can find professional artists..
What to consider when choosing a show program?
Budget. First of all, you must decide on the amount that you plan to allocate for the entertainment program. When you know what part of the budget you can spend on entertainment for guests, then you can find an approximate list of artists suitable for you. Do not think that for inviting any artist you will have to pay a large sum, quite for a reasonable price you can invite magicians, parodists who can turn your celebration into a real concert.
Friends experience and online reviews. If you are afraid to make a mistake in choosing professional artists, then it is best to rely on the experience of your friends, acquaintances, relatives who have already encountered a similar problem and can tell you a good option. There is also the opportunity to chat and read a lot of interesting and useful information at various wedding forums, chats. Here you will definitely find what interests you!
Theme of celebration. The choice of artists directly depends on the theme of your wedding. The most universal option is a classic wedding, it involves entertainment of almost any genre. The narrower and more specific the theme of the celebration, the less choice you have. Although in any case, with a little imagination, you can experiment and try to combine the incompatible. The main thing is to conduct all experiments in advance so that there are no extraneous problems.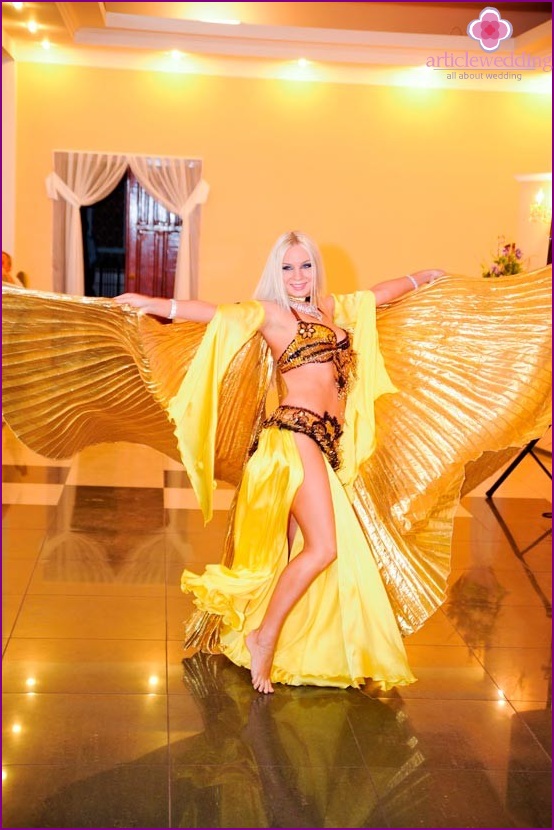 Age category. When choosing artists, consider the age of the invited guests. Absolutely not everyone will like a humorous show with parodies or modern dances in the style of «hip-hop» or «Go go».
As you already understood, you will have to do a lot before creating an ideal show program. Remember that the performance of each of the artists should be a special decoration of your holiday. And now, the wedding portal www.articlewedding.com draws your attention to the list of the most popular and sought-after masters who are ready to turn your holiday into a bright memorable show.
Soap Bubble Masters
The most unforgettable, amazing and popular sight is the soap bubble show. This insanely beautiful show brings fabulousness and magic to your holiday. With sleight of hand, professionals create the most unusual and stunning figures from soap bubbles. However, the most unforgettable are huge bubbles, inside which one of your guests is.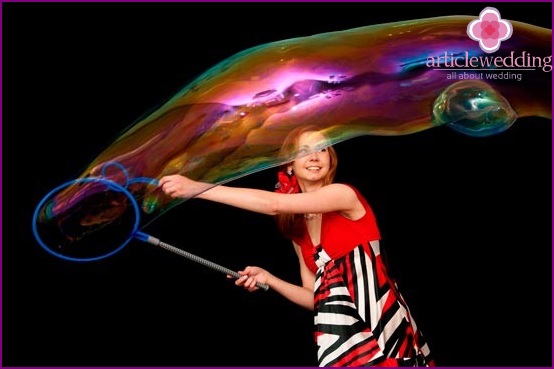 Music band
If you like live music, why not invite a music band? ! It should also be based on the theme of the wedding celebration. At a romantic wedding in retro style, a saxophonist or jazz performer will harmoniously sound. For a wedding in style «Dudes» Incendiary rock and roll. Traditional style wedding «country» amuse the accordion player and an ensemble of folk songs and dances. It would be appropriate to invite gypsy performers and dancers.
For lovers of classical music, you can call a string group, which perform popular and beloved tunes. And if you want to excel, then call the African performers. However, the most universal option is to order musicians for the wedding, playing absolutely any music. As a rule, these can be both duets and solo artists..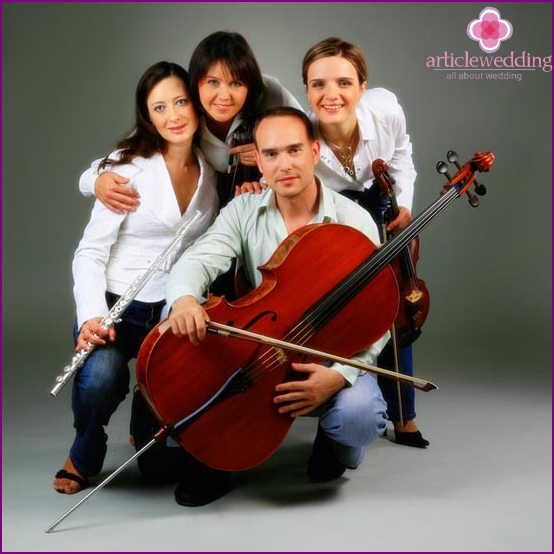 Dance groups
Professional dancers will help diversify any wedding celebration and competitions. Universal dances are considered to be Latin American. However, which genre to give preference depends only on your taste and wishes. For example, for weddings in style «oriental tale» belly dancing will do.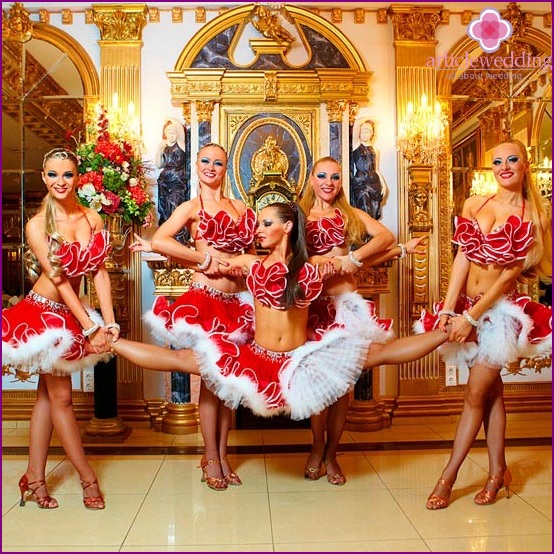 Currently, dance shows with elements of light music or, more simply, a light show are gaining popularity..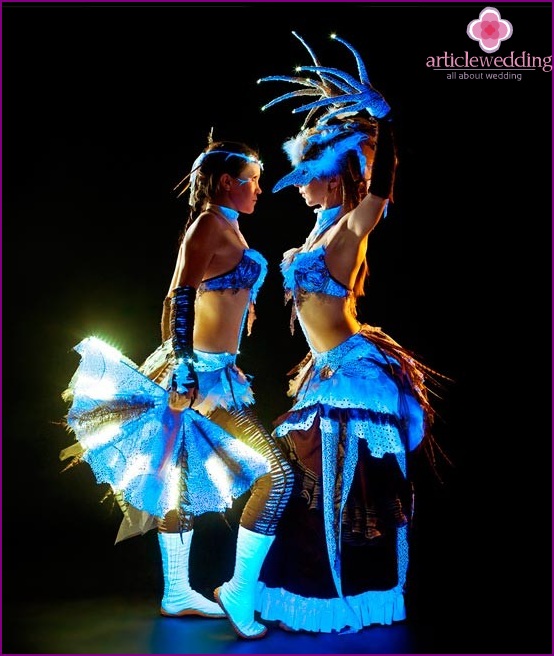 Sand animation
Masters of sand animation will help to make a celebration individual. True, for such beauty for a few minutes you have to give a decent amount, but, believe me, it's worth it. A professional artist in the presence of guests and accompanied by musical compositions will create some amazing sand paintings. Moreover, Sand art specialists will be happy to hold a small master class for you and your guests. A terrific opportunity to try yourself in a new business, right? ! Such wedding artists will surely not let your guests get bored!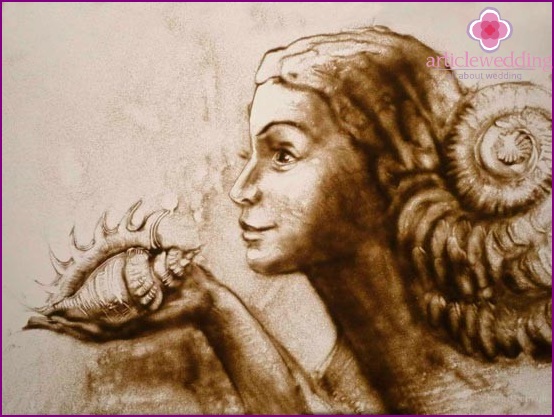 Original artists
This class of artists includes masters of the fire show, magicians, fakirs, artists from the doubles show, as well as artists who play on completely unusual, but simple objects: on a saw, glasses, barrel organ, etc. Or a live sculpture show! In general, artists of this genre will find something to amuse and surprise your guests..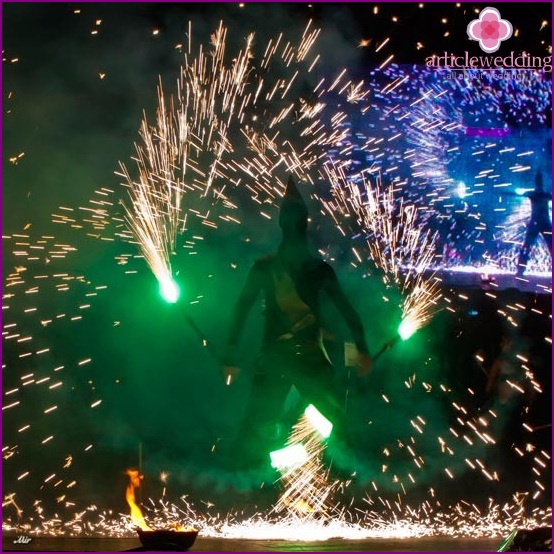 Of course, this list of entertainment for the wedding can go on and on. The more interesting you choose a theme for the wedding, the more you show your imagination and originality, the more likely it is that your celebration will become a real fabulously unforgettable show!