Contents
---
---
An ideal wedding is the dream of any young couple, as well as their parents. It is pleasant when everyone present at the wedding has pleasant indelible impressions and a lot of positive emotions. Your wedding day will be original and unique if you make your own wedding accessories.
Wedding accessories: photo
In the modern world, hand made products are very popular, they are always relevant and expensive, because when creating such accessories a piece of soul is invested in them. To make wedding accessories with your own hands, you only need a desire, an idea, a little imagination and materials (which and how much - depends on what you are going to create).
What wedding products can you make with your own hands? It can be invitations, boxes for money, jewelry for glasses, bottles, cars, wedding accessories for photo shoots. You can also creatively decorate a wedding hall. See examples of similar works in the photographs below..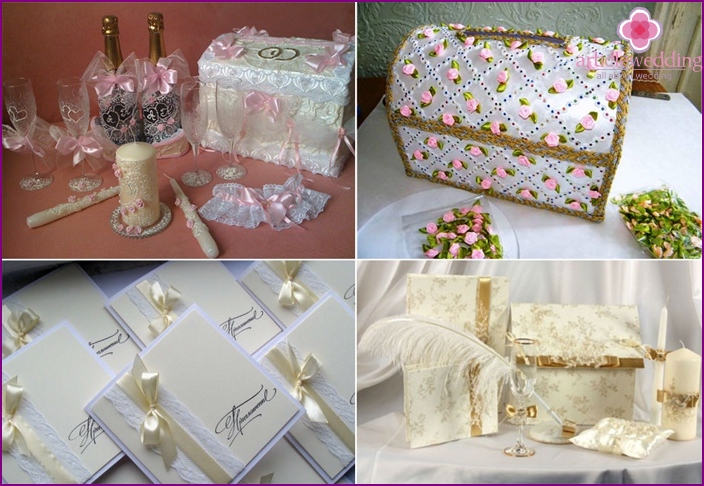 DIY Wedding Invitations with Video
The first thing that guests will see and learn about your wedding is an invitation card. You can purchase ready-made invitation cards in the form of bright red hearts, with swans or a flying cupid. It is beautiful, but painfully corny. The invitation card made by your hands will allow guests to understand how important they are to you and how you value them.
When starting to make invitations, it is important to remember that the cards were in the same style, had the same color scheme as the whole wedding ceremony. It's good if you decorate them with ribbons that were used to decorate the hall, or pieces of fabric used to sew the bride's wedding dress.
For the manufacture of postcards, you can use techniques such as scrapbooking, quilling. The original will be a video invitation or designed using the Photoshop program.
Scrapbooking - making invitations using a wide variety of materials: newspaper clippings, beautiful paper, bows, sparkles, various trifles, lace, ribbons. Perhaps the use of embroidery elements (using this technique creates albums, cards, envelopes). Examples of ready-made invitation cards, see the photo below.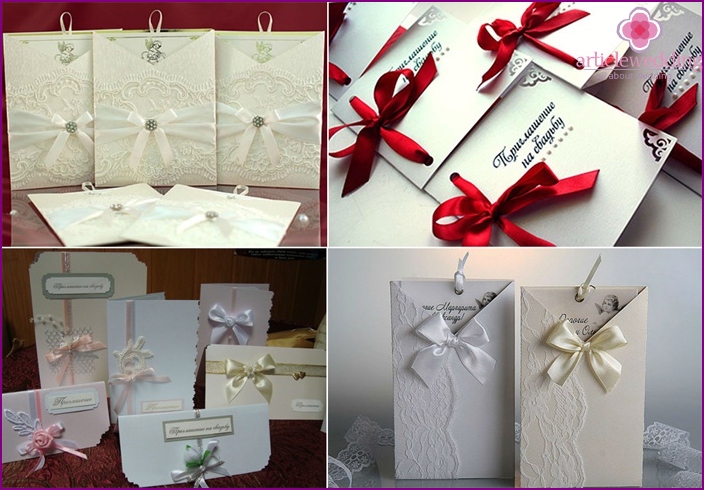 It's not difficult to make such cards on your own, and to better understand, look at the workshops on making an invitation card.
Quilling. To make invitations in this style, you need thick cardboard (for the base), adhesive tape, glue, thin strips to create shapes. Thin strips you can cut yourself or buy ready-made ones, the assortment of which are shops «all for creativity» or office supplies. The strips must be wound in the form of rolls, giving them the shape you need. Combining the details as a whole, you will get the original picture. Such invitations will appeal to all guests.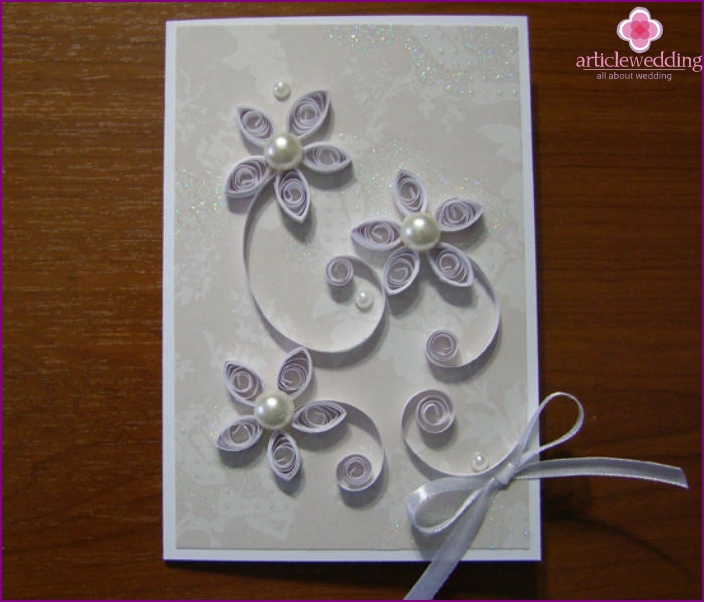 Make invitations in video format. Send them to your friends by e-mail or on disk, in a beautiful envelope made using scrapbooking.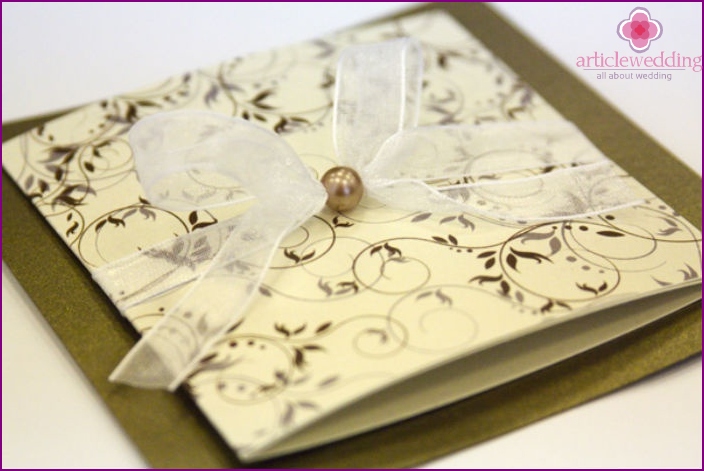 Making a video invitation is simple, for this you need your general photos, beautiful, romantic music, as well as basic computer knowledge. To create a project, use the program Movie Maker and others, you can simply learn.
If you understand Photoshop, create an invitation poster or just an invitation in the form of an original photo. Such a card will definitely not be left without attention, and the idea will appeal to all guests.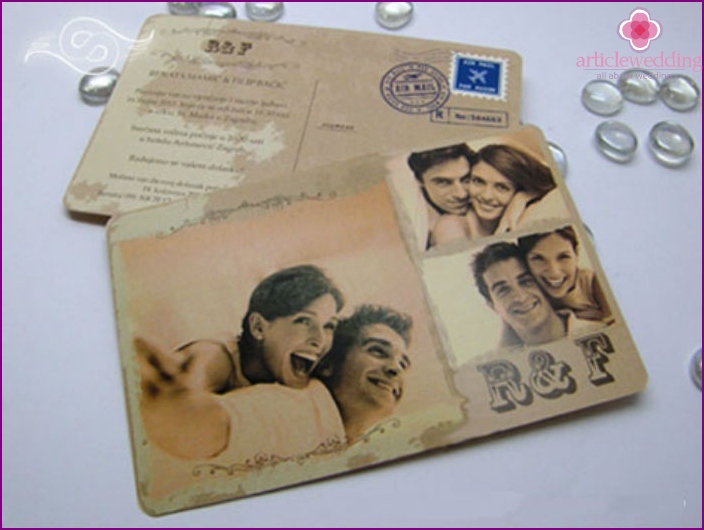 DIY wedding glasses
The decoration of the glasses of the newlyweds should also be approached creatively. Young people will drink drinks at the wedding with these glasses, and later get them on an anniversary or on memorable dates. By tradition, wedding glasses were tied with ribbons as a sign of the physical, spiritual unity of the bride and groom. Now this option is becoming obsolete; it is being replaced by an original decoration with rhinestones, lace, ribbons, flowers based on cold porcelain or polymer clay.
Decorate your glasses with rhinestones is quick and easy. To do this, use tools such as glue, rhinestones. Come up with a pattern, design, and then proceed to decorate. Look for options for this design in the photo below.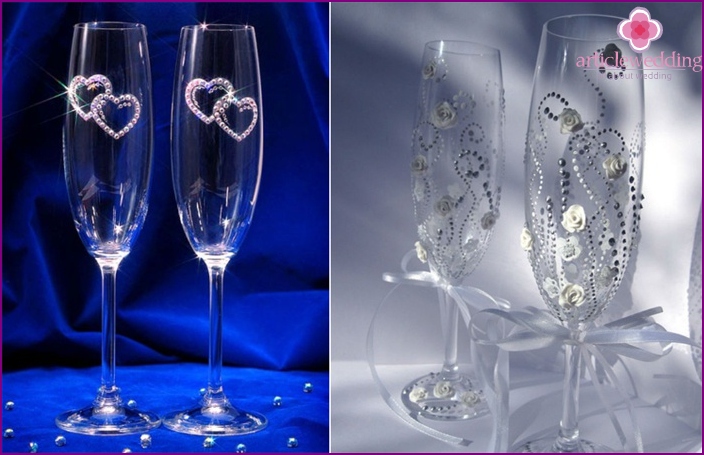 Cheap, but no less original, design options are satin ribbons, lace. It all depends on your imagination. But do not forget, glasses should correspond to the style of the wedding, maximally responding to the main colors and themes.

Making glasses with porcelain-based colors looks impressive, but it's not easy to do. When working with porcelain, you must adhere to certain instructions. If you wish, you can also master them.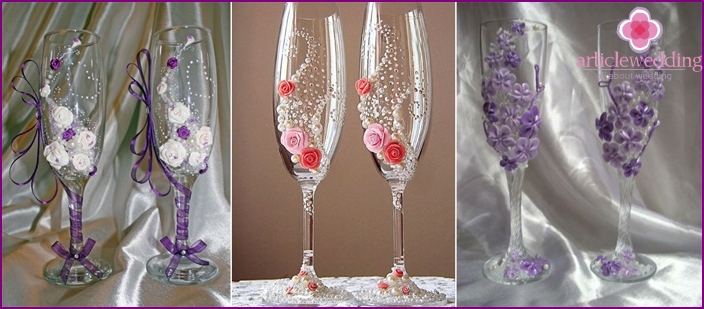 Wedding box for money
A few years ago, the money donated for the wedding was collected in jars or bags. The modern world for these purposes provides the opportunity to use a beautiful, stylish box.
Such a chest is easy to craft on your own. You will need very few materials: satin, ribbons, jewelry, box. For options of money boxes, see the photo below. Perhaps you will come up with your own unique design of a wedding accessory..

Video master class will help you make a money box for newlyweds.
Elements of the image of the bride and groom
Wedding accessories for the bride and groom are no less important than the outfit. Similar items can also be made using needlework..
Jewelry for the bride (jewelry, tiara), made with your own hands, emphasize the style of the bride, giving her a special charm. What and how to do?
It is easy to make a necklace using beads, beads or even satin ribbons. It is also possible to use different small wedding accessories for the bride's girl's casket. It is better to use accessories of high quality so that the jewelry looks stylish and rich. Jewelry should be in harmony with the outfit of the bride, as well as approach the theme of the wedding.

You can make your own diadem, a basket for rose petals, a small bag of the bride.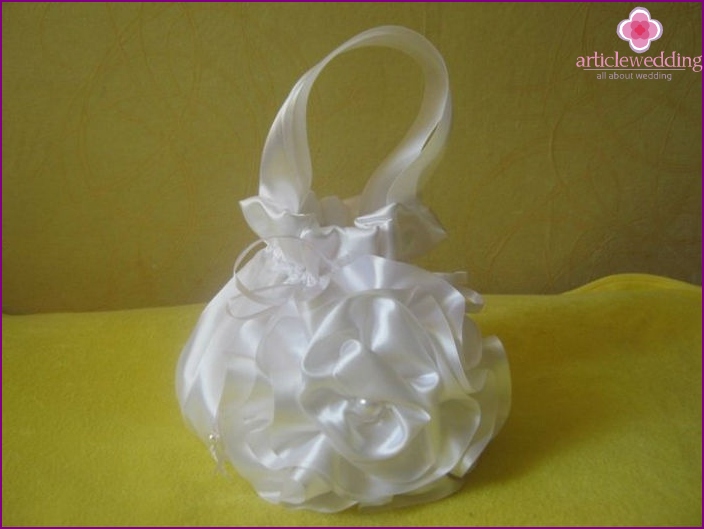 An integral element of the image of the groom is a boutonniere, which is also easy to do with your own hands. Important advice: such an ornament should be in the same style as the bride's bouquet and in the same color design. For this, compositions of living or artificial flowers, flowers from porcelain can be used. The porcelain boutonniere will look spectacular, retain its original appearance throughout the day, unlike jewelry using fresh flowers.

Wedding photo shoot accessories
Photos allow you to capture important moments, and on the wedding day, every moment is unique. Wedding photos - a memory for a lifetime, these photos should be original and interesting.
To get such photos, often used additional accessories. Typically, these are letters made from flowers on a wire frame, or large paper letters (for example, the names of the newlyweds or the phrase «I love you»).

A lace or flower umbrella will also be a great wedding accessory for creating memorable photos. The basis of this accessory will serve as an old umbrella. Using a glue gun, glue lace, feathers or flowers on it as you like.

Wedding Accessories: Car Decoration
A wedding procession where young people go to a registry office is decorated with flowers, a composition of flowers and two rings, dolls or soft toys. Often used various balls, ribbons, figures (for example, intertwined hearts). It is possible to order a crew with ready-made decorations or rent them at a wedding salon, but the design created by yourself will warm your soul at every glance at it.
You can make a common design with rings yourself. You will need hoses, ribbons, a base for composition and artificial flowers. The scheme for creating jewelry is as follows:
Connect the hoses to form rings. We fasten them to the base (this may be an old plate or polystyrene).
We wrap the rings with a ribbon for floristry.
Decorate with artificial flowers, bells and other improvised accessories. Decoration ready.
Examples of finished jewelry, see the photo.

Using tapes, you can create a composition of connected hearts on the rear window of a car.
Handmade wedding accessories are exclusive, original things that will add to your celebration «zest», will make the holiday unique and unforgettable. In addition, by making accessories yourself, you save money, which a lot is already spent on a wedding.
Share your self-made wedding accessories experience in the comments at the bottom of the page.