Contents
---
---
After the wedding, the newlyweds have many vivid memories that can be easily refreshed at any time thanks to photographs and a video. An excellent addition to them will be a special book where guests can leave their sincere wedding greetings. Therefore, do not give up such an important attribute, because after a while you will be pleased to read these warm words with your family.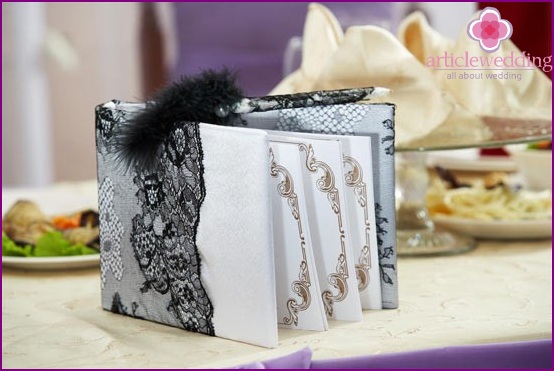 What should be a wish book?
Today, the variety of wish books is surprising, so you can easily purchase it. However, choose this wedding accessory responsibly - it will be stored for many years.
The portal www.articlewedding.com advises you to consider several important nuances when choosing a book for your wishes:
If you are convinced that all wedding accessories should be combined with each other, then to buy or make this attribute with your own hands is necessary in accordance with the stylization of the celebration. Of course, a modern book of wishes for a wedding in retro style will look strange, especially if all the other accessories are strictly chosen.
Remember that the wish book will be stored for many years, so take care of its good quality. Check that the cover and inner pages of the book are thick and not thin. Also pay attention to its decoration: all elements must be firmly glued, otherwise on the wedding day you will see a void instead of the necessary bows and rhinestones. Your memories must be well-made!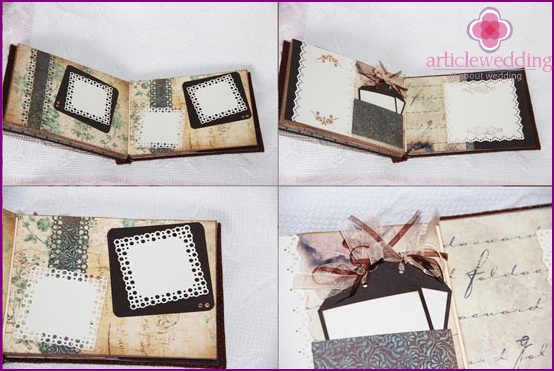 So that guests do not forget about the book
At your wedding there may be a special place for a wish book, which should also be stylized as a general theme of the celebration. And let the host of the wedding periodically remind of her so that guests come up and write parting words and congratulations for you. Or this important attribute can be conveyed throughout the banquet table, then certainly everyone invited will leave his wishes.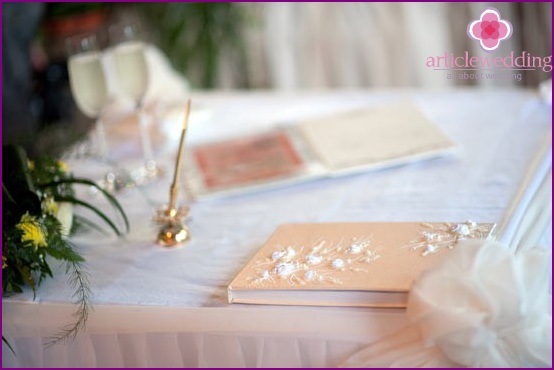 Original alternative
Today such a book is a very popular attribute of many marriages. However, you may not want to follow this general trend and always try to show originality and surprise your guests. The wedding portal www.articlewedding.com offers several interesting alternatives, at the sight of which no one will remain indifferent.
Fingerprints
Take a large and thick piece of paper and draw a sketch on it of a tree or, for example, a peacock in advance. Let your guests during the wedding celebration put their fingerprints there, which will be imaginary leaves on a tree or feathers on the tail of a peacock. Performing this action, the invitees will supplement the overall picture and write their wishes alongside. The result is a very interesting and unusual picture.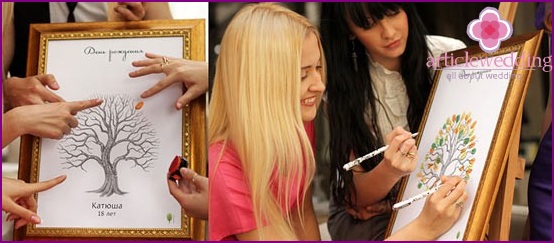 Wish tree
Buy an evergreen decorative tree and place it in the most prominent place of the banquet hall. Let the guests hang beautiful cards with freshly written warm congratulations and wishes on the branches of the plant..
Wish box
Make or buy a beautiful wooden box. Guests will throw small pre-prepared postcards into it, on which they will write all their most sincere and sincere words, which were not voiced before at the holiday.
After some time, you will definitely want to read the most pleasant congratulations written by guests at the celebration. Therefore, thanks to a book, a box or a wish tree, you can again momentarily find yourself in that indescribable atmosphere and feel all the emotions received during the wedding ceremony.