Contents
---
---
All newlyweds strive to preserve a good memory of the most solemn and most important day of their life - the day of the wedding. And the most famous way to do this is to stop the moment, that is, arrange a photo shoot. Probably not a single wedding can do without her today. That is why the wedding portal www.articlewedding.com today will talk about a fairly new trend in Russia - the order of wedding books.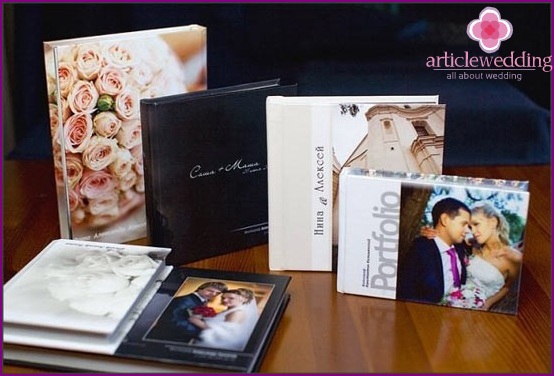 What is a wedding book??
A wedding book is a good quality book printed in a custom printing house. Its content is mainly wedding photos. The designer develops the concept of each publication spread, the spreads can be designed, for example, in the form of collages, photos with captions or portrait photographs. The order is made individually, so the customer, together with the designer, can take part in the development of the concept of the book. On its pages you can tell the story of your acquaintance, tell about relationships with mutual friends. In the book you can post photos from a joint holiday or happy holidays, publish sincere congratulations and wishes of relatives and friends. You can make a book in a romantic, or in a humorous style. There are many options. The main thing is to show your creative abilities or at least minimally bring the designer up to date, tell him about how you met, what kind of relationship prevails in your family, do you and your other half have common traits and common hobbies. And do not be too lazy to provide as many photos as possible. Old photos can be digitized and retouched along with photos from the wedding day. By the way, wedding books are only available in hardcover. You can also invent its design yourself, for example, place your favorite joint photo on the cover or emboss with your initials and the date of the wedding.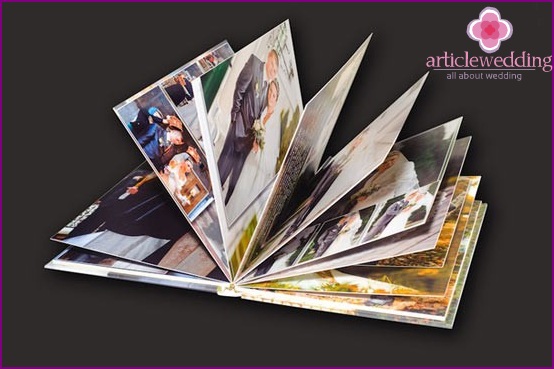 What is the difference between a wedding book and an album and its advantage?
Despite the fact that many today do not even print wedding photos (almost everyone has a PC or laptop, and the tradition of giving wedding photos to relatives and friends is long outdated), wedding albums are still popular among newlyweds. And there are reasons for this: firstly, photo albums are relatively inexpensive, and secondly, compiling them is a pleasant creation. But if you are not a professional in the field of scrapbooking and are going to use the standard album, which is abundantly offered by shops and photo shops, no matter how you decorate the album and whatever additional elements (besides photos) you use, the album will remain an album with separate pages and no composition. The wedding book is integral, its concept and idea are easily guessed, moreover, it consists of compositionally uniform spreads, and not from separate pages, like an album. It is very presentable, it is nice to show it to guests, in addition, you can order printing of not one, but several copies, which people close to you will gladly accept as a gift.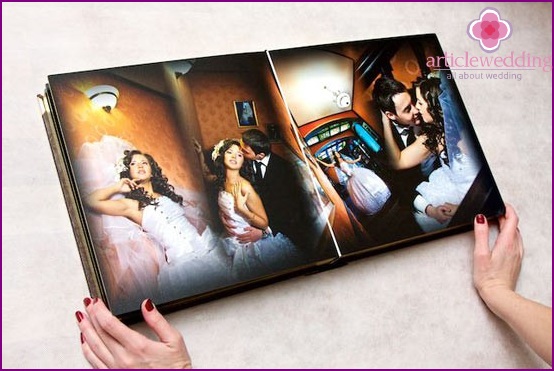 Thus, ordering a wedding book means reliably providing your family with good memories of your wedding day, because books are known to be kept for centuries, and a book about your wedding can easily become a family heirloom.