Contents
---
---
Do you plan to get married in the winter? Interesting, handmade, invitations can set the tone for winter fun! Today, our website www.articlewedding.com will share with you several ideas on how to make stylish winter wedding invitations.!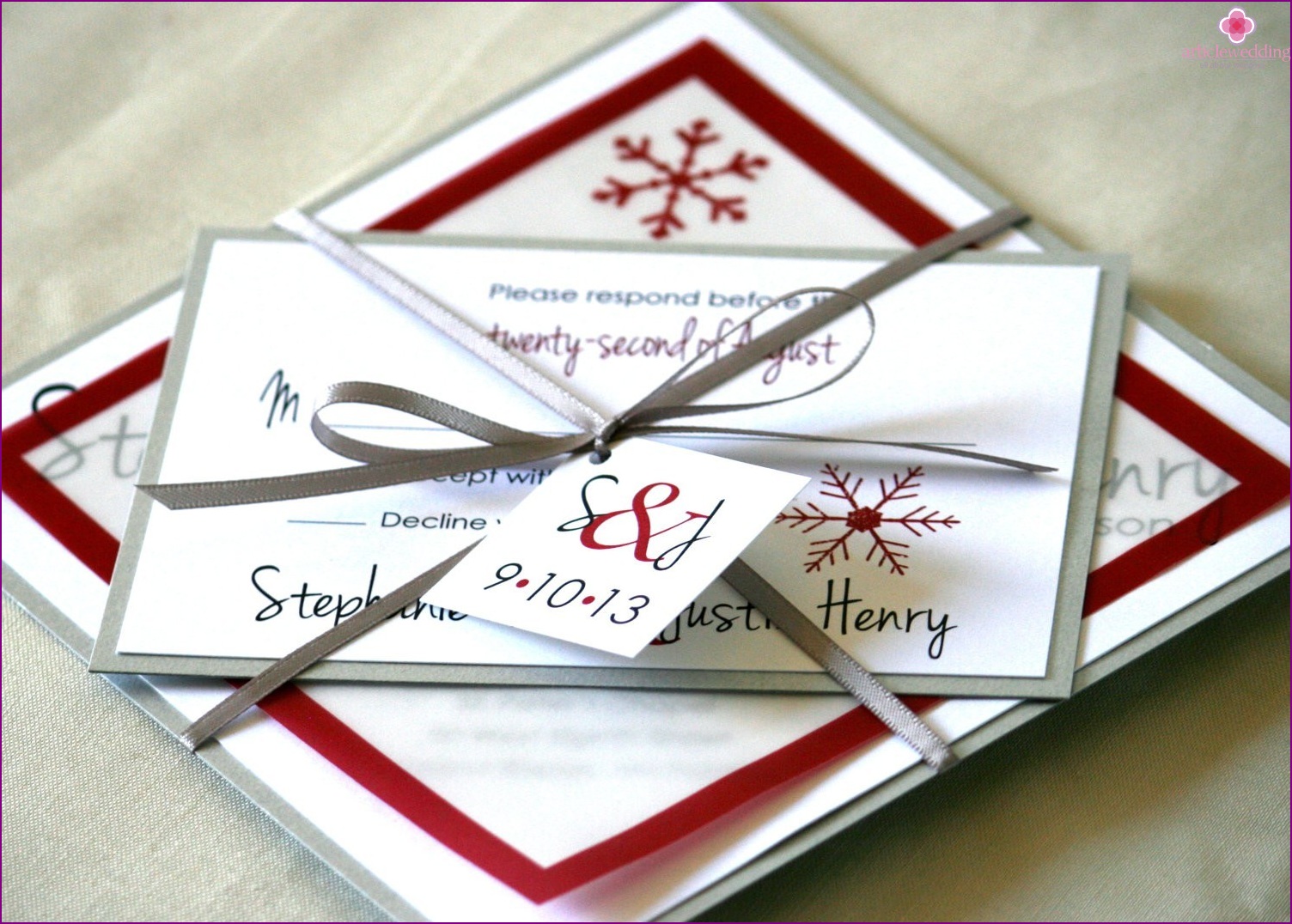 Winter images
Graceful branches of trees that lost leaves, falling snowflakes, late winter crocuses, snow-covered gates - there are practically no restrictions, you can use any plot of drawings. Just because you are preparing invitations to a winter wedding does not mean that you should avoid floral themes. White roses, lilies and amaryllis will look best on such wedding invitations. If the date of your wedding is close to the time of the New Year and Christmas holidays, on invitations you can place painted lollipops, New Year trees, decorations, stars. This will prepare guests for the atmosphere and mood of the celebration..
On invitations can be your photo and a photograph of your soulmate! You can be captured playing snowballs or making a snowman, you can be photographed on a romantic winter walk along a snowy road ...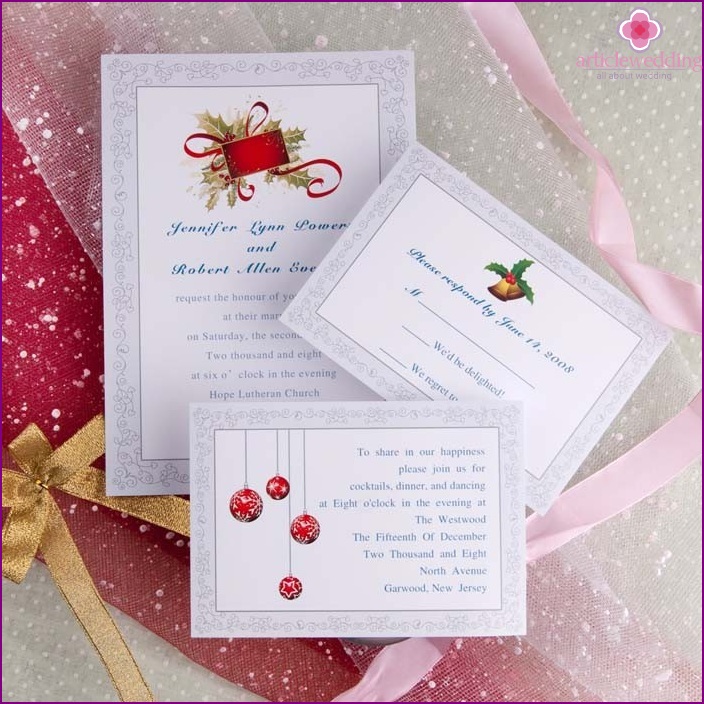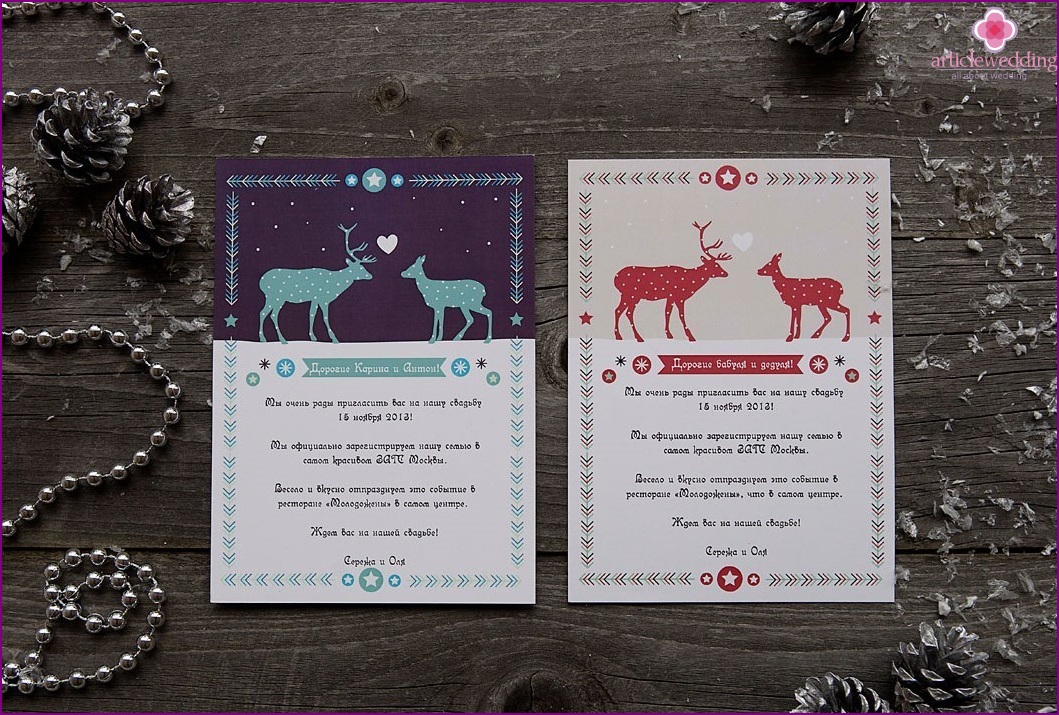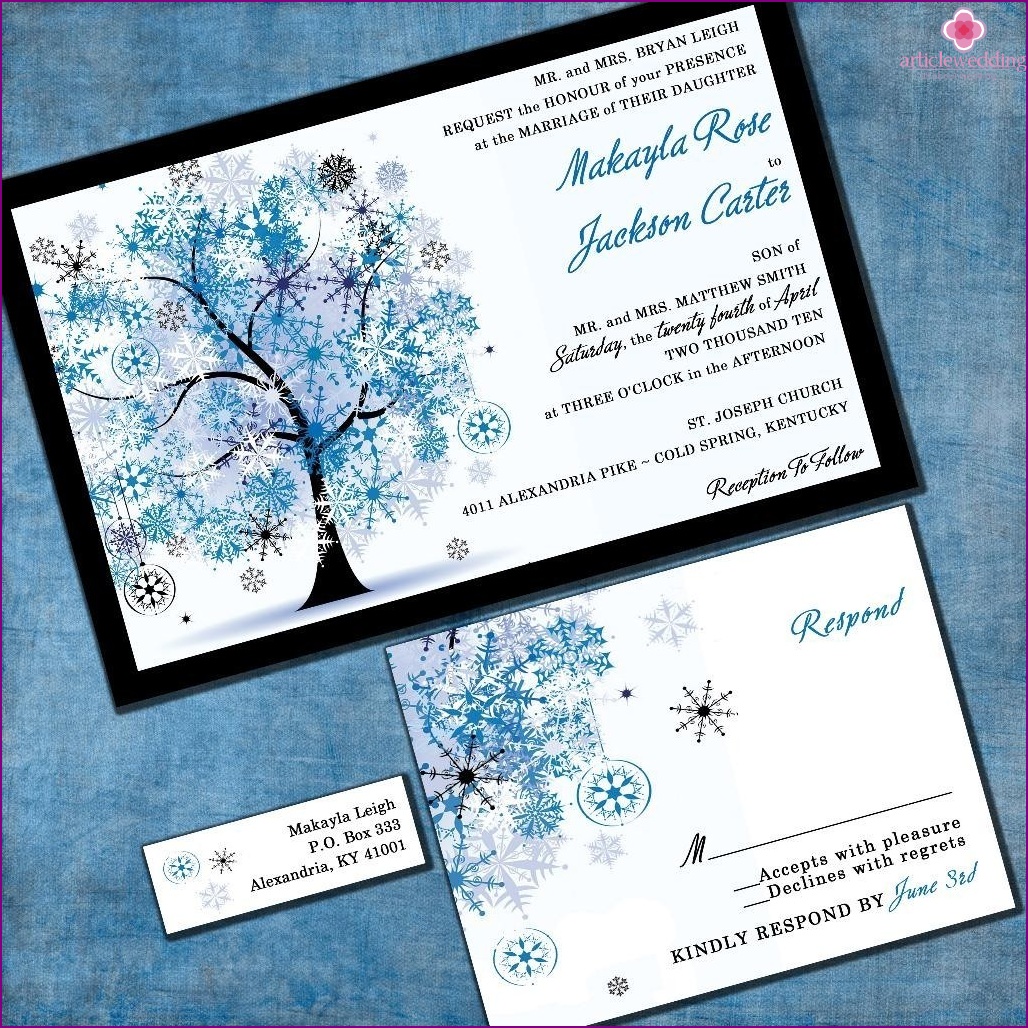 Winter colors
Your invitations should not be limited to traditional Christmas and New Year colors - red and green. Pay attention to cold blue and cyan, blameless white, warm, deep shades of burgundy, silver and golden. They will help create the feeling of a warm holiday among the guests in the cold snowy winter..
Winter paper
White paper symbolizing snow will be a good basis for your invitations. Its surface can be decorated with silver or golden rare spangles, spangles can be densely applied to the edges of the forms. Their flicker will give invitational mystery and romanticism. It will be great if you do not regret money for designer paper with embossed stars, snowflakes or spruce paws.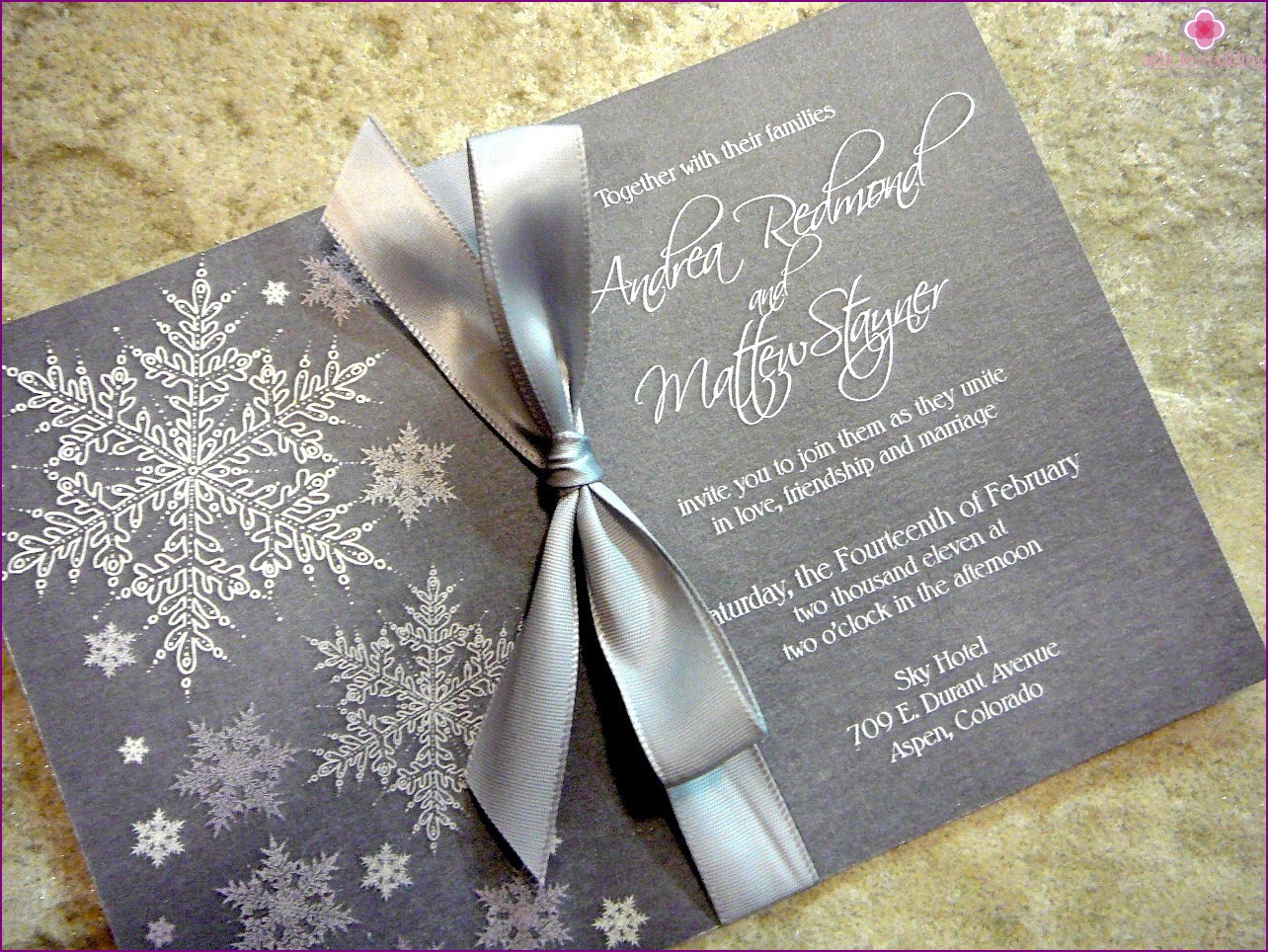 Form and decor of invitations
The form of invitations to a winter wedding is a space for your imagination. You can order ordinary paper invitations and decorate them with a ribbon with a snowflake brooch, or you can make invitations in the form of a scroll decorated with burlap, cones, etc..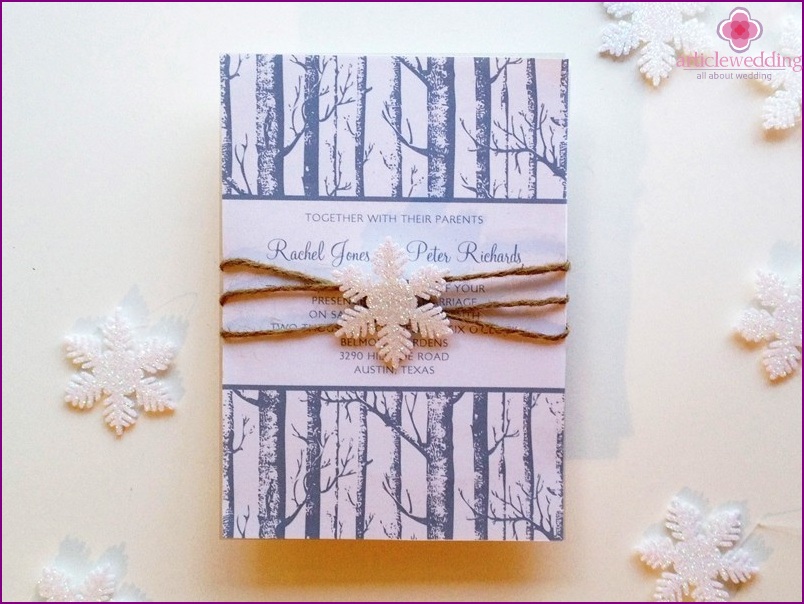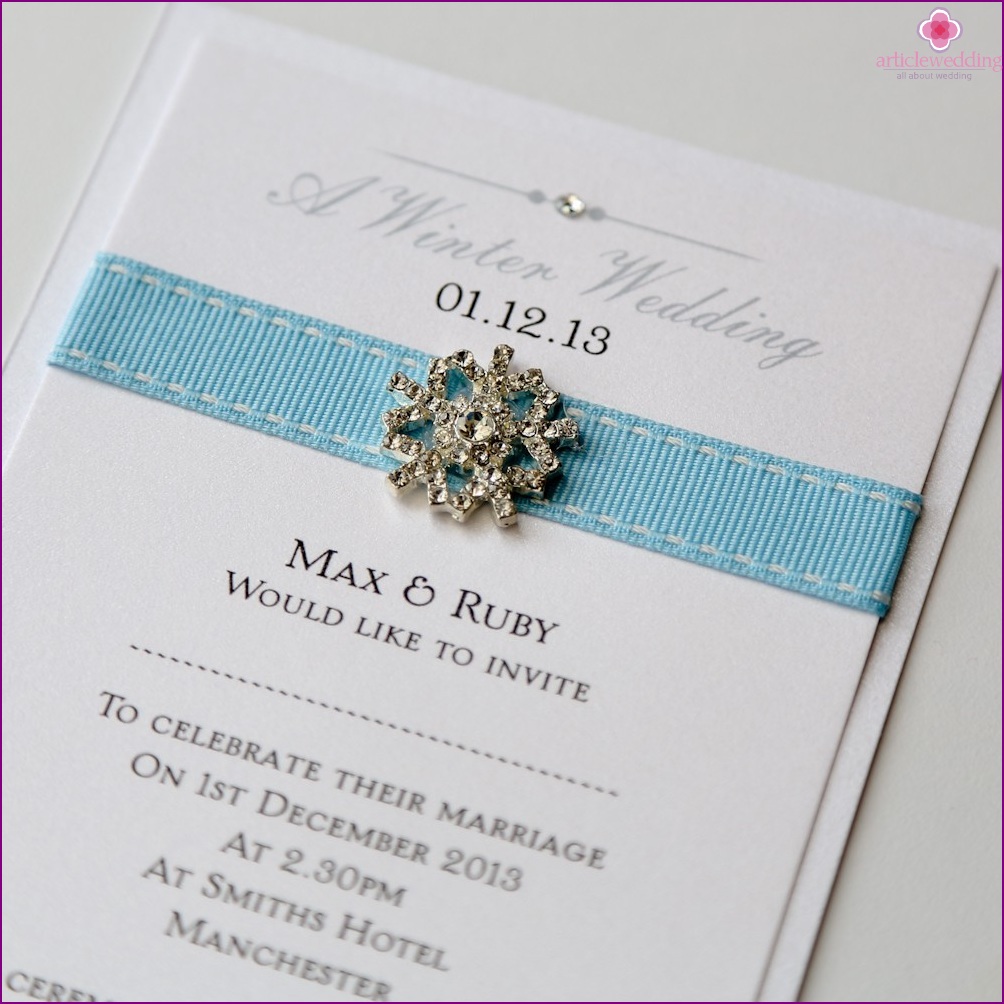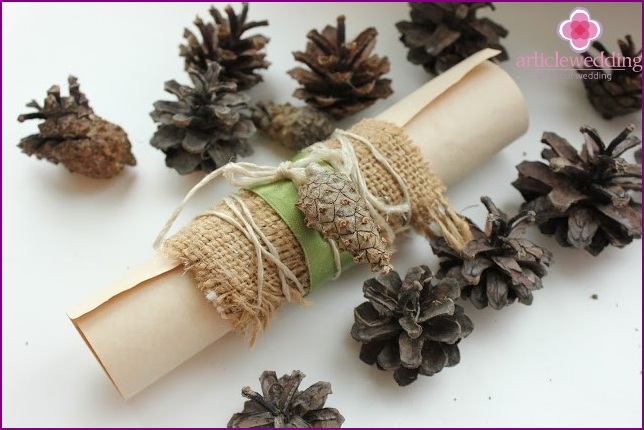 So, a winter wedding is not a reason to be upset, but an occasion to make the celebration unusual and romantic! And you can start with invitations.