Contents
---
---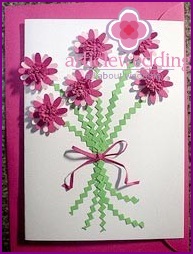 Greeting wedding cards are not just a nice addition to flowers and gifts. They have their own meaning and meaning. In a postcard you can write the most sincere and good wishes that the newlyweds, for sure, will keep for many years in their album. And if such a card is made by you personally, then it will deliver even more positive emotions to the heroes of the occasion. In addition, making beautiful and original wedding cards with your own hands is not difficult - you just need to know a few subtleties of this fascinating process.
We offer some stylish ideas for wedding cards..
Greeting Card Bouquet
Delicate and graceful flowers for a postcard can be made from almost any suitable material - velvet ribbons, multi-colored threads, feathers, beads, organza, straws, or you can use pre-dried small wildflowers. As a substrate, textured material is best suited: canvas, velvet paper, felt, lace, mesh. Flowers are fastened together with threads or thin satin ribbons, resulting in a miniature bouquet.
Patterns and volume stamping
It will not be difficult to achieve the effect of a relief pattern for a wedding card. To do this, you need a small piece of high-quality thick cardboard, colored paper, a pen without a rod, double-sided tape and a base. The embossing motif is better to choose from traditional wedding symbols - rings, hearts, etc. They will need to be cut from existing cardboard. Then we put the paper on the prepared base and carefully press it against it, and trace the emerging pattern with a pen. So repeat several times. The resulting embossed paper is carefully glued to the base of the postcard. By the way, using this technique you can also make original wedding invitations with your own hands - such cards will look unusual and very impressive and will surely please guests of the upcoming celebration.
Three-dimensional postcard
Such wedding cards are made on the principle of children's books, in which cardboard figures become voluminous when opening the pages. To make them is quite simple - we cut out a certain pattern along the outline of the circuit, then carefully fold the resulting part so that it can occupy a vertical position when the product is opened. Numerous options for making such cards can be found in large numbers on the Internet. The most popular models are angels, swans, wedding bells, bouquets of flowers, figurines of the bride and groom.
And when the chic wedding card in your performance is ready, you just have to write a warm, bright and touching congratulation for the bride and groom in it.