Contents
---
---
So that the wedding goes on «Hooray» and was remembered by everyone - both newlyweds and guests, attention to detail is important. Therefore, decorations and wedding decor should not be left out. On the contrary, details should be given special attention. One of such accessories is wedding glasses for newlyweds, because it is with them that the wedding celebration begins.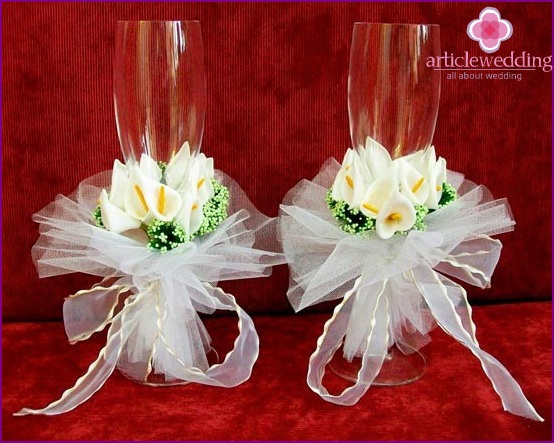 Today, wedding fashion offers the most diverse decor for the design of glasses. And this is not surprising, because this particular accessory will be especially noticeable at the holiday, festive wedding photos and video materials. The wedding portal www.articlewedding.com will talk about fashion trends in the design of wedding glasses.
Modern decorators use a variety of materials to decorate glasses. Rhinestones and sequins look very impressive, which simply sparkle in the photographs. In the design of wedding glasses, beads, lace, tulle, bows, feathers and satin ribbons also look advantageous.
Very suitable for a romantic wedding decor in pink colors. A bow made of satin ribbons and a small flower fixed on the glass with its help emphasize the elegance and sophistication of the wedding decoration.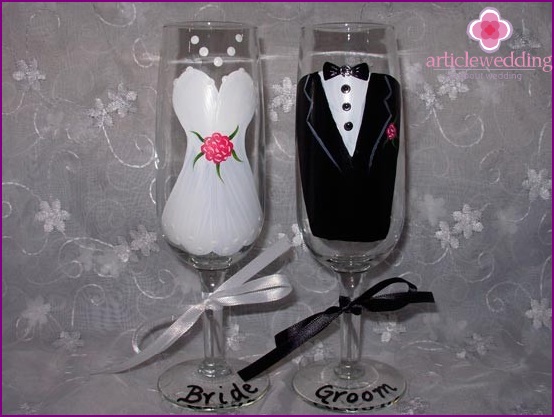 As decoration, drawings, engraving and hand-made inscriptions are also used. At the same time, the inscriptions can be very different: you can engrave or write the initials of the newlyweds, the wedding date or some pattern or aphorism in the subject.
Champagne glasses dressed up in miniature wedding dresses of the bride and groom are very relevant. This is a rather delicate work that should be entrusted to professionals if you decide to decorate your wedding glasses in such an unusual way.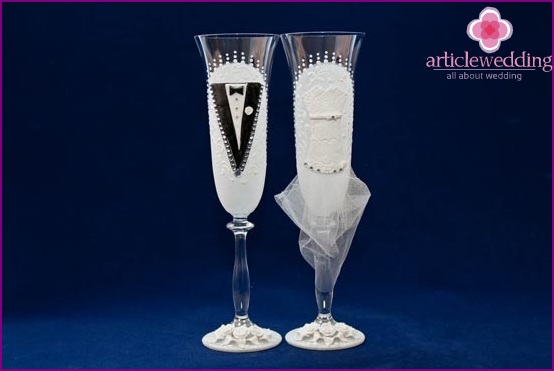 Wine glasses for guests can be decorated in one style - decorate them with, for example, miniature pearl beads or rhinestones in the shape of a heart. Also, multi-colored applications, ribbons or small bows will look beautiful. At the same time, the style of glass decoration - both for guests and for the newlyweds themselves - must match the decor of the entire wedding banquet.
Glass for every action
It will also be ideal if you make sure that at each stage of the wedding and the wedding party there are differently decorated glasses. For example, during a small home feast, which is usually held after the bride's ransom, it's appropriate to use wine glasses with a quick but refined decor. Crystal with laconic jewelry will look very good, for which engraving, rhinestones or beads are suitable.
The main task at the stage of completing the wedding ceremony in the registry office is to ensure that all those present have enough champagne glasses. The glasses themselves can be quite simple with a discreet decor, but they should be kept in the same style..
During a wedding walk, it is sometimes customary to do with practical plastic glasses, but glasses will look much more elegant - in this case from ordinary glass, but decorated with, for example, a ribbon or a small bow.
At the restaurant, young people are met by parents with bread and salt and a tray with champagne. According to ancient tradition, after drinking a sparkling drink, the bride and groom should throw glasses over their shoulder for happiness. Wine glasses for such an action can also be made of ordinary glass, however, special attention should be paid to their decor. For decoration, you can use lace, sequins, painted with rhinestones, bows or exquisite engraving..
During the banquet, young people should drink champagne from glasses made of expensive Bohemian glass, which must be decorated in accordance with the general style of decorating the banquet hall.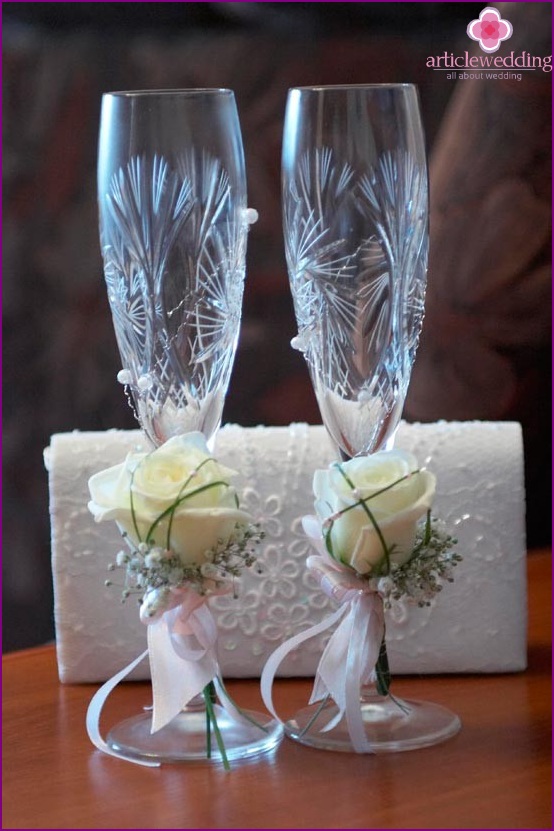 DIY glass decoration
Today, it's popular to make wedding glasses with your own hands. To do this is quite simple - you need glue, the jewelry itself, a needle and a little patience. The most difficult thing in this matter is not to stain the glass with glue, so before you start decorating the wedding glasses themselves, it's worth practicing on ordinary glasses. The portal www.articlewedding.com believes that wedding glasses decorated with their own hands look especially cute. They will add a touch of home comfort and exquisite touching to the atmosphere of the holiday..