Contents
---
---
The wedding, in itself, raises a thousand and one questions. And we can't even talk about a wedding celebration in the cold winter season. You can safely add another thousand questions. One of the main things will obviously be what to put on the bride. It is logical that in light shoes with a thin stiletto heel you can't jump over snowdrifts - it's both convenient and dangerous for your health. As an old saying goes, the stomach should be hungry, the head in the cold, and the legs warm.
Heat, of course, heat. But ordinary boots do not go to an elegant wedding dress. How to be? Beautiful and warm wedding shoes - do you exist? Fortunately for brides, today the shoe assortment is incredibly wide. And picking up neat, pretty and, at the same time, warm wedding boots or ankle boots is not difficult.
Wedding Shoes Options
Ankle boots
Today they are considered the most common model of winter wedding shoes. This elegant option, according to the wedding portal www.articlewedding.com, not only looks great, but also combines wonderfully with almost any style of dress.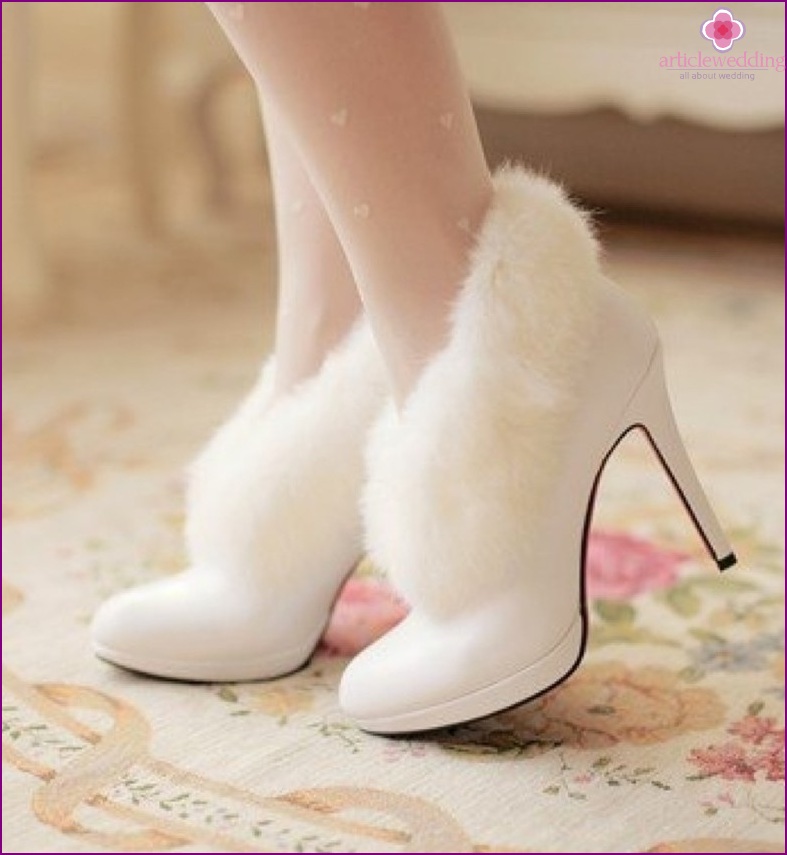 Boots
The second place of honor of the winter keepers of the legs of the bride is occupied by boots. It is worth complementing, all stripes, colors and textures. Leather or suede, strict or decorated with rich embroidery and appliqués - for every taste and color.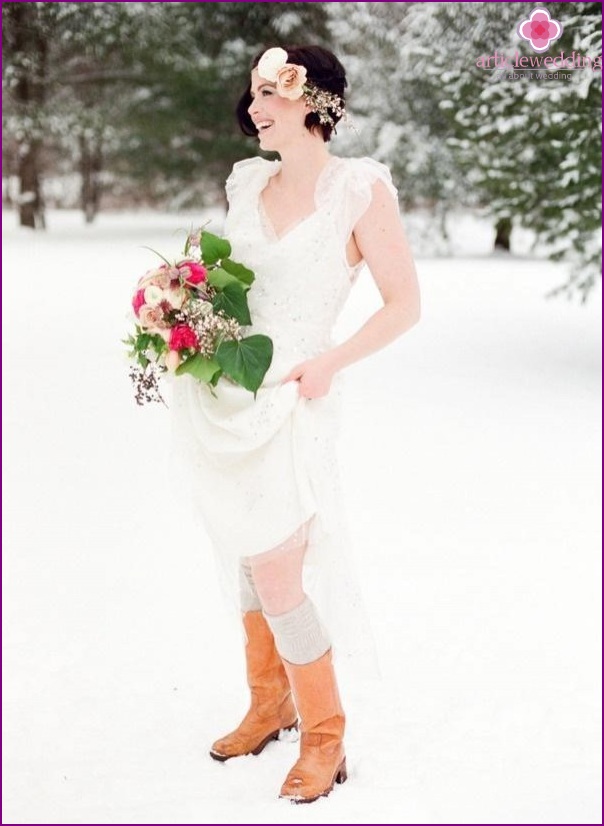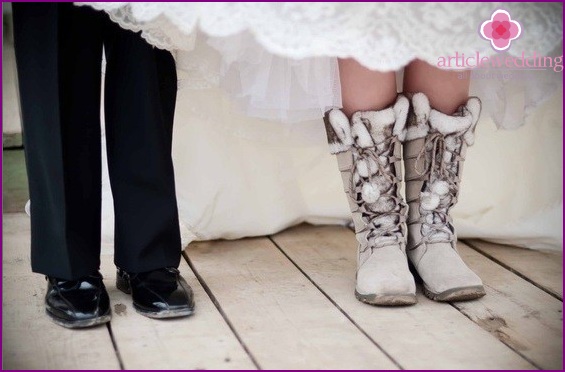 Ugg boots
Bronze medal, with a light hand of western stars, winter «shoe» wedding games goes to ugg boots. Yes, yes, as it turned out, these representatives of typical national shoes can add the word «wedding». Stable and practical, warm and funny, decorated with original embroidery, embroidered with lace and pearls. If the bride decided to try on the image of the fabulous Snow Queen or the simple Russian Snow Maiden - ugg boots will come in handy.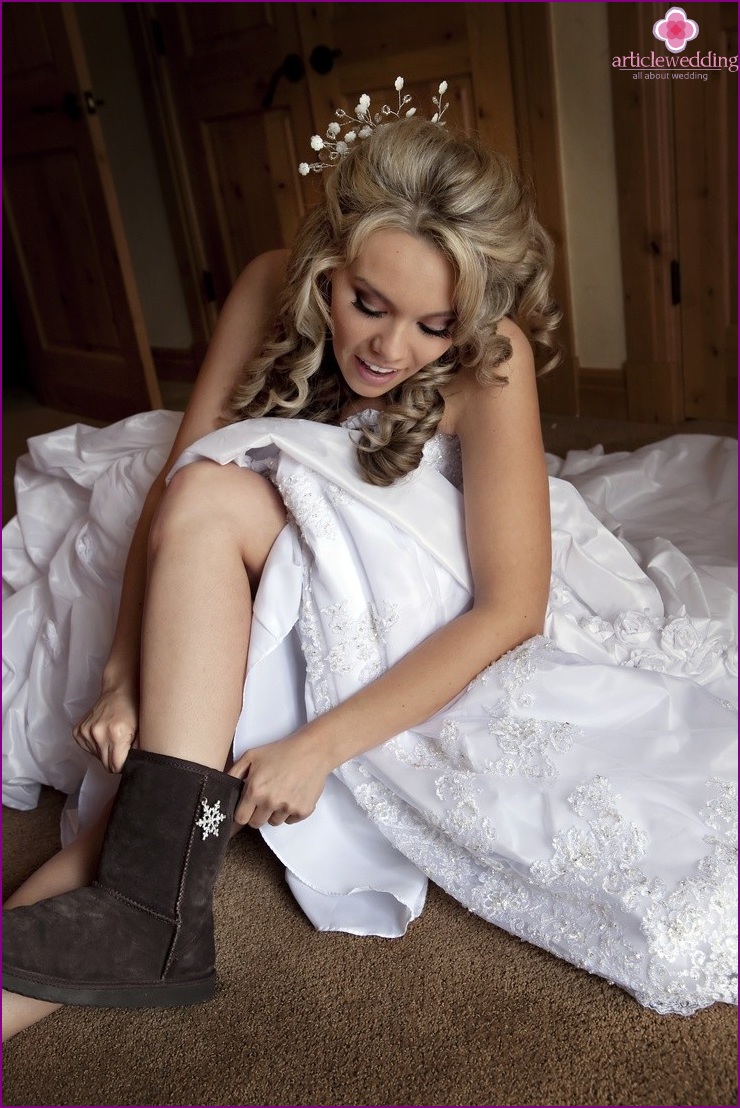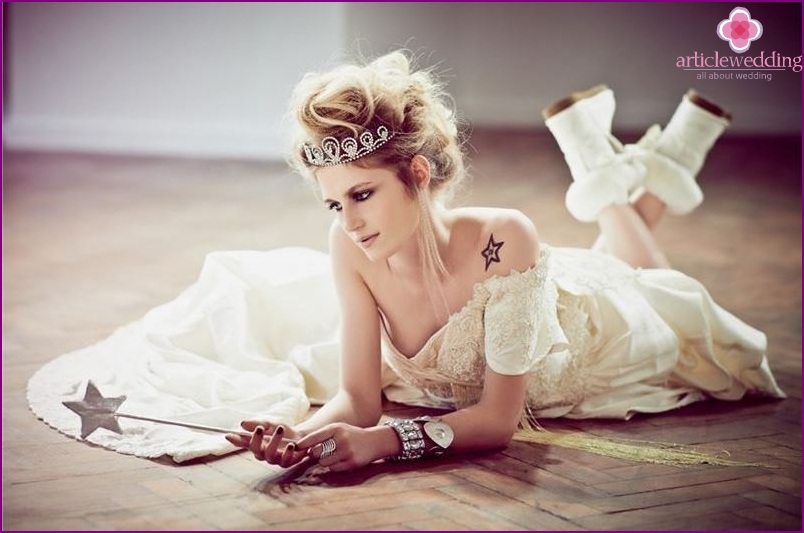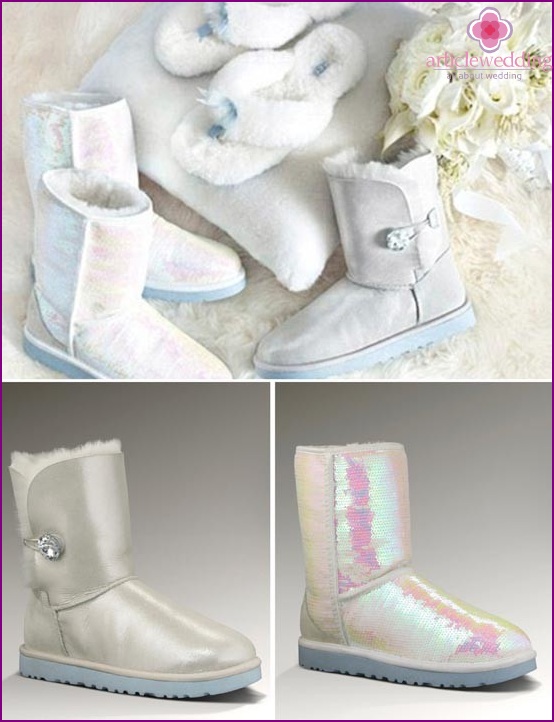 By colors and styles
Many are tormented by the question: «What color should be the bride's winter shoes? » Everything is very subjective here. Fans of the good old classics will appreciate the laconic white leather boots. Girls who strive to be original can play in contrast. Say, to shade the snow-white dress with scarlet boots and a sleeve matching the tone. And you can also groom «knock out» on a red neckerchief or even on red shoes.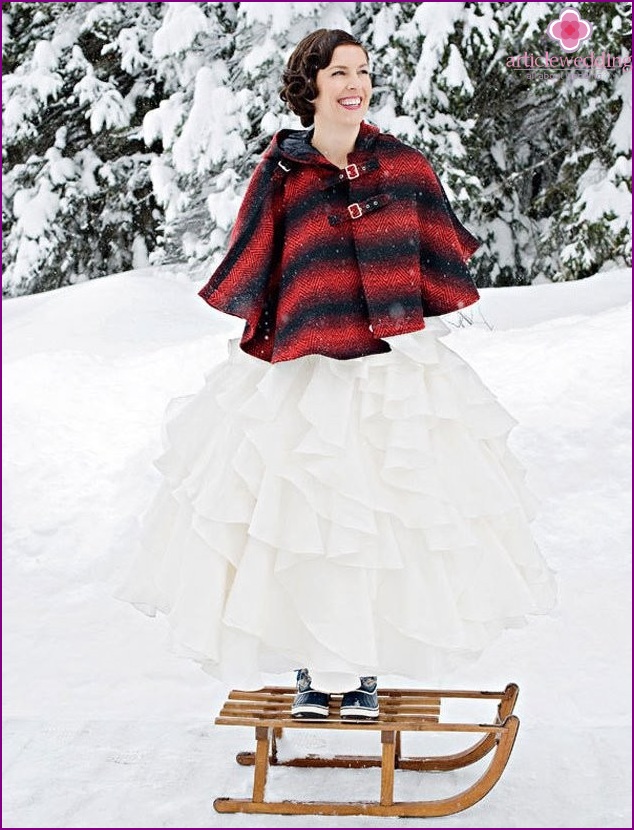 Regarding the style, the situation is the same. It all depends on the preferences of the bride. Classics or shocking fanciful forms and unimaginable heels are a matter of taste. The main thing is for the bride to be comfortable. And, of course, the shoes should be in harmony with the wedding attire.
And what about shoes?
We figured out the shoes. And now a convincing request from the wedding portal www.articlewedding.com: dear brides, do not try to put on thin lace stockings under all the above warm shoes. Feet warm means completely warm. Starting from the tips of the pedicure nails and ending with the place, sorry, where these legs grow from.
Make a choice in favor of warm and dense tights or leggings. Fortunately, today there is plenty to choose from.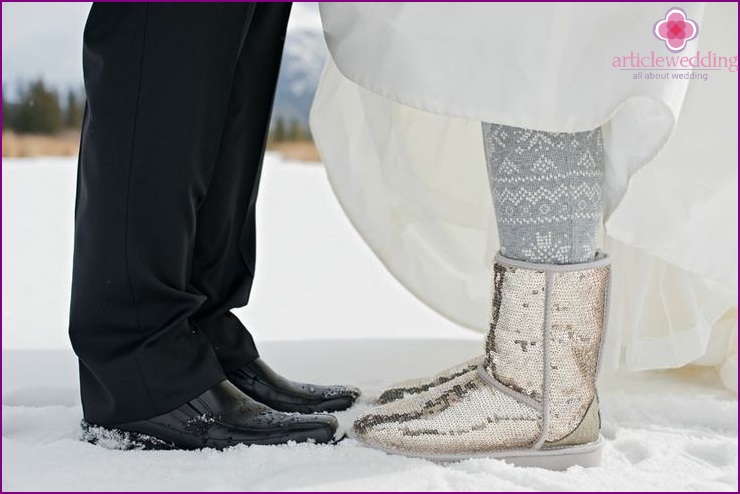 Oh, intolerable shoes!
It's warm in boots - it's all good. But what to do when you really want to put on the shoes with such love chosen for the wedding celebration. And sometimes, you see, not only do you want, but you also need to. For, you know, insulated boots are good in the cold. But in a heated room, they can cause considerable discomfort.
For those who «eats up» the desire to put on light shoes, there is also a way out. And graceful shoes, and beautiful thin stockings can be afford. Just take this wealth with you and change clothes in the ladies' room just before the banquet in the cafe or restaurant. Kill two birds with one stone: you won't make any problems with health, and your mood will be in good shape!