Contents
---
---
A wedding is an important celebration, and even if you are not a bride, every girl should look attractive at such an event, and the outfit should emphasize your advantages, while hiding the flaws. What dress to wear for a wedding? This is a question that all women are asked. When choosing clothes for a wedding, do not forget about the unwritten rules of etiquette. Wear a dress in which you will feel comfortable and confident.
Beautiful evening dresses for a wedding
The selection of cocktail dresses for the wedding is simply huge. It all depends on your taste, physique, personal preferences.
For guest
Choosing a dress is not so simple. as it might seem. First of all, it is necessary to consider several important points:
The dress should sit well, fit your figure.
It is not recommended to choose too bright, catchy, open, defiant outfits with a large neckline. It's indecent, you'll also attract the attention of everyone who deserves to belong to the bride and groom.
Do not abuse sparkles.
Clothing should be appropriate for your age, status, and optionally it should cost an exorbitant amount of money.
You need to pay attention to the fasteners, the best option is a hidden zipper at the back or side.
Be sure to correctly choose shoes, accessories, jewelry.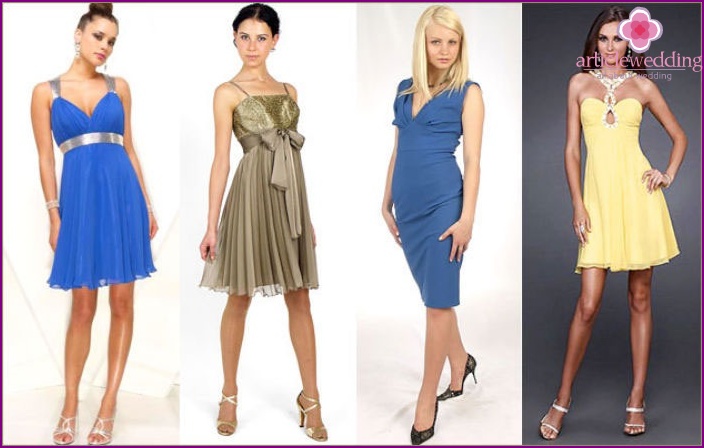 Choosing a dress is also based on the style of celebration. If the wedding celebration is thematic, then dressing for the ceremony is according to the style of the holiday. If the celebration takes place during the day, a pantsuit or skirt with a blouse is quite suitable.
For mom of the bride or groom (mother-in-law and mother-in-law)
Parents of newlyweds, especially mothers, should look attractive and spectacular. What better to dress mother-in-law and mother-in-law?
The dress of the parents should not be white, black and, not surprisingly, green. As a rule, mothers wear dresses of red, burgundy, and purple shades to marry their daughter, and for mothers of grooms, violet, blue, blue, and lilac shades are more suitable. They can be both bright, saturated tones (midtones), and light or pastel shades.
It will look harmonious if mothers wear dresses of the same length. It's not quite beautiful when one mother puts the dress on the floor and the other a mini. This should be agreed in advance, dress the same. The optimal length is knee-high, and in style it is better to wear a classic evening cocktail dress.
It is not recommended to choose clothes made of fabric with a floral pattern, with an abundance of sequins or rhinestones. Jewelry should also fully match the image, well, when they are more restrained.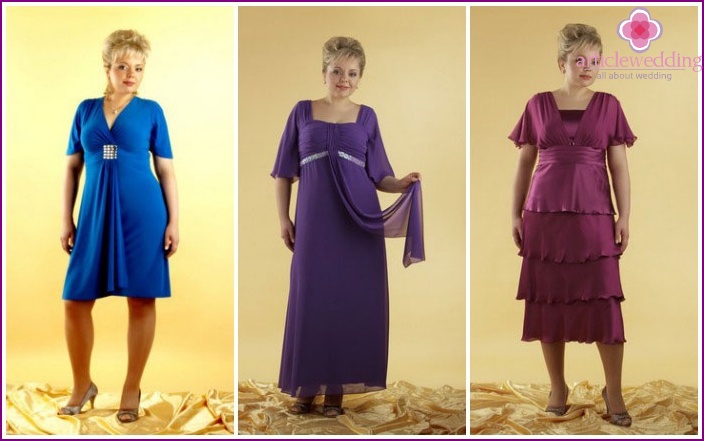 For the witness
If a restaurant is chosen for the celebration, the best option for a witness is to put on an evening dress just below the knee. It is better to choose it together with the bride so that there are no misunderstandings.
Regarding the color, the witness should avoid white, black colors. The optimal colors are blue, yellow, purple.
When choosing clothes for a witness, you should pay attention to shoes - you should not buy expensive high-heeled shoes. In addition to the fact that the witness will have to walk a lot with the newlyweds during photography and walking, she will also have to participate in competitions and shoes with stilettos will be uncomfortable, her legs will quickly get tired. Better to buy shoes with a medium, steady heel or platform.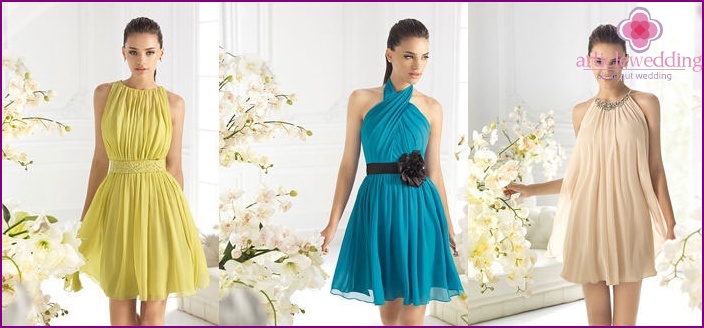 For bridesmaids
For bridesmaids, cocktail dresses of not too bright shades are ideal. In length, dresses can be different - short, medium, long. The style is also not important, the main thing is that it looks fashionable and comfortable. A corsage dress is especially popular. Interestingly, it looks unusual when girlfriends wear identical dresses, for example, as in the photo.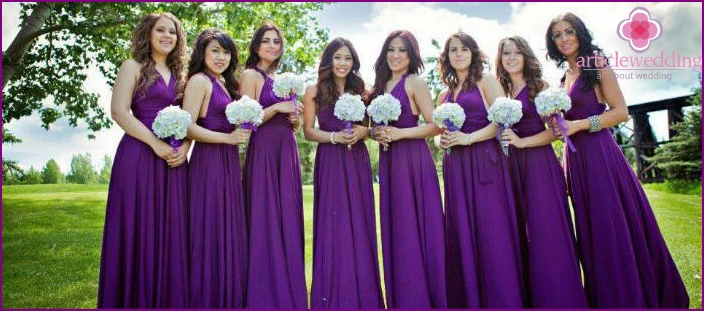 Elegant options for full girls with photos
For girls with curvaceous forms there is also the opportunity to choose a charming cocktail dress that will hide the imperfections of the figure and emphasize the virtues (for example, beautiful breasts). Many fashion designers now produce clothes for chubby girls..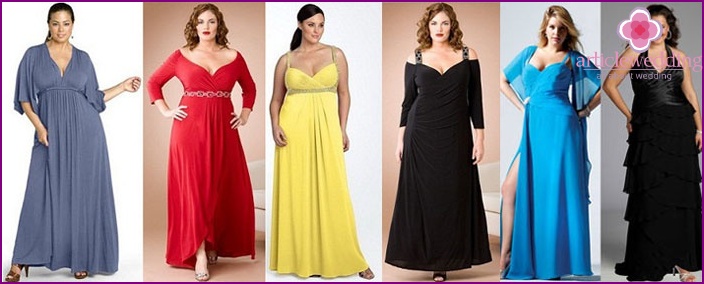 What dress is best to wear if invited to a wedding
A thematic wedding implies an appropriate outfit, because an evening cocktail dress is unlikely to be suitable for an open-air celebration, or a Greek-style dress will look ridiculous at a Hawaiian wedding. Therefore, it is definitely worth considering the theme, style, venue of the wedding celebration.
Outdoors
If the celebration is held in the open air, a more loose style of clothing, for example, a light pantsuit, will do. Do not wear a T-shirt, shorts or jeans. It doesn't matter where the celebration will be held, the wedding is a special day, so you need to dress accordingly.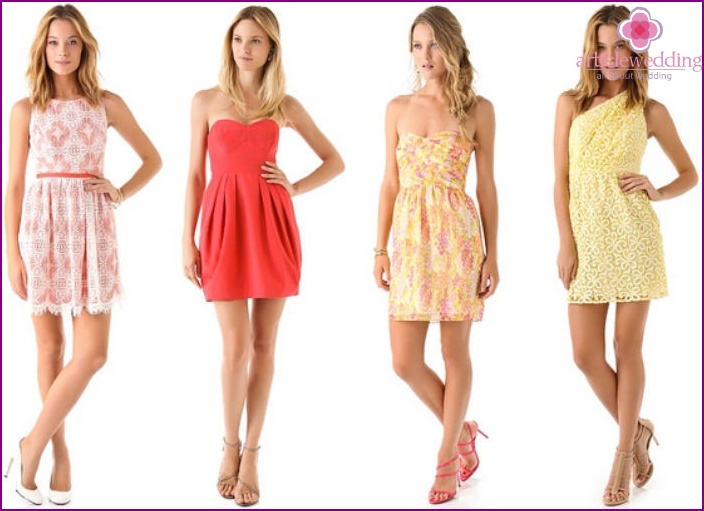 On the beach
For a beach wedding, it is better to wear a light sundress made of chiffon, silk, other light, airy material. It is possible to choose clothes in bright colors. Shoes should be as comfortable as possible, preferably without high heels.
In greek style
For a wedding in the Greek style, it is better to choose a dress from flowing fabrics. The optimal color is all light, pastel shades. The bodice of such dresses is often decorated with bead embroidery or lace. It makes it more spectacular..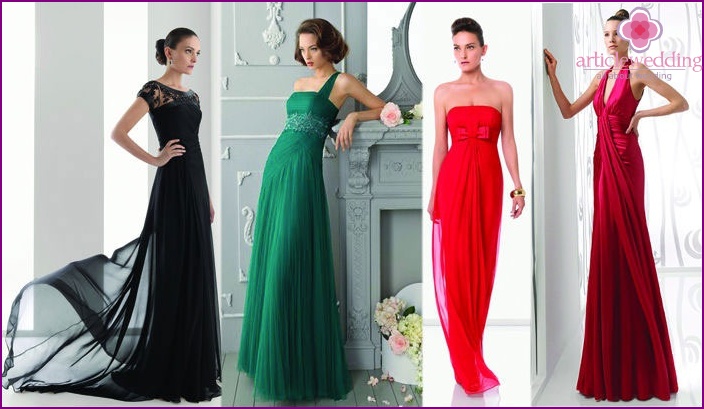 Marine style
For a marine-style wedding, dresses of blue, blue, and a shade of the sea wave are most suitable. The style of the dress can be absolutely anything - with a corset, tight-fitting, with a lush hem. It all depends on personal wishes..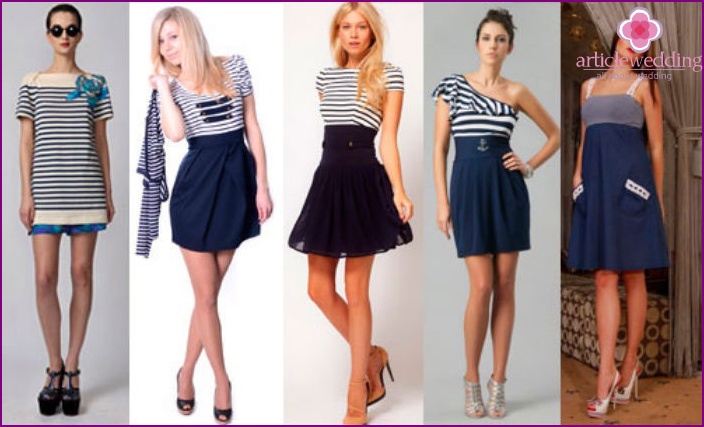 Outfit color. Is it possible to wear black for a holiday
Thinking about the question of what to wear for a wedding, do not forget about the rules of etiquette, which are not spelled out anywhere, but a priori clear. Do not wear a black dress, as it is the color of mourning.
White
Only a bride can wear a white dress, this is her day. Because this is the color of the taboo for guests, do not make the bride nervous again, violate the rules of etiquette, wearing a white dress.
Green
The green dress is perfect for both bridesmaids and older ladies. For older women, it is better to choose shades darker - such dresses look elegant, while young girls are more suitable for brighter shades. Green dresses will look great in spring or summer..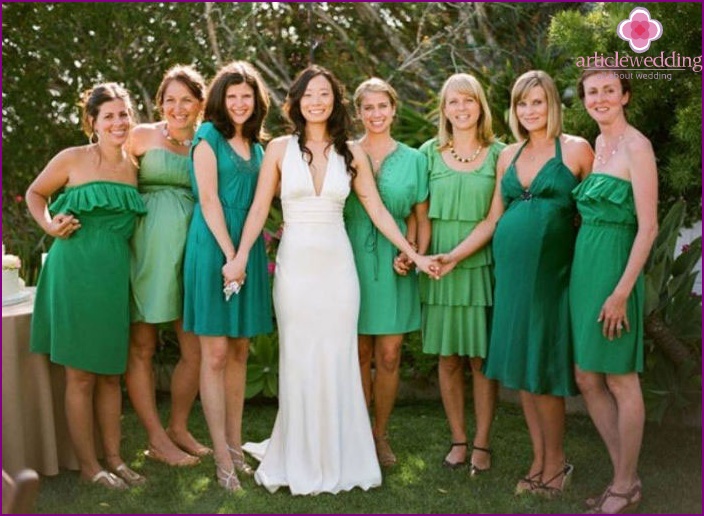 Pink
The pink dress will look good in spring or summer. It will make the image of a girl gentle, airy, bewitching. Clothing of this color is perfect for girl children and young girls..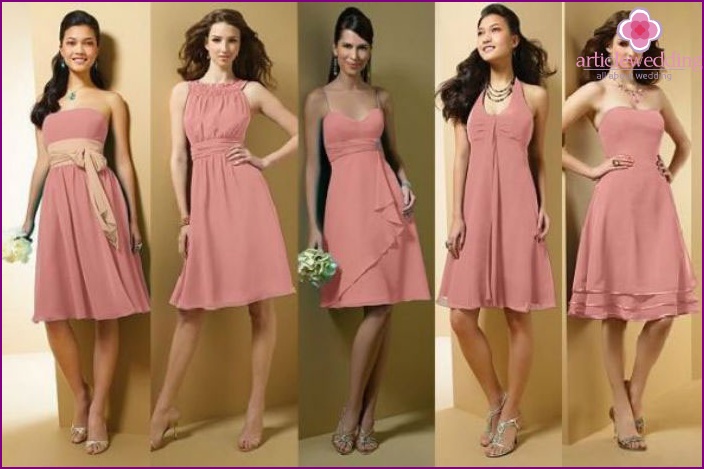 Yellow
The yellow dress looks spectacular, attractive. A robe of this color is suitable for autumn or summer..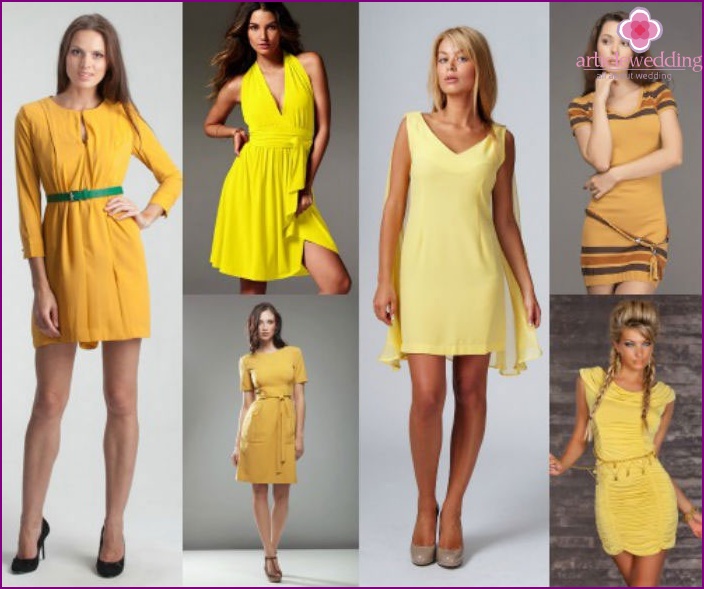 What to wear on the second day of the celebration
On the second day, the bride and groom should look as charming as on the first day. But now it's possible to relax a bit, dress a more convenient option. For the bride, a modern dress or sundress is quite suitable. If the celebration continues in the restaurant, it is good to wear a long evening dress. You can also choose a beautiful suit in which you will feel as comfortable as possible..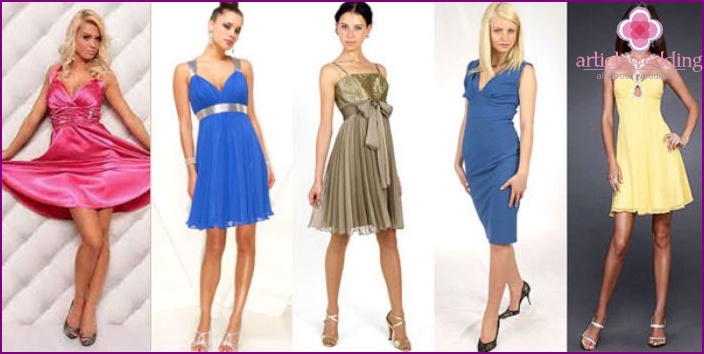 For the second wedding
The second wedding is for many an event less grandiose than the first, but in any case, the birth of a new family must be noted. What dress should a girl wear if she is not the first to go to the Wedding Palace as a bride:
short tight dress;
evening dress in bright colors;
pantsuit;
dress in greek style, but not white.
The color of the dress can be anything but white, black. Outfits of beige, gray, pastel shades will look good. At will, it is possible to choose brighter shades.
Wedding anniversary
The choice of attire for a wedding anniversary depends on the place of celebration. For a celebration in the restaurant it is better to choose a cocktail dress; outdoors (if the anniversary is not in winter) you can wear a simpler outfit - a sundress, an ordinary light dress. Often, newlyweds put on wedding clothes to remember an important day of their life.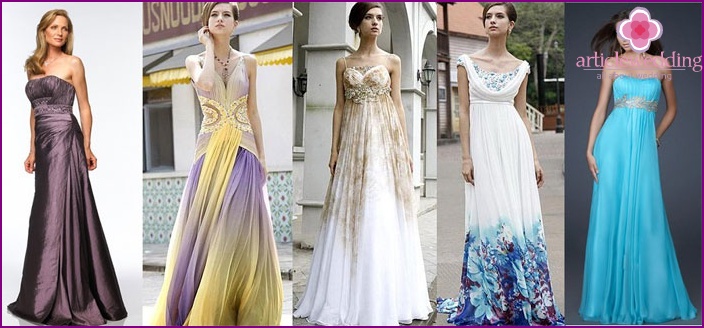 Long and short models
For the wedding, you can choose dresses of various lengths:
A long dress on the floor is perfect for slim girls with a height above average. Such an outfit will emphasize all the advantages of the figure. 
Short dresses were always in fashion and very relevant. Do not forget where you are going and what you should look decent, so wearing a dress too short is not recommended.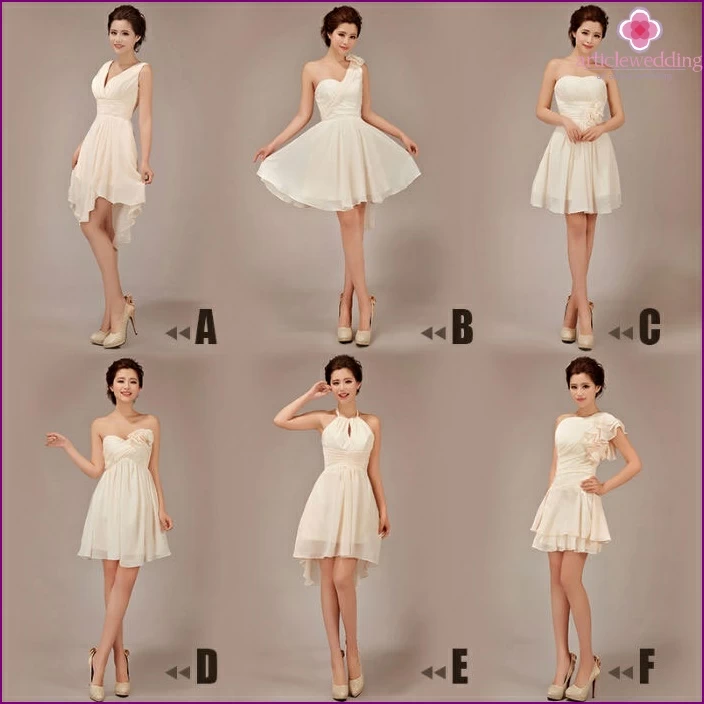 Medium-length outfits are perfect for girlfriends, guests and even moms..
Where to buy, rent or custom-tailor stylish clothes
Buying a dress is not difficult - there are many boutiques that provide a wide range. These are ordinary clothing stores, wedding salons, online catalogs with clothes, ateliers that provide evening dresses for rent.
Transformer dresses are especially popular..
What to wear for a wedding in the summer of 2015 photo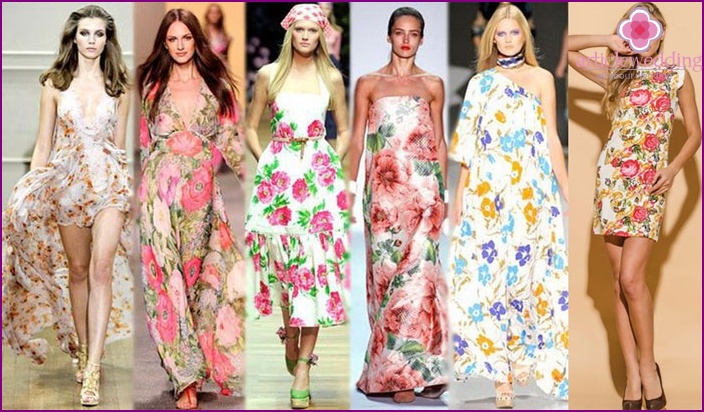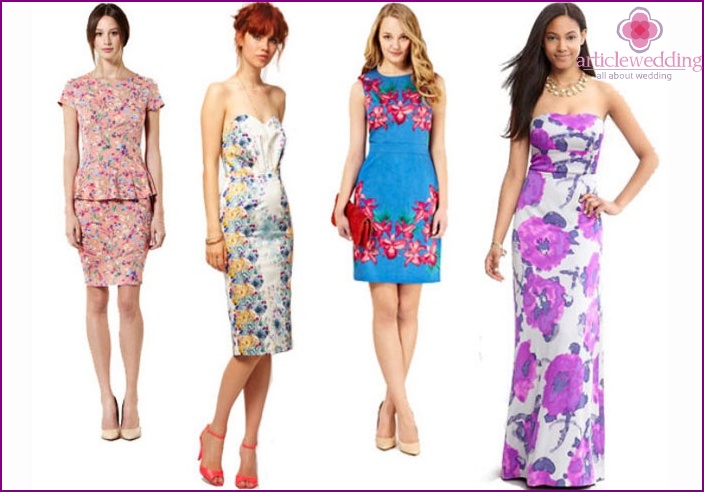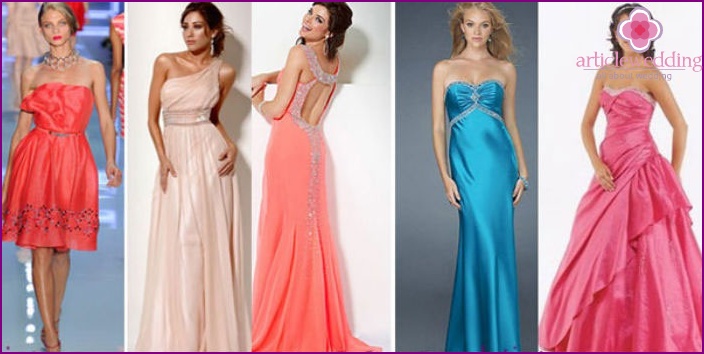 As soon as you have been given a wedding invitation, immediately think about the outfit, since you will have to look and choose it carefully. When choosing a dress for yourself, proceed from your own preferences and the amount that you are willing to spend on it. Do not forget the rules of etiquette.
If you were recently at a wedding as a guest or girlfriend and can share tips on choosing an outfit - leave comments.