Contents
---
---
Wedding fashion is a cyclical process that repeats with a certain frequency, returning to us the fashion trends of past years, centuries, centuries. Thanks to this feature of fashion, we can get acquainted with specific areas and design solutions that were known and popular earlier.
Within the framework of modern wedding fashion, there are a variety of trends that allow you to experiment with style, materials, style and color. Fashion trends have the most vivid expression in wedding dresses. When leaving for a wedding dress, please note that the bulk of wedding dresses has a number of identical elements. The portal www.articlewedding.com has prepared for you a list of the most fashionable elements that are currently found in wedding dresses.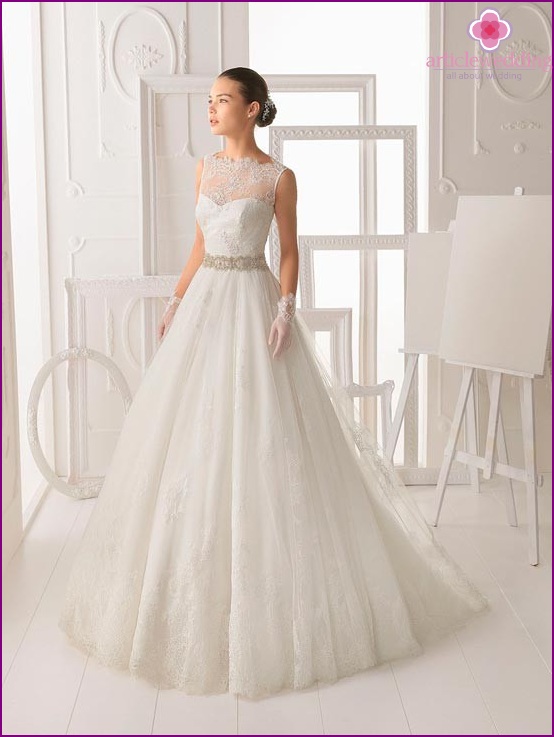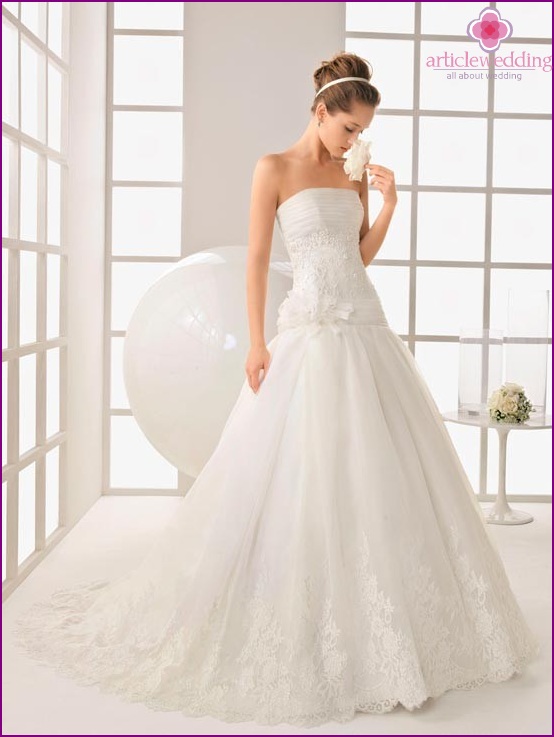 Charming back of a dress
Famous fashion designers increasingly focus on the back of a wedding dress. Experiments with this area of ​​the outfit are converted into different variations. Very popular wedding dresses with a neckline on the back. The cutout can be deep and not very. The back can be completely bare or partially. Sometimes, in order to cover the naked back, decorative draperies are used..
There are dresses with different cuts on the back. This can be a curly, asymmetric or classic neckline. The more unusual the shape of the neckline, the more spectacular the dress looks. The half-open back, especially in combination with guipure, creates a light and seductive image. In this outfit, any bride will look unusually beautiful and elegant.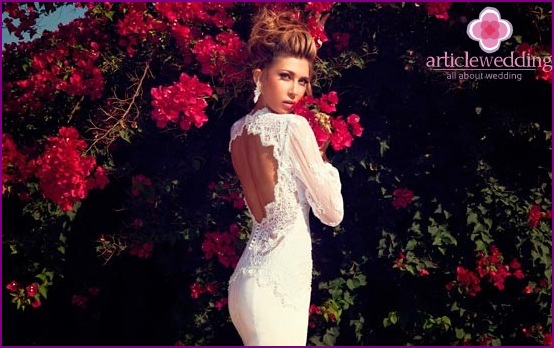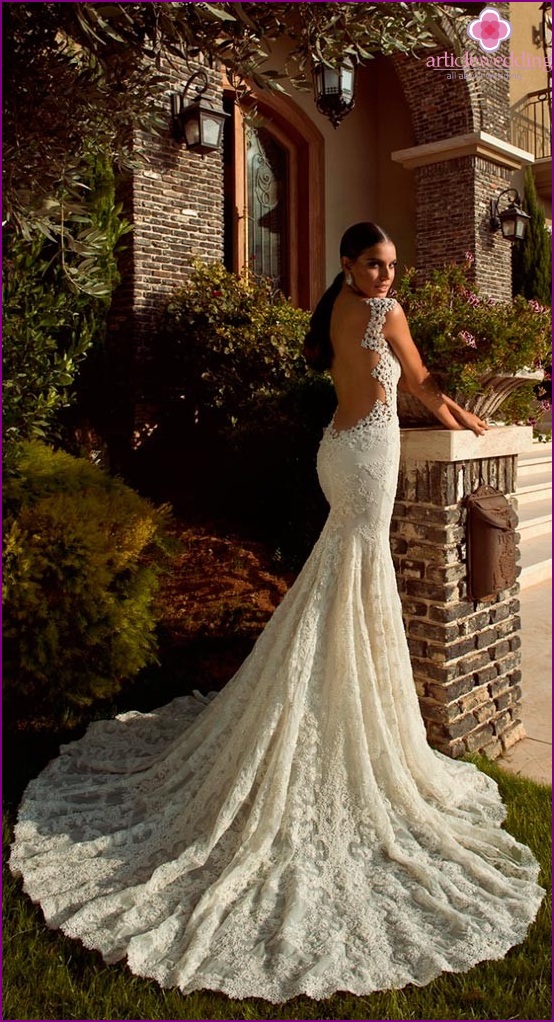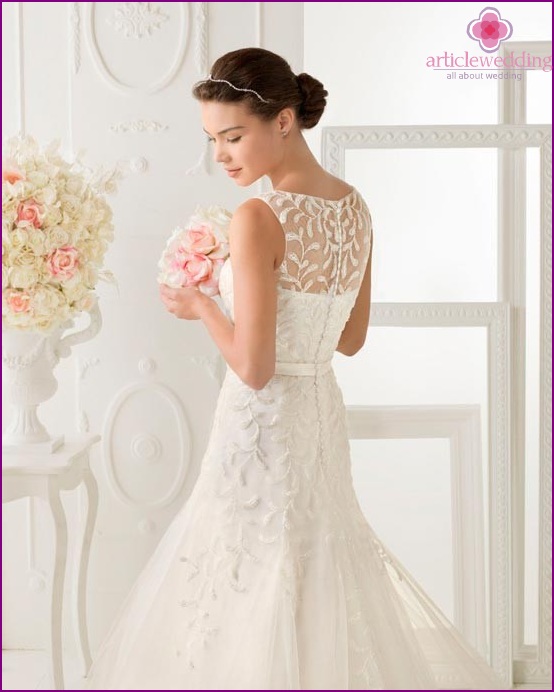 Today, models of wedding dresses with the illusion of a neckline are quite popular and in demand. In this case, the neckline (usually deep) is covered with lace or thin chiffon. This version of the back is ideal for lovers of sophisticated style..
The back of a bridal dress can be completely lace. This is a fashionable solution. Often the lace back of the dress is complemented by pearls, beads, rhinestones, bugles. Actual models of dresses with a lace back and buttons. Most often, buttons are fabric or pearl. The dress, the back of which is decorated with delicate lace, allows the bride and groom to look more elegant and slimmer.
Lace fever
Inexhaustible popularity belongs to lace wedding dresses. This trend of wedding fashion has been in demand over the past few wedding seasons. Having left the search for new solutions for the lace embodiment, the designers offer a more traditional performance of lace dresses.
Such types of lace are considered fashionable, such as:
Bruges, which is crocheted;
classic Chantilly - usually laid out in several layers;
Irish et al.
Lace can be called a universal material that can easily be combined with chiffon, tulle, tulle, satin and other materials. At the same time, the combination of lace with a different type of fabric each time creates a new incredible image..
Due to the variety of silhouettes, each bride will be able to choose a lace dress to suit the features of her figure and appearance.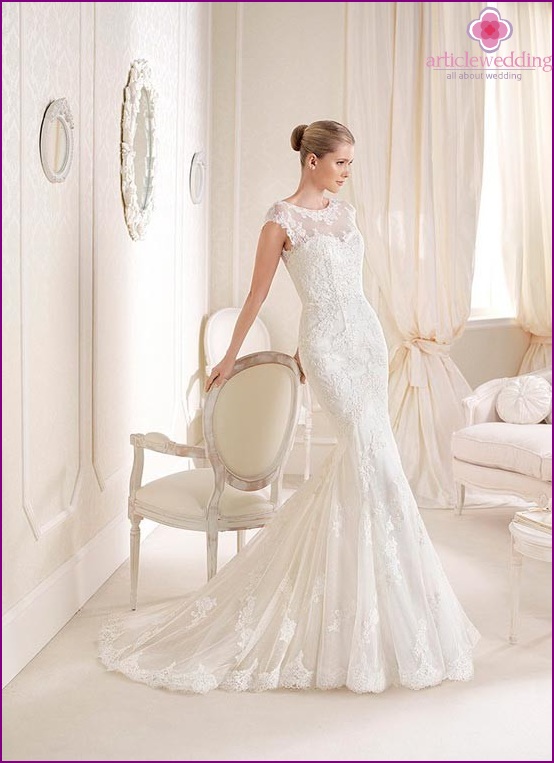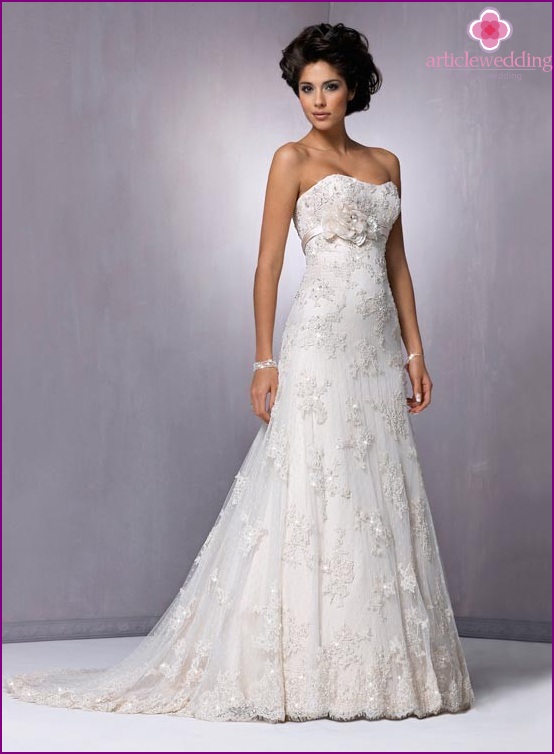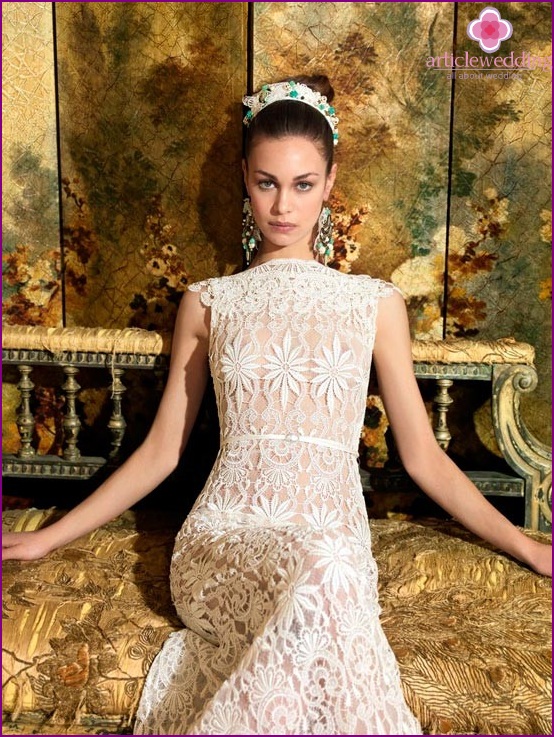 A dress made of translucent lace looks very sexy and exciting. However, only the most courageous and decisive girls who have a magnificent figure are able to wear this option of a wedding dress. In other cases, it is better to decorate more winning parts of the body with transparent lace..
Bold prints
You strive for individuality and want a unique wedding dress, then you will like the idea of ​​a wedding dress with a bright unusual print. You can dilute a traditional white dress with a restrained or bright pattern..
A wedding dress with patterns will undoubtedly be of interest to others. A dress with a print adds a little charm, novelty and unpredictability to the image of the bride. Among the abundance of patterns, you probably can find the most characteristic pattern for your style.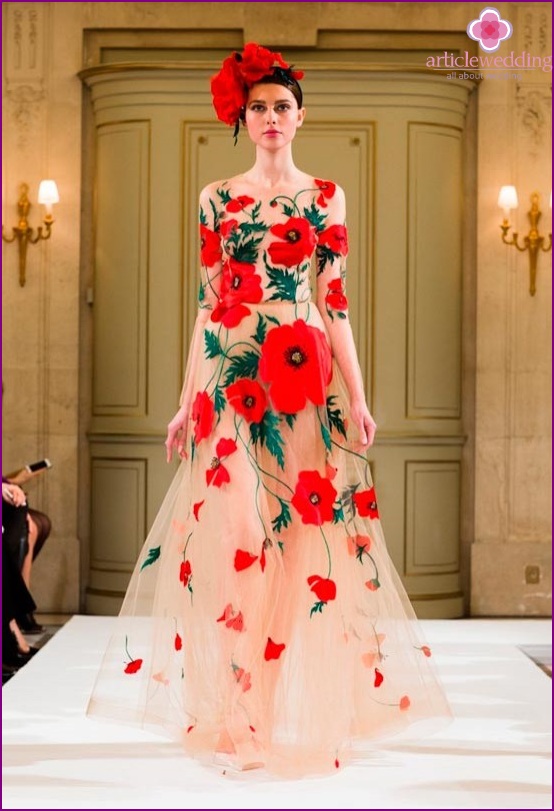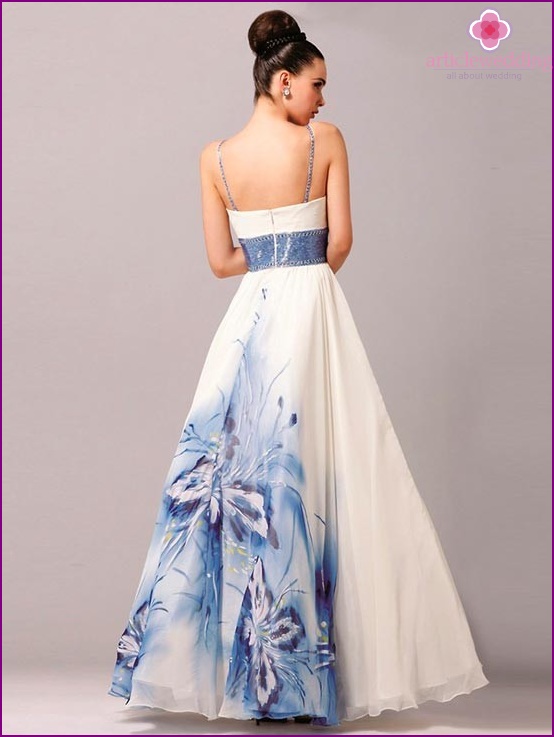 There are original dresses with small colored splashes, as well as outfits generously supplemented with prints. The wedding dress can be decorated with standard prints: polka dots, stripes, as well as more modern patterns: floral, floral, ethnic, animal prints, abstraction.
The contrasting background of the dress and the tone of the print look very impressive. Another interesting and fresh way to stand out among other brides is a wedding dress with a voluminous 3D pattern. This effect is created due to applications from various materials: flowers, fabrics, draperies, etc. Textured wedding dresses look elegant and unusual!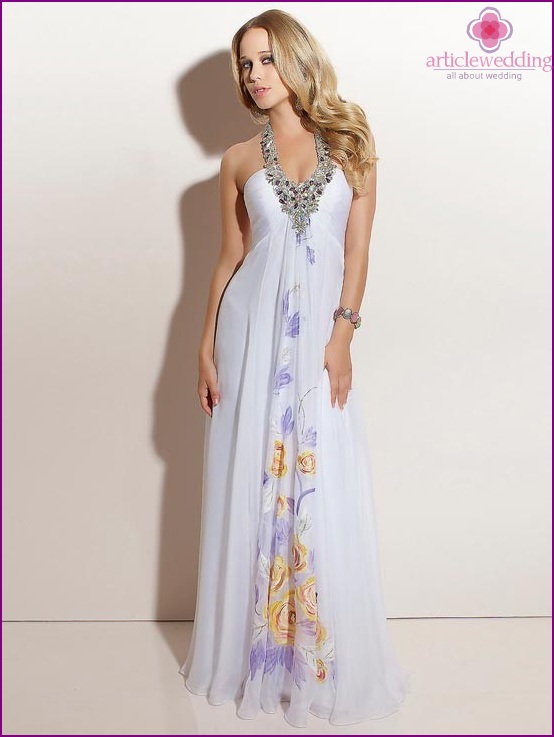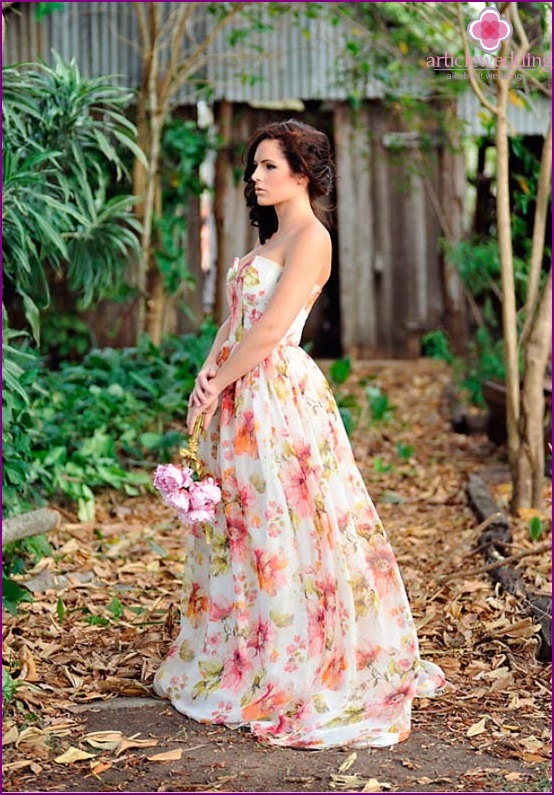 Pleated items
Artificial folds and creases are the new trend of wedding dresses in 2014. Collections of wedding dresses offer a wide range of long and short pleated dresses.
As a rule, in short versions of wedding dresses, the lower part remains pleated, and the top is made of smooth material. In long dresses, cases of using a combination of large and small pleated are not uncommon. In this case, the top will be pleated either horizontally or asymmetrically, and the bottom will have vertical pleating, the wedding site www.articlewedding.com indicates.
For more creative natures, long models of wedding dresses with a pleated tail-tail are offered. You can choose the classic version of the dress, designed in Greek style with high waist and pleated hem.
Pleating is an accent that can add tenderness, romance and originality to the image of the bride..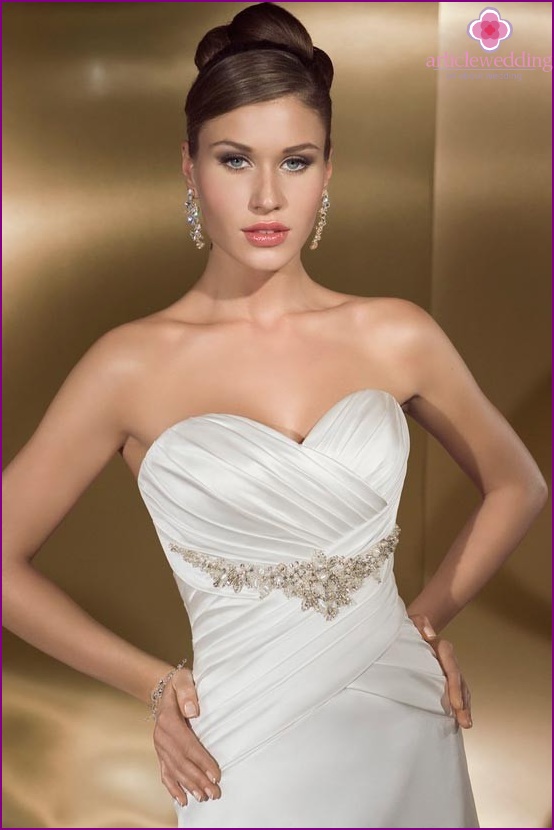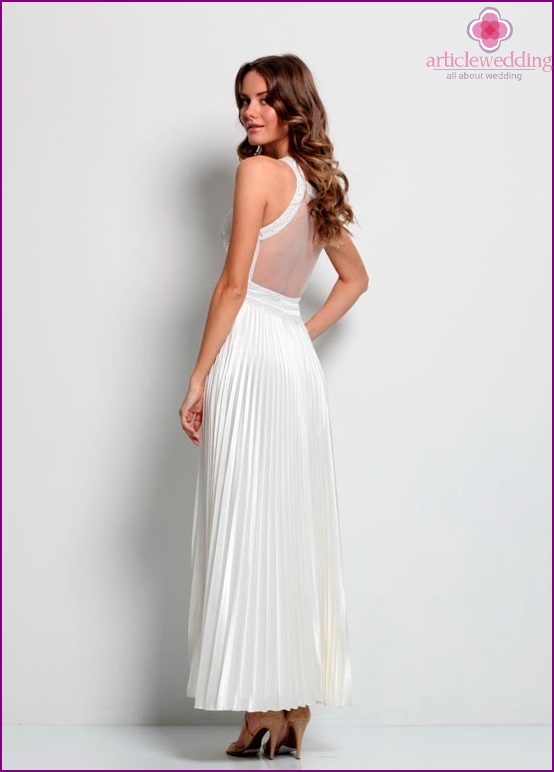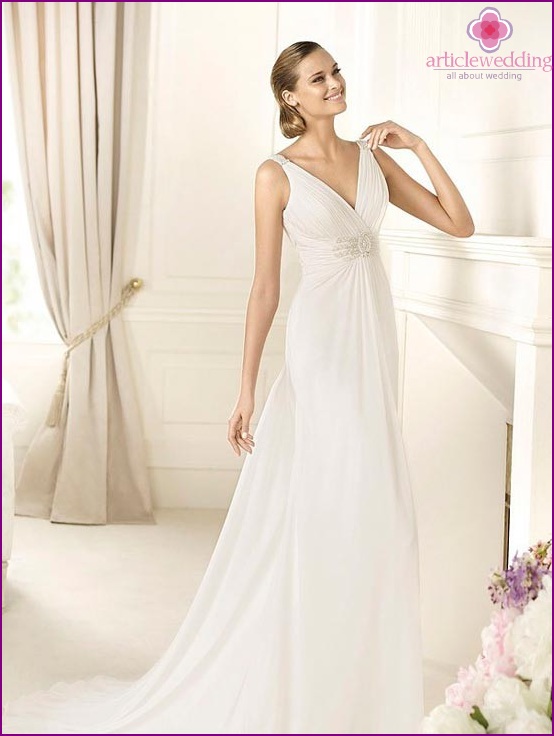 Pleated wedding dresses have several advantages:
A vertical pleat lengthens the silhouette and makes the figure more elongated and slim..
The pleated hem of the dress allows you to hide imperfections in the legs and body..
Pleated outfit - one of the most versatile.
Elongated peplum
The long basque was a hit last season, but this year it still occupies a leading position, although a little modified. The peplum in modern dresses is lengthened by lace trim. When choosing a peplum wedding dress, be careful. Basque is deceiving and can visually ruin a figure..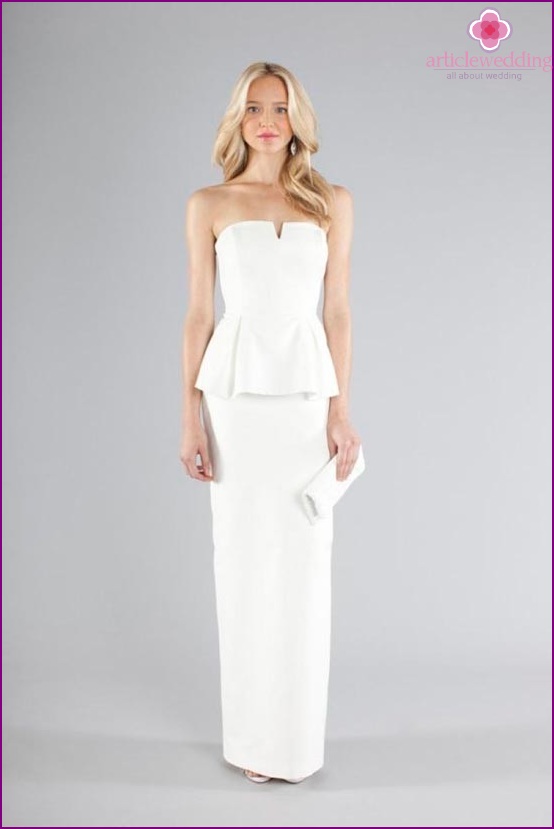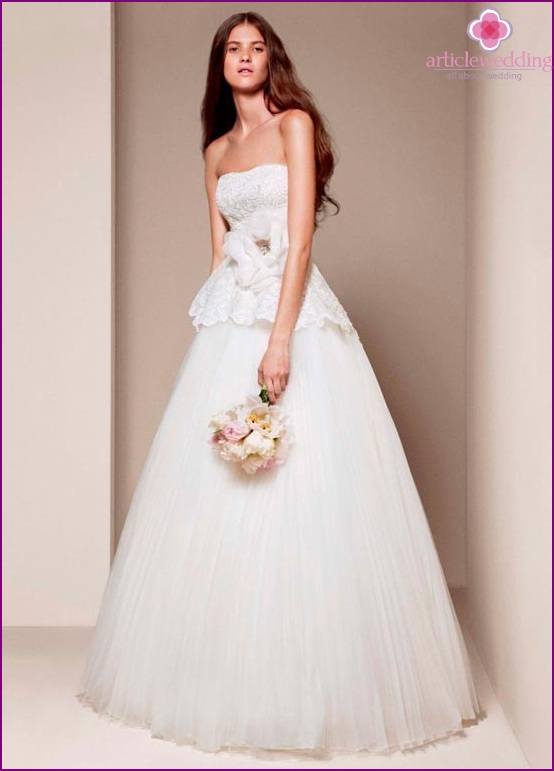 Radiance of rhinestones, beads and Swarovski crystals
Particularly relevant in modern collections of wedding dresses has become to place bright accents with sparkling elements. Crystals, beads and famous Swarovski crystals are decorative highlights. With such miniature, but insanely beautiful and elegant elements, you can decorate the dress's belt, neckline, frill or skirt. A deep neckline on the back decorated with rhinestones and beads looks seductive and effective. When choosing a dress with a decoration in the form of a scattering of small stones, it is important not to go too far with other wedding accessories.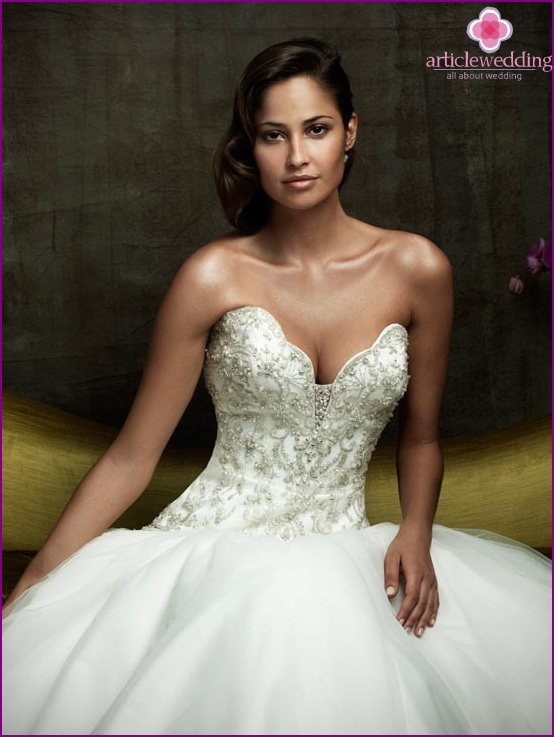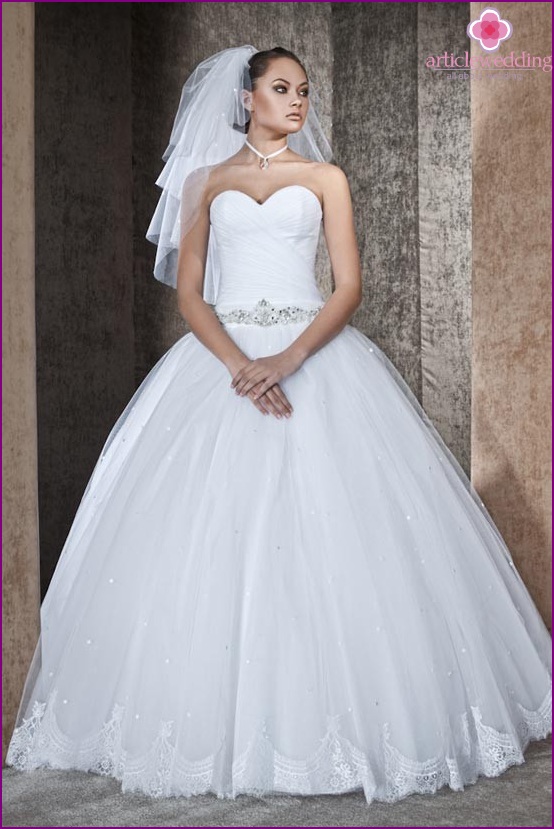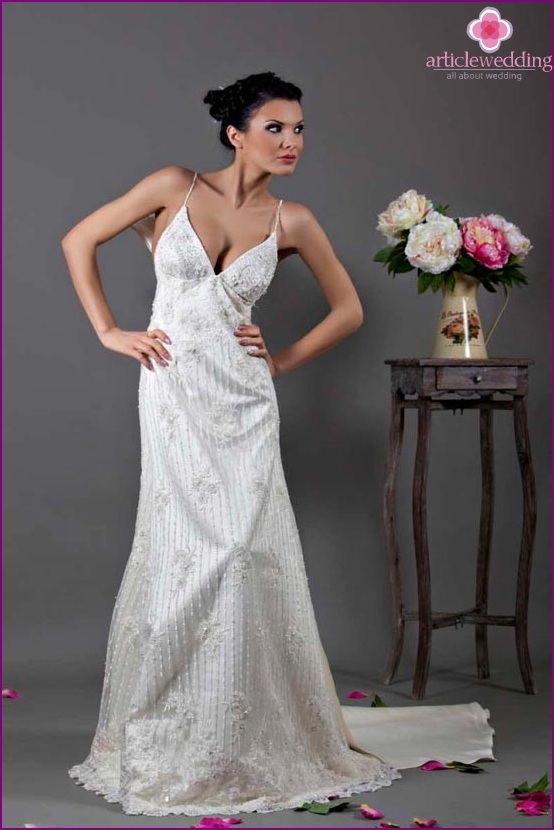 In a wedding dress with one of the presented elements, you will be the most beautiful, stylish and feminine bride!