Contents
---
---
Many people follow the old tradition, according to which the bride should go to the altar in a snow-white dress, symbolizing the integrity and innocence of the girl. However, traditions, like fashion trends, must change over time..
In recent years, brides have increasingly begun to follow trends dictated by Western stars and stylists. Modern brides no longer want to restrain their individuality and charisma. Often progressive brides prefer bold and eccentric wedding dresses that best reflect their inner world.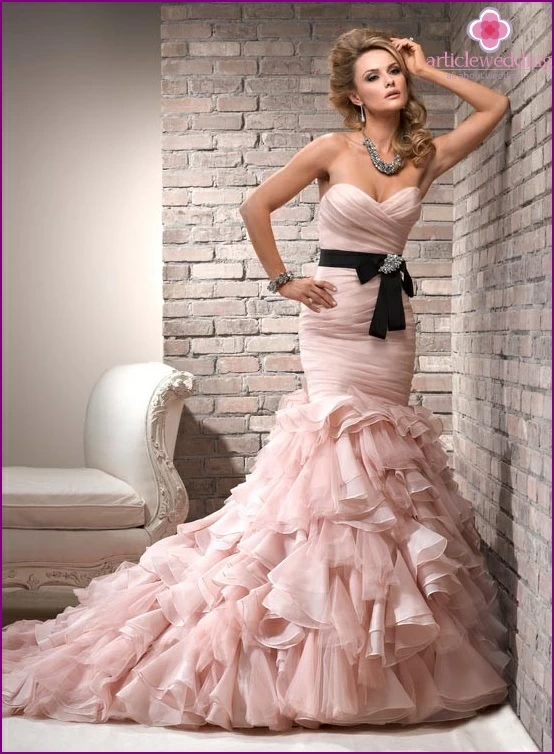 Indeed, colored wedding dresses are the choice of brides who like to go against traditions and stereotypes. Indeed, in fact, the bride should be the most beautiful and expressive on the wedding day, she should attract attention and give a lot of reasons to discuss her image. It is believed that colored wedding dresses best cope with this task, attracting everyone's attention..
Who and why chooses colored wedding dresses?
According to the observations of the portal www.articlewedding.com, colored wedding dresses are a fashionable modern trend that courageous and bright girls can adhere to.
Unconventional outfits can be of different shades of any degree of intensity, a combination of several contrasting colors is not excluded. The choice of such dresses, first of all, depends on the preferences and look of the bride at the outside world. Very often, colored dresses become the choice of a theme wedding. Sometimes a bright outfit is selected depending on the season..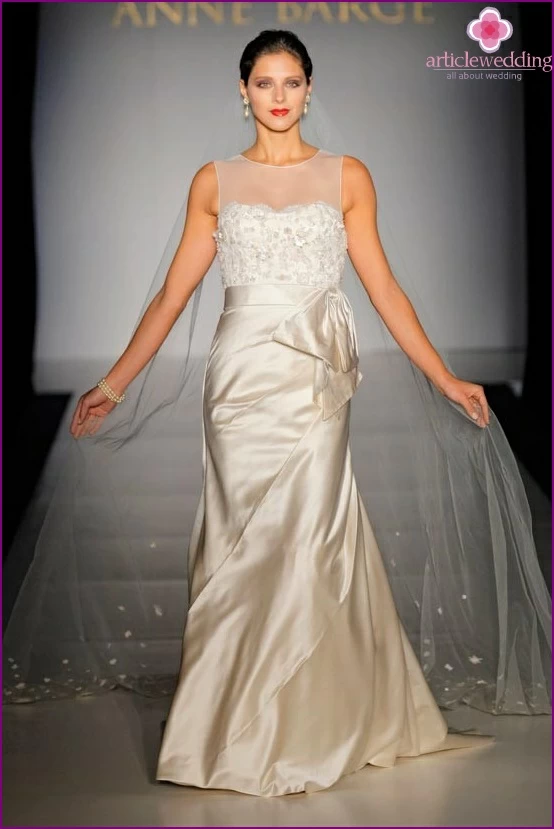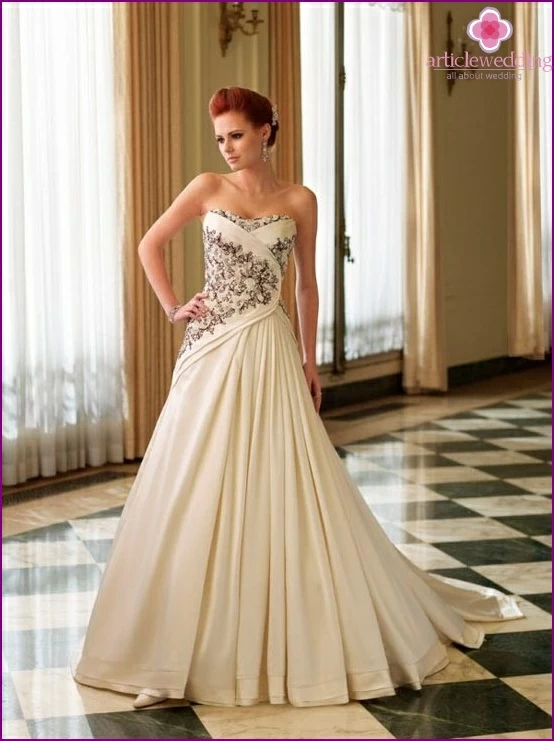 The choice of a bright wedding dress can also be explained by the desire of the bride to become the most charming and stylish. Dresses rich palette help the bride to demonstrate her unsurpassed taste. Wearing an atypical bold outfit, the bride will beckon and captivate in her own way.
Freedom of choice and imagination
When choosing a wedding dress, be free in your choice, do not limit yourself to the prevailing stereotypes and frames, allow yourself to appear in the form that you dream of. Moreover, today stores are filled with completely different outfits in style and color..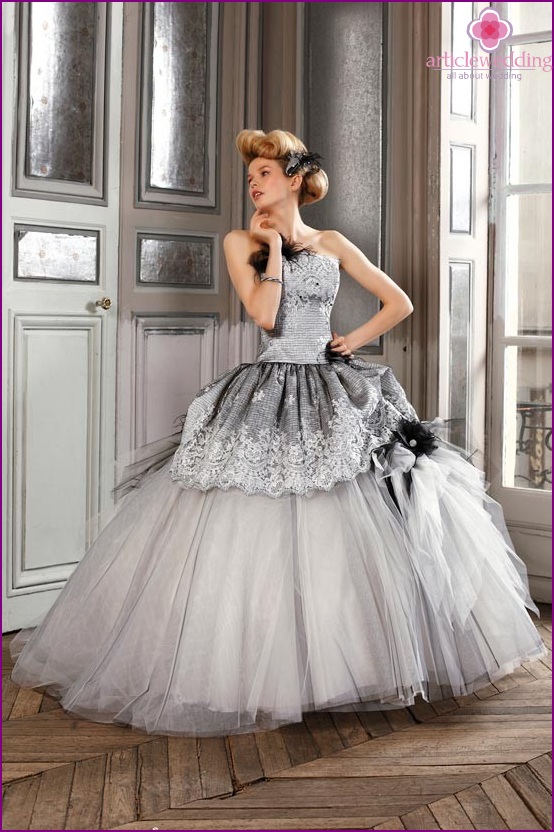 Pay attention to the combined color wedding dresses. Such an outfit will be a real find for you. You can make a choice in favor of an outfit with one or more color elements: a bright bow, belt, color applique, multi-colored lace. It is important that each of the expressed details correctly emphasizes your shapes..
Color Solutions for Wedding Dresses
White color cannot be called an ideal color for all women, especially pale-skinned women. Why not choose something unusual, unconventional, something that is best for you? Despite the fact that white still remains the main color of wedding dresses, brides can choose one of the options below for unique color dresses.
Pastel Wedding Dresses
One of the most delicate wedding dresses, according to the wedding site www.articlewedding.com, are dresses of light, airy pastel shades. The bride in a pastel-colored outfit looks romantic and magical. The outfit is beige, cream color, ivory or champagne, gives tenderness and charm. The bride and groom looks stylish, unique and inimitable.!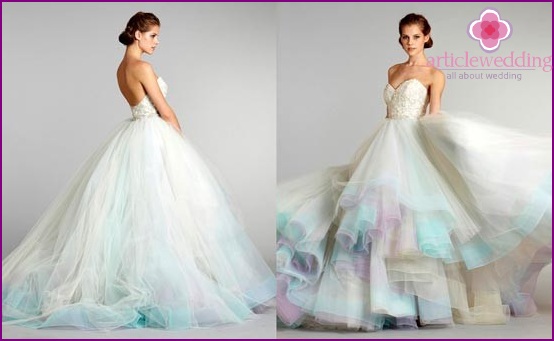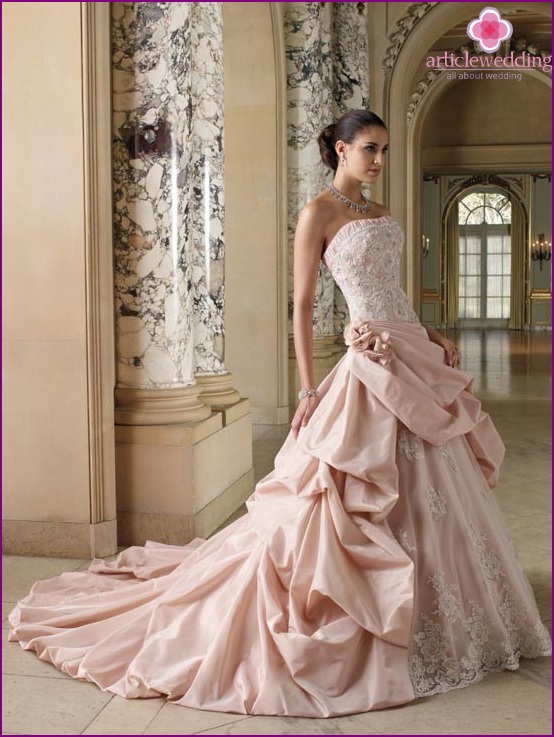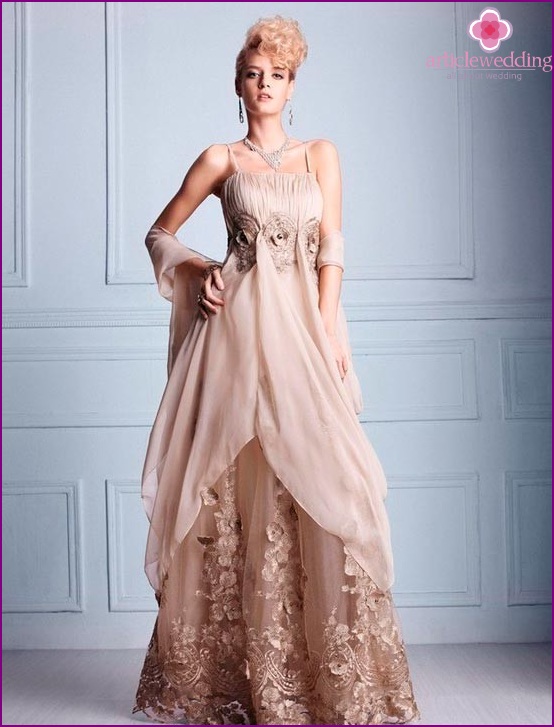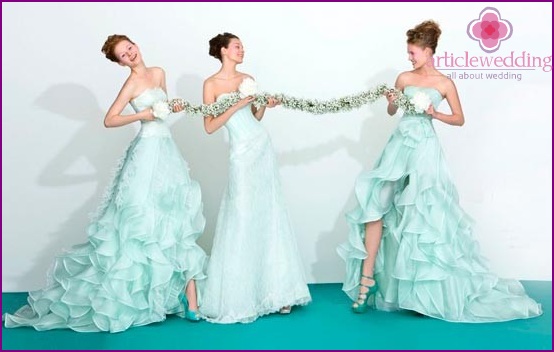 Red wedding dress
Red is recognized as one of the strongest colors, which is always in the spotlight. Red is the color of love, energy, emotions. A wedding dress of such a bright and passionate shade is suitable for adventurous brides by nature, who love speed, play, and completely surrender to passion. Bride choosing a red wedding dress - bold, decisive, with «the core» inside.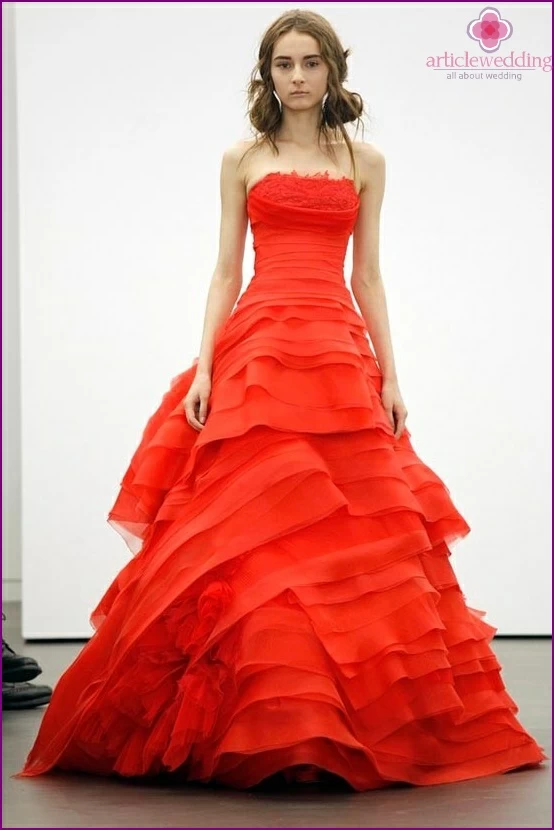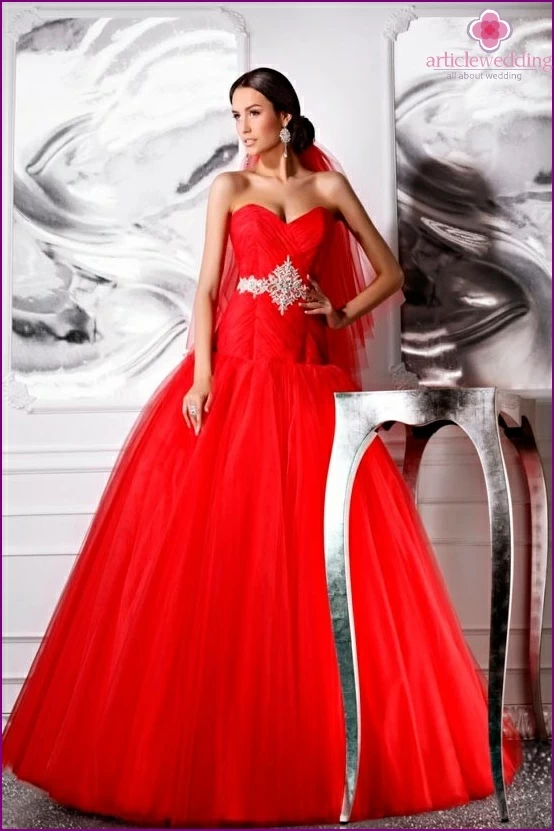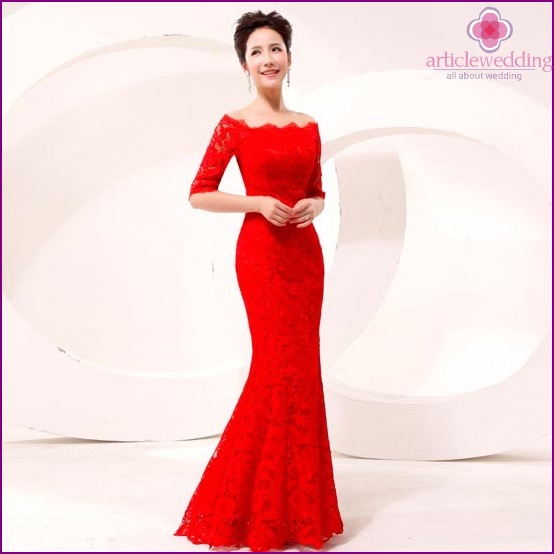 However, not every girl will be able to wear such a spectacular outfit. First of all, you should feel harmonious and sexy, and not oppressive and irritable. When choosing a red dress, listen to your inner sensation. In addition to red, you can choose a dress of any other favorite shade: blue, green, burgundy, pink, etc..
Wedding dress with a colored belt
You are afraid to deviate from tradition, but at the same time want to be stylish and fashionable, then choose an outfit that will be a compromise option. An alternative to plain dresses is white dresses with bright accents..
A colored belt is a detail that adds tenderness and grace to the bride. Belts are wide and narrow. The most preferred colors are belts of black, blue, gray, pink and red. And how do you like this option: a delicate blue dress with a belt of a more saturated shade? ! Amazing and elegant!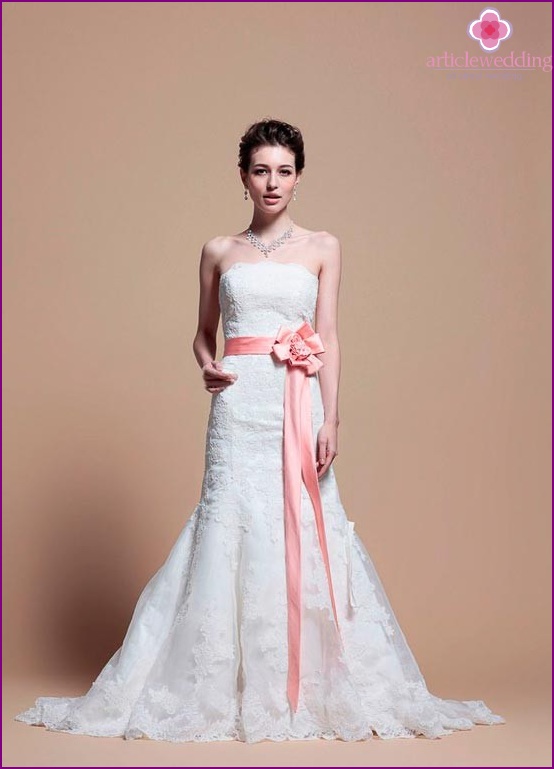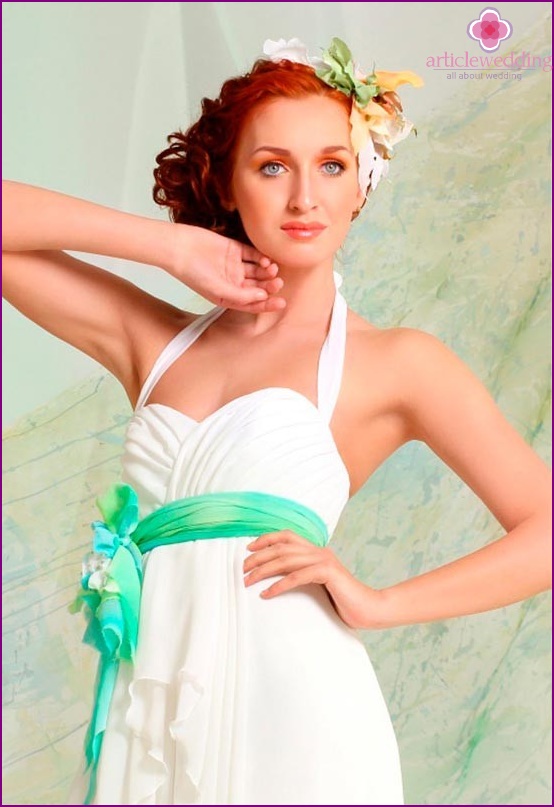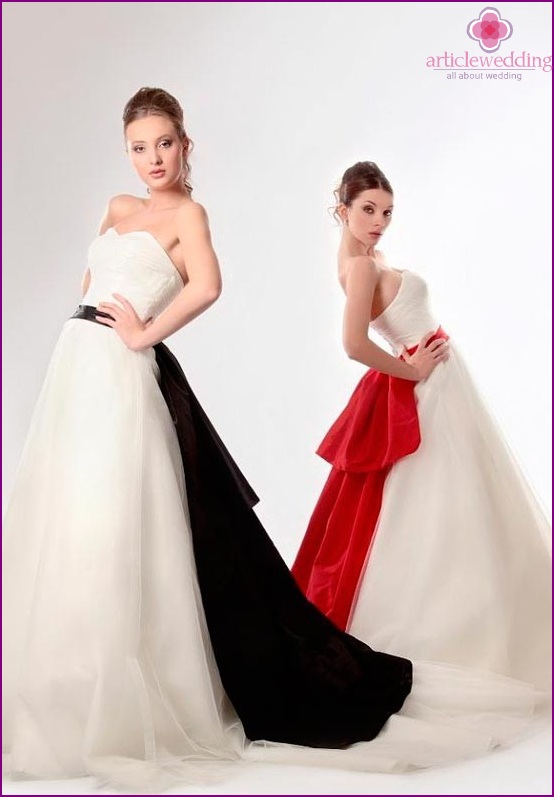 Color Hem Wedding Dress
Wedding dresses can have a color hem. Often, the color highlight not only one bottom of the dress, but there can also be colored details in the form of a belt or decor on the bodice. Color edging and any other finish makes the outfit elegant and vintage..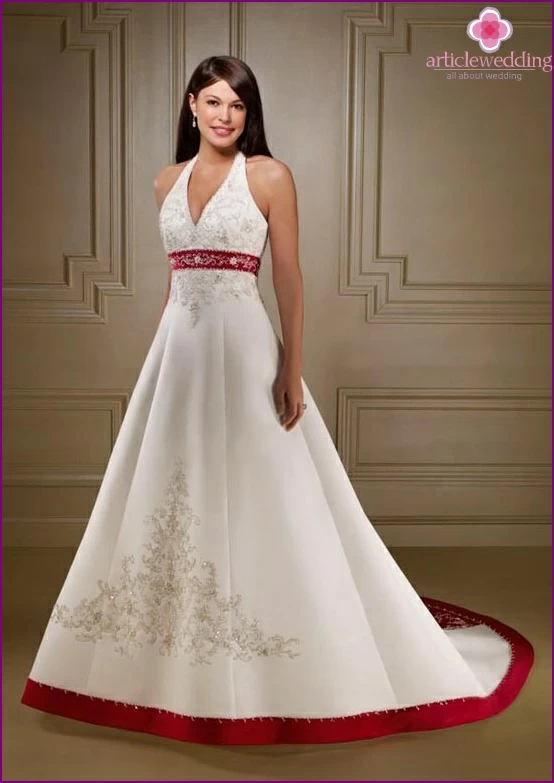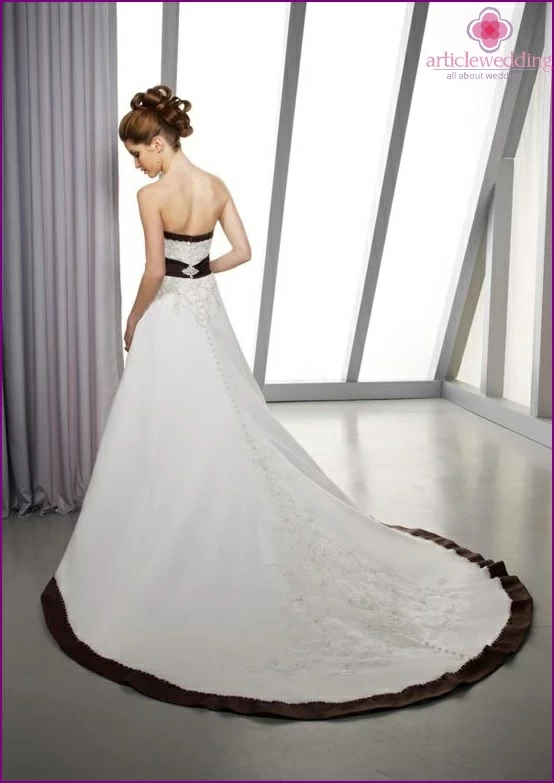 Wedding dresses with colored lace
It is known that lace dresses are the most trendy this season. Lace emphasizes the fragility, elegance and sophistication of the image of the bride. Openwork guipure elements drive most men crazy..
If you want to focus on your femininity, we offer you dresses with colored lace. Colored lace is a detail that adds extra chic to the entire look. The most spectacular option is a white dress with black or red lace. Bright finish can be on the bodice, train and hem of the dress. A more sophisticated version: blue lace on a solid background.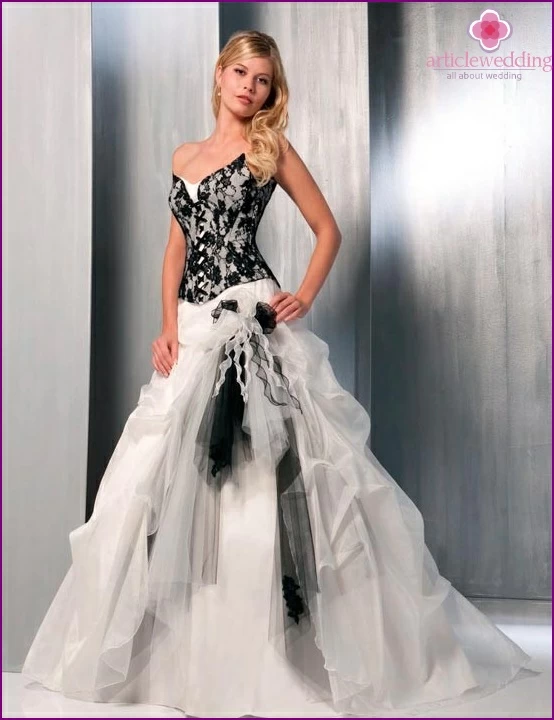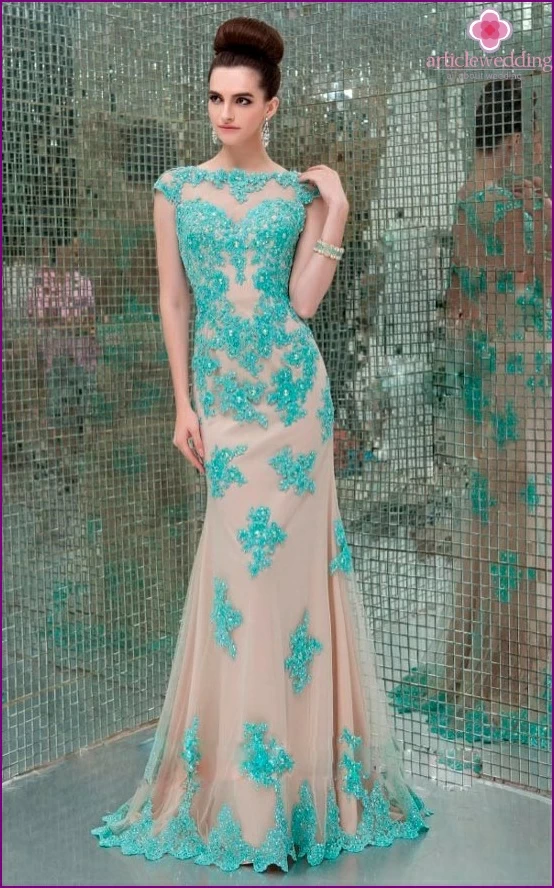 Wedding dresses with effect «ombre»
Fashionable and current trend «ombre» found in wedding dresses. Outfits with a smoothly transitioning color look original and unusual. Successful color scheme for a wedding dress: the transition from white to blue or blue, pink, orange and purple.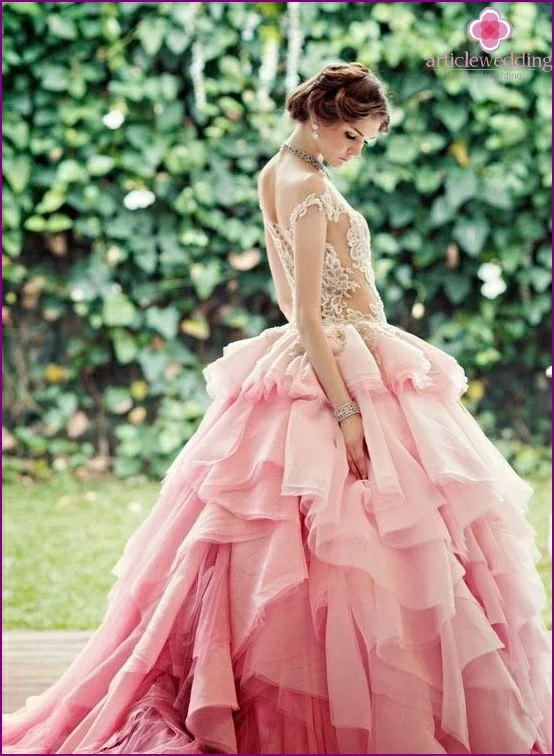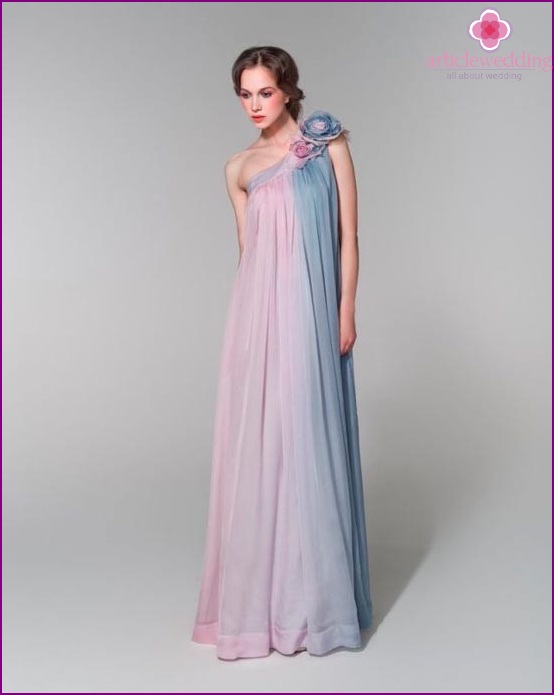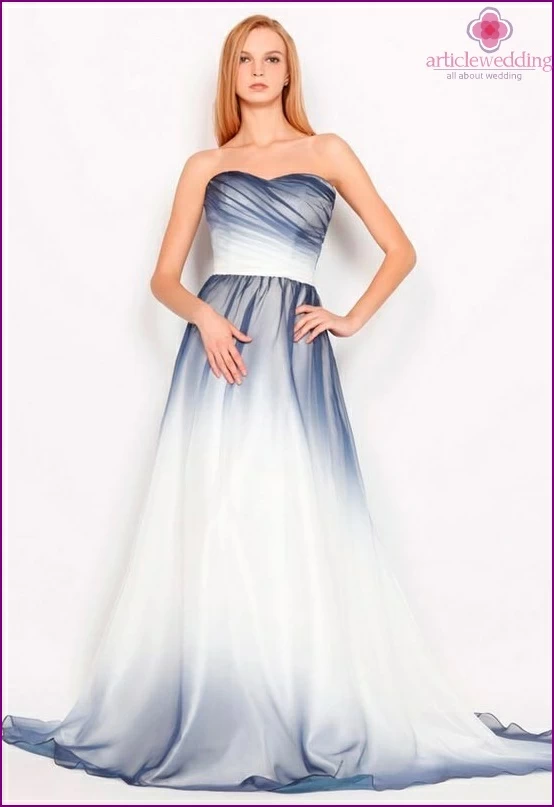 Well, you still want to be a traditional bride in a white dress or a beautiful exotic flower in a bright and stylish outfit? !