Contents
---
---
Choosing a beautiful and comfortable wedding shoes that harmoniously matches with a wedding dress is not an easy task. More and more often, when choosing wedding shoes, brides pay attention not only to their appearance, but also to the comfort of wearing. Indeed, even the highest quality shoes cannot guarantee you the absence of such problems as rubbing your feet, pain, fatigue, etc. Ballet shoes will help to solve these problems..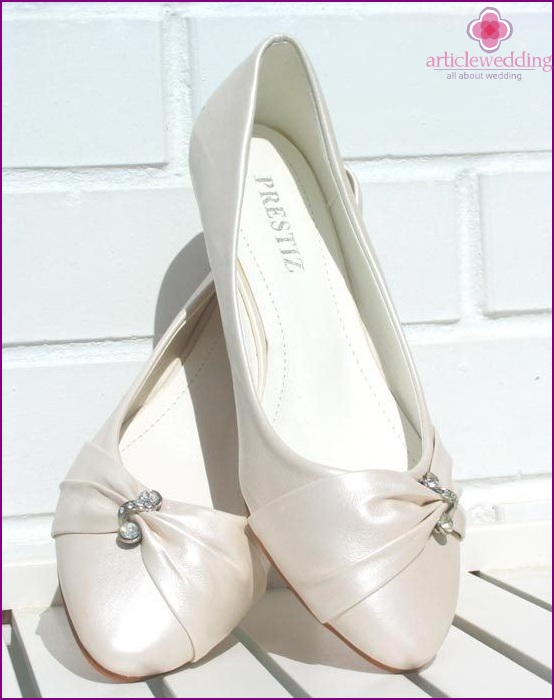 Today, ballet shoes have become one of the sought after options for wedding shoes. Choosing ballet shoes, you do not need to choose between convenience and beauty. The latest shoe collections offer a lot of wedding ballet flats, different in model and decor, which successfully combine with different looks. Let's look at all the positive and negative sides of this shoe.
Wedding ballet flats - a wide choice of models and flowers
The material for the manufacture of ballet shoes is most often artificial or genuine leather, satin or dense textile. There are smooth, varnished models or ballet flats with embossed leather. You can find ballet flats with snake skin effect or metal coating.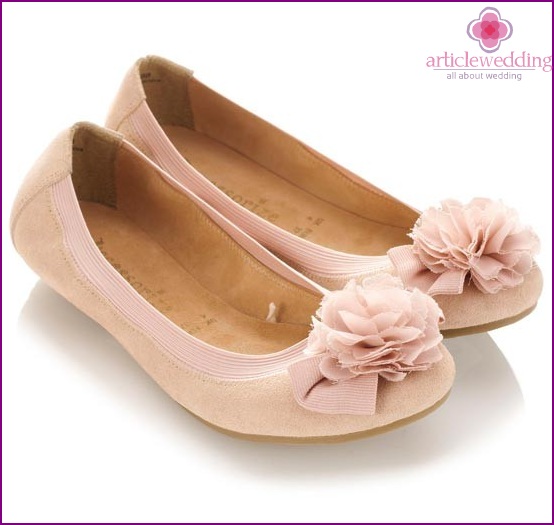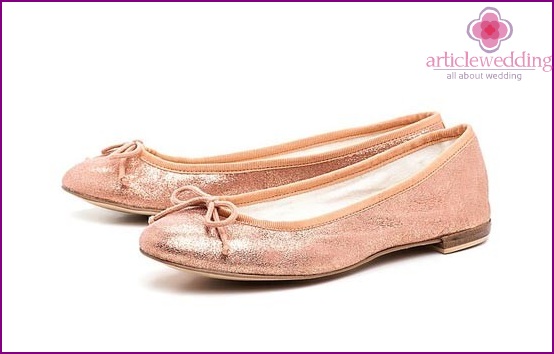 Ballet shoes have a rich palette of colors. There are different color options: white, pink, cream, mother-of-pearl, silver, golden, etc. Naturally, you can find brighter and bolder-colored ballet shoes, the main thing is that the color of the shoe is in harmony with the color of the accessories, recalls the website www.articlewedding.com.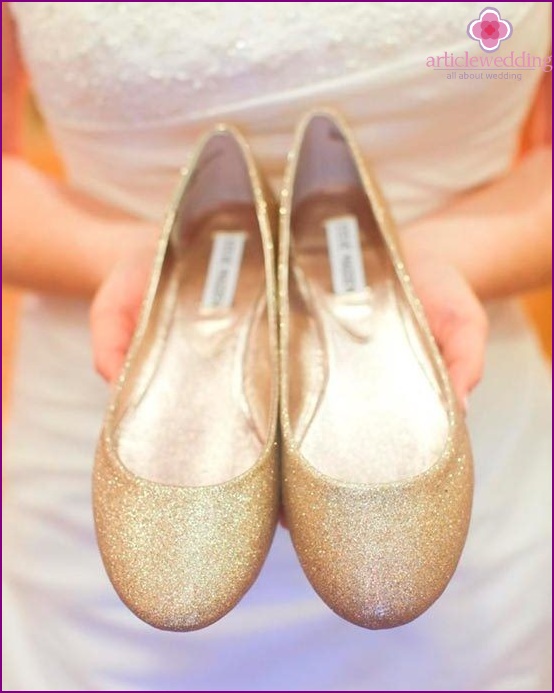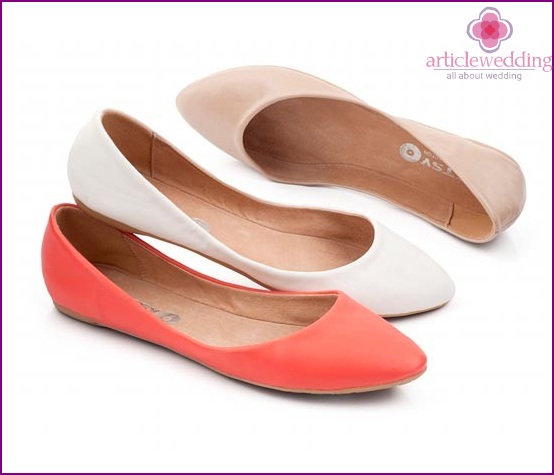 The design of ballet shoes remains multifaceted. Various bows, shining crystals, rhinestones and sequins are used as decor for ballet shoes. There is a decor of satin ribbons, lace and silk flowers. Often decoration of ballet shoes is a beautiful brooch.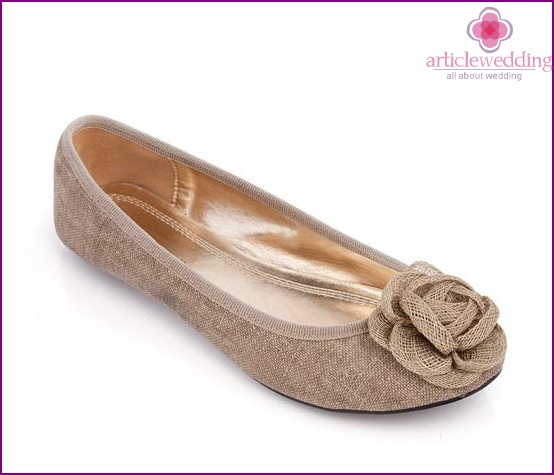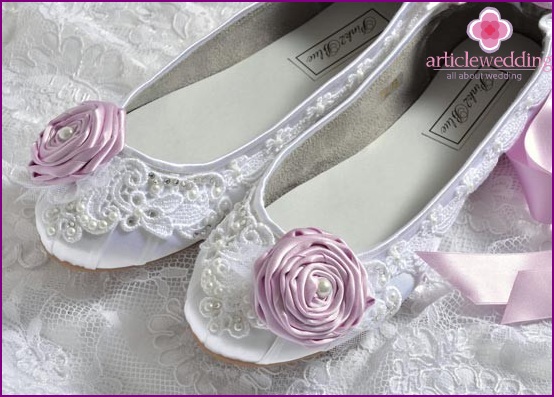 How to choose wedding ballet shoes?
Wedding shoes must be selected with the dress. Shoes and dress should be combined in color and style. Before buying ballet shoes, you must know exactly what the wedding dress will be. Shoes should not get out of the general ensemble and, moreover, distract attention from the wedding dress.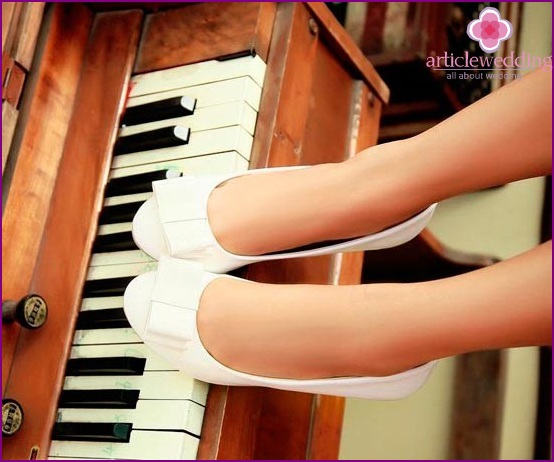 Going in search of perfect ballet shoes, take a good quality photo with you, where the shade and texture of the fabric of your wedding dress is clearly visible.
Do not rush to buy the first ballet shoes you like. Take a closer look, walk around the store for a couple of minutes in shoes. Be sure to measure several models and then choose the most comfortable and beautiful.
In order for the selected pair of ballet shoes to please you with comfort and beauty for a long time, take into account the following important points:
Choose leather ballet shoes if you want to wear these shoes after your wedding.
Choose ballet flats with a soft, non-slip sole. In place, check that the sole is bent. Ballet flats with stiff soles give you more inconvenience.
Pay attention to the socks of the shoes. For high-quality shoes, socks are raised above the plane by 5 mm.
If you liked the ballet flats on a fabric basis, remember that such a model is not entirely practical.
Before buying ballet flats with tightened elastic, think carefully. Perhaps by the end of the day your legs will swell and the gum will start to dig into the skin. The wedding portal www.articlewedding.com recommends choosing ballet flats with smooth edges. The elastic in this shoe can only act as a wide and flat strap.
Returning home with the acquired ballet shoes, measure them together with the dress to make sure that these two important elements of the wedding image of the bride are harmoniously combined.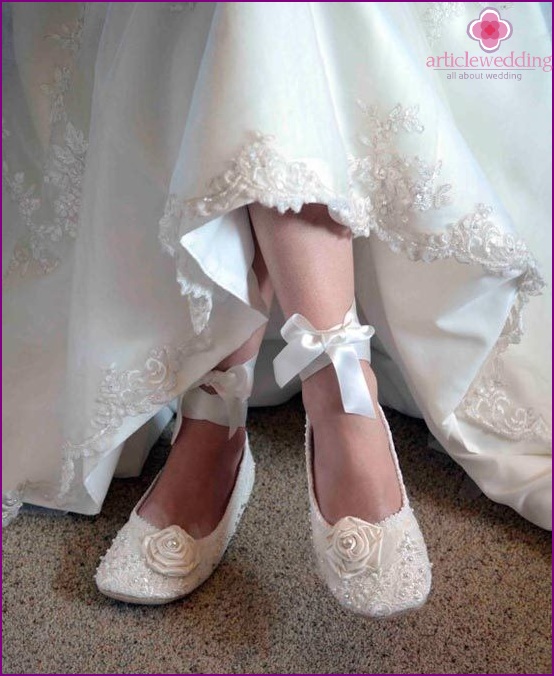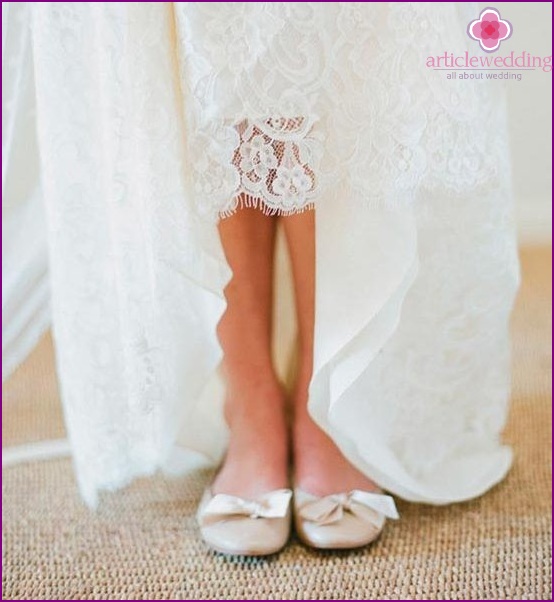 The main advantages of ballet shoes
Convenience is the main advantage of ballet shoes. With such wedding shoes you will feel less tired, discomfort and other unpleasant sensations. What is especially important for pregnant brides.
Universality. Ballet shoes can be used not only as wedding shoes, but also as casual shoes.
Profitability. Compared to wedding shoes, ballet shoes are much cheaper.
Practicality. You can plan a celebration in nature. You won't have to worry about heels falling into the ground or sand..
Ballet shoes will help you out if your fiancé is a little lower than you, and also if in ordinary life you don't often wear high heels.
Ballet shoes with elegant decor look very beautiful in photos.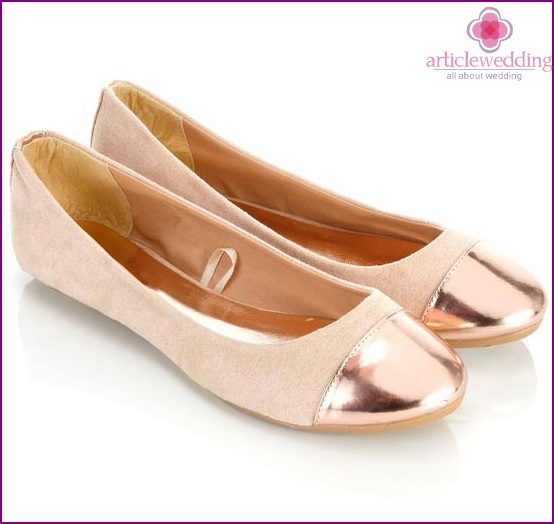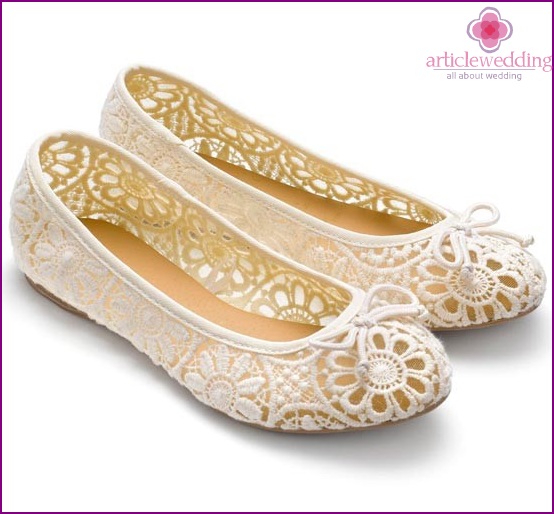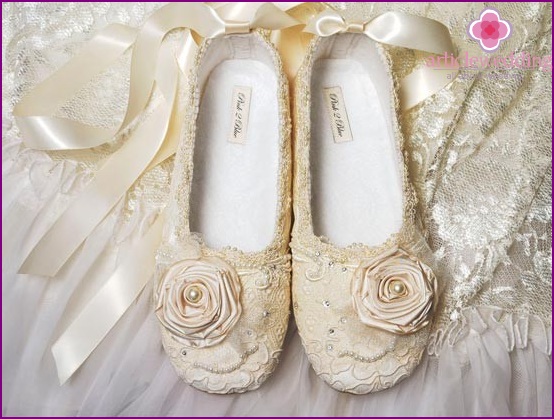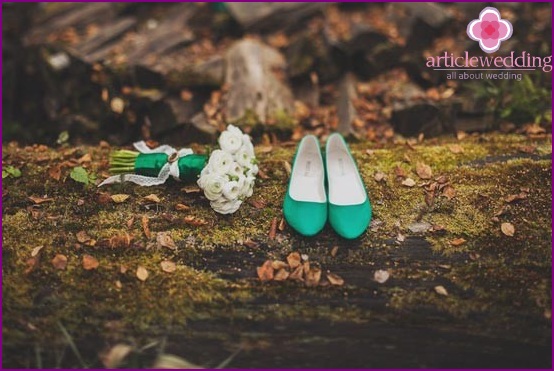 Some disadvantages of ballet shoes
Unfortunately, ballet shoes are not suitable for all wedding dresses. With the choice of dresses and ballet shoes, you need to be extremely careful not to create an awkward look.
Ballet shoes are contraindicated for everyone who should not wear flat shoes.
What outfits are appropriate to combine with ballet shoes?
The perfect partner for ballet shoes - a wedding dress in style «Empire» or a long dress in the Greek style. Very nice ballet flats will look with a short wedding dress with a full skirt.
Ballet shoes are suitable for brides who decided to choose a custom wedding outfit in the form of a wedding jumpsuit or trouser suit.
Remember that even simple ballet shoes need to be able to wear just like high-heeled shoes. Practice in advance so your gait and movements are graceful and graceful at the wedding.