Contents
---
---
A snow-white dress, a long veil, a beautiful hairstyle - these are the traditional image of the bride. But every year, girls are increasingly willing to break stereotypes. A few years ago, clothes for the wedding of red, black or purple color were bewildering, condemning the views. Now you will not surprise anyone, although some do not share these morals. Denim wedding dress is a new fashion trend. Such a robe, depending on the model, looks extravagant, elegant and always original. Such attire will be especially appropriate at a thematic event..
Who would suit a denim wedding dress
A unique denim dress at a wedding is a rarity. Many believe that this decoration is not suitable for such an important, grandiose event. Everyone is used to observing the work of designers, unusual styles of dresses on models of the catwalk, in magazines. But few people are ready to use them in life for such a holiday. But such dresses confidently entered the wedding fashion and have already won the hearts of their first fans.
Denim style wedding decorations are usually chosen:
Girls who want to look original and not obey the classic stereotypes.
Brides for a thematic holiday. It can be a youth wedding in a free style, a jeans celebration.
Those who just madly liked the chic decoration of this kind.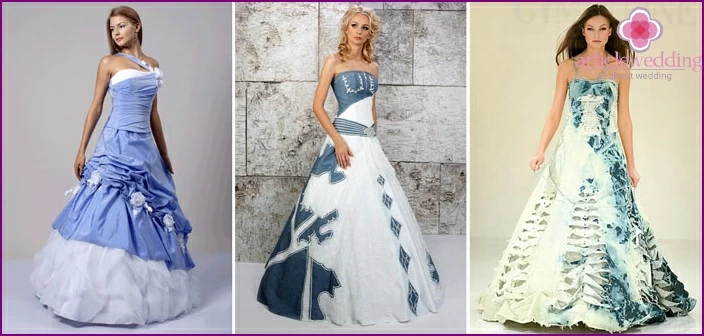 Do not be afraid of slanting eyes condemning speeches that cannot be avoided when choosing such an original decoration. Even relatives, loved ones present at the celebration may not understand, do not appreciate your choice. But it is important to remember that this is your day, holiday and, most importantly, that you like the outfit and the groom shares these views. And children, looking at your wedding album, will be happy to note how stylish mom looked at the celebration.
Denim wedding dresses models
Although the fashion for denim wedding dresses is still not very popular, there are many models of these decorations. Each girl, depending on the complexion, wishes, can find the perfect style for herself. Outfits can be decorated with embroidery sewn with beads or sequins, lace, satin ribbons or ruffles. In order to finally decide on a model, you need to try on several options and choose the one that fits perfectly on the figure and like it.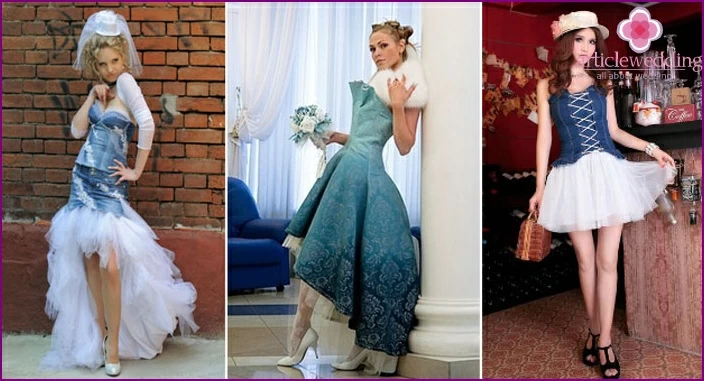 A dress with a denim corset looks beautiful. At the same time, the skirt can be sewn using the same material or light, flowing fabric. Off-shoulder styles are popular, but then you need to take care of the bolero in case of bad weather. For some models, a cloak is an integral element that helps complete the look..
With lace
The dress is made of light or white denim, adorned with lace. The use of such decor makes the outfit more delicate, elegant, festive. Lace can be located on the corset, framing the edges or sewn in a circle to the upper layer of the skirt. Openwork elements, inserts can be in the tone of the main fabric or contrasting shades, which gives the wedding attire more sophistication and uniqueness.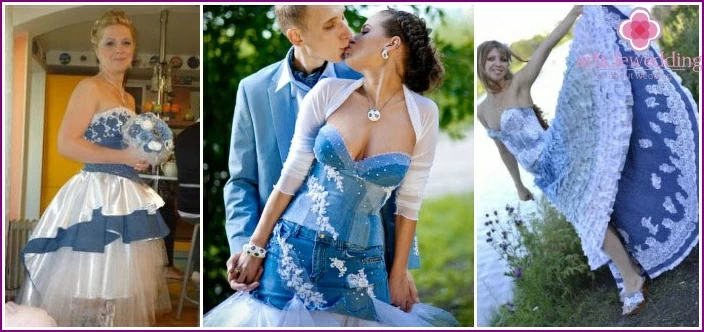 Decorated with frills or ruffles
A denim dress for a wedding decorated with frills or ruffles looks festive. To create these elements, in most cases, a fabric of a different color and texture is used. A beautiful and stylish combination of denim and satin. In this outfit, the girl looks delightful, solemn. The ruffles can be sewn from the base material or, for example, organza. They are usually sewn along the lower edge of the skirt, sleeves.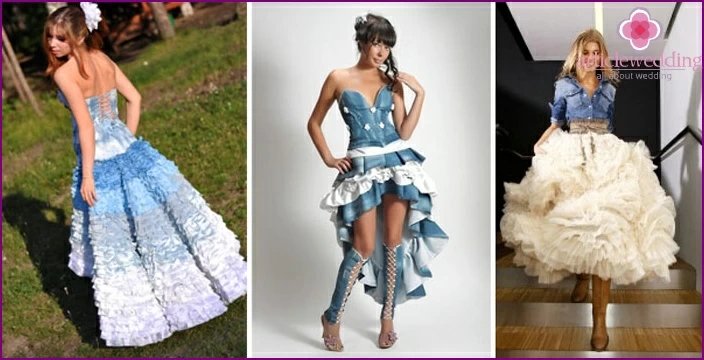 Asymmetrical with a loop
The fashion trend of the last few seasons are asymmetric forms in clothes. Wedding dresses are no exception. The bride's denim robe with a short skirt in front and a long train at the back looks beautiful. This model has clear advantages. In a dress of such sewing it is convenient to dance, get into a car, and boast beautiful wedding shoes. This style is perfect if the bike is chosen as a wedding vehicle.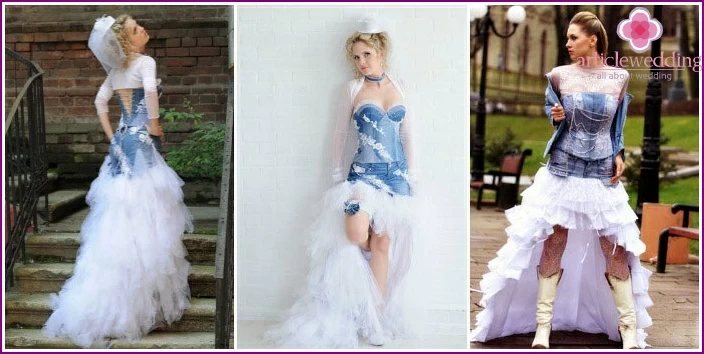 Denim dress with contrast embroidery
Contrast embroidery on a wedding dress sewn from denim looks unusual. This version of the decor gives the decoration a special chic, extravagance. An interesting combination of white embroidery and dark jeans. Another option is also possible - light denim and dark decor. As embroidered elements can be flowers, curls, abstract patterns. Such decor is perfectly combined with other elements, for example, with ruffles.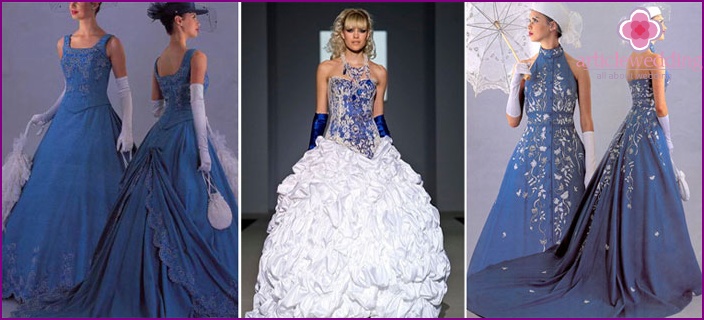 Embroidered with beads or rhinestones
The dress decorated with rhinestones embroidered with beads looks gorgeous, brilliant. It seemed such small details, and in the design of wedding clothes play a significant role. Even at first glance, simple jeans clothes decorated with shiny accessories are transformed, look festive and perfect for such an important, grandiose event.
How to choose shoes and accessories for a denim dress
An extraordinary denim dress for a wedding requires the availability of appropriate accessories. To create an ideal, complete image, you need to take care of the following attributes:
Footwear. It can be standard white shoes, leather sandals or original shoes with denim. The model may be different, but it is preferable to choose with a high heel or platform.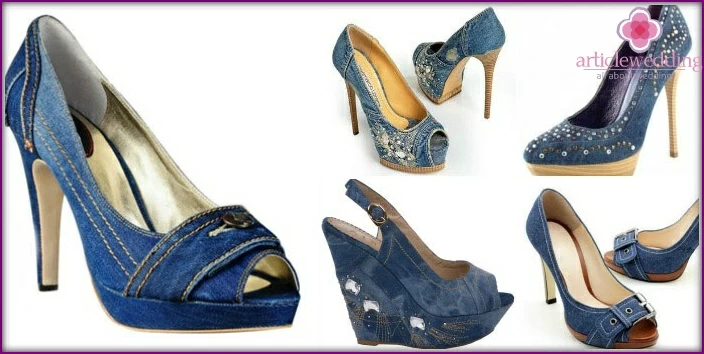 Bolero. Even classic dresses look much more interesting if you add it with a denim cape or a cropped jacket.
Clutch bag. Ideally, this is a small bag made of the same material as the main outfit. Alternatively, you can make it yourself. Watch a video with an example of creating a do-it-yourself clutch:
The bride's bouquet is better to choose artificial from jeans or with fresh flowers with jeans decor.

Gloves and an umbrella will fit in white with the jewelry used to decorate the dress.
Photos of denim wedding dresses 2015
Pursuing the choice of wedding dresses, girls look through more than a dozen catalogs, magazines in search of the perfect. A significant part of the time is spent on shopping or seamstresses for fitting. But finding this kind of clothes for the bride is not so simple. It is not in every salon. And, although it is considered very fashionable, many catalogs only mention it in passing. In order to make a choice, we recommend that you look at a selection of fashionable wedding dresses of the season 2015.