Contents
---
---
Nowadays, no wedding is complete without beautiful plot and staged photographs. Professional photographers, video directors are hired, and what comes of the end? In some families they look at the wedding album every month, finding more and more sophisticated details in the photo, while for others - it does not open at all, being covered with dust. So what is the difference? Pictures in the registry office - this is important, but do not neglect the frames of the love story of the bride and groom. To make the photos pleasant to watch, the attributes for the wedding photo shoot should be thought out in advance. What can become such an accessory?
How to choose the right attributes for a photo shoot
First you need to determine what you like, without which you can not imagine life, how to translate it materially. Consider an example. If you like to peer into beautiful landscapes, they must certainly be present at the frames, like flowers - floral arrangements will be the right attributes for your wedding, you are fond of sports, music or hobbies - convey this using auxiliary materials.
Having decided on the wedding theme, think about where you will feel more comfortable - outdoors, in the studio or in a beautiful architectural building. After choosing the main location for photographing, you can present the scenery in more detail, discuss images with stylists, and choose creative accessories. If you are not sure of your decision, open the wedding magazine of the upcoming season, look at new items, trends in photo shoots. The more ideas you pass through yourself, the sooner you will find «his», which embody with unique attributes.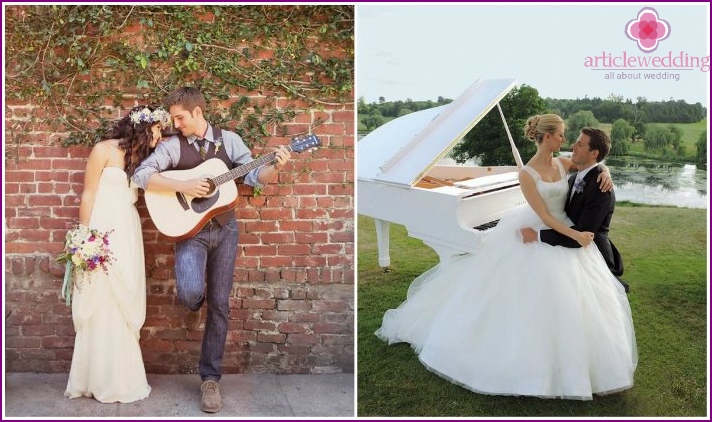 Wedding Ideas Attribute Ideas
It all depends on the chosen theme at the wedding. Marine, vintage, retro, Provence, rustic styles will push you to a sea of ​​ideas that will come true with the help of wishes and golden hands of decorators. Wedding attributes come in many sizes - from small candles to a voluminous, decorated photo zone. Detailed accessories convey the subtleties of the mood of the newlyweds: candles, flowers - romance; rugs, bedding, knitwear - warmth and comfort; signs with inscriptions - joy; bohemian jewelry - the hill. These attributes are used both in wedding photo studio and in nature..
Flags or Labels
In the West, flags and signboards have been used for a long time, like road signs or guest signs. This wedding idea has been popular with us for the last couple of years, and they embody it in completely different ways. The main emphasis of such attributes is joy, fun, fun and entertainment. If you like this idea, get some wedding accessories for your photo shoot. What to use?
Paper multi-colored mustaches, crowns, sponges will be an excellent complement to vivid wedding photos. Romantic phrases, declarations of love in the form of a pop-up cloud will show your dreaminess at a photo shoot. Wooden inscriptions of a future surname, «bride», «the groom» help create a fun mood. Joking attributes with quotes: «And they will feed?», «When to a restaurant?», «I want to get married too» not everyone likes, but they are also often used.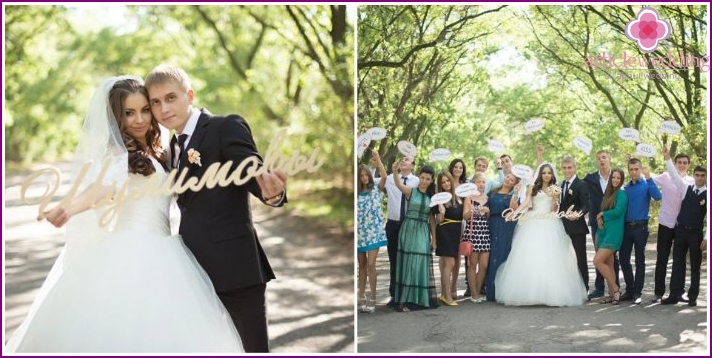 Balloons
Use wedding paraphernalia in the form of balloons if you want to enjoy aerial photos. This is an economical option for honeymooners, but do not think that the background will look cheap and uninteresting. Start the wedding shots in the morning of the bride's gathering - place helium balloons in the bedroom in the bedroom, tied to each love affair or sincere photograph. The unique background is ready, this moment will be remembered by the bride and groom. Use airy wedding attributes both in the studio, placing them all over the ceiling, and outdoors, in the form of a rainbow beam.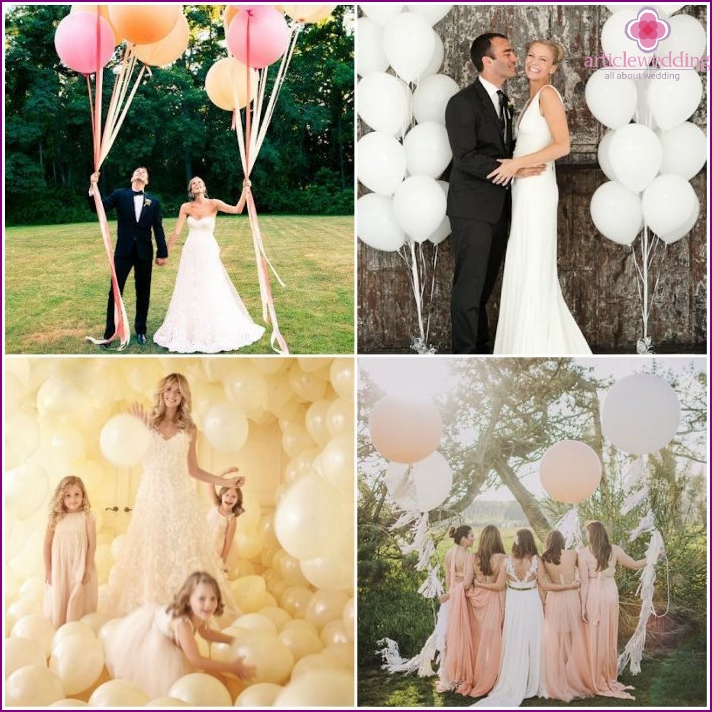 Satin ribbons
If you still can't imagine how such wedding decorations will look in the photo shoot, use these few ideas. Satin ribbons are not only bows or wicker flowers, it is easy to make a full, bright, textured wedding composition for the background from them. Wherever shooting takes place, you can create a wedding arch from them, decorating them with a multi-colored, pleasant fabric. On top, place the same attributes - pieces of tape in several rows, securing them to the fishing line. Surely, your wedding has a main color, use it as a background in the form of satin ribbons.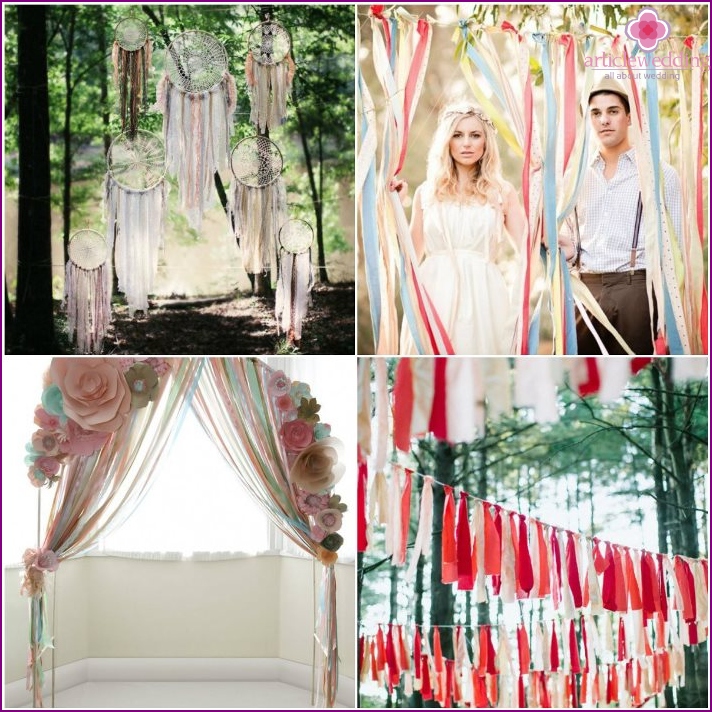 Locks of various shapes and colors
Is the symbolism of wedding accessories important for your couple? The castle and key you have chosen as the main thematic attribute will portend a strong family life. These signs have common semantics, they are interchangeable, like husband and wife in the future. According to the canons, the newlyweds on the wedding day hang the castle in a famous or personal, intimate place (bridge, tree, bench), close it with a key and throw it away. This gesture shows the willingness to be faithful to each other until the end of life. How to beat the wedding attribute?
Locks come in different shapes - not only a standard square with a rim, but also round, two hearts, melted together. Use them not only during a wedding photo shoot, but also as gift accessories instead of edible bonbonnieres. Castles on which names, surnames, dates will be carved will leave a mark in the guests' memory. Do not forget about the keys, they will serve as an extraordinary wedding background, if they are hung in a row, painted in bright colors. One of them is the key to your heart. So the wedding plot looms.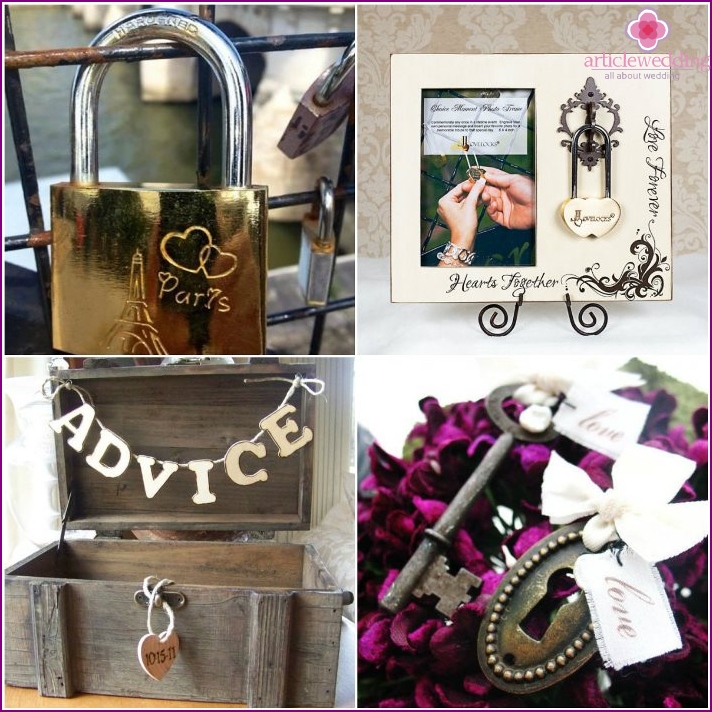 Wooden boat
Is romance a synonym for your couple? Then the attributes that are suitable for your wedding photo shoot are a wooden boat and clear water. The boat looks extreme, so here it is worth focusing more on a romantic setting. It's easy to create it - the bride, groom, boat, dotted with decorative and wildflowers, if the weather gives cool, do not forget about the plaid. It's not necessary to conduct the whole wedding photo shoot here, but as one of the places it will be a great choice.
There are nuances that you should be aware of if you decide to make wedding shots in the boat. Firstly, the bride should not have a magnificent dress, otherwise she will fill them with the whole boat, it will look too elaborate. Secondly, it is better for guests, friends, girlfriends not to interfere in the warm, romantic atmosphere of the newlyweds on a wooden boat, because then no mystery of souls will take place.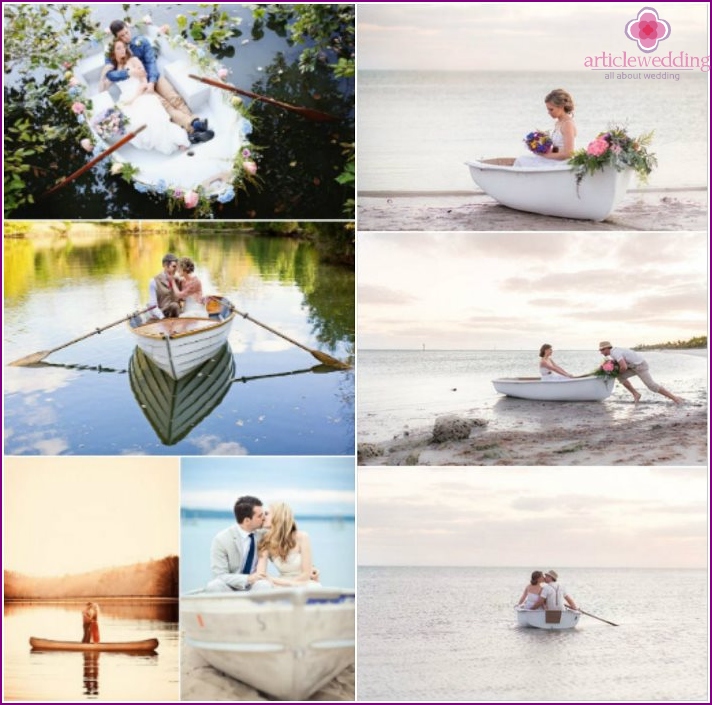 Rose petals
Passionate brides are ready to sing odes to rose petals, because they not only sprinkle on the newlyweds after the wedding. So they focus on feelings, using petals as an attribute in wedding photography. If you have an exit ceremony, they strew the road to the altar with them, using plain or multi-colored shades that create a gradient. Heart shapes are drawn from rose petals on the beach by the sea, creating delicate geometric compositions. Surely you have decided on the main shade at the wedding. Roses are so multifaceted that they are suitable for any subject.
We still do not often practice whole stands of fresh flowers, because these are high costs, but such a background looks luxurious. Try to find a handmade master who will create a wedding photo zone for you, decorated with rose petals vertically. It will come out cheaper than decorating the wall with whole buds, but it will look dignified and elegant. Use rose petals as accessories in the form of bracelets, earrings, necklaces, buttonholes. Thanks to the attributes, the images of the bride and groom will look complete at the wedding photo shoot.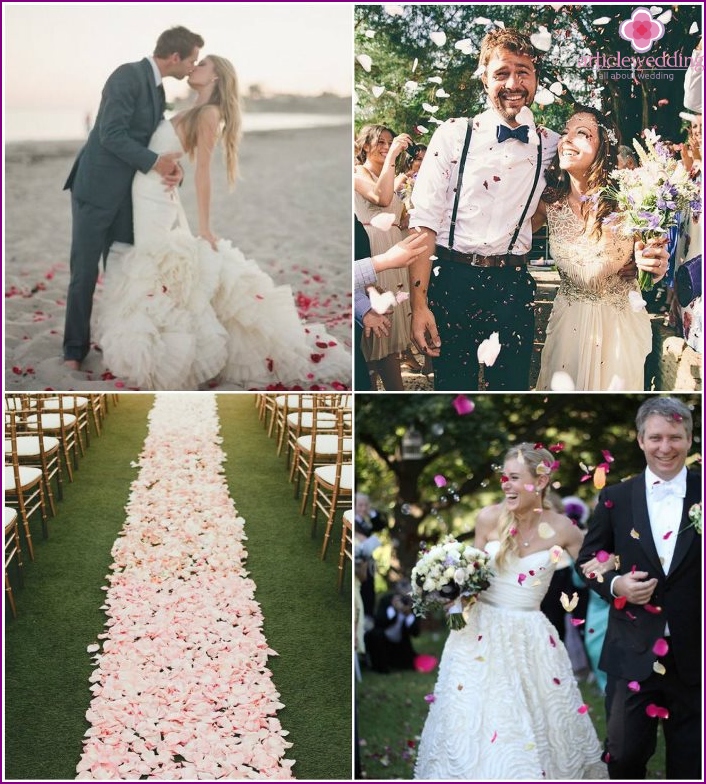 Decorative swing
If the wedding takes place in a posh restaurant, there might be a swing nearby in the courtyard. Fix a couple of romantic frames for a photo shoot on it with your husband, girlfriends, friends, relatives. Magnificent photos are obtained when the bride flaunts a wedding dress, swaying with a breeze on a decorative swing. To make the attribute look festive, «dress up» them in flowers, silk and satin fabrics, add soft pillows if it is a bench or sofa.
If you have an exit wedding, you want to conduct a photo session in nature, then you should not give up this idea. Order a hanging swing at a decor agency. It's even more romantic when the wedding attribute is hung on the cords by the branches of trees, and behind you are green, lush landscapes. Decorate the swing with flowers, green leaves to get a complete reunion with nature.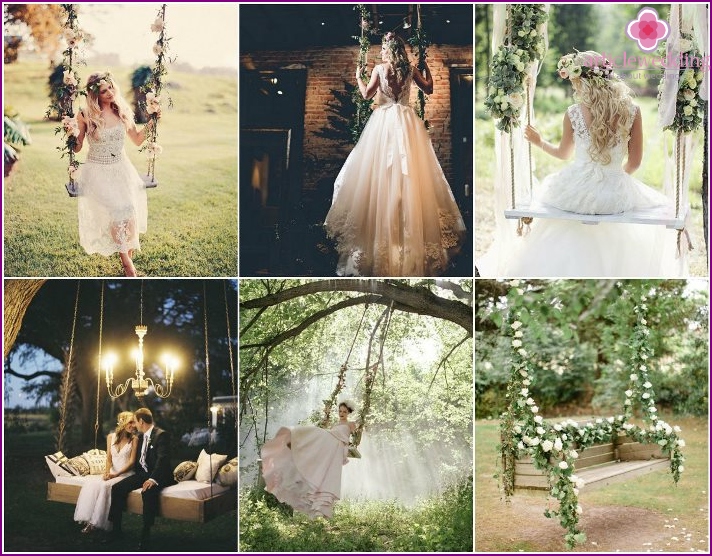 What attributes for a photo shoot can you do yourself
It is not necessary to fully rely on the services of decorators; make your contribution to decorating a wedding photo shoot! So, you can create a miracle with your own hands, which then will be asked by all guests. Where to begin? From answers to standard questions, in what style of wedding, what shades prevail. Determine what attracts you the most — luxury wedding accessories or creative ventures, and get started.
An interesting example for a fun, airy photo shoot is a ceiling made of helium balls or paper pompons. Use a stand, a dressing table with photos or frames hung on drying ropes to create an original background for wedding photos. A cozy picnic is an excellent choice if you think over such trifles as jugs with flowers, jars of jam, cute cups, floral arrangements, a warm plaid.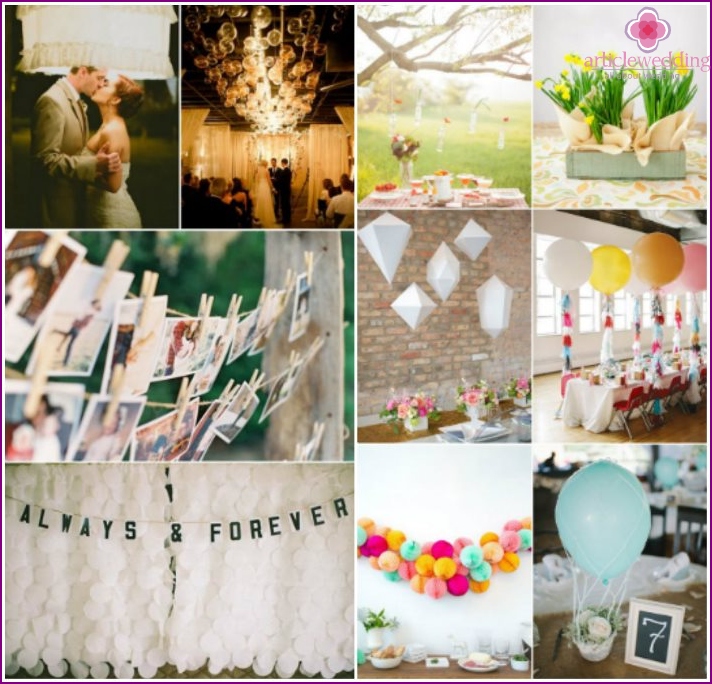 Video: how paraphernalia is used for a wedding photo shoot
Wedding paraphernalia is a memory for life, which will be recorded in photographs. Do not rush to the choice, make informed decisions. Before the wedding photo session, study in detail what poses it is better for the newlyweds to become, how to use accessories favorably. In the video below, you will get acquainted with wedding attributes not mentioned before, which are used for a variety of shootings..
Photos of unusual wedding attributes for a photo shoot
Attributes are quite common, but the way to use them is right to hit many. Take a break from your favorite movies, games, sports, then a photo shoot will convey your mood. If you are delighted with the film adaptation of the picture «Great Gatsby», then wedding attributes in the form of sequin fabrics, a retro car, champagne glasses, shiny accessories, hair ornaments will create a festive wedding mood.
A photoshoot as a walk with horses is ideal for a celebration at the ranch. Horses do not need to be decorated, they naturally took everything they needed. If you like parties, going to the movies, then a wedding photo session in a club, movie theater or a beautiful architectural building with clappers, popcorn, a luminous ball is suitable for you. Are the bride or groom fond of music? Guitar, violins, hanging microphone can make wedding attributes.