A great opportunity to capture the first happy hours of a married couple's life is given by the props for the wedding photo shoot. In almost every house there is a family album, a special place in which is reserved for wedding photographs. What should be the photos of the most beautiful moments of this happy day? Funny, funny, romantic, full of emotions and at the same time original, effective, bright.
Wedding photo props options
In the first minutes of the wedding shooting, the bride and groom feel a little constrained, so the pictures can be somewhat ridiculous. Come to this event with a share of creativity, use a variety of accessories to make the photo shoot colorful, original, fun. This is not just a stylish and beautiful props, in most cases these gizmos have funny connotations so that all participants in the celebration can give the image a humorous touch. Stylish glasses, a retro mustache, puffy lips are great for fun scenes. Speech clouds help to clearly convey thoughts..
To use the props for a wedding photo shoot to effectively decorate the holiday, you need to carefully choose it. In terms of color and nature, things should be in harmony with the style of the ceremony. For example, for a retro style, a ladies man's mustache, fantastic glasses, red lips of a secular beauty are suitable. To realize the most unusual, bold, interesting ideas, you need a large selection of photobuttory.
Speech clouds with humorous sayings at a wedding photo shoot will create a cheerful mood.
Stylized ties, mustaches, butterflies help to realize a spectacular retro photo theater.
The use of multi-colored windmills as props will become a bright accent on photographs and will bring romance, lightness.
Garlands with the date of the wedding, the names of the newlyweds, other inscriptions will give individual, visual character to the photographs..
Props in the form of clouds with inscriptions will help those present at the wedding photo shoot to become participants in the comic.
Inventory with inscriptions "Husband" and "Wife" gives a young couple to visually apply new statuses at a photo shoot, announcing this to everyone around.
Balloons or Kite
A photo session with balloons is doomed to success. A few fun colorful balls or elegant monophonic ones will give a new sound to your photo walk. Such a props in the rays of the setting sun looks especially impressive. Another romantic attribute are kites. Remember how much joy, delight brought his launch in childhood? Until now, kites cause children's emotions when you raise your head and see them in the sky. You will get an unforgettable pleasure when using this props with the groom.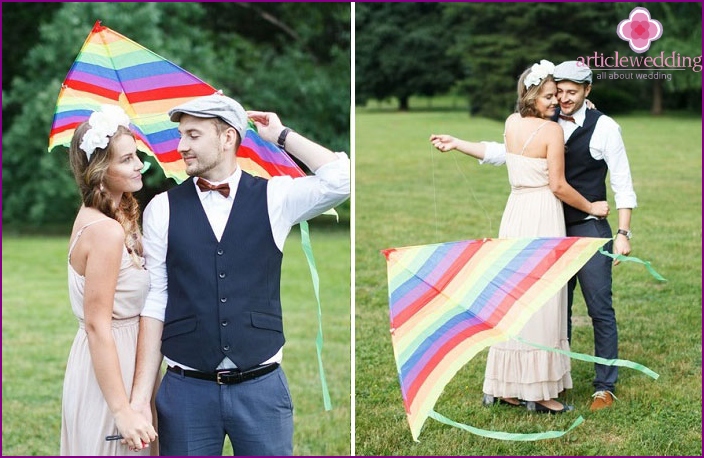 Bright fruits and vegetables
If the wedding photo shoot is planned in nature, when the sun is shining brightly, bring along a picnic basket filled with colorful fruits and vegetables. Do not forget to grab an openwork umbrella, a book, a beautiful coverlet, another props. Fruits are used in a playful way, for example, from a mandarin the bride and groom make eyes. The couple can feed each other with grapes, berries. For autumn shooting, the fruits traditional at that time are appropriate: pumpkins, apples. They allow you to recreate a lot of great stories..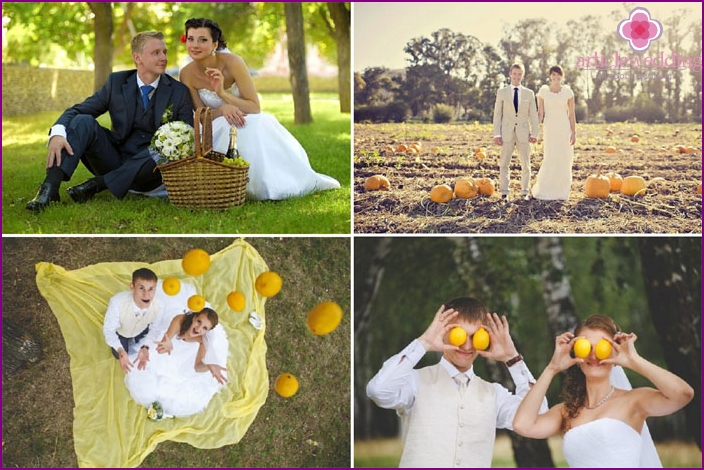 Bicycles, rollers and skates
Many sports couples have such sports attributes as rollers, skates, bicycles. This props for a photo shoot is easy to rent, rent, borrow from friends. Vehicles open up unprecedented scope for wedding cards. You can ride a bike together, take a spectacular pose, and lean on a kiss. This props for a photo shoot, decorated under a vintage, looks very interesting. Decorate his basket with flowers, so the pictures will look more attractive.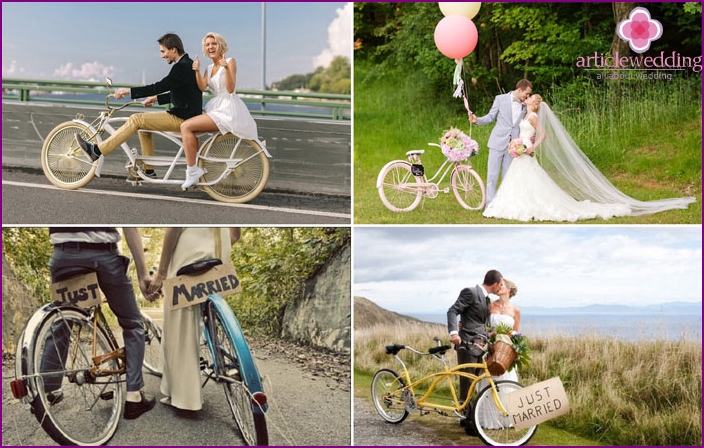 Big letters and flags
The trend of using flags and letters as a props for wedding photography came to us from the West and caused a real boom. Today it is one of the most fashionable, relevant trends in creating a festive surroundings. Made of polystyrene foam, wood, painted in different colors, decorated in an unpredictable way, the inscriptions will be an excellent addition to the photo shoot. This props not only brings variety, decorates the shooting, but also creates a unique decor of the hall, sets the mood for the holiday.
At a wedding photo shoot, wooden letters are often used as props. For shooting, you should pre-order them in a special workshop. Most likely they look in nature, as a result, unforgettable photographs are obtained. The next attribute - flags with inscriptions, pictures - looks spectacular if you make a garland out of it. Such an attribute is suspended on the hood of a car, door, tree, held in hands during the shooting.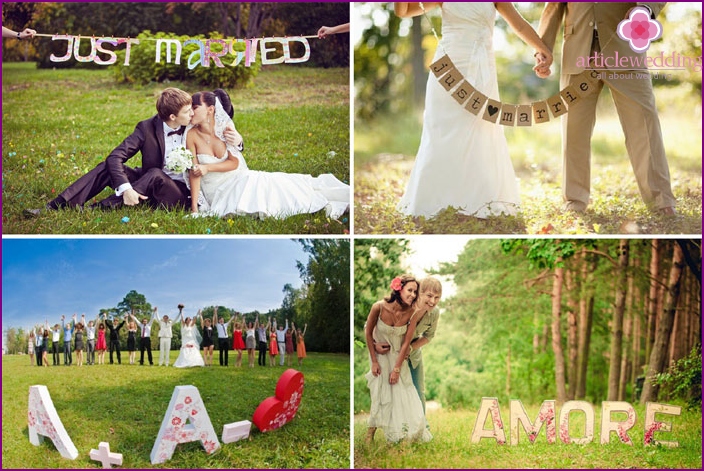 Satin ribbons, ropes and pieces of fabric.
Late autumn and early spring may not please with their colors: the foliage is either as thick as we would like, or it is already gone. For a street photo shoot, decorate the place with different pieces of bright fabric, ribbons, ropes. This will help you recreate the festive extravaganza. Hang ribbons on trees, poles, hand in hands to guests, spouses. Multi-colored long pieces of fabric are suitable for creating a background: hang them densely on a rope, fasten them on two trees, and a colorful atmosphere will be guaranteed.
For a photo shoot, they often use large pieces of material of different colors, which perfectly develop in the wind. Choose silk, tulle, organza for props. You can wrap yourself in matter, lie down on it, do with it everything that the soul desires - this is a great scope for creativity. Fatin, translucent, lightweight, volatile, lends a touch of romance to photographs. Choose the color of the props based on the principle of harmony or contrast with the attire of the newlyweds.


Bubble
Nobody can refuse a bottle with soap bubbles - even the most severe man will not resist the desire to inflate and burst them. Give the newlyweds this toy and consider that you have almost ready funny wedding cards. In this scenario, it is necessary to give the couple complete freedom of action at the photo shoot and not distract from the lesson. They will behave easily, naturally, relaxedly, like children, give sunny smiles. Each frame will reflect their warmth and joy..


Picture Frames
To create unique wedding photos, we advise you to look in the attic for an old picture frame. If you could not find, do not despair, in baguette workshops it is easy to order the original props for every taste. Newlyweds, their friends, parents can participate in the shooting with frames. The style of the wedding photo shoot props depends on the theme of the celebration: retro, provence, rustic, romance.



Turntables on a stick
For shooting weddings in a country style, craft as a props, turntables on a stick are suitable. This is a bright, naive object that creates a light, cheerful mood. Beautiful windmills, which are set in motion by the slightest blow of the wind, look gentle, romantic. Experiment with this props to get the most out of your photo shoot. Turntables are easy to do do it yourself.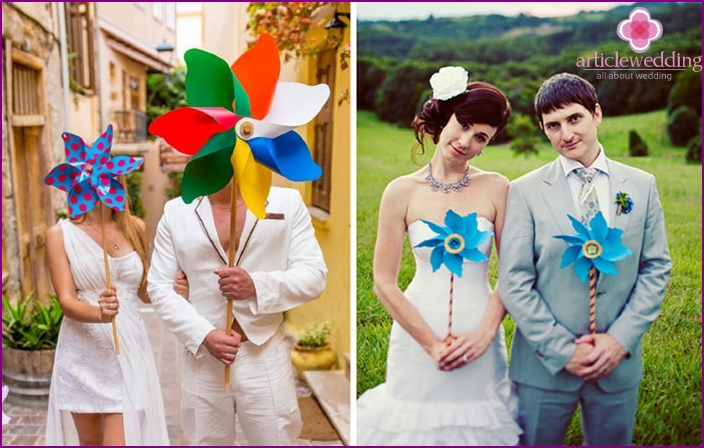 Examples of wedding photo shoots with details
The tasteful props help create an enchanting, festive mood during the wedding photo shoot. With him, guests and newlyweds easily get used to different roles. The use of accessories makes shooting a theatrical performance, an exciting process of creativity. See what beautiful, spectacular photos are obtained as a result of a wedding photo shoot using the original props: