Loving couples, enjoying the happy moments of their lives, want to capture them, preserving their love in photographs. «Love story» - A popular type of photography, which is especially popular on the eve of a wedding celebration, on the wedding anniversary. A variety of ideas for a photo shoot of lovers will help to make original pictures that maximally reveal the feelings of young people to each other, their love. Often, a couple wants to conduct a photo shoot just to please themselves, to update their album with wonderful photos.
Ideas for a photo shoot for a couple in love
A photoshoot of a couple in love is a great gift for young people, which will certainly give joy, positive emotions, and the result will also be wonderful pictures. Each professional photographer has his own ideas, scenarios for photographing such couples, but a lot depends on the wishes of the guy and the girl, the time of year and opportunities. Before shooting, you should first discuss with the photographer all the details, the plot. In order for the result to please everyone, a couple in love must go to the shooting in a good mood.
What are the options for taking pictures that are popular with couples in love:
Photoshoot in nature. Regardless of the weather and time of the year, it's quite possible to shoot outdoors using it «whims» for their own purposes. In winter, the ideal option is to go sledding, skiing or take a walk along the snow-covered field. In the warm season, nature pleases with its beauty, the play of sunlight. Unique pictures taken against the backdrop of blossoming flowers, flowering trees, a pond or fallen colorful leaves will delight lovers for a long time.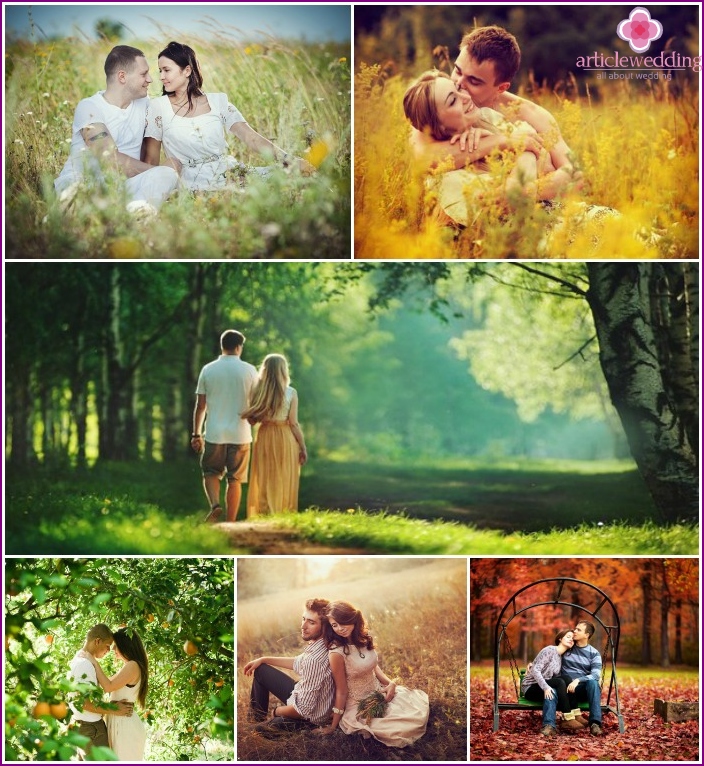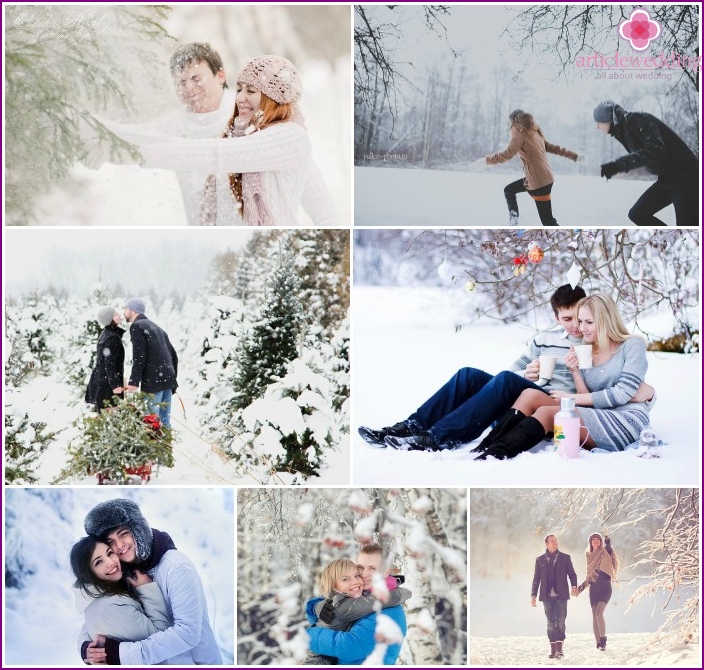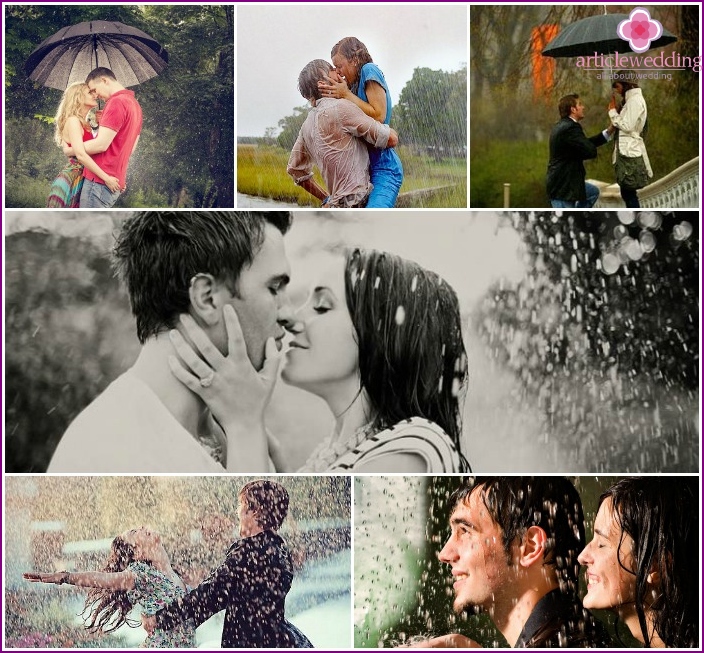 Photo session in a favorite cafe or restaurant of a couple in love. Almost every institution has an original, unusual design, which a competent photographer can beat efficiently, resulting in beautiful pictures. Great photos are obtained in a home environment where everything is so native, your own, which allows you to relax and make the most realistic, «living» pictures. As an option, shooting is possible in a photo studio..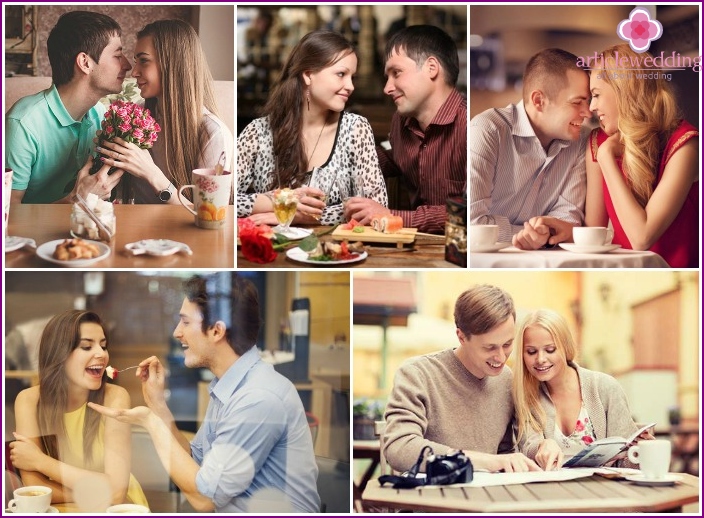 Often, various accessories are used for a photo shoot, it can be anything: an umbrella, hearts, candles, inscriptions and volume letters, frames, other trifles. Using attributes will help to make unique, romantic, and possibly funny, funny pictures. Such details can be used both for outdoor photography and indoors..
The use of the play of light, an unusual angle, posture, cropping. Many lovers want to shoot at sunset to catch the last rays, take pictures against the backdrop of a blazing sky illuminated by the setting sun. Unusual poses, an extraordinary angle, cropping - all this will help to make unique, interesting pictures that will decorate the album.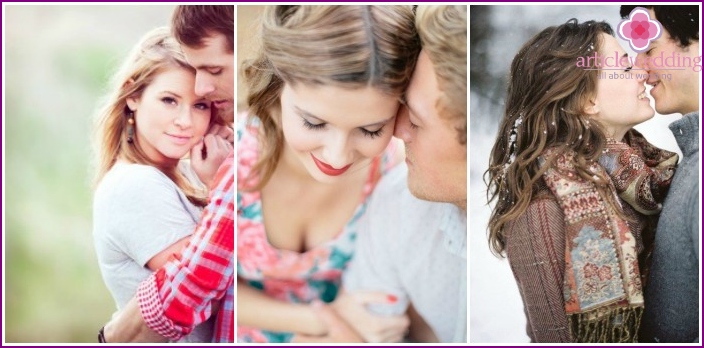 Walk around your hometown. If lovers do not have the opportunity to get out into the nature, and there is no desire to conduct a photo shoot in the room, then an ideal option would be a walk around the city, visiting historical places that are primarily important for a couple in love (for example, a place for meeting, first meeting, a favorite place for walks). Recently, more and more popular is taking pictures of abandoned buildings..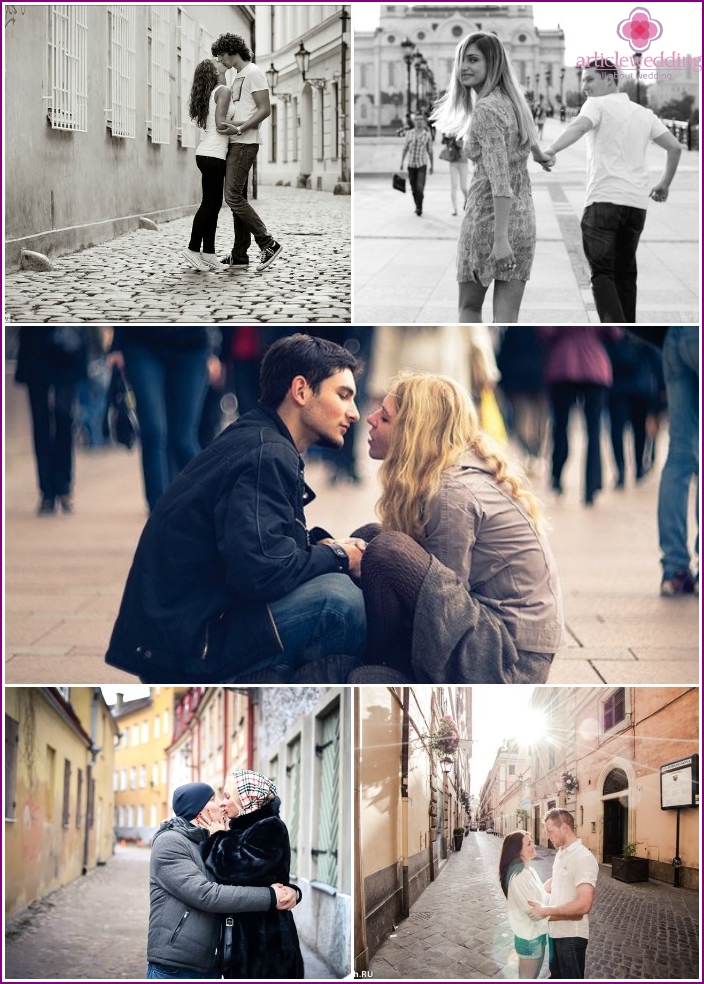 Taking pictures taking into account the preferences of lovers. This is the most relevant and working idea, because while doing something you love, young people fully open up, expose their feelings, forget about the presence of the camera, so they can relax and truly enjoy the process. For such a shooting, any joint hobby is suitable: music, reading books, riding motorbikes or jumping from a bridge.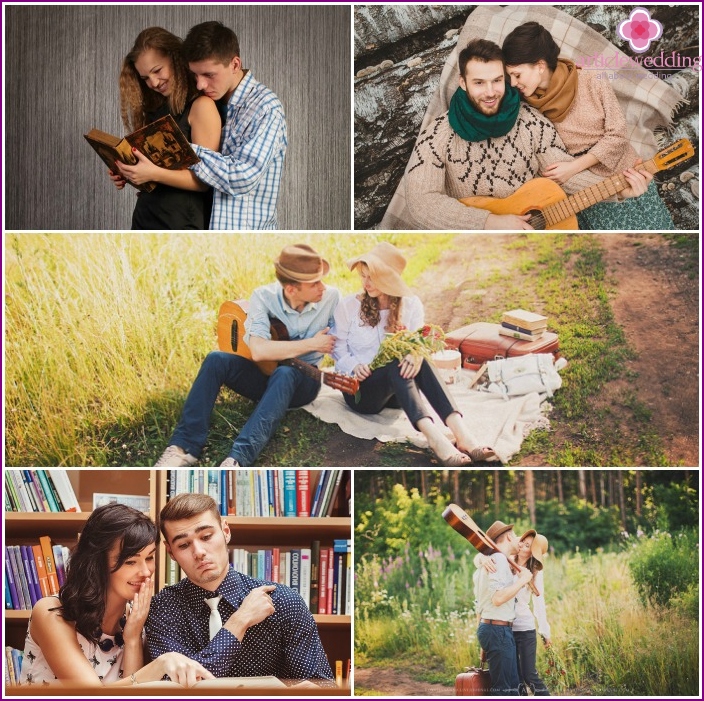 Using picture frames
An unusual attribute that photographers often use for photography «love story» or pre-wedding photo shoots are frames. With the help of these seemingly ordinary attributes, the photographer is able to take original pictures, shoot a whole love story. Frames for a photo shoot are not difficult to do on their own, if suddenly there is no such accessory in the photographer's arsenal.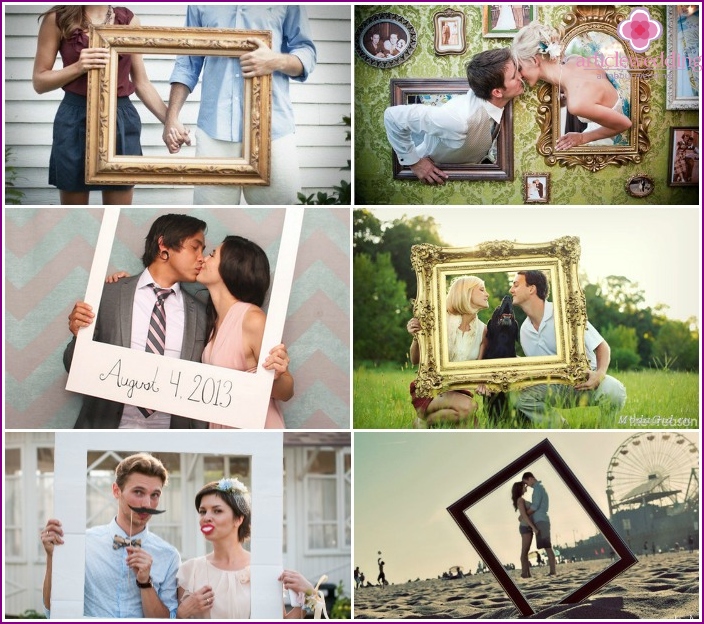 In the images of the heroes of your favorite movie about love
Every girl likes to watch series and films about beautiful, sincere love. Often, as an idea for a photo shoot of lovers, they choose the image of their favorite heroes of a movie or series they like. Why not introduce yourself for a short time as a star of the screen, and your beloved as the main character of the film and not play the most sincere picture of true love in front of a photo lens?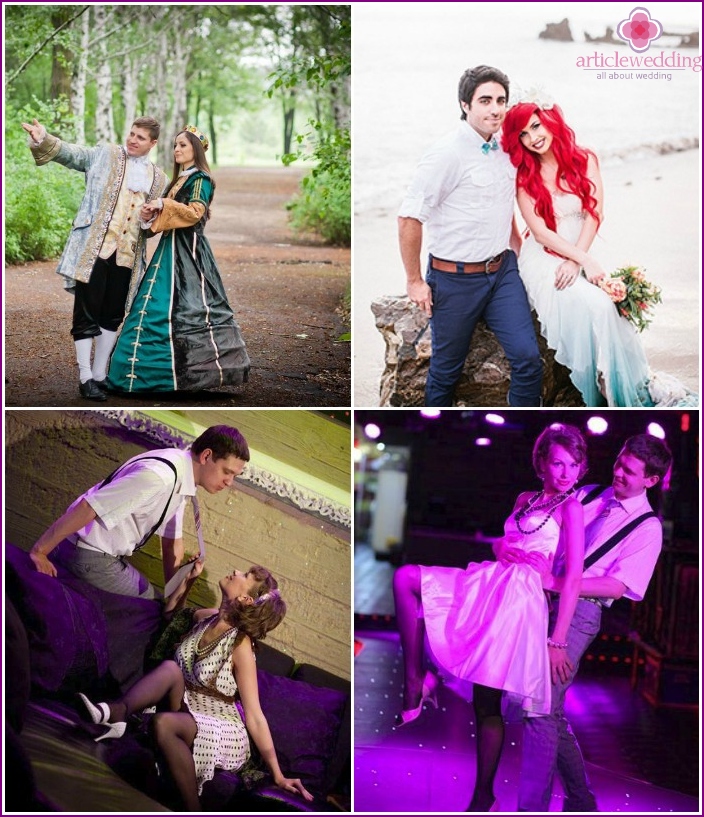 Photo session with hearts example
The heart is a symbol of love, so it is often used for photo shoots at weddings or for shooting love stories. There are a lot of ideas for taking pictures with hearts, because these can be heart-shaped pillows, beautiful balloons, hearts cut out of colored (usually red) paper, which decorate the place of shooting or a garland. Such accessories will help to make romantic pictures filled with love, sensuality and emotions..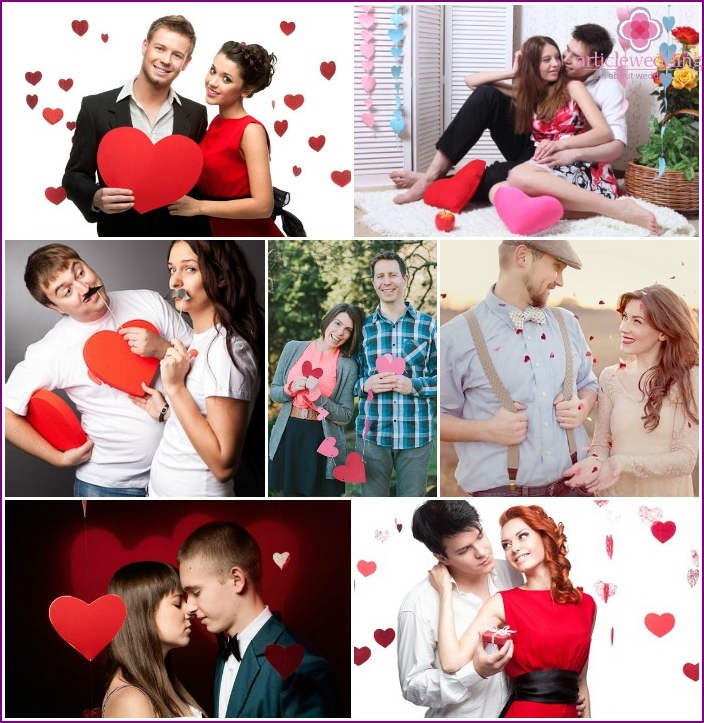 Unusual idea with letters or inscriptions.
The idea of ​​a photo shoot with various inscriptions and letters has long been known to everyone and is often used on the set of couples in love. The words are used as inscriptions. «happiness», «love», «love» other. Volume letters can be the initials of lovers, a surname, or act as components of a word. To make such attributes on your own is not difficult, especially since they can be useful in the future for a wedding or a wedding photo shoot. Watch the video where the master class on making 3D letters is presented:
Against the background of burning candles
For a couple in love, radiating love with every cell of their body, the best option for taking a photo would be a romantic, intimate setting using lighted candles. The soft fire of burning candles will help to create the necessary atmosphere, thanks to which you will get pictures filled with love, sincere feelings (a guy can kiss a girl). To conduct such photography, not only cuts will be required, but also additional accessories that will help create the desired surroundings, for example, hearts, beautiful glasses filled with champagne, flowers.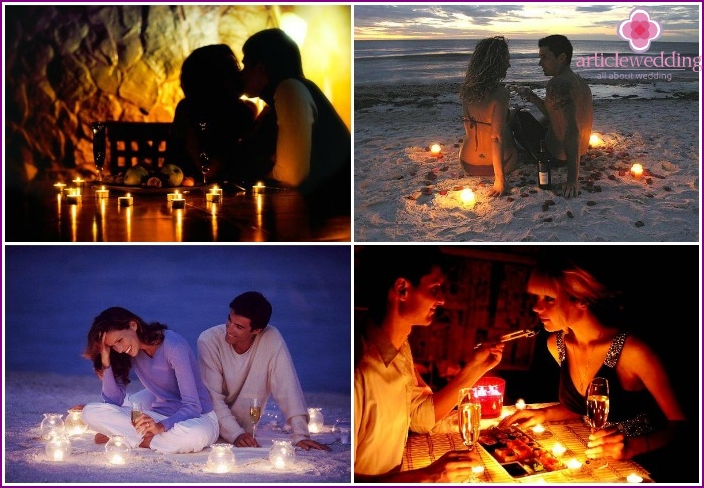 With rose petals
Rose petals are used to implement various ideas for holding a photo shoot of lovers. As a rule, they are used as an additional attribute, but petals of beautiful flowers themselves can create the necessary romantic atmosphere. Finding rose petals is not at all difficult, now they are sold in almost every flower shop.

Against the background of bright accessories
For emotional, extravagant couples, a photo session with vivid attributes is suitable. If a couple in love has a sense of humor and loves everything unusual, colorful and unusual, then this kind of shooting is what they need. For this kind of photography, a variety of colorful little things, a colored background, attributes of bright colors that are suitable for the shooting theme will come in handy. This kind of photo shoot is not difficult to organize indoors or outdoors.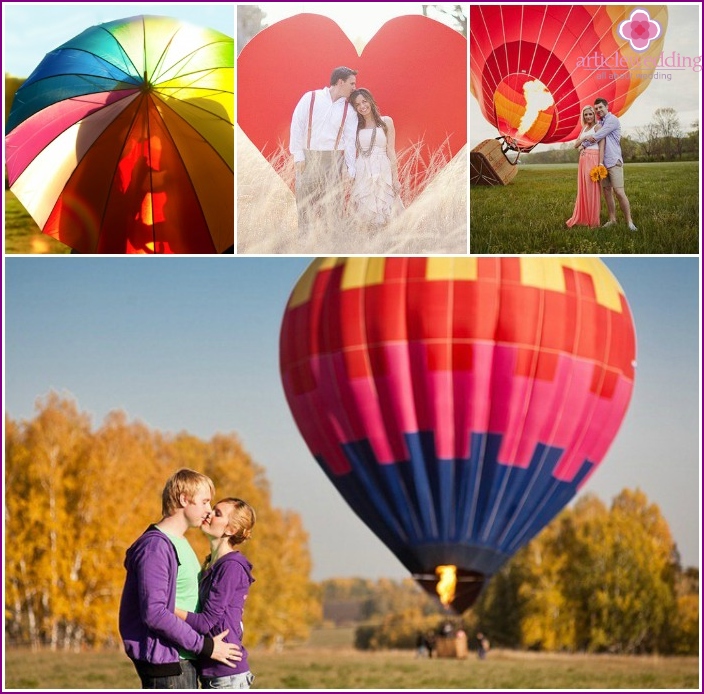 Studio photo shoot
For a couple in love who does not have the opportunity or for any of the reasons they do not want to go to a city or nature for a photo shoot, the option of photographing in the photographer's studio is perfect. An undoubted advantage is the ability to adjust the lighting that is needed for shooting, no weather conditions will make you change plans. In a photo studio it is possible to realize a wide variety of ideas for shooting a couple in love, it all depends on the imagination of the photographer and the wishes of young people.