Contents
---
---
To keep the joyful moments of the wedding ceremony forever, the newlyweds take photos and videos. The fashion trend of 2016 is the use of letters during a solemn photo shoot. In many Western countries, bride and groom create unique photographs using decorative signs. These accessories will complement your photos, make the photo shoot fun. Since now they are used as a wedding props, there are many varieties of them. What letters to choose for a wedding photo shoot?
Letter options for wedding photo shoot photo
For a photo session during the wedding, letters are used, with the help of which words are subsequently created. As a rule, they spread the initials of the newlyweds or the surname in full, words, as well as whole phrases about love. The process of preparing decorative characters, inventing interesting phrases gives a lot of positive emotions. If you take the matter responsibly, you get a real movie theater with its own storyline. Consider the varieties of decorative signs.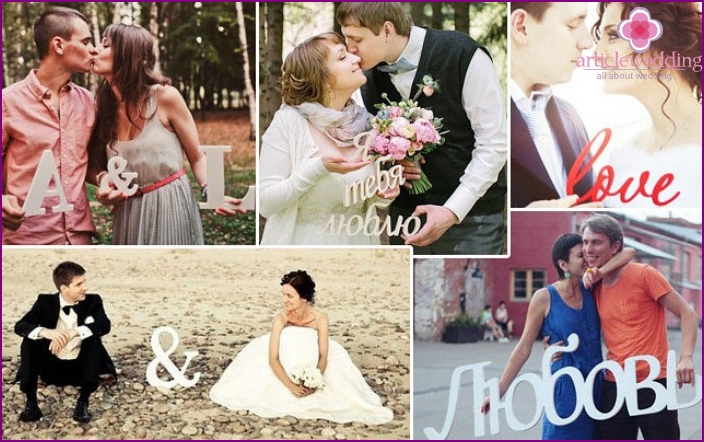 Foam
Styrofoam characters are popular for wedding photo shoots. They are made of any size and shape, because these accessories are transported without problems due to their light weight. Even the largest, voluminous accessories can be transported to the right place, so if you plan to conduct a photo shoot in the country, choose foam signs.
As for the design of such wedding accessories, they can be decorated with sequins, rhinestones, decorative foam. For a budget option, choose bright paint: it completely replaces the decoration, and also looks great on wedding photos. As we can see, foam products combine all the necessary qualities, so they are usually chosen as decorative elements to create a photo.

From plaster
Gypsum signs are more durable than polystyrene. High-quality gypsum is immune to environmental damage and mechanical damage. As a result, the risk of breaking letters during transportation is minimal. In addition, they have a clear outline, so they are easy to read in photographs. Using plaster, accessories of various sizes and fonts are made. As a rule, their color is white, but there are exceptions.
From corrugated cardboard
Many people think that paper or cardboard is an unsuitable material for creating characters. In fact, the version that the corrugated board is not suitable to create these accessories is erroneous. If your goal is to make unusual photos, then colorful corrugated cardboard signs are quite suitable. They come in two varieties:
Flat characters are simply cut out and subsequently painted.
Voluminous are created using corrugated cardboard blanks, which are fastened with tape.
Want to make voluminous corrugated cardboard letters yourself, but don't know how? See the master class, it will help you create them for the wedding with your own hands:
3D letters made of fabric
The letters for the original wedding photo shoot are also made using fabric. These products do not need to be sewn: voluminous accessories are wrapped with a piece of colorful fabric, it is attached with glue. An important nuance is the ratio of the size of the products and the fabric with which you are going to make them. The rules are simple:
Make sure that the fabric is enough for all signs.
Choose a fabric with a colorful pattern, a bright shade, in which case you will make extravagant photos.
Symbols are also made using fabric, as well as cotton filling. In this case, the accessories will be more like soft toys than signs. Their undeniable advantage is light weight..
DIY letters for a photo shoot
If you are wondering about how to make letters for a photo shoot with your own hands, then keep in mind: there is nothing complicated in making products for the wedding yourself. Foam and corrugated cardboard symbols are easily cut with the help of a clerical knife, as well as the necessary materials. Subsequently, they are glued with cloth or decorated with decorative elements..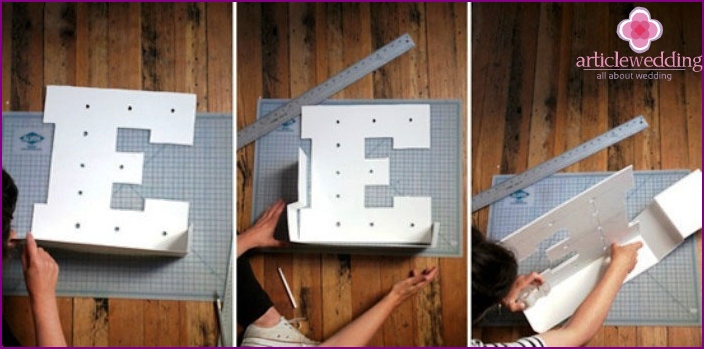 If you want to be photographed using plaster accessories, it is better to order them from a specialist who does this professionally. Then you will get quality wedding products that perfectly complement your photos.
Where to buy and prices?
In modern wedding stores, you can buy letters for a professional wedding photo shoot. In addition, specialized agencies offer to purchase whole inscriptions. It is worth considering that the prices for inscriptions for a wedding photo shoot are affordable - from 300 to 2000 rubles. This factor directly depends on the size, material, number of decorations on the product. A wide selection of letters, ready-made inscriptions and figures allows you to choose accessories for wedding photography to your taste.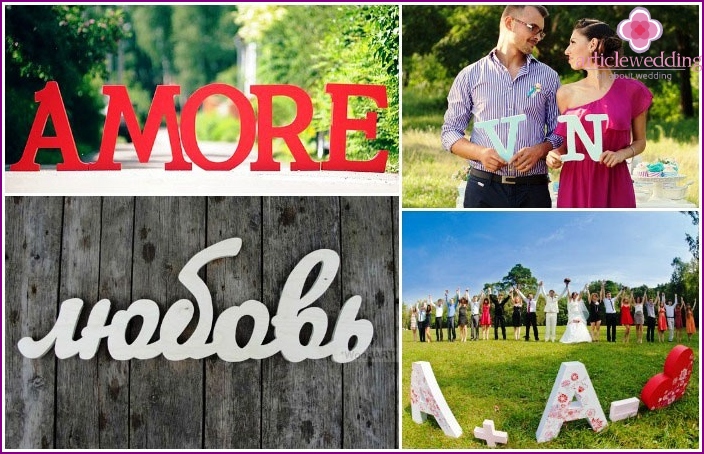 Letters at a wedding are a good way to leave memories of an important event in the life of the newlyweds. Reviewing unusual photographs, the husband and wife will renew in memory the priceless moments of the wedding..
Do you know other materials that are suitable for creating wedding accessories? Share your ideas in the comments on the article!