Contents
---
---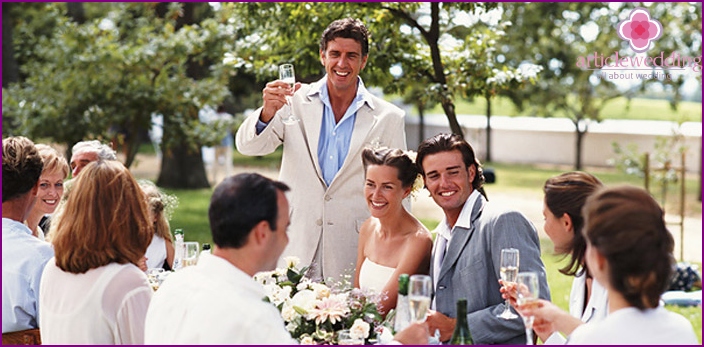 A wedding is a big celebration where close relatives of the bride and groom, best friends, good friends, acquaintances and even colleagues gather. Everyone, being invited to a wedding event, thinks about how to congratulate the heroes of the occasion. The classic way to express your feelings about marriage is toast-congratulation - it can be parting, funny, solemn.
Particularly popular are touching wedding toasts, which cause pleasant emotions among those present, and sometimes can bring to happy tears. When choosing this type of toast for congratulations, you need to remember that although he should touch the hearts of those present, he must not be too sad or «heavy» for perception.
Options for touching wedding toasts
Choosing a touching version of a toast for a wedding, guests should be guided by the following parameters: short duration of speech, capacity of congratulations and a pleasant message of wishes. Such a toast can be individual, contain a story about a husband and wife, or have the appearance of a parable. Classic variants of congratulations on the wedding with wishes of happiness, love and a strong family are not ruled out. Read below a selection of interesting touching toasts with congratulations to the newlyweds.
Wedding Ring Wedding Toast
Dear friends! In the morning, many of us who visited the registry office along with the newlyweds witnessed how the couple exchanged rings. No wonder this jewelry has become a symbol of family life, because it carries a hidden meaning.
Wedding rings speak of love and fidelity, because during the wedding the bride and groom put them on so as not to take off anymore.
The shape of the ring tells about the eternity of this love: look, because this jewelry has no end or beginning!
And also this wedding accessory is made of pure gold, and gold, as you know, is a strong material.
I want to raise my glass for the heroes of the occasion and say: dear spouses, may love be eternal, faithful and as strong as it is now, during the wedding! Bitterly!
A touching wedding toast about travel
Dear newlyweds! On the day of your wedding today, you embark on a long journey together on the ship of family life. On this way, storms with thunderstorms will sometimes overtake you, and sometimes it may seem that you have lost your course. I wish you that a guiding star always burns in your heart, which indicates the right direction, leads to a quiet, beautiful harbor, and the name of this beautiful star is love.
Wedding Toast for Love
There is no greater happiness than observing the union of two loving hearts. If each has its own mate, then there is no doubt that on this day two parts of the whole reunited in order to never disconnect again! Finding each other in this world is a huge success that accompanies good people, so you really deserve it. May the union be strong and strong, and love, fun and good luck never leave your home. Bitterly!
Touching toast about a musical instrument
The family is the hardest musical instrument. They say that the hardest thing is to learn to play the violin - supposedly you need perfect hearing. Nonsense! It's really hard to hear and understand each other when tiredness or resentment interferes, that's where you need to «perfect hearing»! They also say that tuning the flute is a task for the most perspicacious people. It is not true. To set communication in the right way, if something suddenly fails, is a true dexterity of the mind. And recently, I heard that the only tool whose possibilities are endless is the organ. But this is far from the truth! After all, two people who perfectly master a musical instrument - a family can play the most amazing, expressive and touching melodies! I want to wish you, dear newlyweds, so that you get sincere, pure music without disharmony and falsehood! Strong family to you! For you, newlyweds!
Touching Wedding Honeymoon Toast
So you entered into a legal marriage, the first chapter of family life begins after the wedding - a honeymoon full of love, romance! And the second chapter is all future life together, including life together, the birth of a child, the education of grandchildren. The first part does not last very long, but in your hands break the rest of the book into chapters, turn each into a kind of honeymoon! We wish you pleasure and love, no matter how difficult it is at times to cope with adversity. Bitterly!
A touching toast about a fairy tale during a wedding
From childhood we were told that all fairy tales sooner or later end, after each we have to return to reality. Looking at you, I see real storytellers who create magic around themselves, illuminating the lives of others with light, warmth, joy. It's so good that even at this age you managed to remain children, did not forget how to be surprised, live carefree, and have fun! Let your life remain this beautiful fairy tale, filled with the magic of love. For you! Bitterly!
Wedding toast about true happiness
Someone finds happiness in money, someone happily builds a career, and the newlyweds managed to find happiness in each other, we have been watching this all evening. It's the best thing to find your man, because money is easy to lose, a career can be destroyed at any moment, only love, loyalty and respect are inexhaustible. Congratulations to a married couple with real happiness! Bitterly!
Touching return toast during the wedding
We were fortunate enough to witness the moment when two loving people united by marriage. Everyone present takes great pleasure in what is happening, because so much effort has been spent to organize such a chic holiday! This is the basic principle of bestowal: delighting others, the heroes of the occasion see sincere smiles that wedding guests turn to them.
I wish you, beautiful newlyweds, so that you do not forget to give each other all of yourself without a trace, then you will receive happiness as much as you need, even more! Thank you for an example of true love and bestowal.!
Video: touching a wedding toast from a girlfriend
Truly touching toasts can be said by the parents of the bride or groom, close friends, girlfriends, because they went through a lot with the newlyweds, they know them well, they witnessed the birth, and then the development of love relationships. Speaking at a wedding with friends with a toast, you can talk about your feelings about the event, show the joy that the heroes of the occasion managed to find each other. Watch the video in which a friend tells her wife a touching congratulation:
On the site you can find other toasts for the wedding from a friend who touch or amuse the bride. Choosing a touching congratulation, you need to make sure that guests are interested in listening to it, before that it is advisable to rehearse a speech in front of the mirror several times. In the case of good preparation, your toast will be one of the pleasant events during the wedding, and memories of it will long delight the heroes of the occasion.