Contents
---
---
The tradition of giving prizes at a wedding has become fashionable for a very long time and is very popular. Toastmasters often have pleasant things in their arsenal for a successful celebration. So that guests willingly participated in contests and actively participated in your holiday, we recommend that you encourage them with cute gifts. Prizes for those present do not have to be expensive. The main thing is the memory of such an important event, of the newlyweds, of a good time. In this article, we have gathered many years of experience in choosing prizes for guests at a wedding.
Gift Suggestions for Wedding Competitions
Going to buy gifts for guests, you need to make a list of necessary prizes in advance. They must comply with the contests that will be held during the celebration. When choosing gifts, show your imagination. Received a gift for winning the competition should be meaningful, and after a while, warm your soul. Prizes for those present at the festival can be different, have different prices - it all depends on your capabilities. But even inexpensive prizes can please guests.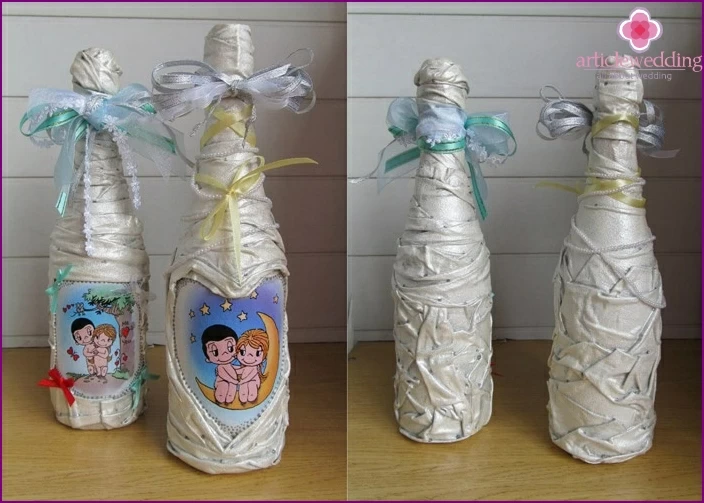 Prize Options
When choosing prizes, you need to pay attention to what audience will attend the event. Gifts should be selected for guests based on gender and age. For older people, prizes of one format are suitable, for children and youth - of another. There are gift options that are suitable for any age and gender. Here are a few prize options:
Original themed souvenirs.
Standard inexpensive souvenirs with hearts - symbols of love.
Photos.
Funny and comic prizes.
Sweets and alcohol.
Original themed souvenirs
Souvenirs must be original, otherwise they will be lost among the faceless mugs and badges. A large selection of original themed souvenirs can be found in bridal shops. Or pre-order them through online stores, the choice of souvenir products is striking in its diversity. The following prizes will be successful:
Stationery.
Cases for pens, glasses.
Bottle stand.
Photo frames.
Paper money with the image «love story» newlyweds.
Standard Inexpensive Gifts
A celebration such as a wedding carries considerable financial costs, therefore, along with stylish gifts, we advise you to purchase standard inexpensive souvenirs. These prizes will appeal to children and older people. The diversity in this matter guarantees the ability to present everyone in the right way. For instance:
Candies, chocolates, gingerbread cookies, cookies.
Calendars, badges, medals.
Curly soap, small towels.
Mugs, spoons, hot coasters.
Fridge magnets.
Key rings.
Calendars.
Candles.
Photo albums.
Souvenir books.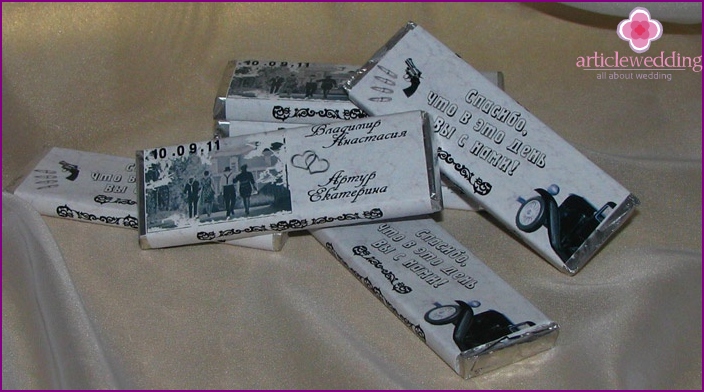 Photos for memory
An original gift for guests will be a portrait of the newlyweds as a keepsake. Decorate such portraits with beautiful, variegated frames. We recommend giving these photos at the end of the wedding for a long memory to all those present at the celebration. A surprise for guests can be a photograph of a guest with the heroes of the occasion, and a super bottle of champagne with a photograph of a married couple glued instead of the factory label may be a super prize for winning the competition. Prize cups and wrappers for gift candies are also framed with photographs of the couple..
Funny and comic prizes
Wedding contests are usually comic in nature, so it's better to use prizes with humor. For men, it can be colorful ties, noses with an elastic band, crackers, small dumbbells. For women, unusual hats, jewelry, candles, stockings, kitchen utensils, such as a rolling pin, are suitable. The newlyweds will be able to amuse the guests with the presentation of various comic diplomas, diplomas, medals.
Sweets and alcohol
At weddings, guests are often given sweets as gifts. It can be chocolates, candy sets, lollipops in the shape of cockerels, hearts, etc. Sweet pastries will also be appropriate: fortune-telling cookies, sweets in beautiful packaging tied with ribbons. The original promotion will be the Tula painted gingerbread. Alcohol in unusual bottles is presented to male guests: it can be cognac, vodka, wine in small bottles, canned beer.
Video: Wedding Guest Medals
Want to surprise your guests? Arm yourself with a color printer, paper, scissors, glue and ribbons, watch a video and you will get beautiful and original medals for any competition. In the video you will draw interesting ideas, and having shown imagination, you can easily make competitive medals: