Contents
---
---
Even without being brides, all the girls and women present at the wedding should be festively beautiful. Leaving the primacy in the splendor of the bride, the female guests select special dresses and accessories that should make them sophisticated, feminine and elegant on the day of the celebration. Wedding evening hairstyles for guests are not the last in the list of preparations, because they are able to turn any girl into a real princess, being the standard of femininity and grace. Therefore, their choice should be approached seriously and creatively..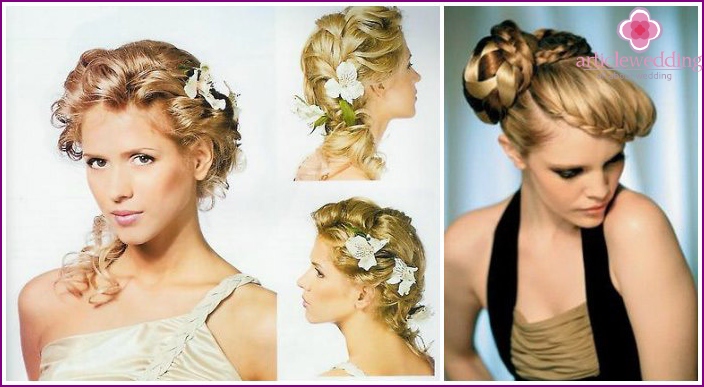 Tips on choosing hairstyles for guests at a celebration
When choosing a hairstyle for going to a wedding, the invited girls should remember the following rules:
You are not a bride, and therefore your styling should not compete with her hairdo in complexity and effect. Let it be simple, elegant, emphasizing your femininity and feature of the event..
The hairstyle should be natural. Models filled with varnish and gel have long gone out of fashion and are now associated with stale hair. Weighed down by means of fixation, the hair does not hold the hair for a long time, but rather, quickly lose shape. Spray a little varnish on the hair from a distance of 10 cm, take it with you - if the hairstyle begins to disintegrate, straighten and sprinkle it slightly again.
The guest's hairstyle can be slightly sloppy, so she will have more charm than her strictly «licked» options - pedantry characterizes the business character, but not a romantic mood. The exception may be strict models, accentuated in a romantic vein with clothing and accessories.

If you do not want to bother with hair during the celebration, do not leave your hair curled and loose. They will be pulled to the bottom, unwind, requiring adjustment. Collected from behind in tender romantic baskets, shells, buns, hair will retain their shape the whole event.
The hairstyle should be harmoniously combined with clothes, make-up, accessories, creating with them a single image.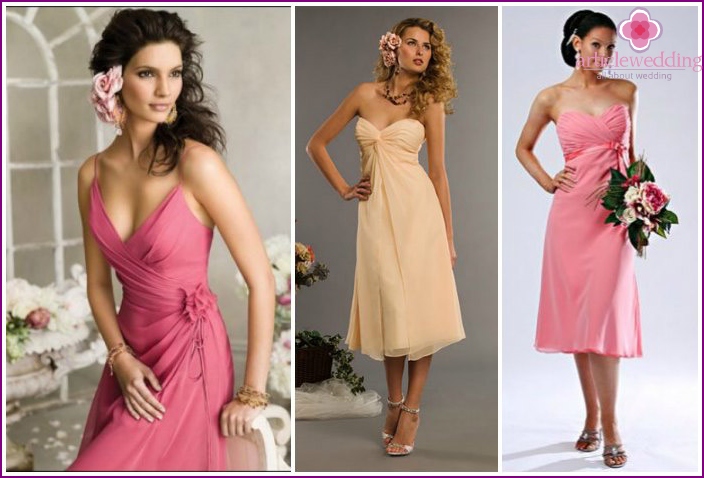 Options of women's hairstyles for a wedding with a photo
When choosing a hairstyle, the length of the hair of the invited girl plays a big role, opening up a certain range of possibilities in front of her. Hairstyles of any length can be romantic, feminine, strict and rebellious, so you should decide for yourself what role you want to have at the celebration. Having clearly assessed the features of your face, choosing a future outfit, composing a mentally desired image, it will be easier for you to decide on the choice of a suitable model.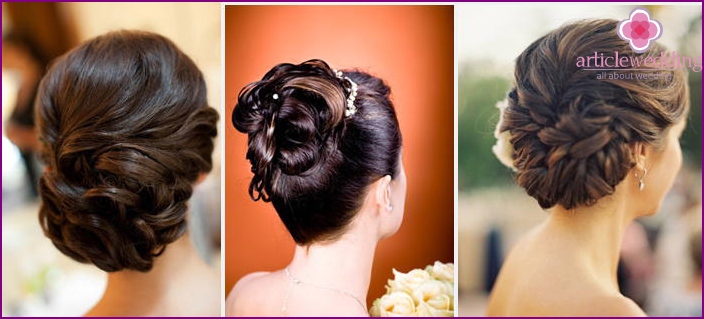 For short hair
Short hair is a wide field for creating an elegant and extravagant wedding hairstyle for guests. With such hair length it is easy to experiment, create interesting models. It doesn't take much time to lay, it's not difficult to fix them during the day, which is valuable at such a long event as a wedding. The pronounced form of such hairstyles looks good on the photo and video from the wedding day.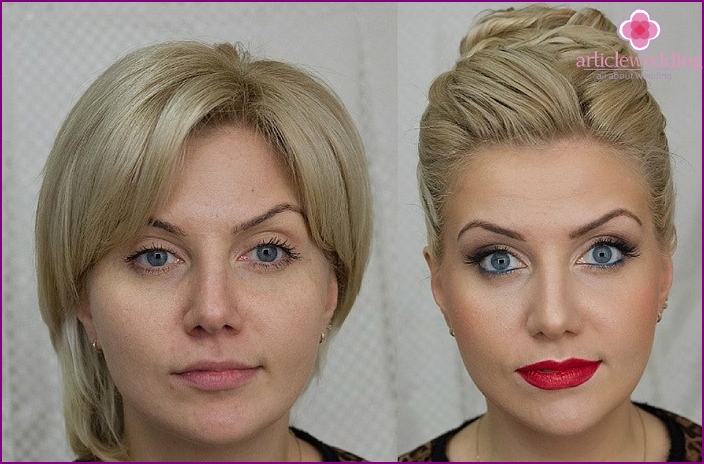 The right choice of hairstyle for the holiday will help you analyze your desires, future image, facial features:
Make hair styling with the varnish back or a playful mess of sticking out randomly locks with a gel. Refined seriousness is given by lush, even «licked» hairstyles with a slanting bang or a small bun on the back of the head.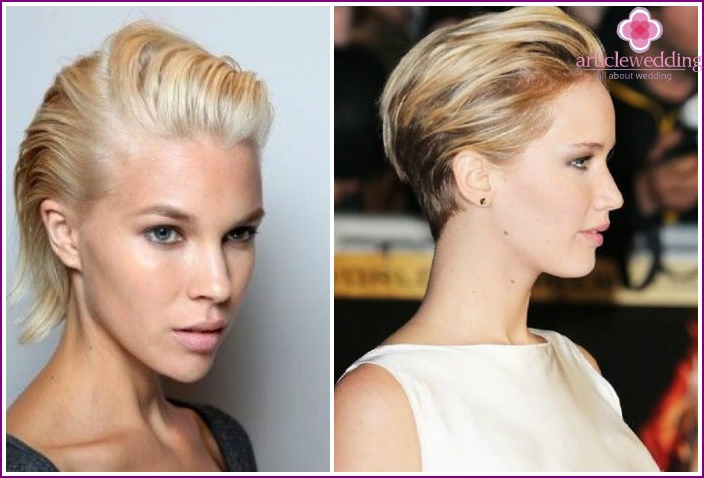 Hairstyles based on waves, curls, loops, as well as low-lying bunches will help to add femininity to the image., «shells», wide snails on the back of the head. Such a hairstyle can be both precisely assembled and fixed with varnish, and with some pronounced carelessness. Curlers, curling iron, hair nets, all kinds of hairpins will help to make the image irresistible, imperceptibly fixing the soft bends of the strands.
The playfulness and spontaneity gives short hair the presence of a variety of accessories that are matched to match the dress or other accessories. These are ribbons, hoops, hairpins - often bright and noticeable. They are perfect for the flirty and charming laughter girl. Together with gloves, such accessories will make the image brilliant, in style «Breakfast at Tiffany's».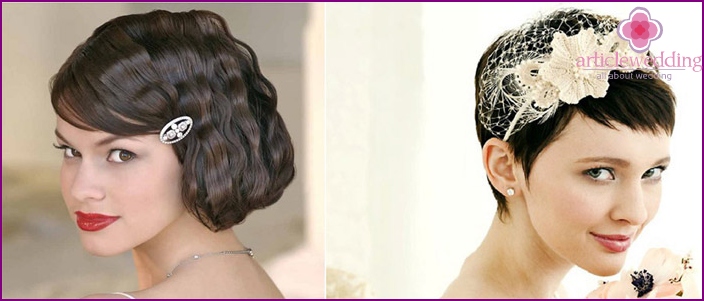 Of great importance when choosing a hairstyle is the oval face of the girl guest. If it is of the right elongated shape, any hairstyle will suit you, from ultra-short haircuts «elf» to the waves descending to the line of the chin. If the face is round, then it is necessary «stretch out» it with the help of long strands in front or flowing curls. If the face has a square shape, you can afford a slanting bang and the hair gathered up in a bun.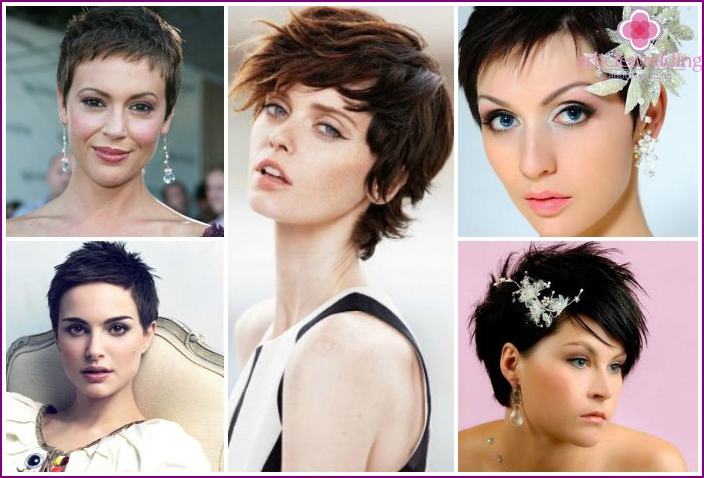 On medium length hair
To medium-length hair looked festive, they can be collected in an original bun or curled. Both options have a ton of possibilities. On the average length, romantic, feminine hairstyles are obtained, the creation of which does not take much time. Plus this length - and possible savings on professional hairdressers, because it is easy and beautiful to style your hair on your own. An example would be hairstyles: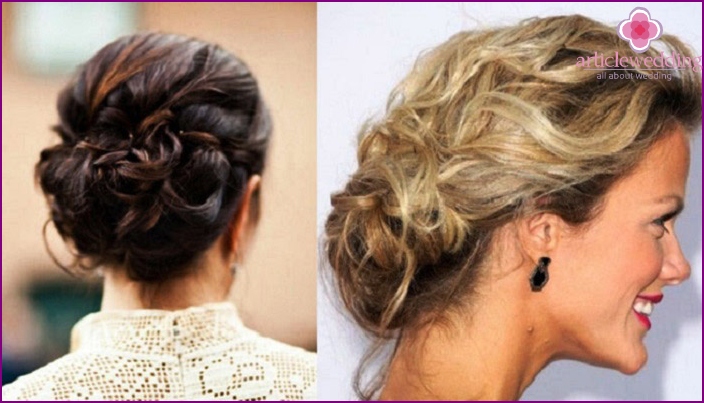 Wave. This is a beautiful and easy way to tidy your hair. In short strands, the waves will not settle quickly, and therefore they will live at the wedding for a long time. To make the hairstyle look irresistible all evening, use good styling products. The waves can be soft, barely noticeable (for how to do such, see the next section), or clear curls (in the second case, they should be combined with invisibility, which will give the desired configuration to the hairstyle). Strands-spirals look good on the average length, emphasized by a small amount of gel or varnish.
Particularly wide field for maneuvers «classic bunch» or «scythe». Their countless types, such hairstyles look gentle, feminine, neat, and most importantly - do not fall apart during the holiday, which favorably distinguishes them against the background of a free wave. Another important plus is their versatility (such styling is suitable for all types of faces), as well as ease of execution (light negligence is now in fashion). Any of your creations in this style will look good..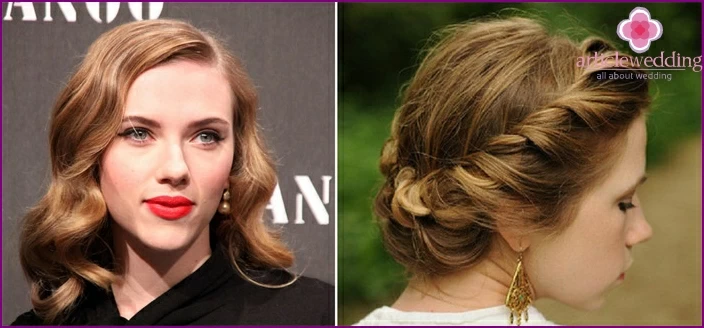 You can make a bunch at the back of the head and lower. Weave a braid into it from bangs, side strands, or simply bring curled earlier or straight strands to it, folding them in rings or laying out a basket from them.
It is easy to twist the roller from the hair, grabbing it from below with invisibility, and then bring the roller back and decorate with decorative hairpins or flowers.
Make a shell hairstyle by folding the upper part with a rose and decorating the sides and upper sides of the shell with ringlets.
The hairstyle for the wedding for guests should adorn the guest girl, taking into account the features of her face. If the face is round or has a heavy bottom, it is worthwhile to soften the features of the forward-facing paises (side or front bangs) - they will soften the lines of the face. If the girl has a pronounced nose, do not hide behind long bangs and side strands that fall on her face. It's better to leave it open, and put the bang on its side.

Hairstyles for long hair
Hairstyles for a wedding for guests with long hair are not much more difficult to perform than for medium length. It will be appropriate to divide them into hairstyles that demonstrate length, and options with opposite characteristics:
If you are the owner of long hair below the chest, it is advisable to demonstrate such beauty. In this case, you can not significantly stack them, just add a little charm to your «canvas», weaving a few strands or bangs into a braid. You can release it freely, twist it into a snail or wrap it around your head.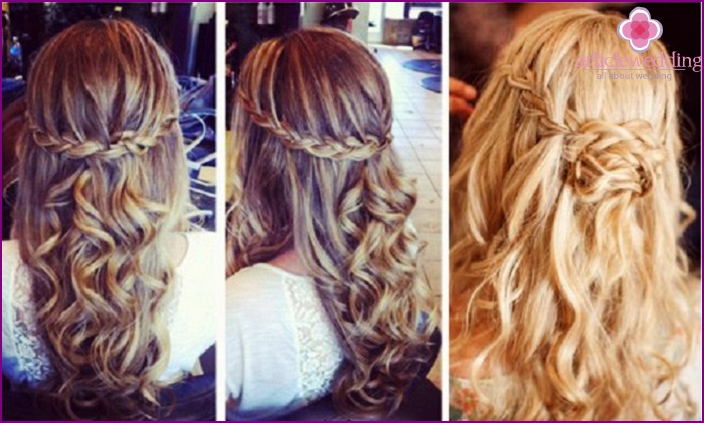 It is easy to demonstrate the length in another way, for example, collecting strands in a long spikelet or braid, twisting it into one curl of the correct shape or letting the pigtail snake through a straight hair sheet. The guest may curl long hair, but it is important to pay special attention to fixation means. True, if the curls fall apart, long hair will still look spectacular.
If you don't have the goal of demonstrating the length of your hair, collect the hair in a bun, snail or shell, weave flowers or braids in it, make a net of strands or leave a long ponytail. It is easy to emphasize the volume with a pile, to raise the back of the head or to give the structure a more reliable shape. So that the fleece does not age and does not weigh down the head, it must be natural.

If you have a round face, you want to lay your hair in a bun or snail, and the front strands are too long to let them out - do a deep parting and lay an oblique bang. Next, add the volume of the upper part of the hairstyle or slightly lower the front strands, and then collect them into a common node. If you have a massive lower part of the face, then you can not lower the strands - this will make the bottom heavier.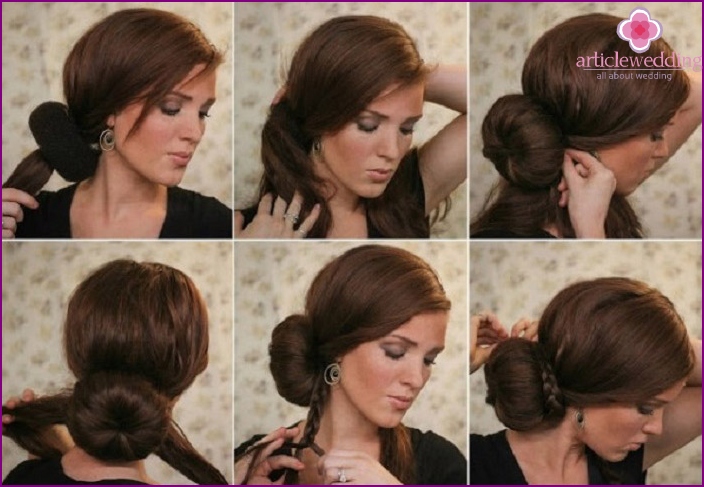 How to make a hairstyle for a celebration with your own hands
The evening hairstyle for the wedding you were invited to is easy to make at home. A common and easy way to style your hair is to wave. But in order for the waves to look refined and elegant, it is necessary to carry out this procedure correctly. For this you will need:
curling iron with round tongs;
brush comb;
round brush;
hair spray for flexible fixation;
mousse for hair;
Invisibles or clamps for fixing already wound strands;
hair dryer;
strand shine.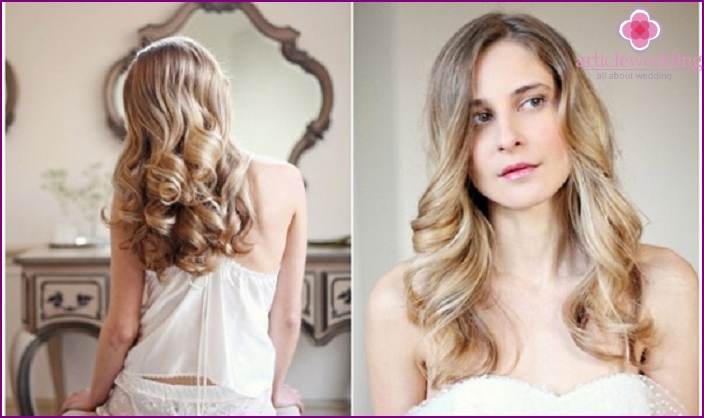 The next hairstyle for the wedding is ideal for long-haired girls and owners of medium-long hair. To execute it, do the following:
Wash your hair, apply a little conditioner, rinse.
Dry your hair with a towel, it should not be wet, but slightly wet.
Apply styling mousse.
Dry your hair by lifting and curling it with a round brush and a hairdryer.

Divide the hair into strands, wind the curling iron along the entire length. For convenience, remove already curled curls with clips or invisible.

Remove invisibility only when the curls cool down.
Tilt your head back and straighten your fingers with your fingers.
Comb your hair with a simple comb-brush, do it gently, giving the wave the desired look.

Fix with varnish.
Apply shine.
Video: bangs hairstyle ideas
How many difficulties do the bang owners have to overcome for the sake of beautiful styling, if, going to a wedding in the cold season, they need to wear a hat. The uniformity of evening hairstyles with bangs is also an imaginary problem. How to make a festive hairstyle original and practical without losing your bangs, see the video below.