Contents
---
---
A wedding invitation is a joyous event, and if a close relative marries, then the joy is double. At such a celebration, you want to look spectacular, modern, festive, so it is very important to carefully consider what to wear for your brother's wedding. There are several rules for choosing an outfit that you must follow in order not to go beyond etiquette.
The basic principles of choosing a wedding dress for your brother
Before you start choosing a dress, try to find out from the newlyweds the style of the upcoming wedding. Modern young couples try to evade the traditional framework of a wedding celebration and show imagination, starting a celebration in a marine, Hawaiian, rustic or other style. It even happens that you forget to warn about it. In order not to get into trouble, having come to a pirate wedding in a tuxedo or elegant evening dress, embroidered with stones, it is better to find out these points in advance.
It is important that the clothing is in harmony with style and color. If you decide to wear a dress of classic cut, do not choose too bright and defiant tones, give preference to pastel. It is better to adhere to the usual styles, dresses of too original cut will attract the puzzled looks of other guests. Do not wear a very short outfit for your brother's wedding - it will look vulgar and vulgar. At a youth wedding, the groom's sister should avoid teenage-style outfits and look elegant..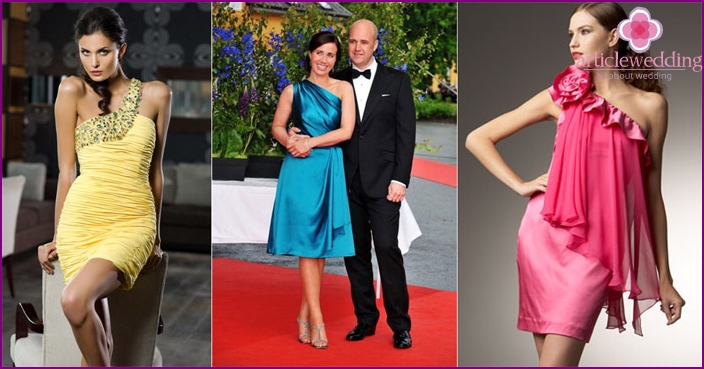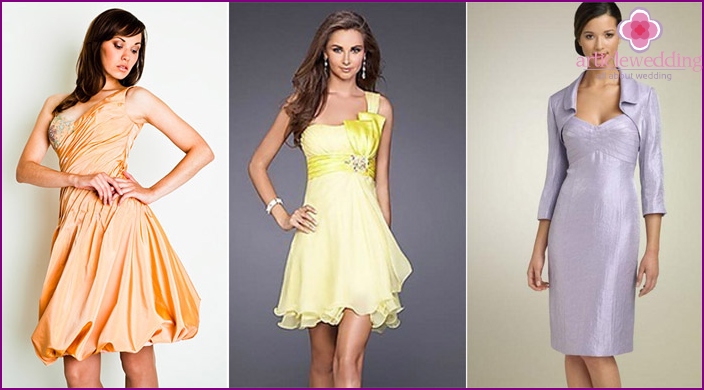 The guy should know in advance what suit will be on the bride and groom, so as not to repeat in clothes. It is considered indecent when the guests 'clothing is financially superior to the wedding dresses of the young. Of great importance is also the choice of suitable shoes along with. Shoes or boots should not only be beautiful, but above all comfortable, because you will have to take part in various competitions, dances. Wearing uncomfortable shoes, you will be deprived of this opportunity, and do not enjoy the event.
How to dress a guy for a wedding?
The best option for clothing for men will be a fashionable suit. It can be anything - monophonic, striped, checkered. Every man has such a suit; he hangs in a closet and expects a suitable occasion. A dark classic costume is not quite suitable for a young guy for a wedding, because a wedding is an unofficial reception. It is better to focus on light, beige, gray tones or white. If you have only one black suit, it does not matter - choosing a bright shirt will save the situation. The main thing is that the brother's clothes do not copy the groom's wedding dress.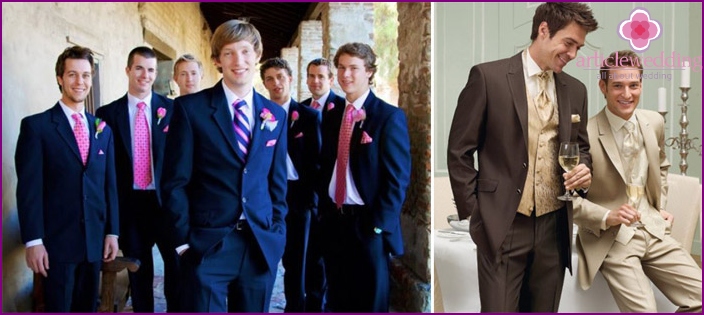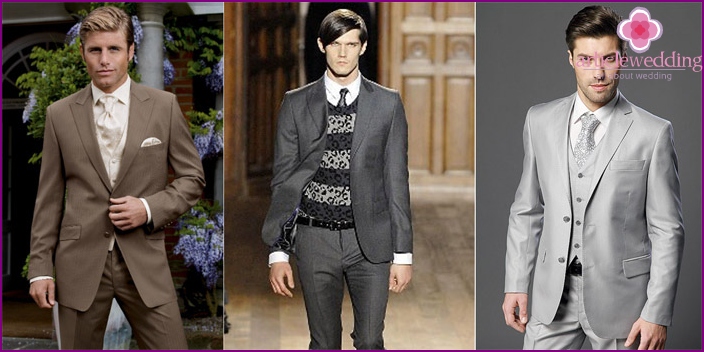 Take a colored shirt, do not wear white - this color is intended for the main hero of the occasion. To make it look harmonious, pick it to the color of your eyes. People who are not used to wearing a tie do not have to be forced to do so. But for greater solidity, as a sign of respect for the newlyweds, it is worth dressing. For youth student weddings, new jeans with a plain plain shirt or a thin light jumper are suitable.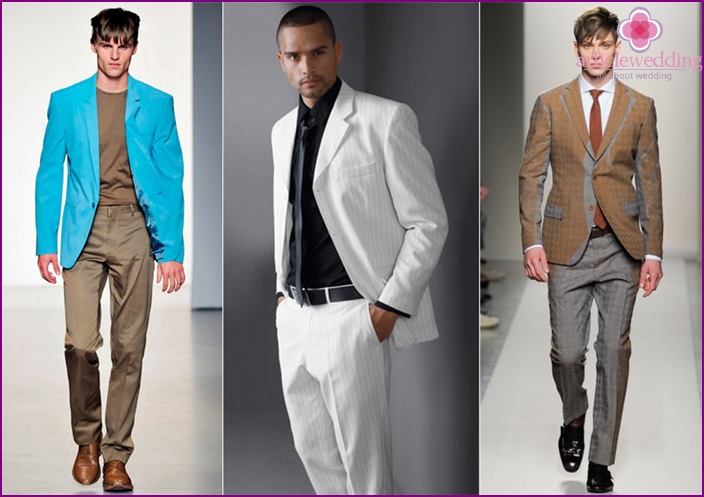 Tips for choosing a dress for a girl
Sister of the groom must necessarily look elegant, beautiful, so it is important to know what to wear for a girl in a wedding in this case. But you should not choose an outfit that would be superior in terms of outfit to the bride's outfit and catches the eye of guests. Observe the measure in everything. When choosing a dress, do not be tempted by the beauty, but see how it suits you personally. Consider the features of your figure - ideal proportions are rare, so you should give preference to clothes that skillfully hide flaws.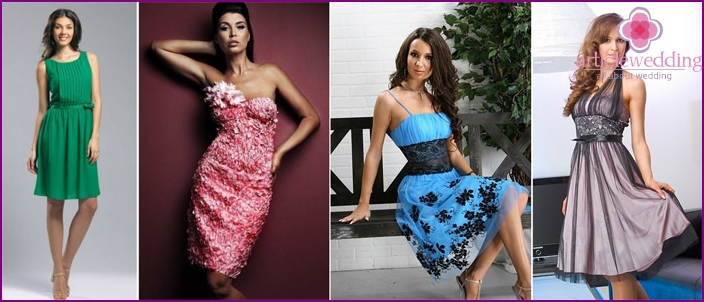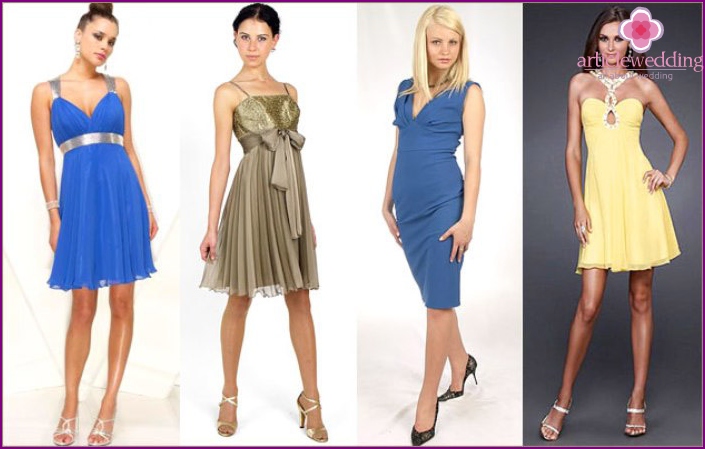 You should not buy clothes that are not their size, in it you will look at least ridiculous. The dress looks funny from the side, two sizes larger than necessary, or an overly tight figure. Choose the appropriate accessories for the dress - handbag, jewelry. Choose the color of the outfit by color type:
Winter color type - brunettes and brown-haired women with dark eyes, pale pink skin. They are suitable for gray and all shades of blue (purple, turquoise, blue).
Spring color type - blondes with blue or green eyes, light pink skin. Warm pastel colors will definitely suit them..
Summer color type - blondes with dark, gray eyes and pale skin. They should choose pink, green, gray or blue dresses for the wedding..
Autumn color type - brunettes and brown-haired women with dark gray or dark green eyes, dark skin. They will choose for themselves holiday dresses of various shades of brown (olive, orange, coffee, cream).
Girls with small breasts and lush hips should prefer a trapeze dress with a multilayer skirt and high waist. Women with wide shoulders and hips, large breasts and a thin waist are suitable for any clothing model that emphasizes beautiful proportions. Do not hide the figure in empire style dresses and models of direct free cut. Girls with long legs are advised to wear a medium-long tunic dress for the wedding, and a V-neck will emphasize the magnificent breasts..
For full girls with full breasts and wide hips, in order to look more elegant, we recommend choosing dresses with a tight-fitting top and a deep neckline. With wide shoulders, a free bell sleeve or a flashlight will not work, it is better to choose a tight sleeve. Visually reduce the lower part will help a loose skirt with vertical pleats or a dress with a wrap. Too tight-fitting models will not hide, but only emphasize excessive completeness.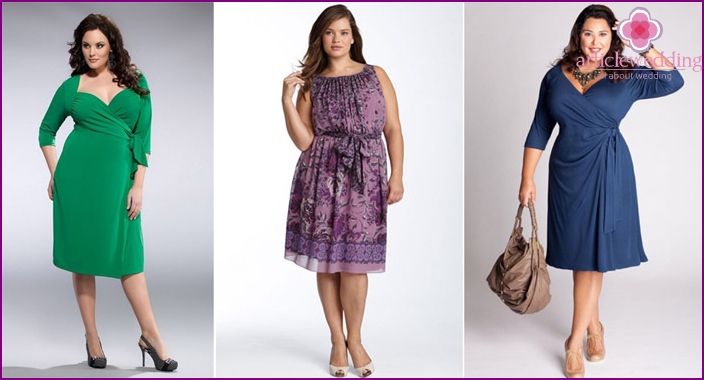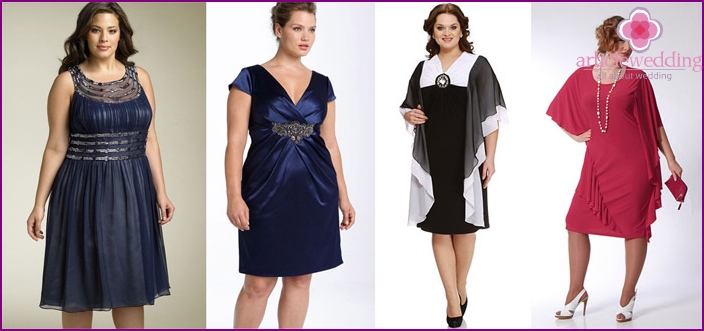 What to wear for a wedding, depending on the time of year?
Wedding attire will be different at different times of the year. When choosing it, one should be guided by air temperature, weather conditions, time and place of the holiday. But the principle of choosing clothes for the sister or brother of the groom remains the same - to dress more elegantly and solemnly than the other guests. Summer outfits should be light, the fabric is natural and pleasant to the body, absorb moisture well. In the cold season, warm, elegant clothes of elegant cut in restrained tones are chosen for the wedding.
How to dress for a celebration in winter?
Men are advised to wear a gray, gray-blue or ashy suit for the wedding in winter. Designers have developed many models of elegant winter suits for men. Striped or small printed patterns are popular. Costumes made of woolen or bookly fabric look stylish. For women, there are many winter wedding dresses. You can choose a dress with a jacket or a bolero, a suit of light, beautiful fabric. It should not look like an office. At the wedding, a feminine outfit looks, so try not to wear pantsuits.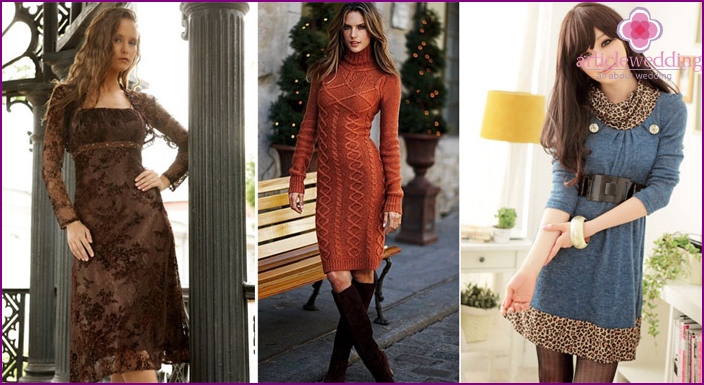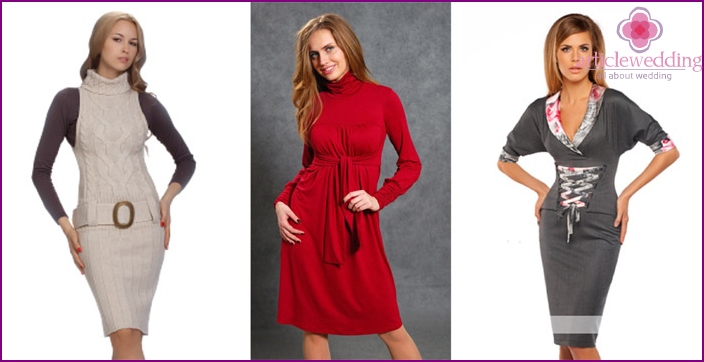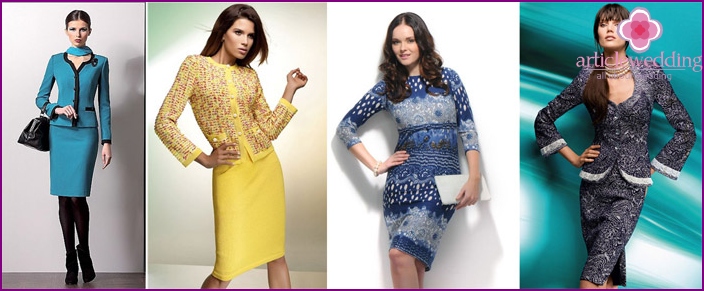 If you were invited to a wedding in the cold season, take care not only of the main outfit, but also of outerwear. In the banquet hall you will take it off, but during the photo-video shooting on the street it will be in the frame. Sports jackets of bright colors or old worn sheepskin coats are not suitable for this occasion. Put on a classic coat or pea coat in restrained tones..
Spring and fall
For the daytime part of the event, you should choose light-colored clothes - a shirt with light trousers and a tie. Tuxedos are worn only in the evening. Therefore, if it is possible to change the outfit, it is better to be in a light suit during the day, and closer to evening - in a dark or tuxedo. It's better not to wear a black suit for the wedding, but if there's nothing else in your wardrobe, refresh it with a bright cheerful tie.
Women's costumes are considered the prerogative of older women, usually they are worn by mothers or close relatives of young people. But no one forbade the girls to come to the wedding in a suit that favorably emphasizes a beautiful figure. Also, a combination of a skirt with a top is suitable for them, the main thing is that the outfit does not look ordinary. If you are thinking about what to wear for a wedding - a chic evening dress or a more modest outfit, keep in mind that in the afternoon it is better to stop at a cocktail dress with a pleasant delicate color, and after dark you can change it to an evening outfit.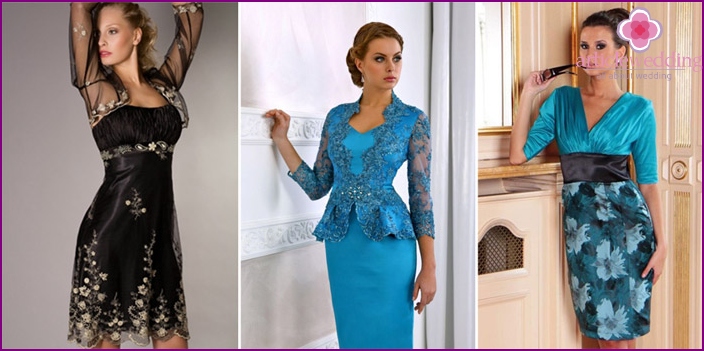 Options for summer outfits
In the hot season, it becomes a real problem, what to wear for a wedding so that it is not too hot. Men fit a light shirt with a short sleeve. It can be either plain or pinstriped. Lightweight pants of a classic cut will complement the shirt. The solemnity of the moment will emphasize an elegant tie in a contrasting color with a shirt. Women will look fresh and romantic in a light chiffon dress with a floral print, as well as in plain colored floral or fruit shades. It is better to refuse a black dress in the summer.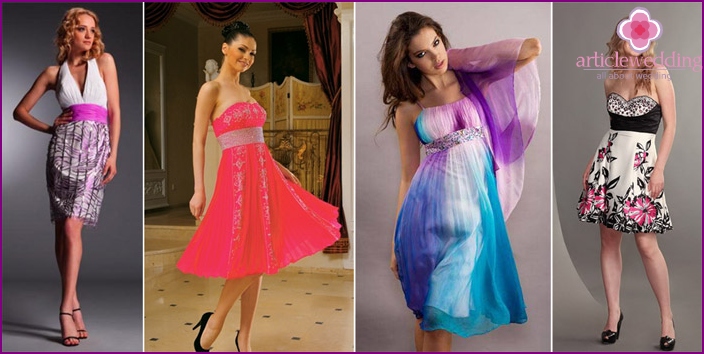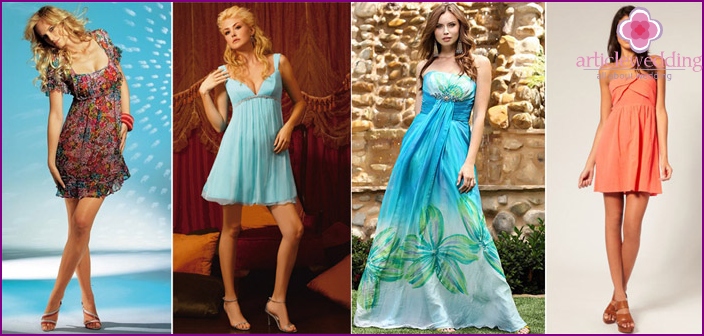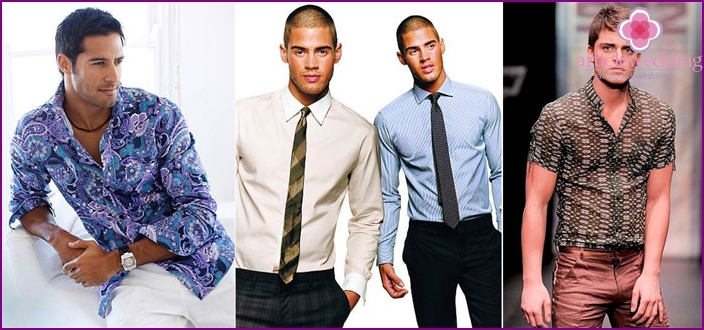 Video: how to dress a sister for a wedding to her brother?
It has long been noticed that a large number of clothes in the wardrobe does not solve the problem when you need to look somehow special. On the contrary, it is easy to get confused and confused in this variety. Saves only good taste, a sense of proportion, the ability to correctly combine colors and styles. If you are a girl, and still have not decided what to wear for your brother's wedding, watch the video - it will orient you in the right direction.
Photo collection of evening wear for the celebration