Contents
---
---
Wedding is one of the main events in human life. And every bride dreams that the celebration was perfect. When preparing a wedding menu, pay special attention to the choice of cake, which will be the main decoration of the whole event. Dessert is selected taking into account the style of the wedding - it can be single-tiered or multi-tiered, with cream or fruit.
Wedding Cake Fruit Tips
Wedding cake is the sweetest and main attribute of the whole holiday, because all guests are looking forward to it. Before buying a dessert, it is advisable to familiarize yourself with a number of secrets and subtleties of his choice. The most important thing is to order «correct» a cake that every guest can appreciate. Thanks to a wide selection of wedding cakes, each couple will be able to choose for themselves just the perfect pastry, it is only important. Consider the following nuances:
Shape - it happens in the form of a heart, square, circle, rectangle. Choose what you like.
Korzhi - it is better to opt for a biscuit.
Stuffing - it all depends on your personal taste preferences.
For a summer wedding, give preference to light desserts - for example, souffle cake, a cake with butter cream that will not quickly go bad in the heat.
For a holiday in winter, choose soaked cakes, cream fillings.
The size and weight of the dessert. Confectioner will help to calculate correctly these indicators (for 1 guest there are approximately 100-150 grams).
Registration. It can be a decoration with fruits, cream roses.
Colour. Choose it in accordance with the style of the celebration or with the shades of the bride's dress.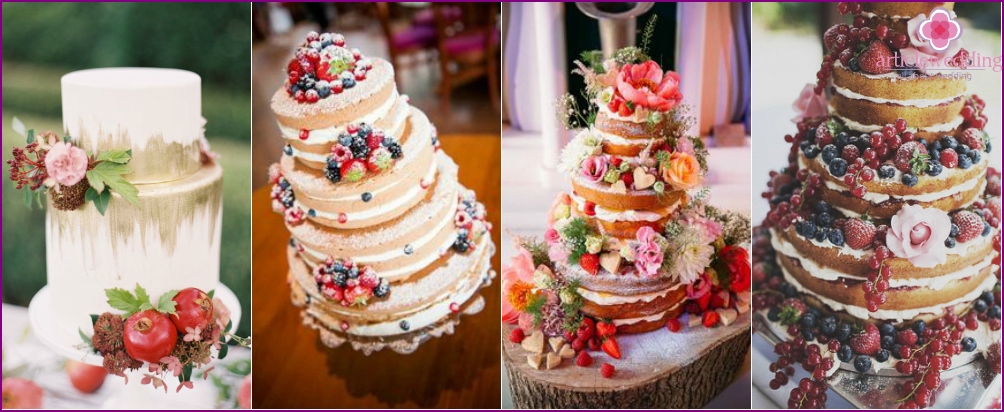 Stand and number of tiers
The trading network presents desserts of various shapes - rectangular, oval, square, round, triangular, in the form of a heart, stars. There is a wide selection of cake heights - from one to five-tier culinary masterpieces. Above, figurines of young, fresh fruits, custard, chocolate, flowers, hearts, pigeons can be used for decoration. In the center and sides of the dessert, inscriptions are often applied. For example, wishes for the young, names of spouses or wedding proverbs.
In the 19th century, the first multi-tiered cake appeared and since then it has been the most important dessert of the wedding table. It must be remembered that the number of layers directly depends on the total weight of the dessert itself:
weight less than 4 pounds - 1 tier;
weight 5 kilos - 2 tiers;
weight up to 8 kilos - 3 tiers;
weight 10 kilos - 4 tiers;
weight more than 12 kilos - 5 tiers.
The classic and best option for a wedding cake is just three tiers. If you opted for more complex compositions, you need to think more about intricate, interesting compounds that hold each tier together - these may be whatnots, ladders, simple stands. For a fee, you can rent young wedding figures that will make the dessert look more original, solemn. Thanks to their use, each layer of the cake will be easy to cut and hand out to guests.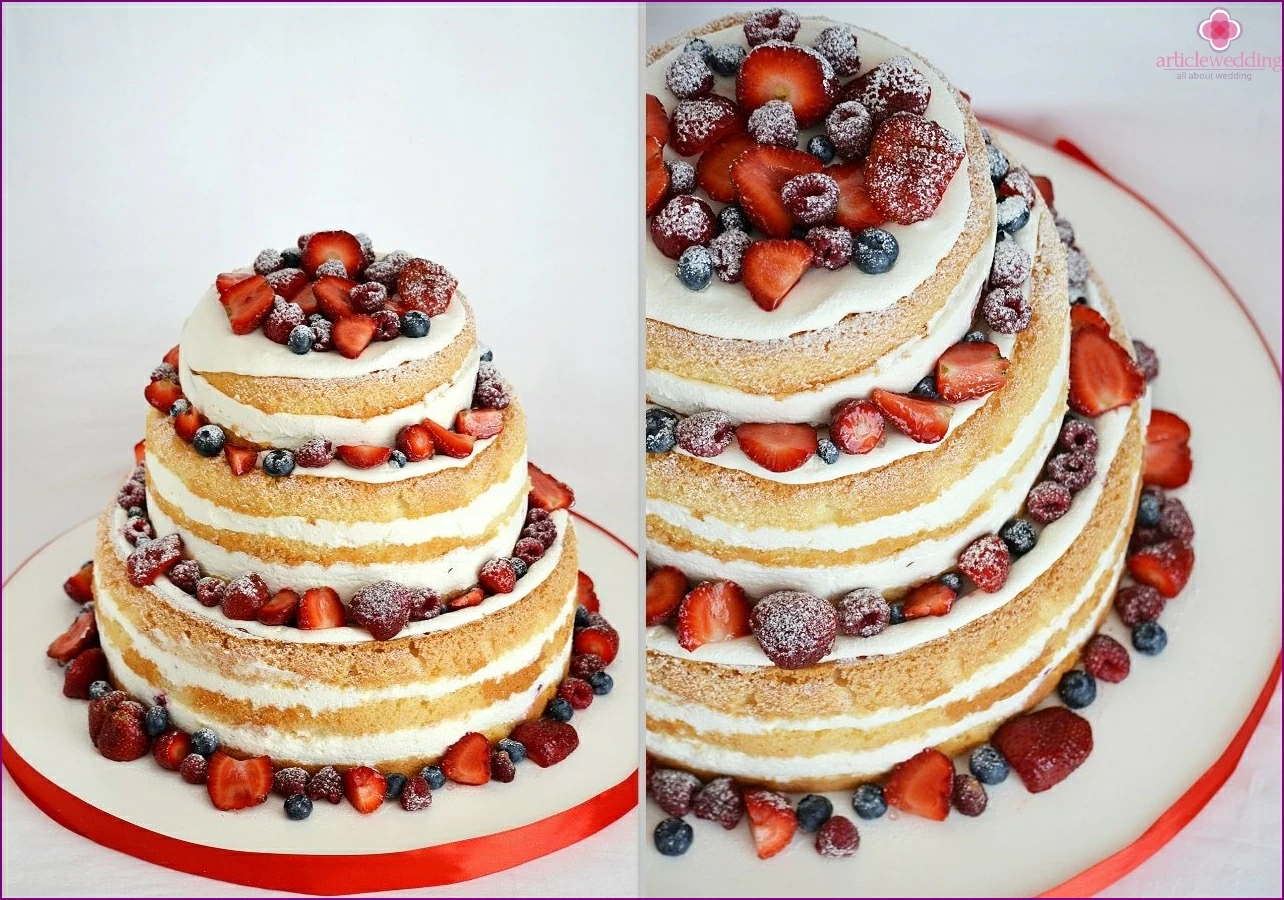 Design color and filling
Deciding on the color scheme of a wedding cake, you can choose almost any shade that you like best - starting with snow-white tones and right up to bright neon tones. However, the presence of unnatural colors suggests the addition of artificial dyes, which can provoke a strong allergic reaction in the most sensitive guests..
A completely snow-white wedding cake will not look very expressive, sometimes too pale. Indeed, in the video and photo you will not see its beautiful reliefs, they will simply be smeared, and will begin to resemble one large pale spot. The ideal option for a wedding dessert is a combination of blue, pink or chocolate with white - this is a noble classic that will always look tasteful and stylish.
You can brighten the cake by decorating it with a variety of fruits and berries. A dessert looks beautiful and interesting, matched by the color to the bride's wedding dress, if she refused a snow-white dress. The design of baking must fully comply with the general style of the event. For the filling, it is best to pick up sweet and sour fruits, berries (raspberries, apricots, peaches), and strawberries and chopped nuts will be an excellent dessert decoration.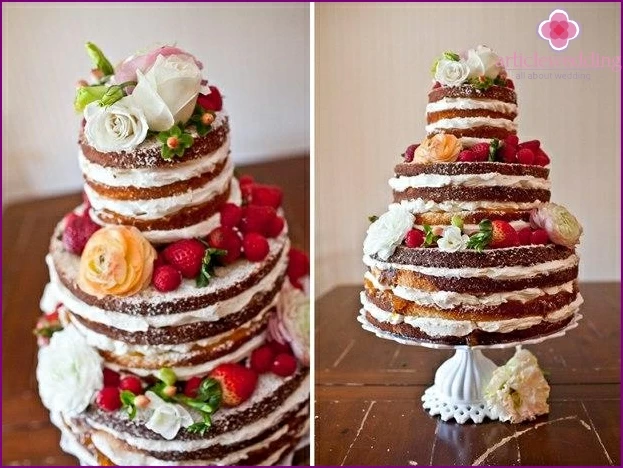 Decoration and decor in accordance with the style of the wedding
When choosing a decor for a wedding cake, pay attention to the features of different options - start with traditional fruits, as well as everyone's favorite chocolate and end with marzipans, sweet mastic. Layered desserts should be equipped with a special stand to make it convenient to cut them, and the design chosen for baking should be fully combined with the general style of the wedding and decorations. If your cake weighs no more than 6 pounds, you can put a layer on a layer, but with a larger mass it just flattenes.
To decorate both multi-tiered and single-tiered wedding cakes, in almost all cases, rings, beautiful figures of pigeons, swans, as well as newlyweds are used. If you want to make an unusual dessert, instead of traditional figures of the groom and the bride, use fairy-tale characters or give preference to modern interpretations. For example, it can be a couple of drivers or young ones on a motorcycle. Use stories and images from a life together or a common hobby here..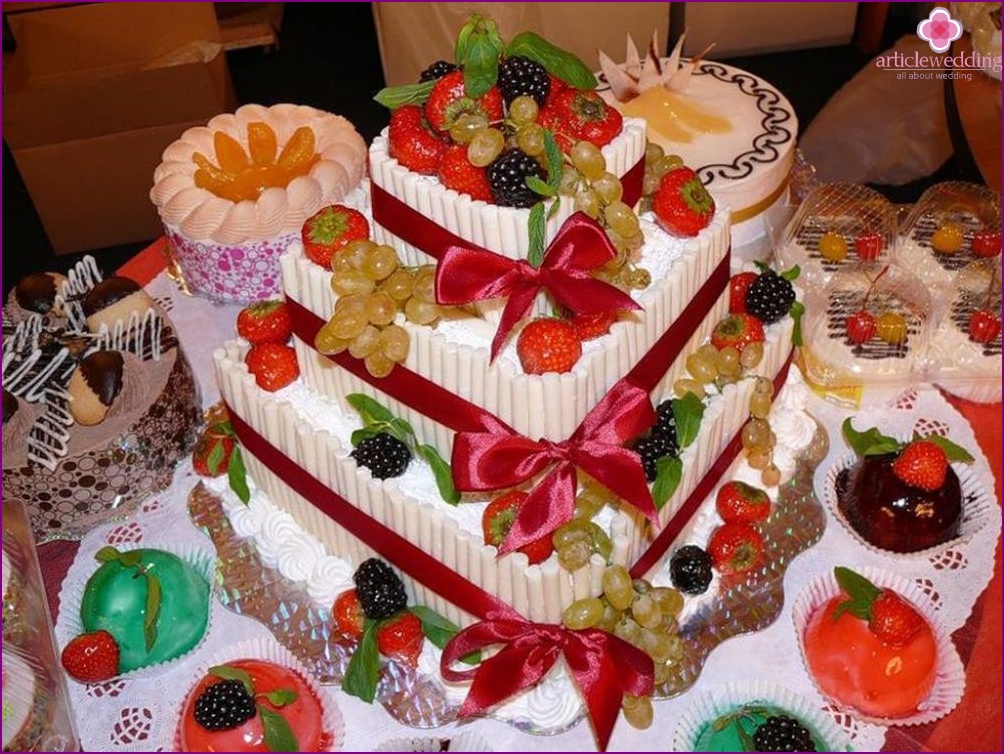 If you decide to complement the wedding cake with not only a variety of fruits, but also with figures, they will stay only on a flat, solid surface. Therefore, the top cake should be covered with sweet icing, marmalade, chocolate or other sweets that hold their shape well. Decorating a wedding cake is necessary taking into account the style in which the celebration is held - roses, bows, fruits, etc. In summer, the combination of fruits looks beautiful: apples, grapes, strawberries, currants, cherries.
The recipe for a delicious wedding fruit cake
You can order a wedding cake at the bakery, but you can also make it yourself at home. Choose an idea for your idea - sand cake, waffle, savory dessert, biscuit, souffle or meringue. To make homemade pastries not only tasty, but also beautiful, use seasonal fruits, cookies, cream, marshmallows, gelatin for decoration. To make a homemade wedding cake, you will need these products:
sugar - 425-435 g
softened butter - 1.25-1.5 kg
vanilla sugar - 42-45 g
syrup (cherry, lemon, strawberry) - 175-185 g
eggs - 28-30 pieces.
starch - 142-147 g
water - 12-16 st. l.
peach jam - 980-1000 g
flour - 415-425 g
icing sugar - 630-655 g
baking powder - 22-27 g
Cooking:
We make dough for shortcakes - take 15 eggs, separate the proteins from the yolks.
Using a mixer, beat the yolks until a thick foam forms..
Gradually add small portions of water..
Introduce sugar (235-240 g), baking powder, starch, sifted flour. All components are thoroughly kneaded until we get a lot of homogeneous consistency.
With the remaining sugar, beat the whites with the mixer (a stable foam should form), then gradually add them to the dough, knead everything very gently with soft circular movements.
For baking, we use round shapes, which should be of different diameters, so that the wedding cake is in several tiers (from the above ingredients you will get 4-5 cakes).
From the inside, thoroughly lubricate the form with a small amount of oil, sprinkle with flour so that the cakes do not burn.
Pour dough, smooth.
We bake cakes in an oven preheated to 190 degrees for about 50 minutes (periodically check the readiness of baking with a wooden toothpick or skewer).
We leave the finished cakes for a while, so that they cool slightly, then soak the halves of each portion with cherry or strawberry syrup (it can be replaced with natural yogurt, mascarpone cheese, condensed milk, sour cream).
Grease all the cakes with jam, carefully place one on one.
We take the remaining eggs, separate the proteins from the yolks.
Mix the pre-softened butter with vanilla sugar, add the remaining syrup, beat thoroughly with a mixer.
Lubricate the cake with the thick cream obtained from all sides, and to make the layer as even as possible, use a knife.
A basket of seasonal fruits gives a chance to make a varied and bright decoration of the finished cake, canned pineapple is perfect.
Using gelatin, you can fill any fruits on the top layer - it will be very beautiful and tasty.
Homemade cakes are also decorated with cream roses.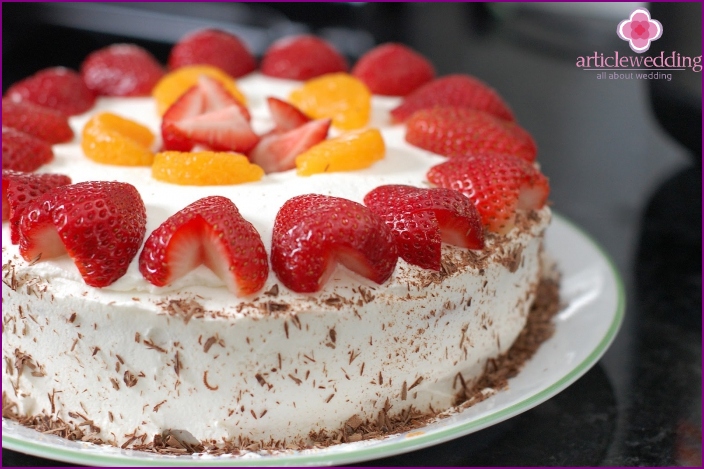 Photo of wedding cakes with berries and fruits 2016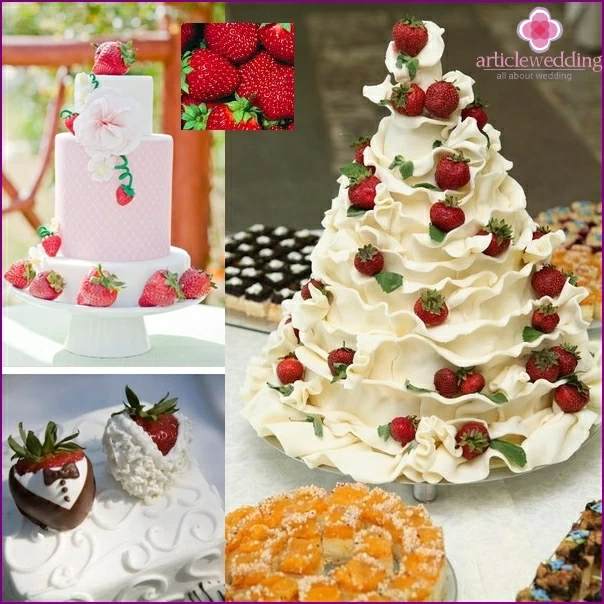 Video: curd cake with fruit without baking
To make a delicious wedding cake, you don't have to waste time baking. Use a simpler dessert option - a curd cake with fruits. For a detailed recipe and the intricacies of making such a delicate and incredibly tasty treat in the following video: