Contents
---
---
The traditional surprise that the bride makes her chosen one happy is the song. However, not every girl has good enough vocal information to sing really beautifully and to please her newly-married spouse and guests. There are many great alternatives to such a surprise. The wedding portal www.articlewedding.com presents its readers the top 5 wonderful ideas, each of which, without a doubt, will surprise all participants in the wedding ceremony.
Poetry is the language of love
A truly sincere and soulful poem, read with the appropriate expression, will not leave anyone indifferent. It is important to choose a verse that will touch your own strings of the soul, but you can hold back your tears (in no case can you spoil your makeup!). Quiet gentle music in the background will create the right atmosphere and set all guests in the right mood..
You can also try to compose or find on the Internet (the first option, of course, preferable) an acronym with the name of the groom. This is a verse in which the first letters of each new line eventually form the name of a loved one or a declaration of love. In this case, it is better to display the text of the image on a large screen so that all guests understand the surprise chip.
Do not sing, so dance!
Also a great replacement for the song. And it is not necessary to stage a complex dance, which requires a lot of time to prepare. Firstly, the bride before the wedding of the time, and so usually just barely enough. Secondly, in most cases, such a dance will be difficult to perform in a wedding dress. Therefore, an uncomplicated dance seems to be a more acceptable option for the wedding portal www.articlewedding.com, possibly in the company of bridesmaids and / or under the common favorite composition of the newlyweds.
Betting on memories
Until the marriage, a young couple experiences, as a rule, many pleasant moments. Some of them remain captured in photographs. Therefore, you can make a slide show of all the joint photos from the very beginning of the acquaintance. If you really try, then the last photo in a slide show can be a photo from the registry office. But this mission is better to delegate to another person, the bride on the wedding day will not have a single extra second.
If the bride and groom are well acquainted since childhood, you can try and find their joint children's photos. Slideshow format «15 years ago - now» will look very moving. But at the same time it will not require significant wedding expenses.
A real family heirloom will be a kind of diary of memories, where you can paste not only photos, but also airline tickets, postcards, letters (even if taken from social media archives and printed).
Documentary confirmation
Couples with a good sense of humor will love this option. This can be a comic power of attorney, diploma or letter confirming the inviolability of the bonds of the bride and groom. You can find many examples of such documents on the network, but you can show imagination and compose the text yourself, mentioning in it something that is understandable only to you two.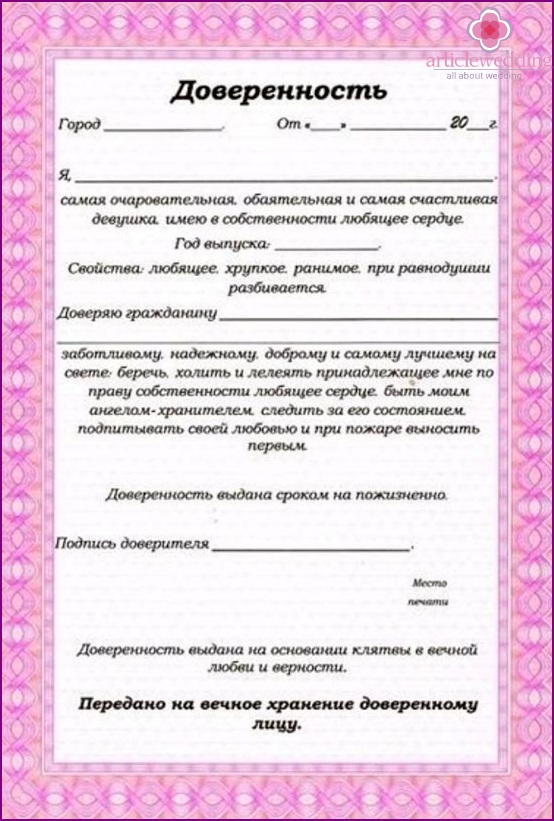 Airy romantic option
Such a surprise will suit couples in a romantic mood. It's about flying in a balloon. Of course, this is the most expensive of all the options. In addition, it is necessary to calculate at what point in the wedding ceremony it will be most appropriate to leave guests and go on air travel. It might be worth leaving such a surprise on the second day of the ceremony. Or maybe even make a balloon a kind of wedding procession? ! Be that as it may, flying in a balloon will give a lot of emotions and impressions to the newly-married spouses and will make this day truly memorable!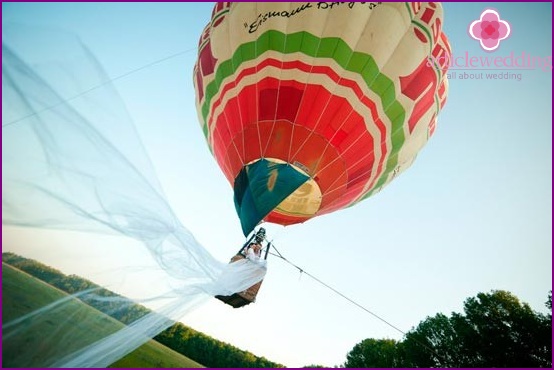 We have listed far from all possible surprise options for the groom. In this case, it is better to exercise your own imagination. In addition, each bride knows well that her chosen one will like it. However, these tips can guide you in the right direction and make an amazing surprise, giving a huge dose of joy to your beloved!