A wedding is a day when dreams come true. Many girls dream of a beautiful white wedding dress, a well-fitting and streamlined figure. But, often our life presents gifts, and it happens that the bride, getting married, bears a new life. Of course, pregnancy is a joyful event, but at the same time, it can be a bit of a chagrin, because in this situation the pregnant bride should slightly advance her dreams of the white dress of her dreams.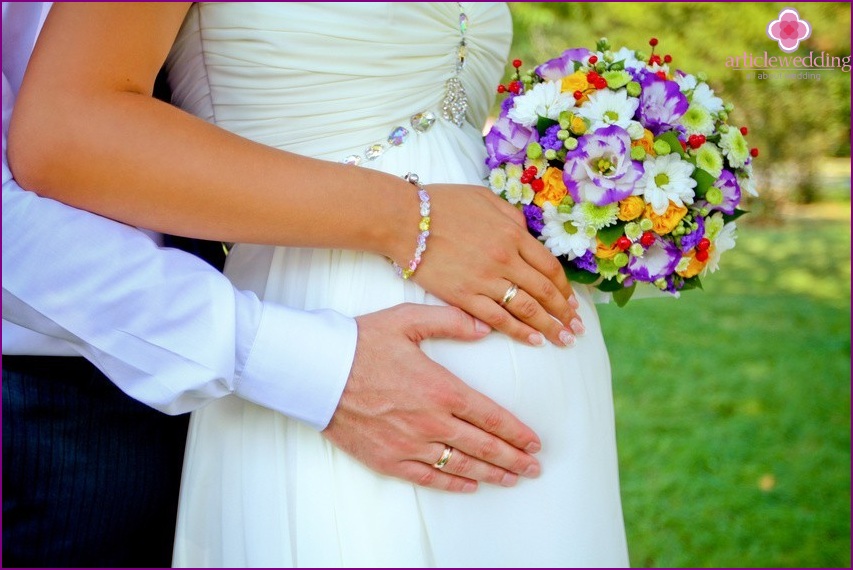 However, even when pregnant, the bride can look sexy and charming. Whatever surprise life brings you - take advantage of this.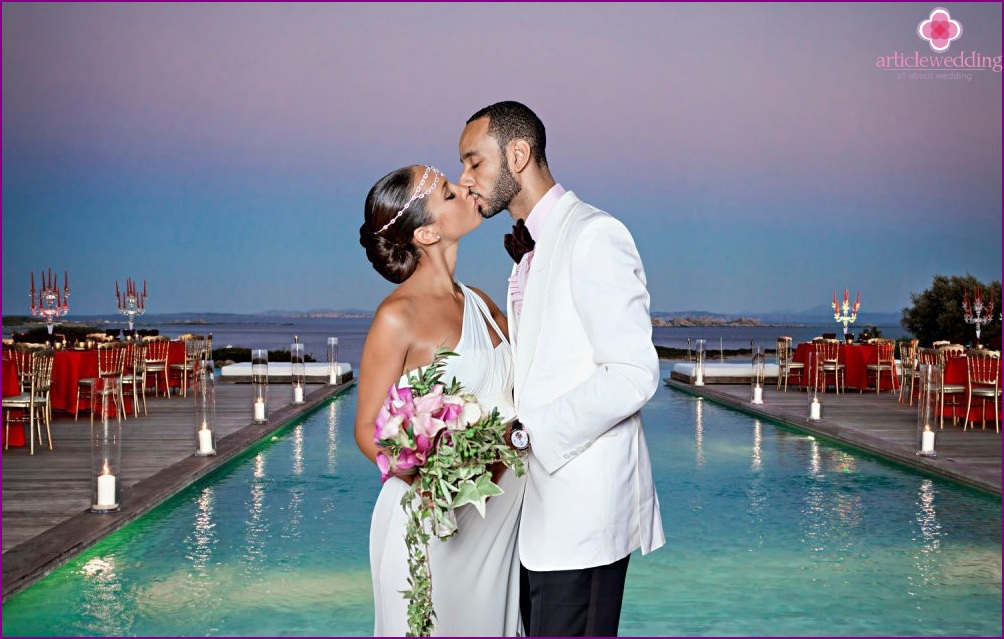 We offer you some tips that will help you in the process of preparing for the wedding:
Convenience, comfort, style. A pregnant bride is not a reason to choose, something is cheaper for herself. Not at all, the bride should like the wedding dress, but also do not forget about the convenience and comfort.
Try to choose a dress without unnecessary details (ruffles, bows, ribbons, lace inserts, anything that can visually increase the volume of your roundness). In this position, the bride is more suitable for clear, distinct lines.
Avoid too many accessories, a single string of beads, or a small pendant on the neck will elegantly emphasize it, and will create an impression of you as a person with a good sense of proportion.
Your pregnancy is not a reason to hide your body, if you have slim long legs, maybe you should wear a short dress, or you have beautiful shoulders, then try an open top in combination with a wide skirt.
Many pregnant brides, choosing a dress most often, prefer dresses in the style of the "Napoleonic era", where the waist is raised to the level of the chest. Another option is also possible, if you have a short time and the tummy is not yet visible, try dresses with an elongated waist, in this way the center point will visually drop, and the silhouette will visually lengthen.
Your waist is the center point that you should pay special attention to. A pregnant bride will look good in a dress, the image of which resembles the letter "A" - narrow shoulders, low waist, flared skirt to the bottom.
When choosing a dress with sleeves, do not overload your image with "flashlights", in this case, long tight-fitting or slightly flared sleeves are more suitable.
Using a large V-shaped neckline will divert attention from the waist. A pregnant bride is always distinguished by the size of the bust, it can also be effectively used, emphasize it with a special bra.
When choosing a wedding dress for pregnant women, pay special attention to the material from which the dress, crepe, jersey, velveteen are made - these are tight-fitting materials; their use is not appropriate for pregnant brides. Prefer lightweight, airy materials such as satin, chiffon, silk, lace.
Pay attention to the colors of dresses, do not drown out the sparkle and charm of the bride in bright colors.