Contents
---
---
A wedding is a magical celebration for two hearts in love. Traditionally, this celebration is celebrated with a large number of relatives and friends. But lush feasts with dances and competitions are not appealing to everyone. Modern brides and grooms often prefer romantic walks, as well as travel for two. The wedding, which is attended only by lovers, will allow young people to fully enjoy the holiday, spend an unforgettable day alone with each other, saving themselves from the hassle, cares and worries.
Wedding Tips for Two
To organize a wedding for two is much easier than to arrange a magnificent banquet, in addition, there are a lot of various ideas for creating a festive script. This is a great opportunity for the bride and groom to enjoy their holiday. A happy bride meets her lover in a beautiful dress that she has long dreamed of wearing. In a calm and relaxed atmosphere, the newlyweds are sent for registration. If there is time, future spouses take pre-wedding photos along the way.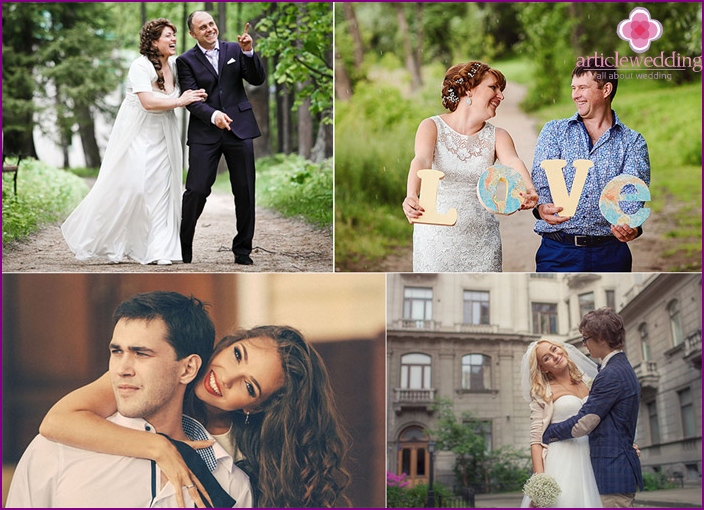 Newlyweds may decide not to order a buffet or live music. It is worth inviting parents and closest friends to the ceremony. After painting, the young go to a photo shoot, but there is a secret: having a modest wedding for two, you should not save money by ordering a cheap photographer. Invite a good professional who will be able to offer many interesting ideas for shooting. Photos for many years will leave in your memory one of the most significant days of your life.
After registration and a photo shoot, many options for further actions open before the young. Carefully analyze all the holiday ideas for two in order to finally decide how to spend this amazing day. Newly made husband and wife can book a table in a restaurant, go on a romantic boat trip or even go on a honeymoon. If the family budget allows, feel free to go to distant islands. If you don't want to spend a large amount of money, spend a magical «Honeymoon» in the lap of nature, not leaving the country.
Modest wedding options for two - photo
A wedding for two does not always go low-budget. Surprisingly, two people for a short period of time are able to skip an impressive amount. Many even take loans for this purpose. To avoid serious costs, the idea of ​​a wedding should be carefully thought out in advance. If you decide to spend this wonderful day together, there is no need to order an expensive restaurant. Go to nature, to the sea or to the mountains, order a professional photographer and arrange a festive photo shoot.
On the Black Sea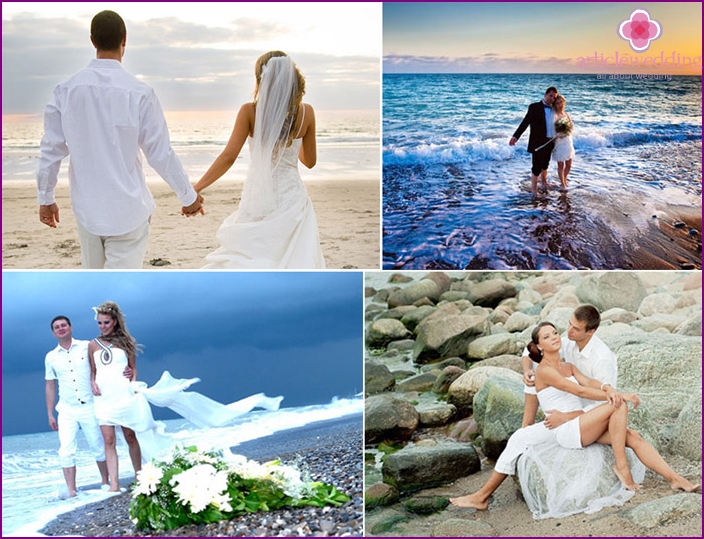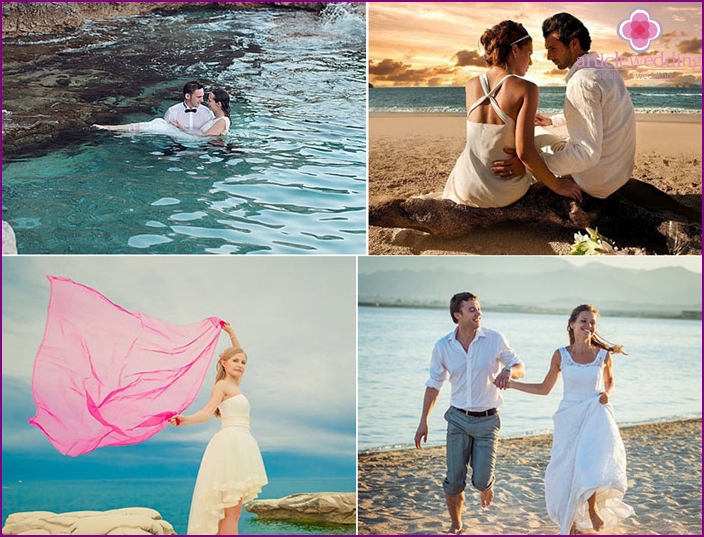 In order not to spend a lot of money, pay attention to rest in the resort areas of the Black Sea, for example, in the Crimea. The Caucasus coast is another great place to hold a wedding, and Sochi is its real gem. This unusual idea is suitable if you intend to arrange a holiday in the summer. Pre-buy tickets, reserve a hotel room - make yourself a gift. For a vacation, invite a good photographer or find a standing professional among the locals via the Internet. Arrange a true paradise vacation by capturing it in pictures.
In a country restaurant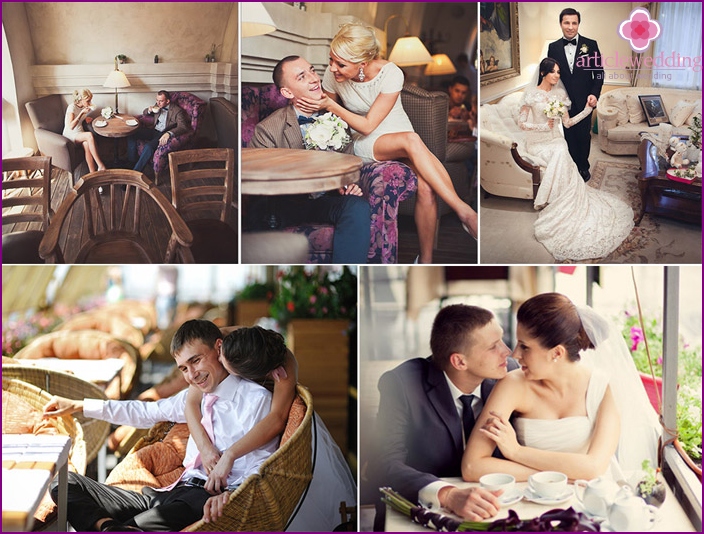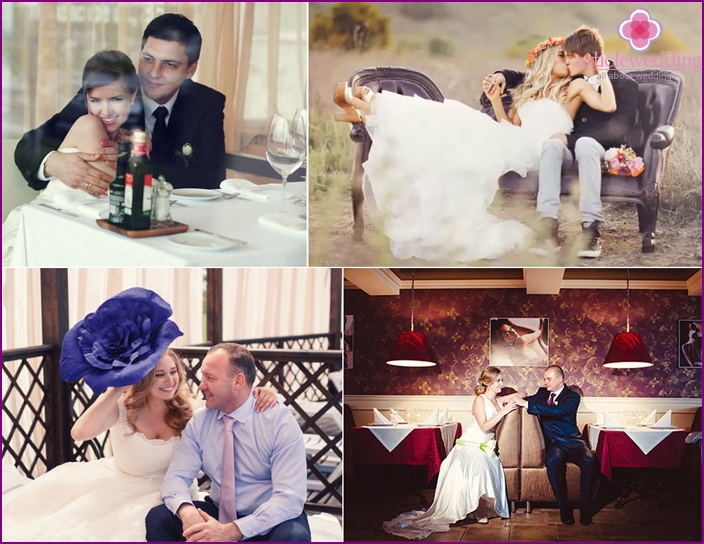 Arrange a romantic dinner for two; a country restaurant is perfect for him. Organize a luxurious photo shoot there. In advance, you should look at different institutions, having studied their interior. Consult the photographer about this idea - maybe he will tell you the restaurants or cafes where he happened to work. Pictures of a couple in love gently cooing against the backdrop of an exquisite interior are fabulously beautiful.
Interesting ideas for weddings abroad
Modern newlyweds are increasingly inclined to the idea of ​​holding a wedding abroad. The increased interest in this option is fully justified, because a wedding for two often comes out significantly cheaper, but no worse than lush feasts or banquets. According to statistics, every third Moscow and St. Petersburg family chooses the idea of ​​getting married abroad. However, before you go on your chosen route, you should study the culture and customs of the country where you are going to get married.
In Prague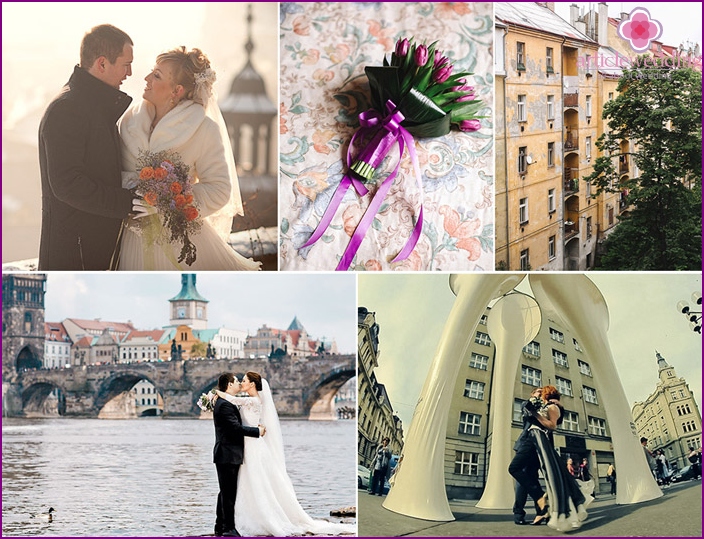 The idea to arrange a holiday in Prague is quite reasonable. The cost of a wedding ceremony and wedding in the Old Town Hall, Liben Castle or any other church is quite acceptable for any couple with an average income. Many tour operators offer ready-made packages that include not only all the procedures necessary for your wedding, but also an entertainment program for the entire vacation. The idea to legalize relations in Prague makes it possible to invite the next of kin to the ceremony.
The minus of the idea of ​​celebrating the Prague wedding for two is usually the lack of resorts and beaches. This shortcoming is fully compensated by the extraordinary fabulous beauty of this amazing city. The approximate cost of a wedding tour with the included wedding ceremony for young people will cost 2500 euros, including visas and insurance. As a result, an unforgettable romantic trip and a solemn ceremony in a stunningly beautiful place.
In Cyprus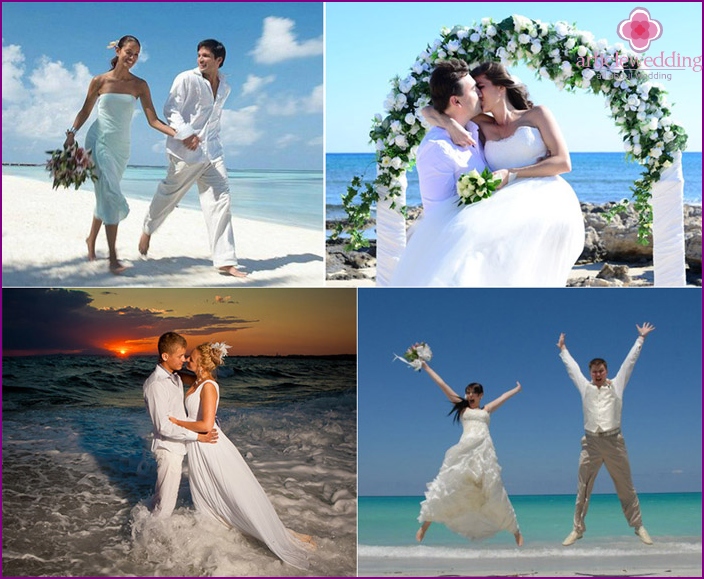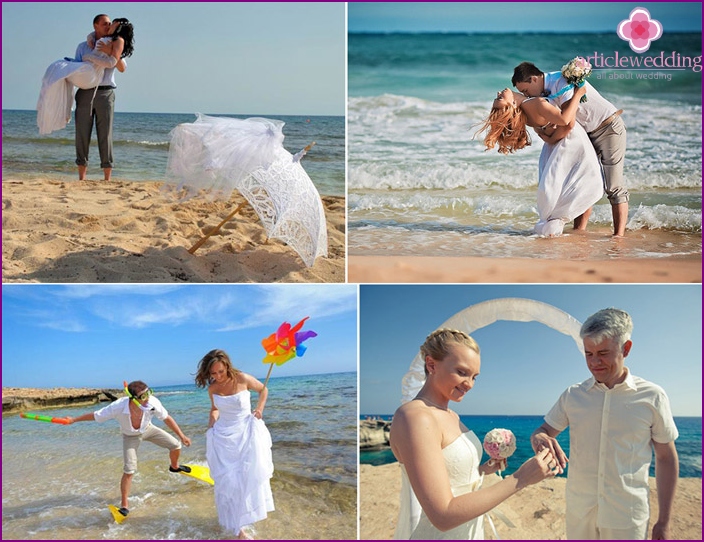 Another interesting wedding idea for two is a trip to the shores of sunny Cyprus. Picturesque landscapes, a favorable climate along with a simplified visa regime make this place an attractive option for a wedding ceremony. A short flight provides the opportunity to take a small number of guests. Many travel agencies offer a complete package of services for a wedding in Cyprus.
The very moment of the ceremony on the magnificent sandy beaches, luxury villa or on a yacht will leave a lot of unforgettable emotions and impressions. You must pre-purchase a tour or book a suitable hotel. The approximate budget that will be required to realize the idea of ​​a fabulous wedding for two is 2600 euros. The average price includes a weekly hotel stay with a flight.
In the Maldives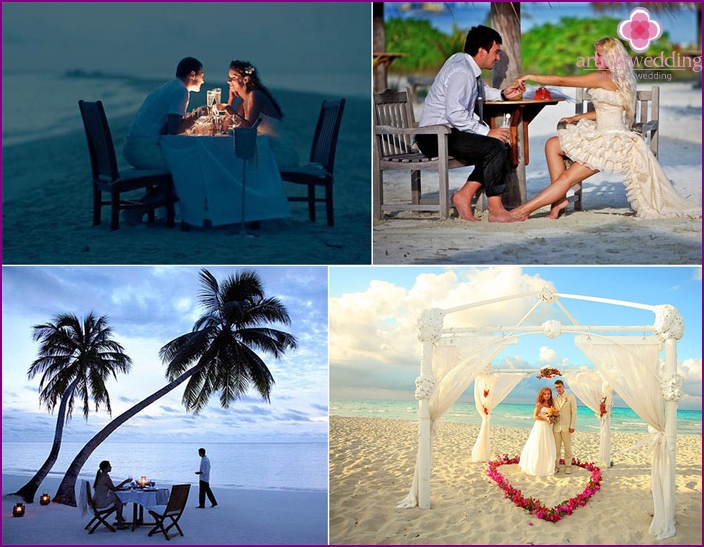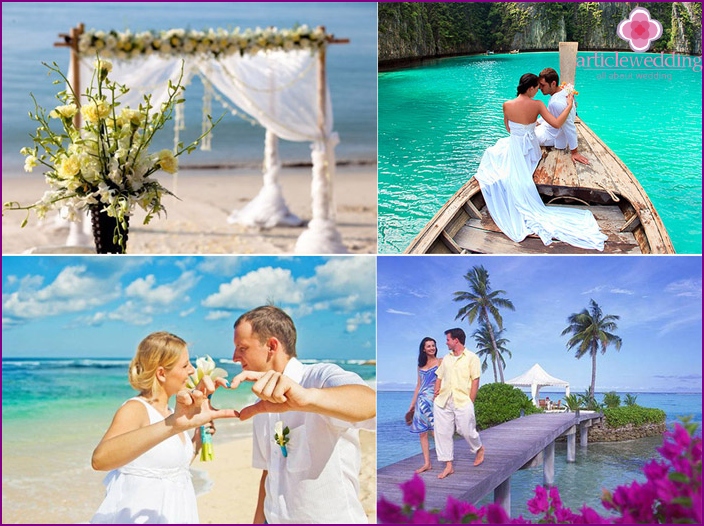 The traditional wedding ceremony in the Maldives, as a rule, involves national costumes, garlands of flowers, romantic decor for bridal rooms, a festive breakfast. The action takes place at a quaint altar located on a picturesque secluded beach. A loving couple is showered with flower petals and rice. After the newlyweds are declared husband and wife, the couple goes to travel around the island or returns, where a sumptuous dinner awaits lovers.
The cost of implementing the idea of ​​holding a ceremony for two in the Maldives starts at 700 euros. This price does not include flight and accommodation. For couples with sufficient funds, tour operators offer a full package of services, including an additional full rest with spa treatments, a certificate that provides a discount for celebrating a wedding anniversary in the same hotel. The approximate cost without a flight can be up to 3500 euros.
Video: an example of an original wedding in Paris
Paris is a city of amazing beauty, one of the most romantic places on Earth. Having a wedding for two in Paris is an ideal idea if you want to organize a real fairy tale by dedicating it to love. Many travel agencies offer full-fledged wedding tours to Paris, including a wedding ceremony, honeymoon room, a romantic walk and dinner. Watch the video to see the charm of the French bridal capital:
Where to organize a wedding, depending on the season?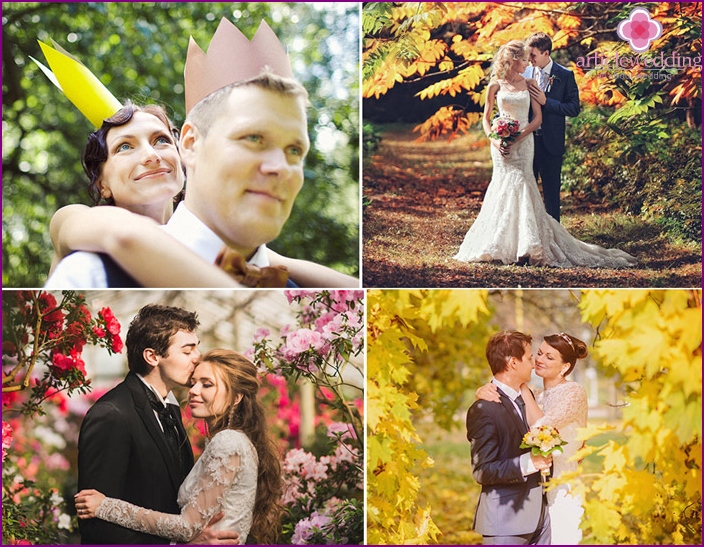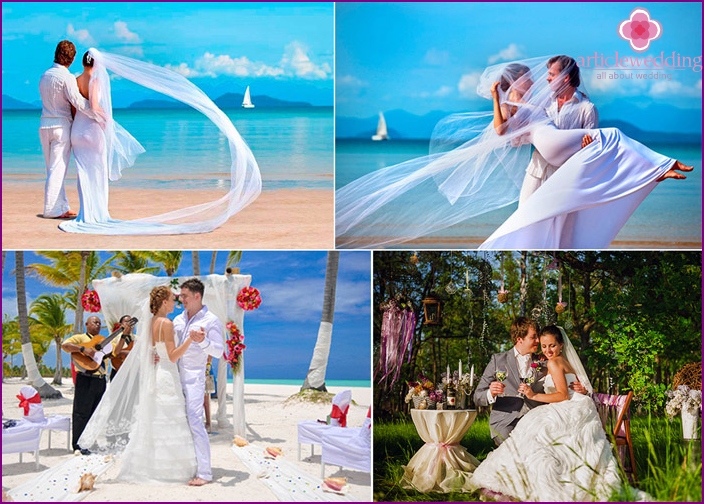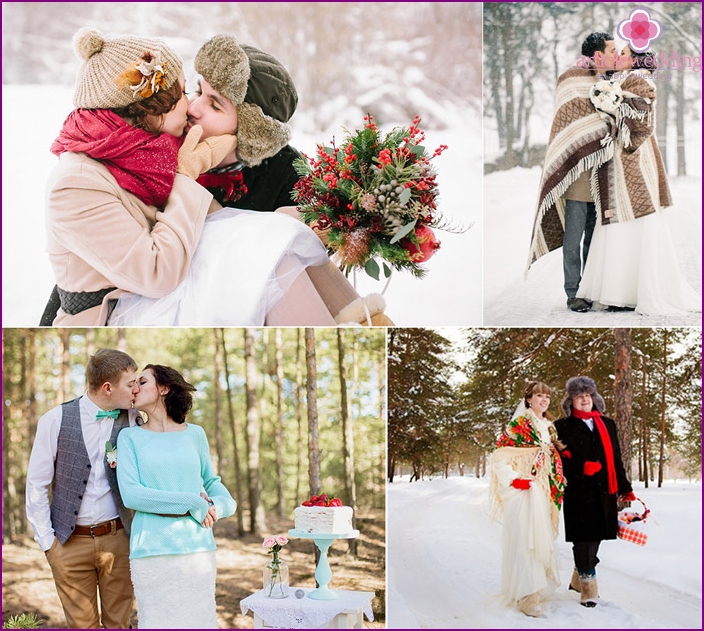 All seasons are good for a wedding. The main thing is to competently approach the organization of the holiday, to think over all the nuances associated with the realization of an idea. If you decide to organize a wedding at home without going to distant countries, it is worth considering the features of the selected season:
Wedding in winter involves a photo shoot in nature (in good weather), dinner in a cozy romantic place.
Spring symbolizes the birth of a new life, so many strive to celebrate a wedding for two at this time of year.
Summer is the undisputed leader in the number of weddings. Beautiful weather gives you the opportunity to take vivid photos, go for a romantic walk in the park or on a boat, spend an unforgettable evening on the open terrace of a wonderful restaurant.
Autumn is an incredibly beautiful time of the year in itself. Beautiful bride with her beloved groom surrounded by golden foliage - a stunning frame for a wedding photo.
As for the idea of ​​going on a wedding trip, then you should consider the season of the year. For example, in the Czech Republic, clear sunny weather will be in April, May, June. October and September are especially popular among newlyweds. July is likely to be too hot. A wedding for two in Cyprus can be arranged from mid-March to early November. During this period, the island will be warm and sunny..