Contents
---
---
Girls with a stylish short haircut can sometimes find it difficult to choose their hairstyle for the celebration. Despite the fact that the most options for long-haired girls, wedding hairstyles for short hair can also be varied and interesting..
How to choose a wedding hairstyle for short hair
To have a wonderful look on the day of the holiday, be guided in choosing a hairstyle on the shape of your face and the entire wedding image in general:
Brides who are fortunate enough to have the right facial features will do almost all of the options. It is also necessary to take into account the dress - if it is complex, with many details, it is better to lay the strands as simple as possible and vice versa.
For girls with a high forehead, options with bangs are suitable.
Wide-shouldered ladies need all kinds of curls and curls.
It is important to choose the right makeup for short hair. The main thing is naturalness.
If you want to appear at a wedding with long curls - do not despair. False hairpieces, hair extensions or even beautiful wigs will help you look the way you want.
Types of Hairstyles
Although there are fewer options for wedding hairstyles for short hair than for long ones, their owners will still have a wide choice. Depending on how the strands are stacked, a girl with a short length may look playful, elegant, bold, touching or innocent. A variety of suitable accessories.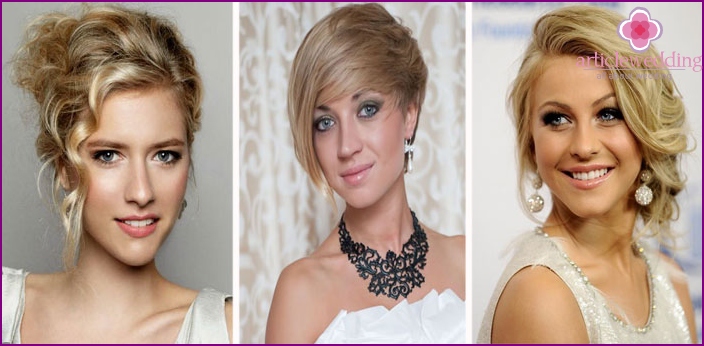 With a bang
Girls with bangs look flirty, and sometimes even childish. This option for wedding styling is suitable for any dress. Straight bangs will make a vintage babette, asymmetric oblique will add romanticism, torn - playfulness. Small accessories are good for bangs - hairpins, tiaras, as well as a fluffy short veil.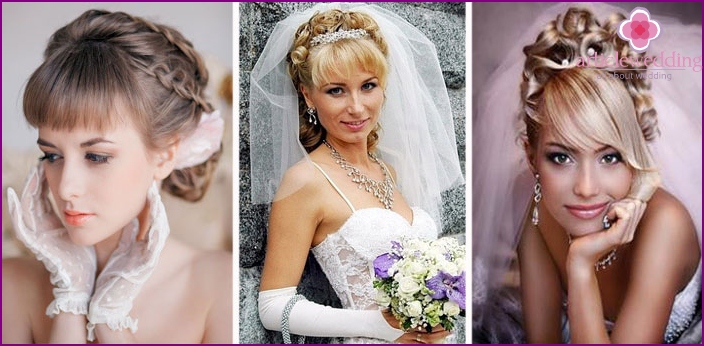 With veil
A veil is one of the main accessories for a wedding. It is worth choosing her, based on the bride's outfit - there are no restrictions in length and splendor. The main thing is that as a result, between all the elements of the outfit, a harmony is obtained.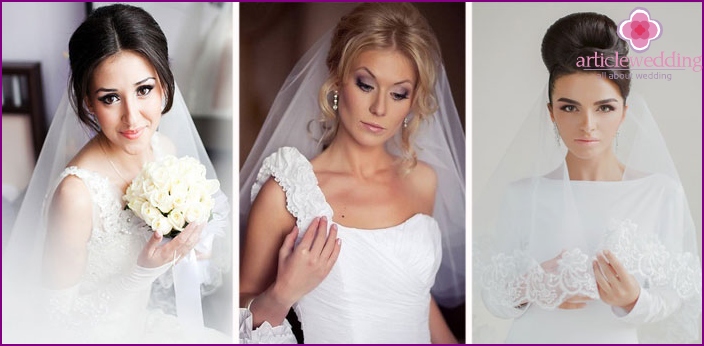 Elegant
Elegantly on short hair, a shell-style hairstyle in retro style or neatly laid out strands that open the neck and face of the bride will look. To do this, rinse them well, dry them, apply mousse and put in a hairdryer, as you like best. Some of the hair will be well pinned to the side and decorated with a flower bud. There should be a minimum of jewelry, the emphasis is good to make on large earrings, and you can refuse the necklace.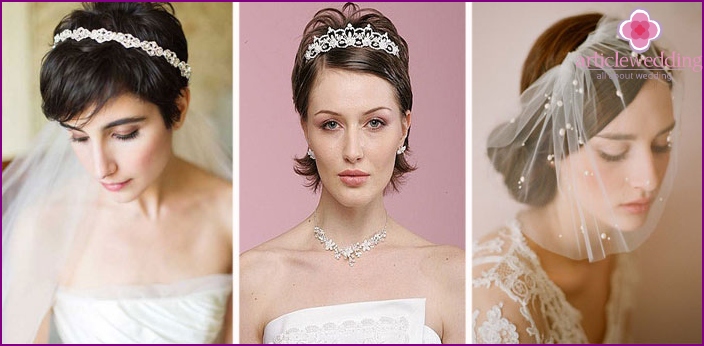 Romantic
To create a gentle, romantic image, you should use all kinds of curls that frame the face. It is best to wind them on special rags, but a curling iron with curlers is also suitable (this option is ideal for large volumes). Openwork wedding hairstyle with curls will also add romanticism.
Impudent
Previously, a short haircut was considered unsuitable for a woman, and therefore the girls who choose this option are rarely called complaisant. To emphasize their rebellious spirit, brides can turn to cheeky hair styling.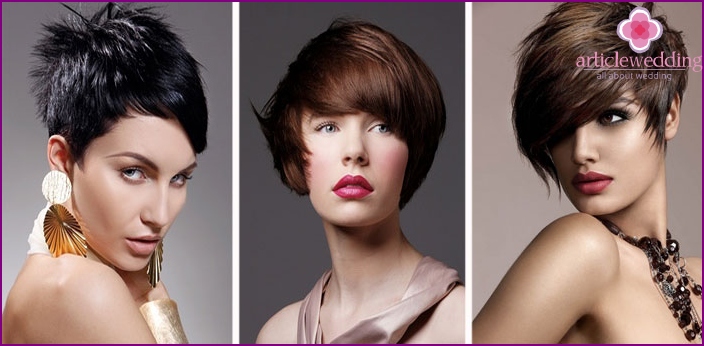 With fleece
Many wedding hairstyles are made with fleece, which gives volume to the hair. This option is suitable for those who try elegant options in a vintage style - bangs, if any, are stabbed to the side or hidden back, and a comb is combed at the crown. Extra volume will also help give the hair dryer a diffuser..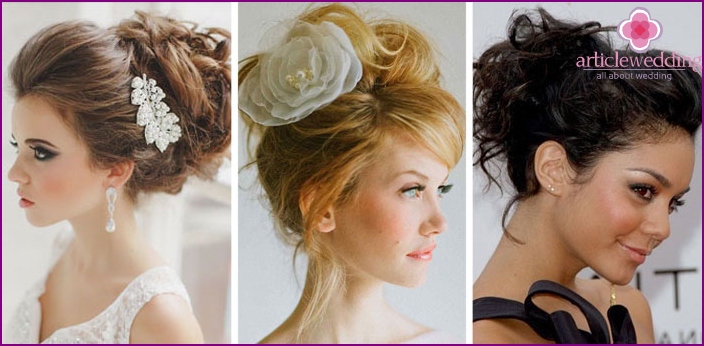 Retro waves
Retro waves were in fashion back in the twenties, but now girls with such a hairstyle look in a new way. Hairdresser styling hair with mousse or gel. The second remedy helps create an effect. «cold wave». Well, accessories with feathers and large stones, studs are suitable here..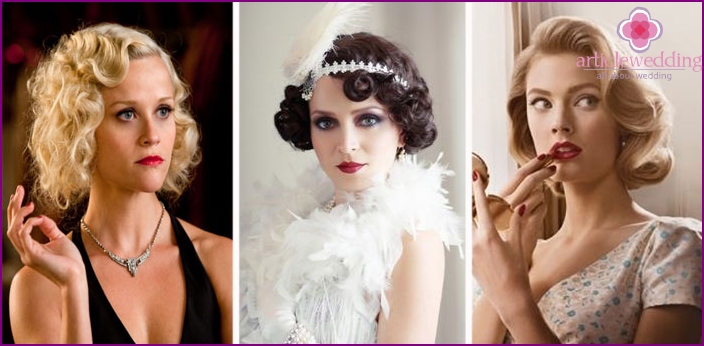 Stylish styling
A variety of stylish styling will help the bride look amazing. Original decisions depend on the skill of the master and on the desires of the girl. Straighten your hair with an iron or make an unusual parting, divide into strands, gently brush the ends with wax to give them a natural look. A popular bob-haircut with a parting on the side and creating volume at the roots turns into a real masterpiece. Looks great on short haircuts «feathers», where some strands straighten while others curl.
Original waving
Stylists learned to make curls not only to long-haired ladies. A beautiful curl is easy to achieve with short haircuts. For example, «flower» represents wound hair, which is collected on the back of the head in the form of a flower. Even the curls that are wound on the top of the head with a normal curling iron, an experienced master can gracefully lay on his head.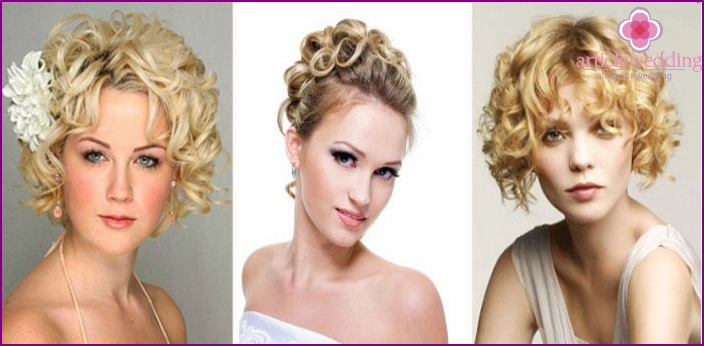 Hairstyles for curly hair
Some girls consider naughty curls a curse, but there is nothing more romantic than neatly styled curly hair. With them, try an interesting weaving at the back or just give the curls a shape and fix with varnish. If you want to hide them at a celebration, ask the stylist to make a smooth hairstyle by straightening your hair with an iron or smoothing it with gel.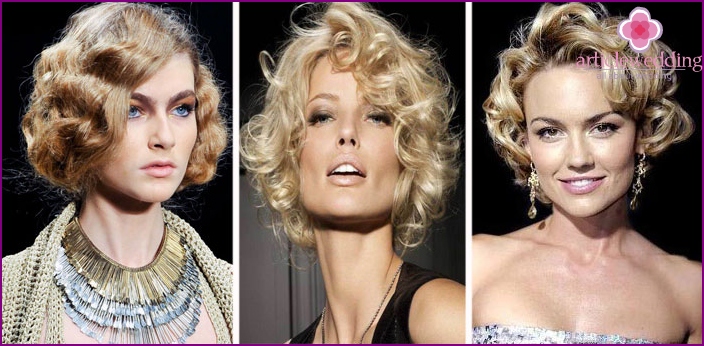 Using accessories
Accessories will add charm to the short length, but you need to use them wisely. Minimalistic options without a lot of details will do. Large elements will look good on hair, but only in small quantities.
Caps caps
This hat is a classic headless hat. This option will add elegance to the bride..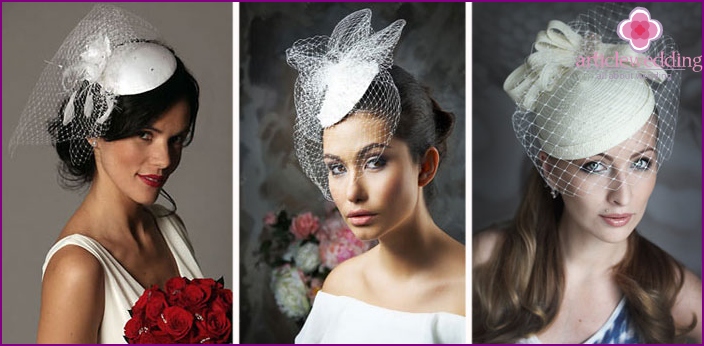 Voilets
Veil - the same «tablet», only with a veil covering part of the bride's face. She is perfect for short-haired girls and adds retro chic to the image..
Headbands and Hoops
These accessories will make the image of the hero of the occasion cute and enjoyable..
Wedding bandages and elastic bands
Headbands and elastic bands look great both on super-short hair and on elongated squares, curled by waves.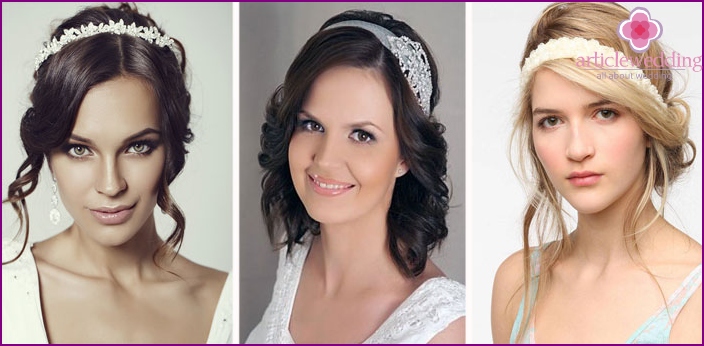 Tiaras
The diadem is a universal decoration for a festive day. She makes the bride a real princess. Remember that for short hair it is better to choose tiaras, not «overloaded» the details.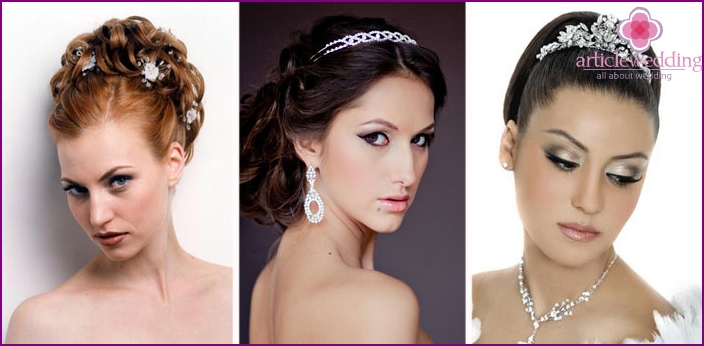 Barrettes and combs
Properly selected hairpins and combs will suit any party for a celebration.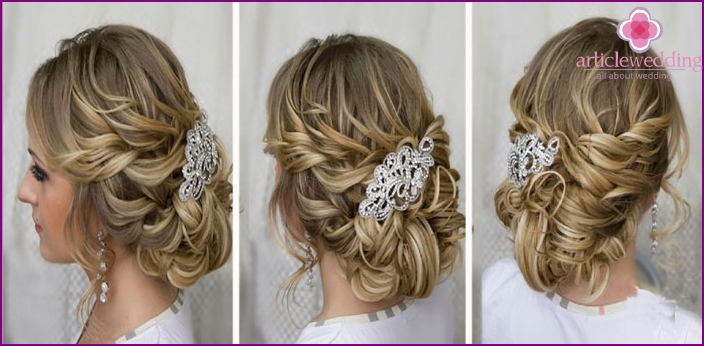 Flowers
Flowers emphasize the femininity and tenderness of the girl. It is better to use one large flower - it can be real or decorative.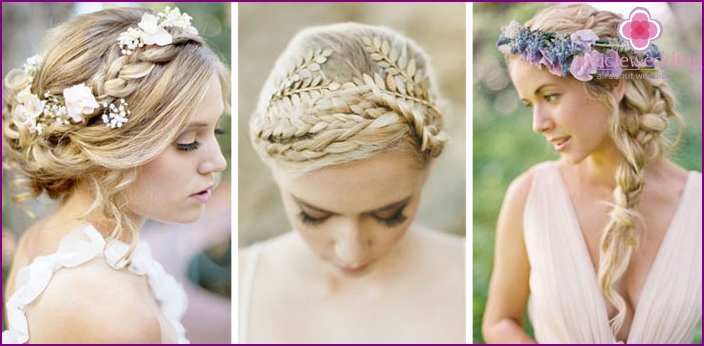 DIY hairstyles
Short hair makes it easy to make beautiful hairstyles with your own hands.
Gentle curls for short hair in the video:
Volumetric braid for elongated caret:
The owner of short hair should take care of the wedding hairstyle in advance. To choose the perfect option, you need to determine the style, and then make a trial version at the hairdresser.
Tell us in a comment which wedding styling you like. If you have short hair, what hairstyle will you make for your wedding??