Contents
---
---
From ancient times, the bride's head was decorated with various accessories. A wedding wreath is the oldest decoration of a newlywed, which always remains in fashion. It is designed for gentle bride dreamers. A wreath is used as an attribute for a festive hairstyle and at the same time as a fixture for a wedding veil or completely replaces it. This is an important accessory that, together with rings, a dress, creates a charming, unique image of the bride.
Options for wedding wreaths on the head
In ancient times, a crown adorned the head of every bride. It was a sign of girlish beauty and chastity, only immaculate girls were allowed to wear it, and after the wedding, the crown was launched into the water, as a symbol of departing innocence. In the old days, wreaths were decorated with wildflowers, leaves, and spikelets of wheat. Now the golden hands of professionals make wreaths of living or decorative flowers, delicate lace, satin ribbons, crystals, beads, beads, rhinestones, light feathers.
From fresh flowers
A unique attribute that perfectly supports the overall style of the wedding is a wreath of fresh flowers on the head for the bride. According to tradition, an ornament on the head was woven using flowers symbolizing love and romance, evergreens were often added to the composition. If at the wedding your decoration in your hair will be fresh flowers, pay attention that they harmonize with the bouquet in terms of its content and color palette. For the manufacture of a headdress on the day of marriage is suitable:
Bush rose. The ancient Greeks revered this flower and showered the newlyweds' bed with its petals, rosebuds were also used to create hair wreaths. A headdress, in which bush roses are woven, will be the most successful choice for short girls. The height of such jewelry reaches 10-15 cm, which visually lengthens the growth of a miniature bride.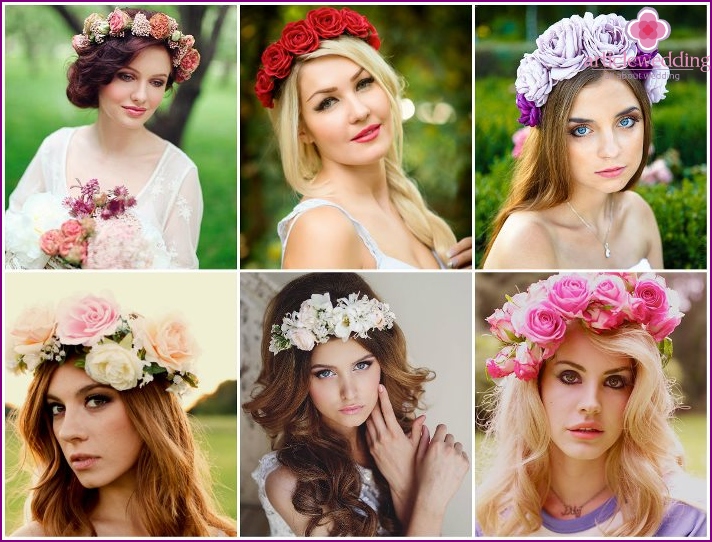 Spirea. Using the flexible long branches of this plant with densely strewn with tiny white flowers, it is easy to make an original wreath. You need to roll only one escape in the form of a hoop.
Composition with miniature flowers and berries. Hair decoration with viburnum, barberry, mountain ash or other bright fruits and small flowers is a custom dating back to the ancient Slavic peoples. The combination of twigs of red bright berries and small flowers gives a special touch to the image of the bride.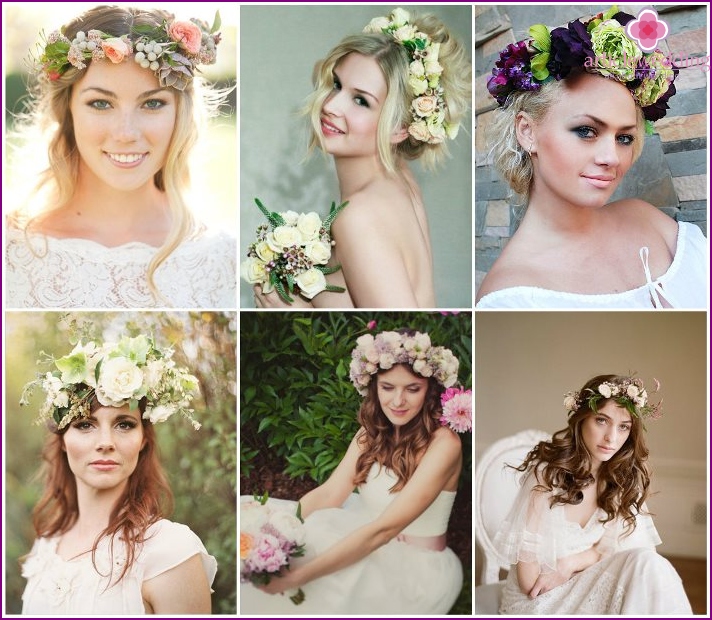 Wildflowers. A voluminous wreath of daisies, rue, mint, and ears will emphasize the gentle image of the bride.
Gypsophila. A wreath with this flower symbolizes purity, tenderness. The plant is very resistant, lasts in excellent condition throughout the holiday. These flowers are suitable for girls with a nice little delicate face. Gypsophila snow-white inflorescences are small in size, therefore, they are well suited for complex wreath compositions.
Alstroemeria. This flower will give the image of the bride sophistication, elegance.
Made of artificial flowers
In the fashion world, a wreath with artificial decor is gaining more and more popularity. It looks original, almost does not differ from a wreath with fresh flowers, it is worn even after a wedding. Such a hair ornament is made in the form of a crown for the entire hairstyle or several large flowers. The trend is wreaths of light, pastel shades. Decorative buds come in various sizes and shapes. You can also play on the color scheme of artificial materials - choose a decoration to match the shade of a wedding dress or make a bright contrasting accent.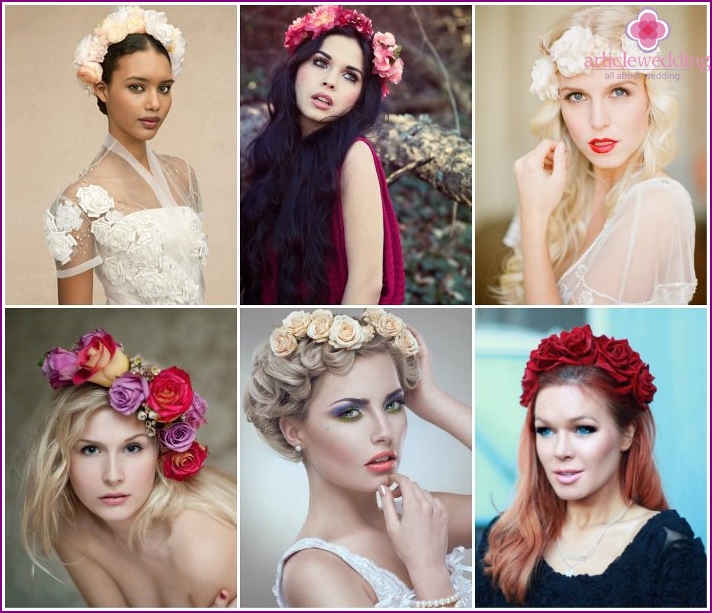 Of feathers
Wreaths of hair with feathers are able to create several images at once: exquisite and delicate, shocking and daring, pompous and modest. With such an extraordinary and bold accessory, you are sure to attract the attention of guests. It is luxurious, comfortable, beautiful. A wreath with feathers, complemented by jewelry or flowers that is consonant in style, will help bring the culmination to the image of the newlywed and give him a highlight.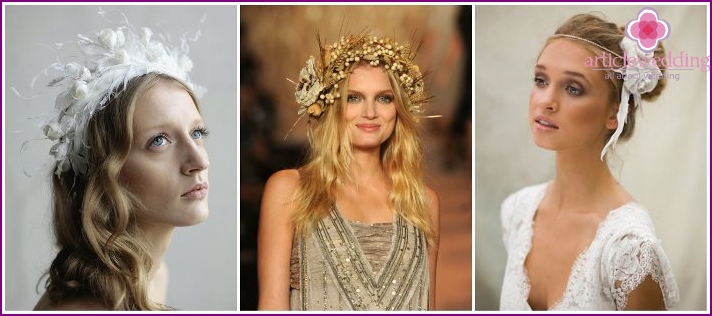 From satin ribbons
Wreaths with satin ribbons look very sophisticated and aristocratic, the color scheme of which matches the tone of the bride's dress. A ribbon for a wreath is used both as a basis and as an element of decor with flowers or other decorations. Using it, you can make flowers, bows. To create such an accessory, use narrow and wide, dense and medium density ribbons.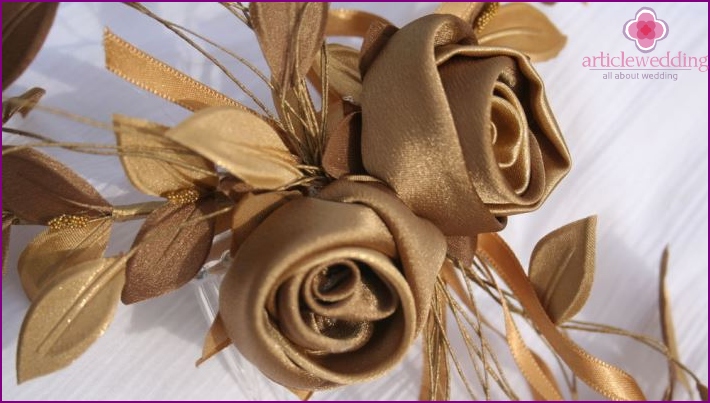 Ukrainian style wedding wreath
National wedding dresses of Ukrainians are famous all over the world for embroidered ornaments and flowers. Ukrainian women's wedding dresses amaze with their beauty, and no less chic Ukrainian wedding wreath with fresh wildflowers and ribbons covers the bride's head. Traditionally, the crown is considered an important symbol of the Ukrainian people. There is even a special list of elements that must be in the product.
A wreath was woven using twelve flowers. Each had his own interpretation:
marigolds - a symbol of magnificence, devotion;
immortelle - good health;
viburnum - youth, cheerfulness;
lovage - fidelity;
mustache of hops - smartness;
poppy - sadness for one's beloved;
chamomile - girlish purity and humility;
yarrow - rebellion;
forget-me-not - devotion, stability in a relationship;
periwinkle - means the love of life and the immortality of the soul;
cornflower - girlish beauty;
mallow - hope;
pionia - love;
rouge - faith.
In addition to flowers, the Ukrainian wreath is decorated with multi-colored ribbons, which should protect the bride, from the evil eye, and diseases. They are woven into the crown in a certain sequence:
First, they knit one light brown ribbon in the middle - as a symbol of the earth.
One yellow ribbon is tied on each side of the brown, which means the sun.
Next on both sides knit green ribbons, symbolizing youth, beauty.
Then blue - a sign of sky and water.
Further orange means bread.
Behind them are purple - a sign of wisdom.
The following raspberries mean honesty.
The last to add pink ribbons - welfare.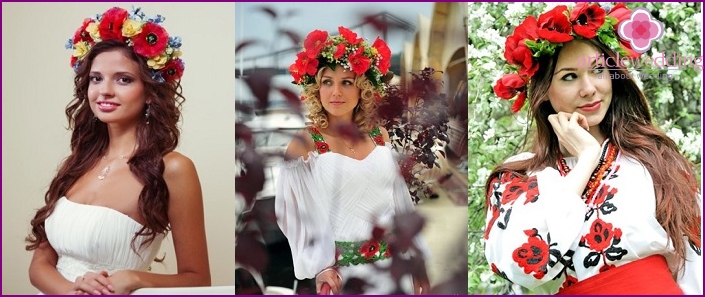 Decorated with beads or rhinestones
Stylish crowns are used in place of a crown for a magnificent wedding, made with the addition of accessories in the form of natural stones, rhinestones, beads, sparkles. A wreath inlaid with pebbles and rhinestones will be an ideal decoration for a bride who wants to feel like a princess. No less stylish this attribute looks if it is decorated with beads. The crown for decorating hairstyles, like other wedding accessories, is selected taking into account the style of the bride's dress.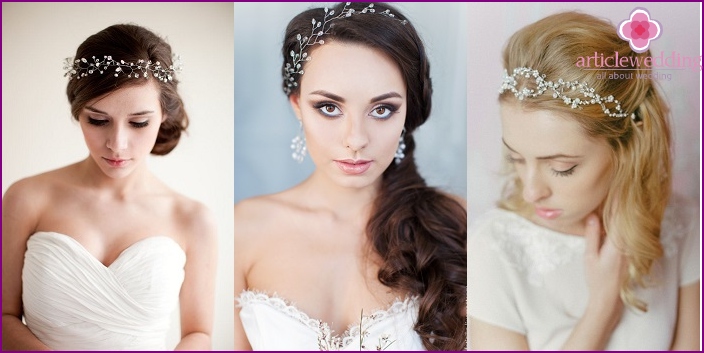 Stylized wedding wreath
The crown is a necessary detail for creating the perfect image of the newlywed at themed weddings now popular:
Classical The crown in an aristocratic style is suitable for a newlywed who prefers a conservative marriage, without unnecessary decor and innovation, but with carefully thought out little things. The image of a young woman with a wreath in this style is charming and refined. For decoration, cloves, berries of hypericum, gypsophila, ranunculus are suitable.
Kartri. For such a wedding, a wreath with flowers of lemon, peach and orange tones will be appropriate. It is advisable to add ripe spikelets of wheat or rye to its decor..
Rustic. A wedding in this style is simple and restrained, and therefore it is best to use ruscus, succulents, limonium or tanacetum for a wreath.
Boho. For a forest wedding ceremony, the ideal solution would be voluminous bright crowns of a shade of burgundy and a light, airy dress like a fairy fairy. In the decor of such wreaths, it is customary to use buds of roses, peonies, wildflowers, leaves.
Shabby chic. Velvet and sophisticated peonies are best for the bride who has chosen this elegant direction..
Wedding in color. Now it's fashionable to choose a ceremony stylized in a certain color scheme: red, blue, blue, white. An excellent addition to such a celebration will be a crown with flowers or decorations that will match the theme of the ceremony.
In the Greek style. At such a wedding, the bride can use hair wreaths with laurel leaves, real or artificial flowers, and a gold rim. Greek-style wreaths decorated with rhinestones, beads and beads..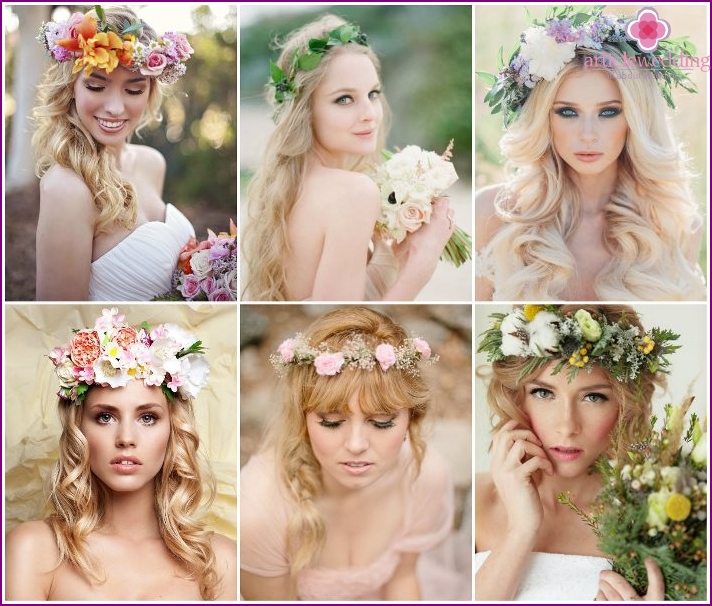 Which wedding dress will suit
When choosing a wreath, it is important to take into account the proportional ratio of the volume of the headdress and the wedding dress:
Choose a wreath with large buds for a magnificent dress.
To a straight narrow dress, more modest small flowers will fit.
In combination with a dress «Empire» or «A-line» a miniature wreath with small flowers or one large bud will look great.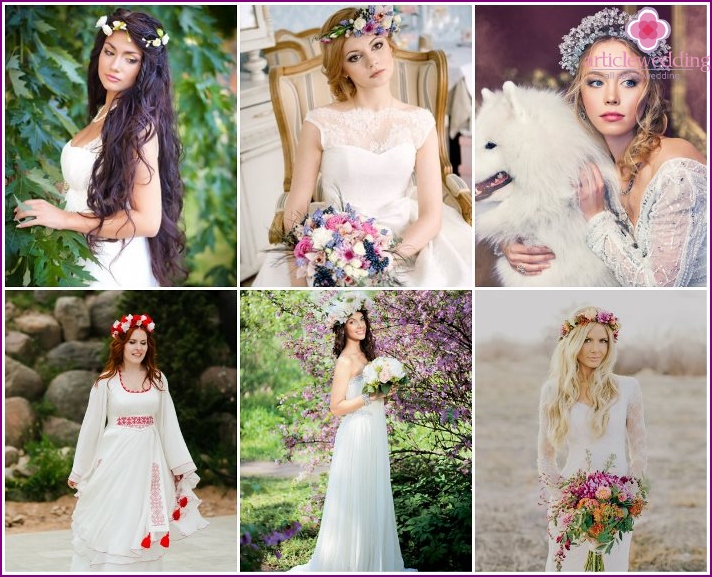 Wedding hairstyles with wreaths
When creating the image of the bride, a lot of attention is paid to the hairstyle. It is important that all elements are in harmony with each other. First of all, you need to consider the length of the hair:
Long curls. A suitable decoration for such a hairstyle is a voluminous or magnificent wedding wreath. To create a more romantic look, put it on top of the veil. Owners of long hair should not wear small wreaths, buds should be medium or large.
Greek style hairstyle or bunched hair. In this case, not too voluminous decoration is selected or rhinestones and beads are used instead of flowers on the wreath.
Long loose hair with pigtails. In this hairstyle, fresh flowers are woven into a braid and create a crown.
Short hair. Suitable for such a hairstyle would be a decoration of several flowers or lace ribbon with a small flower bud on its side.
Medium length hair. Here, compositions with delicate medium-sized inflorescences will be more suitable..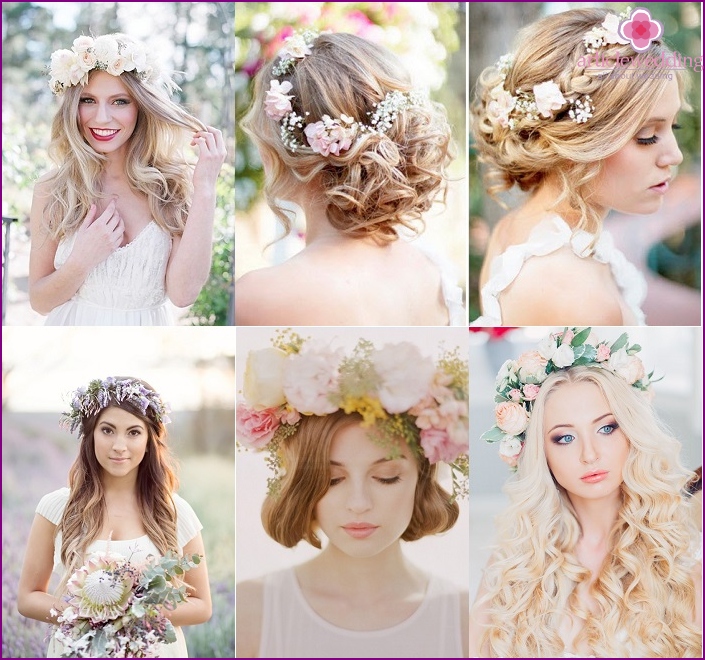 DIY video tutorial on making a wreath
Wreaths decorated with fresh flowers are very popular. Handwork is very much appreciated. If you want to impress the invited guests with an original floral wedding wreath, watch the video workshop below. Using this example, you will learn how to easily create beautiful wedding decorations without much financial cost..
Photo of wedding wreaths on the head for the bride
Stylish beautiful wreath is an integral accessory of the wedding image of a modern bride. It symbolizes infinity, purity, purity, and the flowers and other decorative components woven into the product can tell about the feelings that the newlyweds have for each other. The variety of such jewelry is amazing. They look very harmonious in an ensemble with a wedding dress, creating a single style for the bride and groom. Now it is not only a traditional attribute, but also a fashion accessory that pompously looks at wedding photo collages.