Contents
---
---
At the wedding, every bride dreams of being unique, attractive, real queen, so it is important to think over every detail of the image in advance. Original wedding hairstyles help create a great look. When choosing them, you should focus on current trends and individual characteristics of the girl: face type, skin color, dress style. It's possible to create the perfect wedding hairstyle only on healthy, well-groomed hair, so it's worth to restore it in advance.
Options for original hairstyles for long hair
Long hair provides a huge scope for imagination. In this case, the bride can afford a lot of fleece, weaving, curls, braids, bunches, etc. If the volume and length allow, you can leave them loose, which looks very impressive. Collected wedding styling also looks great and retain their shape throughout the day. Whatever original option you choose, stylish accessories will add originality and zest. When choosing a wedding hairstyle, it is worth considering such moments:
Bride's growth - voluminous hairstyles are suitable for miniature ladies, and sleek, sleek options should be avoided. For tall brides, splendor is contraindicated.
Structure - not heavy wedding hairstyles are recommended for thick, coarse hair, and owners of thin ones can not limit themselves.
Forehead shape - bangs will hide an elongated forehead, and with a short forehead, it is better to lift and comb the hair on the back of the head.
Facial features - curls, waves are suitable for girls with small facial features, and smooth hair will hide roughness.
It is better to choose styling products of high quality, professional, which will ensure reliable fixation, and you won't worry that the original hairstyle will fall apart during photography or at another crucial moment of the celebration.
The wedding hairstyle should have the durability of a tin soldier, because it is much more difficult to correct it than makeup.
The styling should be comfortable, because if the studs and invisibility painfully dig into the head, you feel heavy, then there can be no talk of convenience. In this case, the holiday will be ruined in two hours, when you have a headache.
Naturalness is relevant - no varnish, wooden curls. Curls should be airy, neat, clean..
Volumetric curls decorated with flowers
Volumetric curls with floral decorations look stunning, creating an image full of romanticism. With the help of tongs, curlers, you can make any curls that will look beautiful and spectacular. You can leave them in the dissolved form, or comb them to the side, collect from behind a beautiful hairpin-crab. Flowers fit perfectly into such a romantic image, emphasizing the tenderness, youth, fragility of a girl.
If your hair is lush, thick, you should give preference to modest, sophisticated buds of small size. It is better to refuse large flowers, otherwise the image will look disproportionate. If live buds are used, then contact a florist who is able to purchase copies that will not fade during the whole holiday and will not lose their splendor. As for the color scheme, in most cases pink, beige, white flowers are used. In addition, they must be in harmony with the bride's bouquet.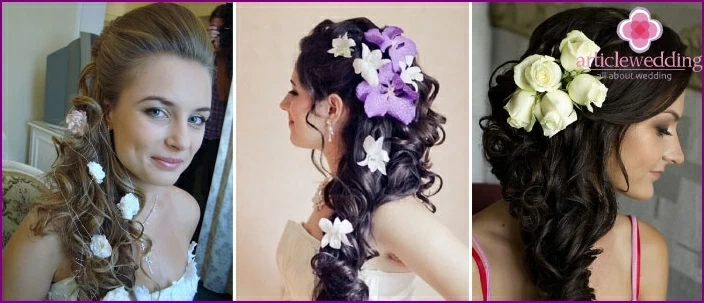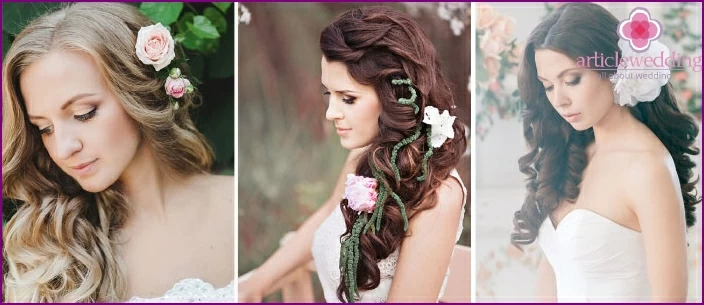 Hollywood curls on your side
Hollywood waves are a reference image, an immortal classic that excites the hearts of many brides. The well-known styling of film heroines of the 40s of the last century is found on modern world-class stars. Such a wedding hairstyle is easy to create. The classic version - the waves falling on one side, harmonizing with the oblique parting. For such a styling, it is important to choose the right bright makeup and stylish dress in the spirit of Chicago. It is allowed to decorate the original styling with beautiful hairpins, fixing creases, headbands, stylish dressings.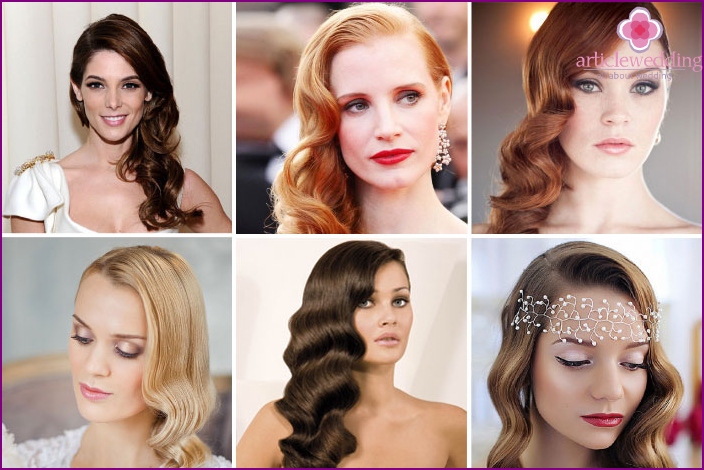 Bulk Hairstyle
A voluminous wedding hairstyle with a bun is a practical and at the same time beautiful choice of the bride. This style removes hair from the shoulders and face, securely fixes them, looks elegant and stylish. The bundle can be very different, so let's figure out which original wedding hairstyle will be in harmony with your dress:
The outfit of a laconic, minimalistic cut gives an elegant accessory to the hairstyle, which can be played by a headband, flowers, a beautiful hair clip, a string of pearls, feathers.
A satin, satin dress or made of another smooth fabric, harmonizes with a strict shiny, smooth beam, but at the same time it should be given volume.
If there are lace elements on the wedding dress, then the bunch will look beautiful with an accessory that resembles or repeats the pattern.
Very voluminous beam looks good with a fluffy skirt.
If the garment is made of lightweight material, then the bundle should be a little careless.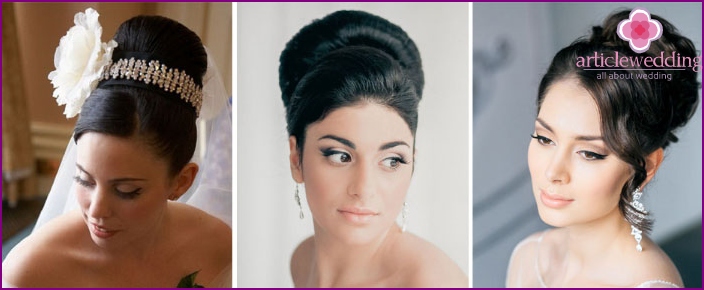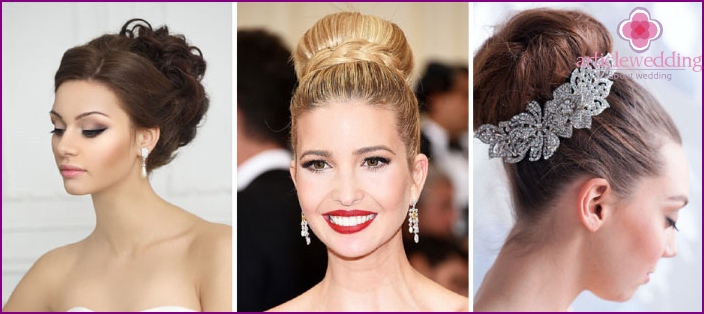 Medium Length Wedding Hairstyles
On medium hair, the most lightweight, successful wedding hairstyles are obtained, according to stylists. This is due to the fact that this length perfectly fits into a variety of buccles, babets, bunches, braids, curls. On the average length, original masterpieces of any direction, performance technique are easily created. When choosing a hairstyle, you should rely on the style of the outfit. This rule should be strictly observed, because the bride in a romantic dress looks ridiculous with a cold wave in the style of the 20s, for example. Here are some more examples of combinations:
For simple, classic outfits, tall buccles, bunches, tails are suitable.
The open back and neckline are successfully complemented by a high wedding tail, bun.
Retro style with veils, hats, bows are appropriate on the bride in a vintage dress.
Lush outfit perfectly framed by small or large curls and curls.
Empire style dress look good with Greek braids, waves.
An important role is played by the shape of the face. For example, for girls with an oval, round shape, splendor, asymmetric parting is suitable. If your facial features are large, then curls, curls, weaving elements will hide this drawback in the best way possible. Waves are suitable for the square shape of the face, and elongation for volume, the presence of a bang. If the bride is fragile, then a casually chopped shock will emphasize this.
Cascading waterfall
Cascading waterfall is a stylish version of the French braid, in which part of the strands freely flows, flows like water. Such an original wedding styling gives the image romance, tenderness, and fabulousness. Most spectacular of all this style looks on wavy hair. Toning and highlighting will visually increase the volume, and also emphasize the wavy lines of the original hairstyle.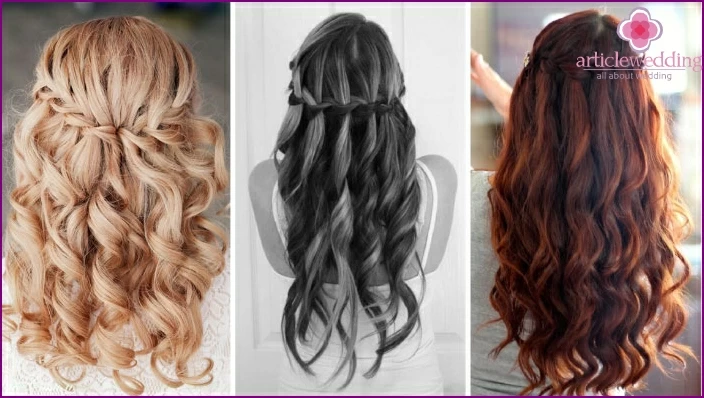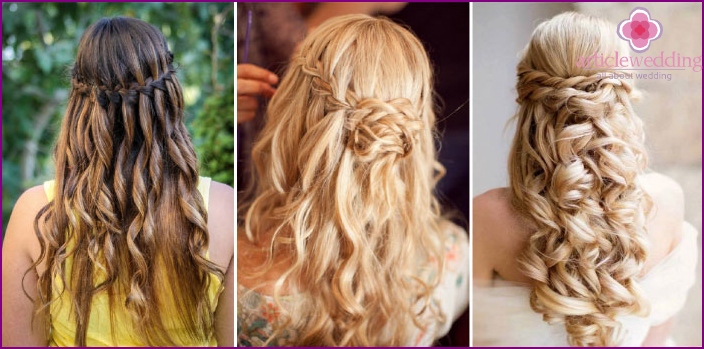 Greek style hairstyle
The original hairstyle in the Greek style is the styling of the goddess, who came down from Olympus for one day. She personifies the airy beauty, femininity. There are a lot of varieties of Greek wedding styling:
based on weaving and curls;
a beam in the form of a heavily knot located on the back of the head;
decorated with a universal accessory - a bandage, and in addition you can pick up lace or decorated with small flowers to match the dress, beads rim.

In the form of a bow
When you want something new, unusual, original and elegant, a bow-shaped hairstyle comes to the rescue. She is stylish, bright, certainly paying attention to herself. There are a lot of options for its execution, so each girl can choose for herself something suitable: the bow is easy to place on the back of the head, crown, on one side. Such an original hairstyle is very flirty, so the dress should be open, bold and unconventional. You can decorate a bow with a hairpin, stylish hairpins, flower.


Ideas for Original Hairstyles for Short Hair
Original wedding styling for short hair is harder to pick. Here it is necessary to show maximum creativity, because it is necessary not only to beautifully lay the locks, but also to find suitable accessories that will harmoniously complement the image. In most cases, on short hair during the creation of styling, the following stylistic trends are used:
a classic that complements any outfit of the bride;
Romanticism - implies the presence of curls;
refinement - asymmetric hairstyles, where the hair rises at the roots and is laid on one side;
retro - short hair laid back, creating a cold wave;
minimalism - achieved by maximum ease, naturalness, often complemented by one large decoration.
Light Curl Hairstyle
The original hairstyle with light curls on the short hair of the bride creates a perky, exciting and romantic look. To give more uniqueness, you should supplement the styling with a noticeable accessory: a headband, a hat, a veil, a large hairpin with feathers and stones, flower rims, wreaths, tressuars, tiaras, tiaras, ribbons, a short veil. So many varied décor gives you a lot of ideas for creating an original wedding style.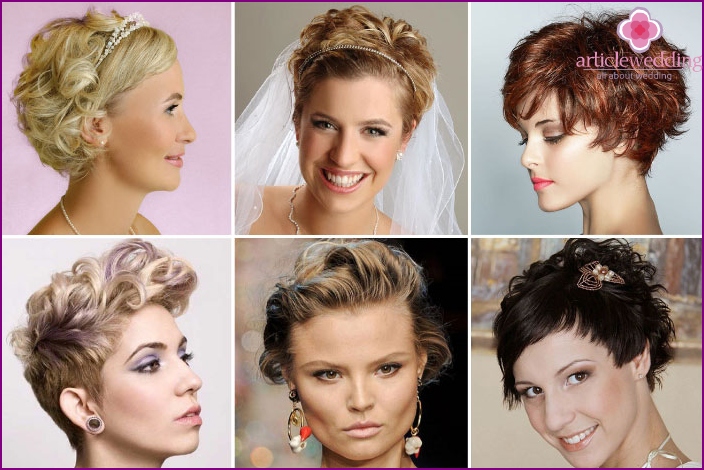 Fleece back
Bouffant came to us from the 60s of the last century. He is able to radically change the style of the bride, to make him more memorable and vivid. Original styling with a comb on the back on short hair gives the image a rebellious, provocative plaque. This should be taken into account when choosing accessories and a wedding dress, because a traditional fluffy dress with such a hairstyle will look inappropriate.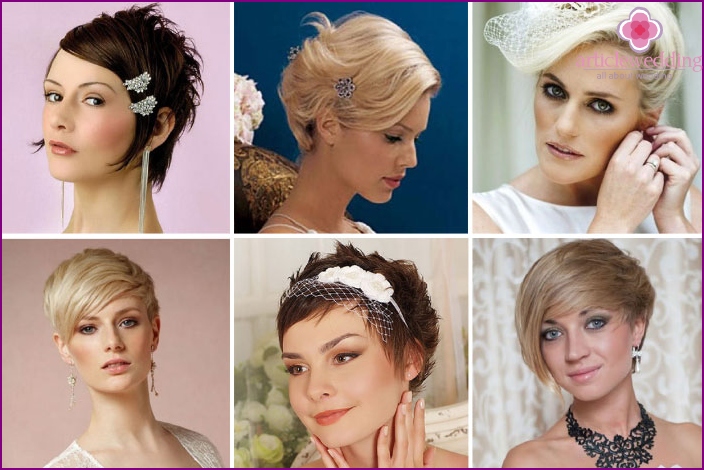 With wet hair effect
The effect of wet hair first appeared in the 80s. The main advantage of such an original wedding styling is the ease of its creation. The hairstyle is suitable for almost all girls who are ready for stylish, bold experiments. The main rule is to choose strong fixing styling products that will hold your styling securely all day, but will not stick together locks.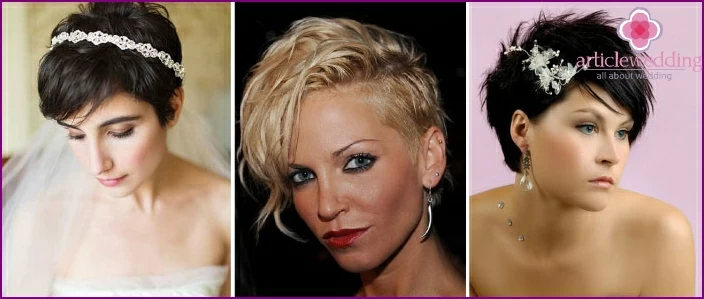 Photo of the original wedding hairstyles for the bride
A modest bunch, chic curls, strict lines or a romantic mess? Whatever you choose, a hairstyle is just as important as makeup, a bride's outfit. The same styling may look different on soft or hard, light or dark, curly or straight hair of the bride. For blondes, it is better to choose weaving, pigtails, creative mess, and brunettes should prefer voluminous large curls, clean smooth hairstyles.