Contents
---
---
On the wedding day, every bride wants to create an irresistible image that will help emphasize her personality. Owners of light hair are associated with romance, tenderness, so wedding hairstyles for blondes should be selected so as to emphasize these features. Compliance with the basic rules of compatibility of dress style, hairstyle, makeup is a dogma for the bride. What styling suits fair-haired girls? Basic rules for selecting accessories.
Options for Wedding Hairstyles for Blondes
Styling should be selected based on the type of face of the bride and groom. If the blonde bride does not have pronounced features, then the emphasis in the image is better to put on the hairstyle. In this case, any volumetric option using a pile is suitable. If the density of the hair is not enough, then overhead strands (tresses) will come to the rescue of the bride. Newlyweds with big lips or eyes will suit both elegant smooth and lush hairstyles..
Chubby blondes with a small forehead and owners of a square type of face are suitable for wedding voluminous styling. A high bunch with a small pile at the roots will look perfect. On oval-shaped brides, loose hair, smooth or lush styling look beautiful. A narrow, elongated face will well decorate the bangs, which will hide the forehead, making it visually smaller.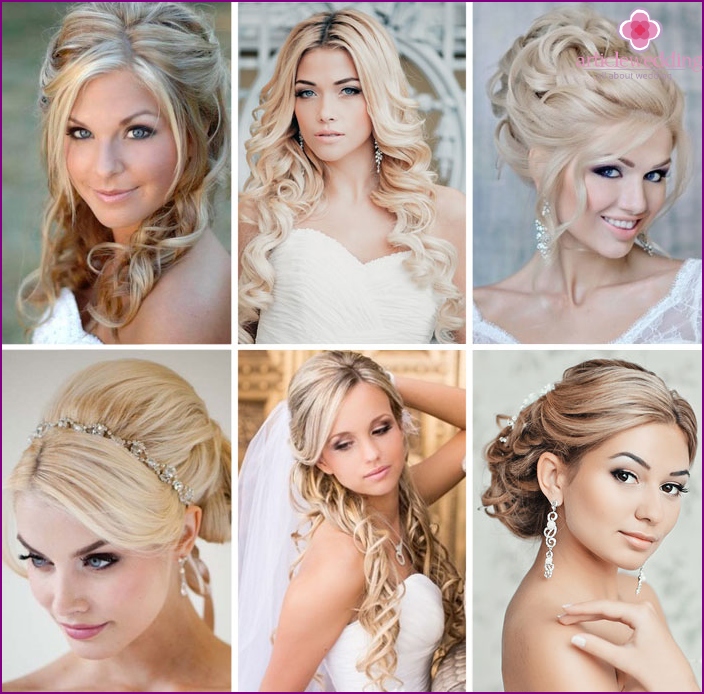 A wedding dress is one of the factors in choosing a hairstyle, which is selected according to the type of figure, the taste preferences of the bride. Lush blondes choose an outfit with a corset, focusing on the décolleté line, excluding the completely-fitting style. Under such a silhouette, high styling is suitable, which will make the figure of the newlywed slimmer. Fragile blondes will suit dresses of any length, open or tight-fitting style, which are perfectly combined with loose curls of light.
A wedding hairstyle can adjust the bride's height, which must be taken into account with a small difference in height with the groom. In addition, too high fleece look too unnatural. Avoid an overabundance of jewelry that adds volume to the hair. Blondes of small stature are better to exclude a long veil, which shortens the silhouette.
Curls or curls
White curls look much more spectacular than dark ones. On fair hair, the structure of the hairstyle and used accessories are clearly visible. This is an undoubted advantage of blondes, so styling with a laid-back wave among blonde brides is very popular. Light or structured curls give volume, emphasize the beauty of the bride and groom. Hair can be loose or complemented by a braid, tail on the parietal part. Curls are decorated with threads with pearls, rhinestones or fresh flowers..
Braided Hairstyles
Scythe is popular in wedding fashion. It does not lose its relevance for many years, changing the shape, volume or method of weaving. Braided on white hair, braids will decorate any bride and will suit all styles of dresses. It can be one magnificent braid, French, shifted to the side or several small braids used as decor. Extra long hair blends well with various accessories.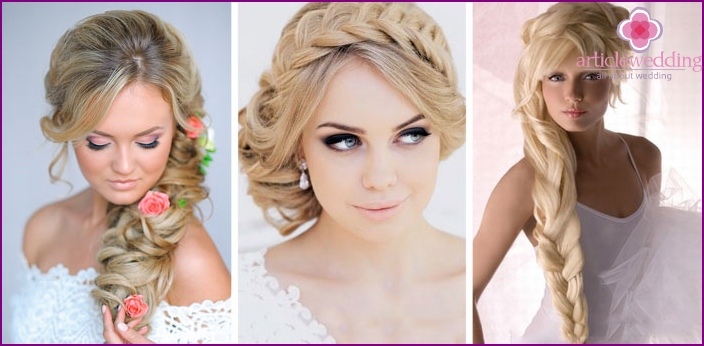 Collected hair in a bun or shell
These types of hairstyles are classic, giving blondes sophistication and aristocracy. Smooth hair on the top of the head is collected in a sloppy bun or neat shell. If necessary, use special linings for the hair, which visually create the density of the bundle. Decorative elements are added to them, sometimes several curled locks are left at the face. To keep the wedding hairstyle in shape during the photo shoot, you need to have spare hairpins and hair spray.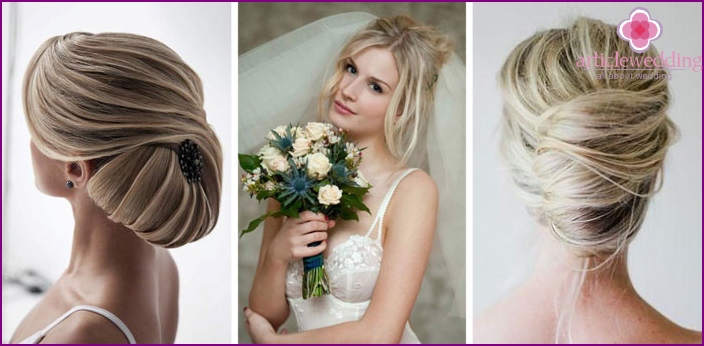 Sophisticated hairstyles for blondes
The styling, combining several techniques, elements, accessories, looks like a real work of art, with which the bride will conquer everyone at the wedding. It is best to do this hairstyle on medium length hair. An abundance of flourishes, complex braided braids will add pomposity to the blonde bride. The main rule is not to overdo it, combining different types of techniques and styling in one.
A striking example is a simple, at first glance, styling with straight hair and a large bun, which is decorated with curls in retro style. The work looks completely different «swan», presented at the exhibition in 2014, designed to give the bride a mystery and elegance. The frame is made using a thin wire, on which thin strands are fixed.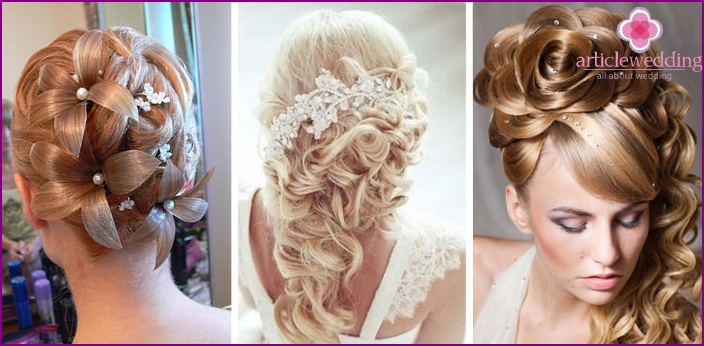 Hair Accessories
A wonderful decoration of a wedding hairstyle is a variety of accessories that are selected to match the dress or its elements. So that the products harmoniously fit into the image, choose them in those shades that are the least common in the outfit. If the dress is completely lace, give preference to simple, concise accessories, so as not to overload the wedding image.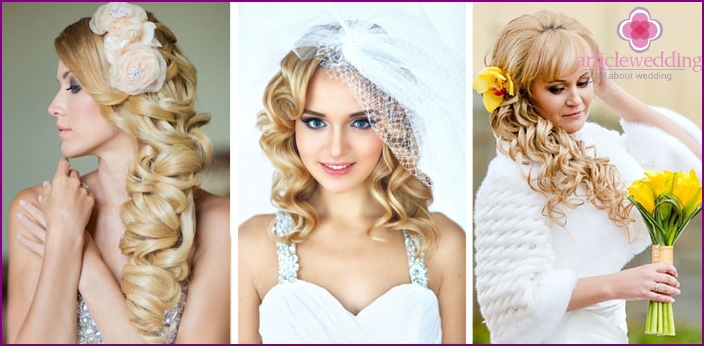 Tiaras, tiaras give a royal look, attract attention with brilliant stones.
Hairpins, scallops decorated with rhinestones create an emphasis on elegant smooth hair.
Veils, hats - will decorate the bride's outfit in an original way, twisting retro style.
Decorative hairpins with rhinestones, pearls, flowers will add a twist to bunches or individual curls, helping to fix the structure.
Lace headbands and compositions harmoniously combine hairstyle with lace on the bride's outfit.
Flowers or compositions from them are an actual element of the modern blonde bride, giving the image of ease and unity with nature.
Ribbons, strands of pearls or rhinestones are woven into braids and are suitable for short hair, frame the face, and are used as an alternative to rims.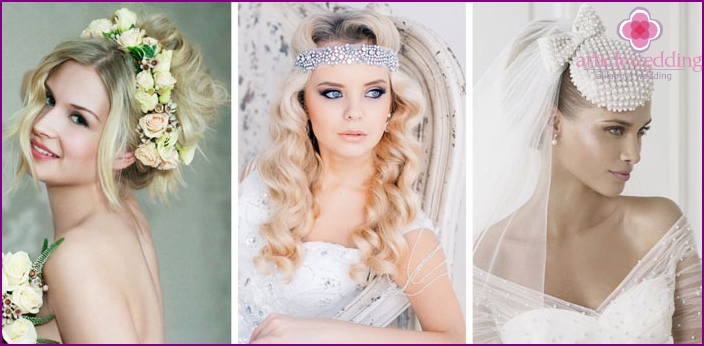 Video: Overview of Wedding Hairstyles
Creating a wedding hairstyle requires an experienced hairdresser, professional styling tools and a clear presentation of the final result by the bride. Practical master classes for creating exquisite hairstyles will help professionals in their work, and the newlywed will be given exhaustive information about the criteria for choosing a master and will help determine the style.
At first glance, creating an actual wedding hairstyle for a blonde is difficult, but these ideas about the complexity of creating hairstyles will be destroyed after watching the videos listed below. Two wizards show an example of creating a hairstyle with explanations of the main nuances of work, implementation techniques that can be applied independently.
Photo of wedding hairstyles for blondes
A wedding photo shoot is an indispensable tradition that will help capture the bright moments of this day. Before it starts, you need to determine which side and perspective your hairstyle will look beneficial. Before shooting, monitor the accuracy of styling, if necessary - correct, having with you the necessary styling, comb, mirror.