Contents
---
---
In preparation for the wedding, any girl takes a lot of time and effort. Increased attention is paid to dress, shoes, accessories, jewelry, so that wedding photos look charming. Makeup and hairstyle are thought up in advance. Braids are especially popular, because hair weaving has long emphasized the femininity, innocence and beauty of a girl. Braids for weddings are practical - they retain an attractive appearance throughout the celebration, and a little money is required for their weaving and styling.
Who suits wedding hairstyles with a braid?
There are a lot of options for a wedding braid, so it's easy to choose the right weave for any type of person. Vertical lines visually lengthen the girl's round face, so it is better to lay braids for her high, raising hair on the crown of the head when weaving. To make a rectangular face softer in wedding photos, you should add round curls and completely abandon straight lines. A great solution would be a scythe with a roller above the middle of the neck.
The combination of a straight braid and wavy curls in the hairstyle of a girl with a triangular face shape will help brighten up the sharp transition between a narrow chin and cheekbones. And make-up artists recommend a braid to a square face, braided in the French manner, which slightly lifts the hair above the forehead. The only face shape that has no restrictions is oval, so brides with this type can allow you to choose any option of braids for wedding photos.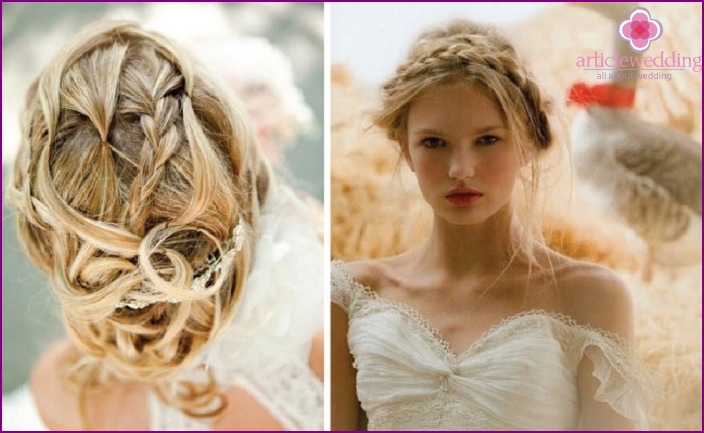 Options for weaving beautiful braids
Modern braiding weaves look sexy and flirty in the photo. Do not be afraid to use overhead strands with insufficient length or in the absence of the volume of your hair. Properly selected volumetric curls cannot be visually distinguished from their own, especially if flowers or ribbons are added to them. You can choose as a formal hairstyle:
Openwork braid.
Fish tail.
Flagellum.
Little dragon.
Weaving a classic braid in flowing curls or a bundle.
A skilled stylist will fix the crown braid to the bride so that no one will guess where it begins and ends. Ribbons, fresh flowers are woven into the hairstyle as an ornament, such a crown harmoniously combines with a veil. Such weaving will look perfect on the photo for a classic or vintage wedding, Russian or Provence, for a wedding celebration in the style of Shebby-chic. Scythe-crown goes well with bangs or with curled curls.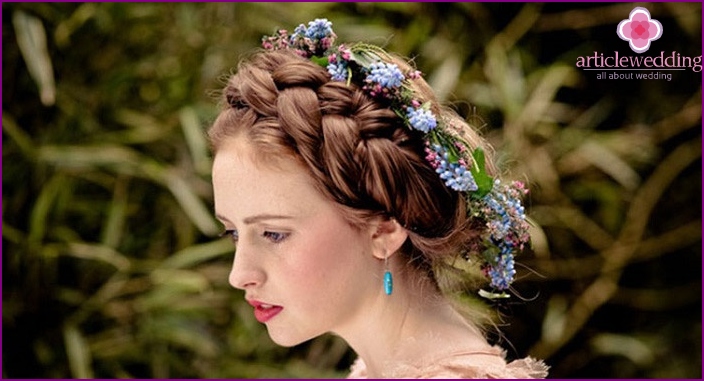 The braid in the center is in harmony with simple outfits and silhouette dresses, as it itself looks luxurious in the photo. Especially if jewelry is used in it: small beads, flower buds or rhinestones. The basis of this hairstyle is a thin braid, which they begin to weave at the top of the head, stabbing inward or twisting. The braid in the center is often chosen by brides for dresses with an open neckline or back.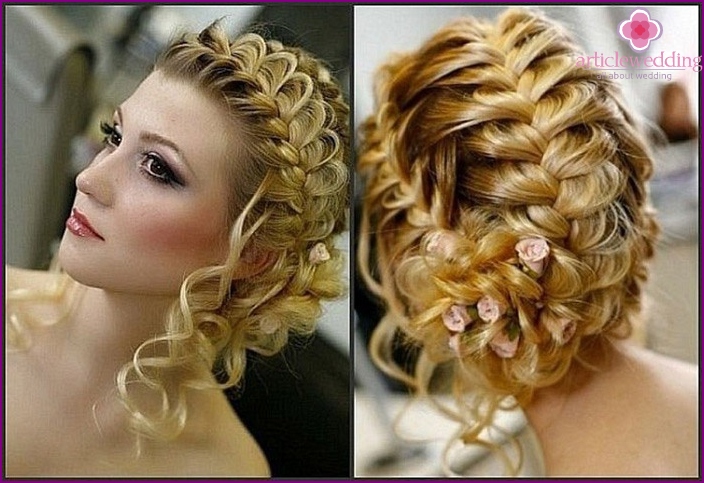 The most popular wedding hairstyles are French braids. They are made in different versions: asymmetric, careless, hanging on one shoulder and in combination with tender curls or knocking strands. Young brides love when a French braid is combined with a tail, braiding it diagonally, and from the middle weaving it into a curled or straight tail. Often for wedding photos, French braids weave from two sides, connecting at the base of the neck and decorating with flower buds, ribbons or hairpins.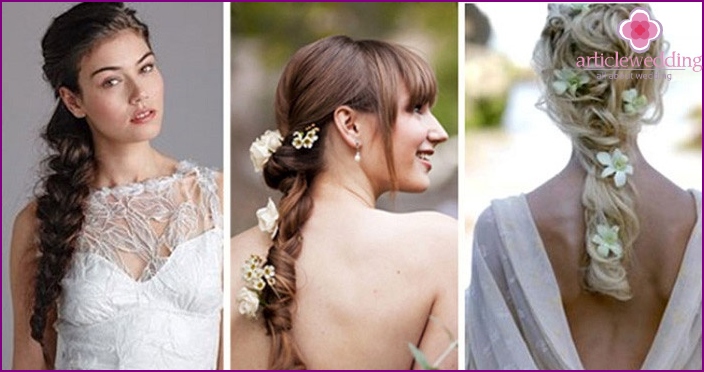 Spikelets and bunches to weave is very easy, but this does not detract from the beauty of the wedding hairstyle. In one braid, which starts from the crown, there are up to 6 strands. These weaving of the bride beautifully combine with tiaras, rims, large hairpins. If the braid is gathered in a bundle, then add a veil or a small hat to it. This combination is often performed for photos of stylized retro weddings. A less formal option is a combination of a braid and free curled curls..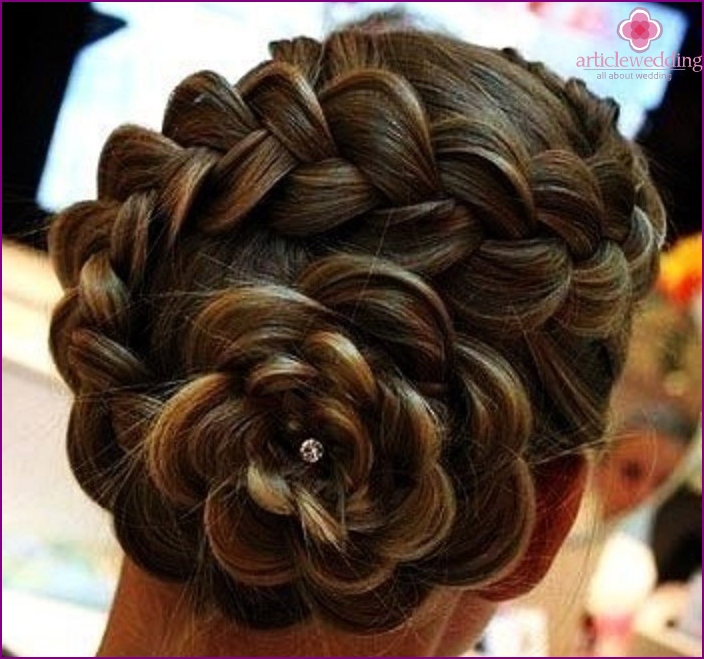 Asymmetric weaving is a great choice for brides who prefer custom photos. Geometric shapes, braids laid in waves or asymmetrically - ideal for lovers of original images and minimalism. But it is better to consult with a stylist, because such a style is not suitable for every girl, and most importantly - do not overdo it with jewelry.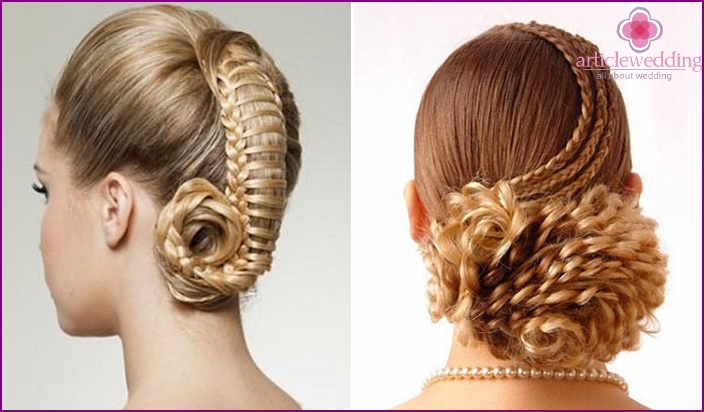 Such hairstyles wrapped in braids will look luxurious on any wedding photo or other special occasion:
Shell.
Babette.
Gulka.
Knot.
A braid is wound around a bundle of your own or added hair and is decorated with fresh flowers, rhinestones, beads, hairpins or a veil. No less beautiful look snails or snakes that are woven along the contour of the head. Weaving is emphasized here, so the hairstyle does not particularly need jewelry. Decorative elements for successful photos are selected to a minimum.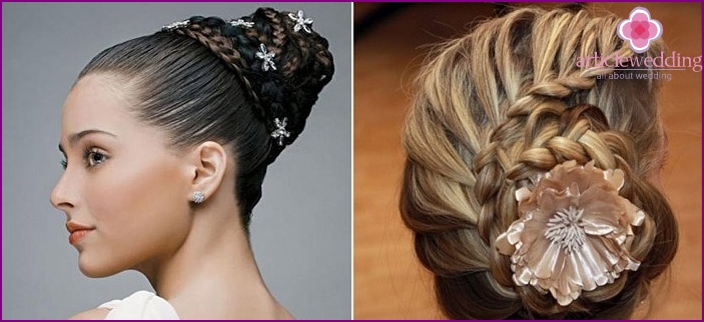 On long hair
For long hair, there are several options for hairstyles: braids with curls, braids gathered together or openwork weaving. Wonderful wedding photos look openwork braids in different variations. This is such a kind of weaving when locks are pulled out of a classic braid, creating a specific pattern. Fans of such braids look exquisite, and the hair acquires volume and grooming. The wedding trend of recent years is the French waterfall, which is made on the basis of a spikelet. We offer you to look at the photo options for wedding hairstyles: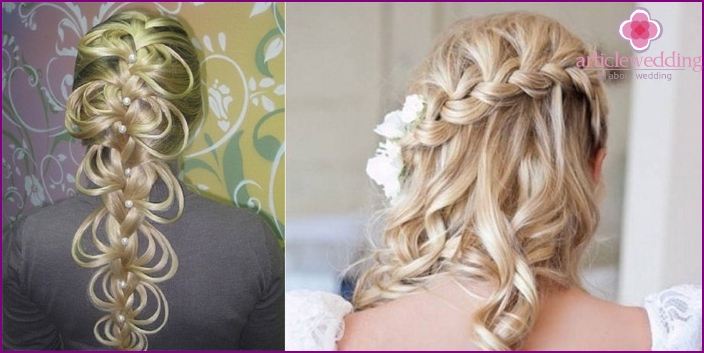 On medium hair
Not everyone can brag of hair length, but if you really want to braid a fashionable braid for a wedding, stylists advise to give volume to hair of medium length with the help of a simple pile. A photo will look beautiful with a scythe-basket on the bride's head, which is woven around the circumference of the head and decorated with small hairpins. The Greek style is relevant for medium length, when the hair rises up and braids are braided, and then the whole composition is tied up with a stylish ribbon, rim or braid.

Pigtail Wedding Hair Decoration
A popular bride hair decor is flowers. They give the bride and groom fairytale, mystery and innocence. A veil is not an ideal option for a hairstyle with braids, because it will hide in the photo all the beauty of weaving. Wonderfully combined with braids ribbons, hairpins, hats, veils, buds and twigs of flowers. Try not to overdo it with the hair ornament. Evaluate the image comprehensively, because all the elements should be in harmony with each other and then at your wedding you will be a worthless queen.
Video: how to braid your braid yourself for a wedding
It is better that a professional hairdresser does the hairstyle for the wedding, but if this is not possible, then braiding a beautiful braid on your own is not so difficult. The main thing is to give your hair time and practice before the wedding. See how the original braid hairstyle is made independently: