Contents
---
---
Choosing a wedding hairstyle can be difficult, because modern girls have so many great styling options for their wedding. In the last year, a gentle, natural image that emphasizes the girl's natural beauty has gained immense popularity. Beautiful loose hair became its inseparable part: this type of hairstyle will suit every bride. What are the most interesting wedding hairstyles with her hair loose?
Wedding and evening hairstyles for long flowing hair
Long-haired beauties should think over their hairstyle in advance. Due to the large length, the hair is more susceptible to damage, the ends often split, burn out. To make this styling look organic, a wellness course is required a month before the celebration - masks, applying oils to the tips, and regularly cutting them. This pre-wedding therapy will make your hair look lively and luxurious, which will not allow guests to look away from you..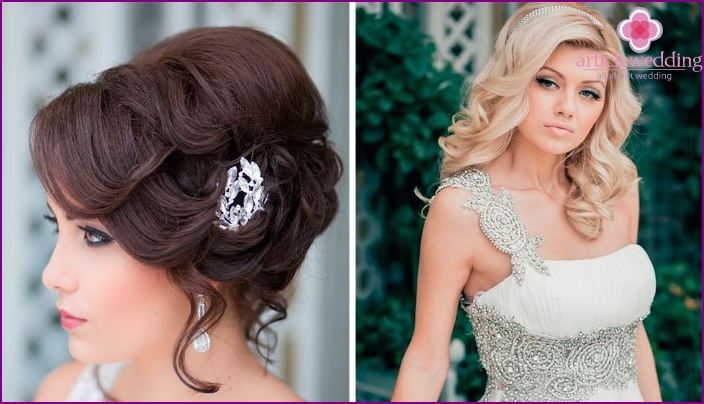 Short and medium
Wedding hairstyles with flowing hair will be a wonderful decoration for girls whose length barely reaches their shoulders. In this case, it will look great lush high styling with velvet, decorated with various accessories - hairpins, headbands. Medium-long brides are ideally suited for magnificent Hollywood large curls, smooth «cold waves», gel fixed. The last hairstyle is ideally complemented by a bandage, comb or elegant veil.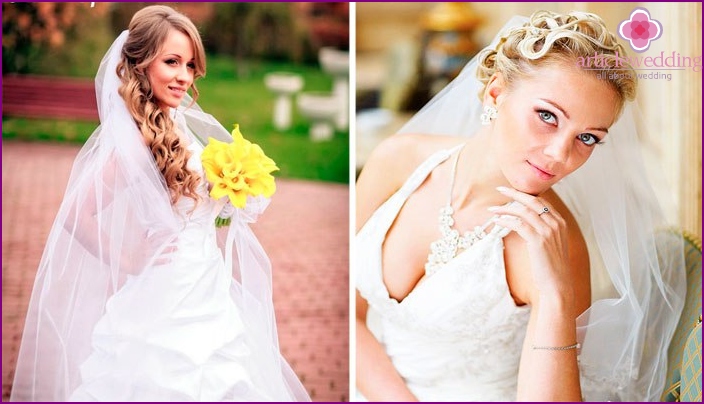 With veil
A veil is a wedding headpiece that will help emphasize the romantic image of the bride. She will look great along with thick chic hair. In order to fasten the veil over a short length, you may need a hoop, overhead, extended strands - this is especially true for voluminous long veils. On a long head of hair, the accessory is attached with pins, invisible at the crown - the mount on the back of the head does not look organic.
Watch a video that will help fix the veil on long hair:
With diadem
This element of decor is suitable for girls who want to feel like real princesses; it will look great together with a loose hairstyle. In order for the accessory to sit well, you can comb part of the hair from the back, lift it at the roots with the help of varnish - you get a stylish baby. Also, the diadem looks great on completely loose hair. It can be decorated with pearls, shiny rhinestones, decorative stones, the main thing is to choose an accessory that suits the dress..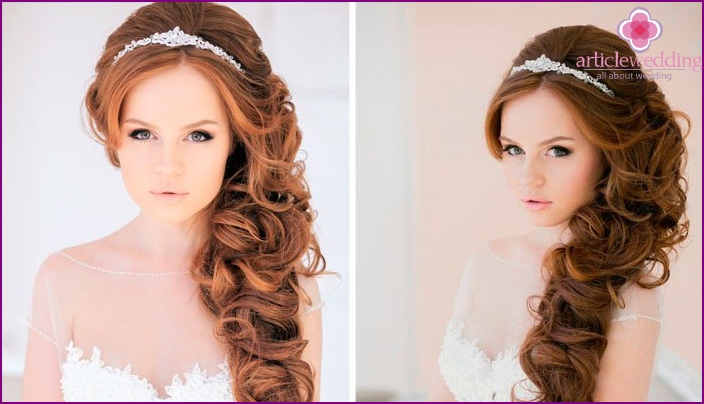 With straight hair
Girls with straight thick hair can afford to leave the wedding hairstyle in its original form, only slightly fixing it with a hairdryer, varnish. To emphasize the beauty of hair, use a special shine. If your hair is curly initially, apply a little mousse to wet strands, dry it, and then straighten it with an iron to make a perfectly even part. Wedding hairstyles with straight flowing hair look concise, so they fit an elegant look.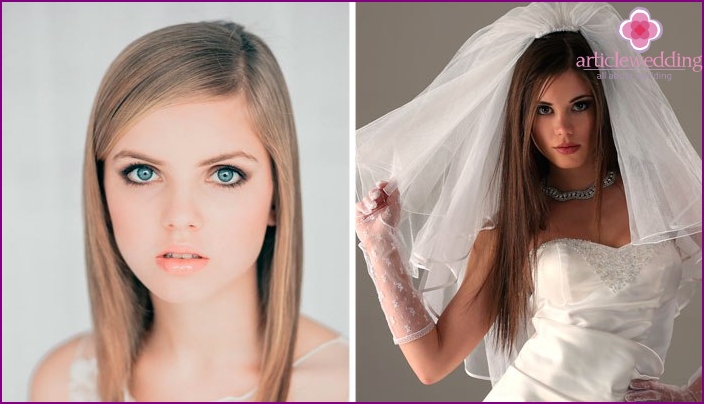 With curly
To look cute, natural during the celebration, choose wedding hairstyles with flowing curly hair. To create this option, use small or large curlers for curls, curlers for curls, fix the result with a special tool. The current trend of recent years - curls, curls, decorated with a wreath of large flowers, emphasizing the naturalness of the image. It should be complemented with light, delicate makeup..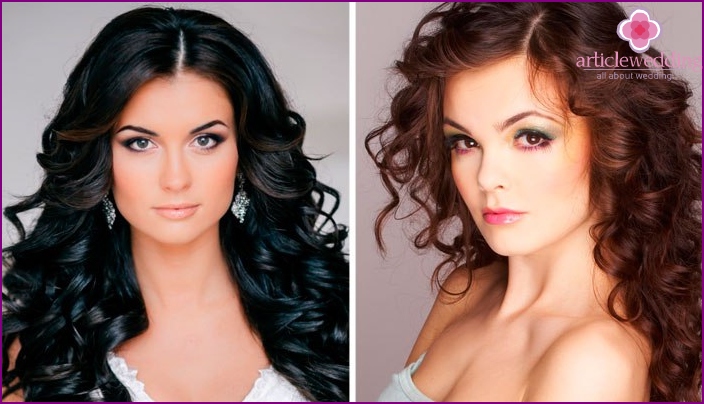 With weaving
Wedding hairstyles with braiding and flowing hair look gentle, romantic. They open the forehead, the ears of the bride, help to hide or emphasize the bangs. It looks interesting malvinka with plaits, twisted from the temple. When thinking out hairstyles on a loose hair decorated with weaving, use imagination, and then make a trial version with an experienced master. For more details see this type of styling in the photo: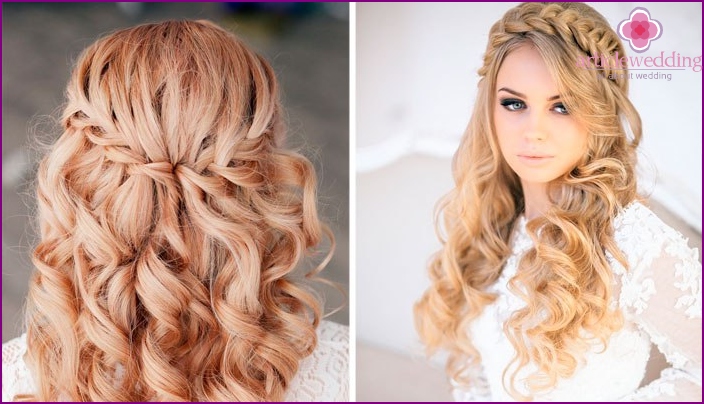 Simple and quick festive styling options for a frizzy bride
Those brides who do not want to go with a loose hair all over the wedding celebration can come up with stylish styling options that will quickly turn their loose hair into a more comfortable hairstyle, for example, a bun. It's good if the wedding will be attended by a stylist or girlfriend who will help to create this or another styling - it is unlikely that it will be convenient to comb the hair in the wedding dress.
Babette
Stylish high babette will be easy to make from straight styling - it will emphasize an elegant look. It would be better to create such a styling, using the help of a girlfriend, a training video will help her in this:
With a scythe
The braid is perfect for girls whose hair is twisted in large or small curls - this will help make the hair volumetric. A classic spikelet, an elegant fishtail, and a French braid will look great. Looks nice option when the braid is launched to the side.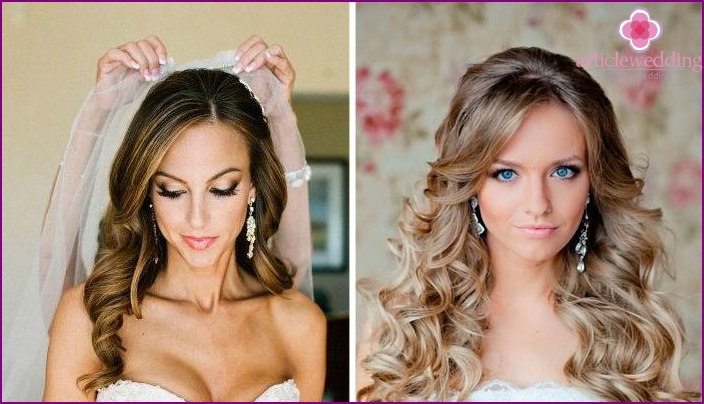 Half loose curls
A little picked up romantic ringlets will be convenient. It will be possible to create this styling option with the help of a malvinki, pigtails. Make a fleece to give the hair a magnificent shape, with the help of a hairpin, fix the side strands on the back.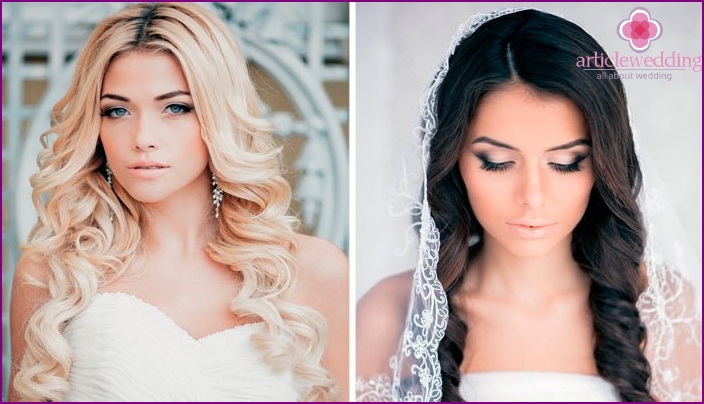 Greek
Gorgeous Greek styling will make you a real star of triumph. It can be created using a bandage, under which twisted strands are twisted, and also be made in the form of a high hairstyle or half-open hair.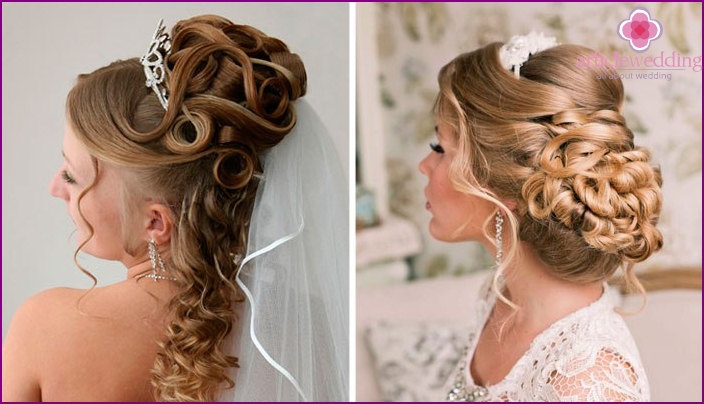 Hair bow
An elegant bow looks cute, interesting and original. This option is perfect for girls who are not too long.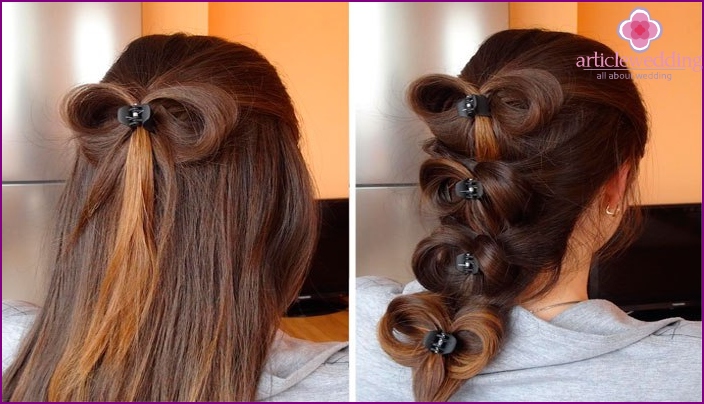 Video: how to do a hairstyle
100 fashionable hairstyles and wedding ideas 2014 photos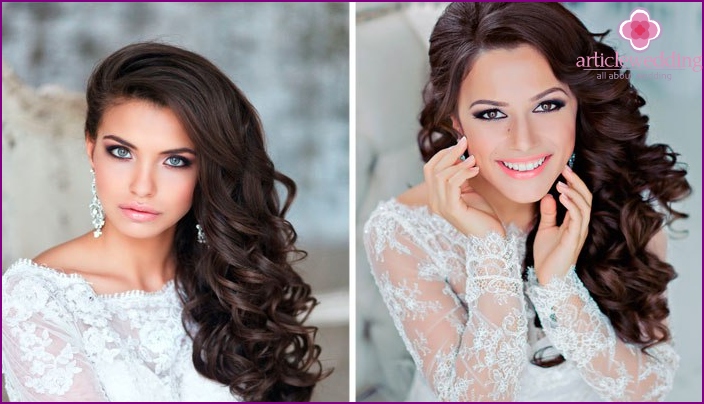 A.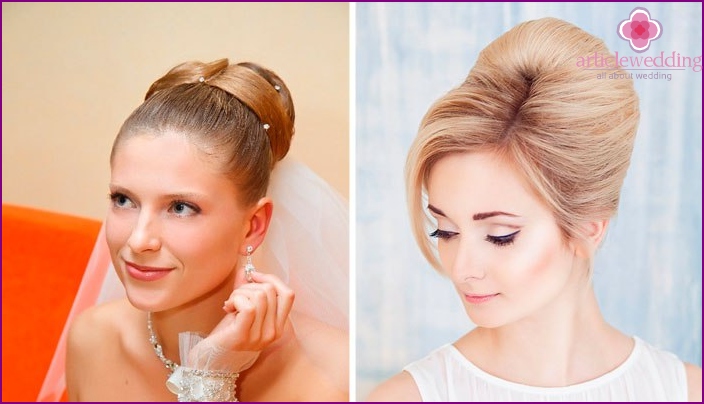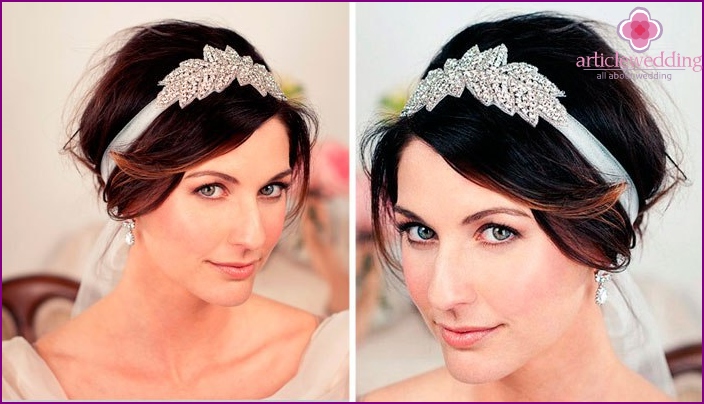 A.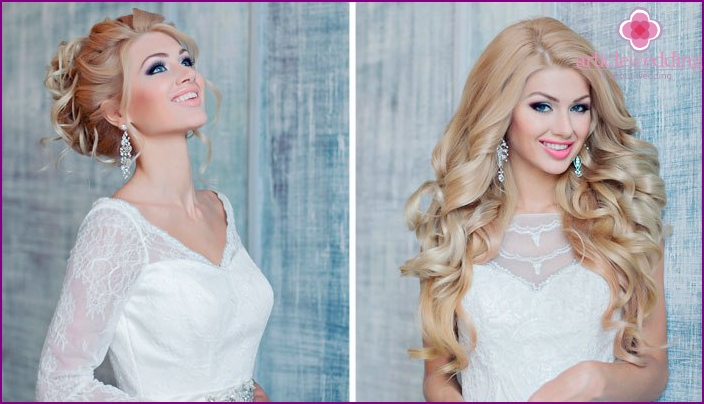 A.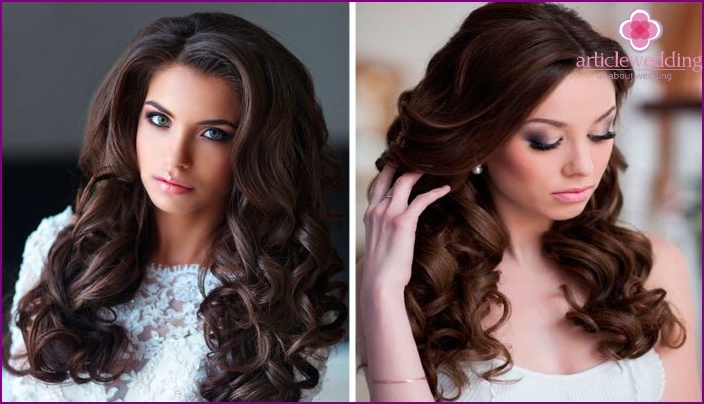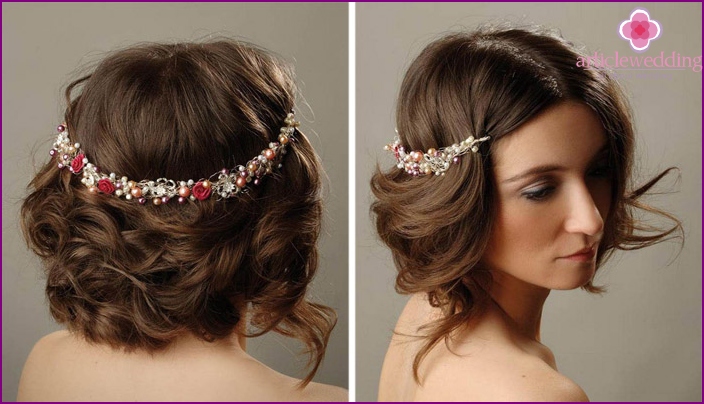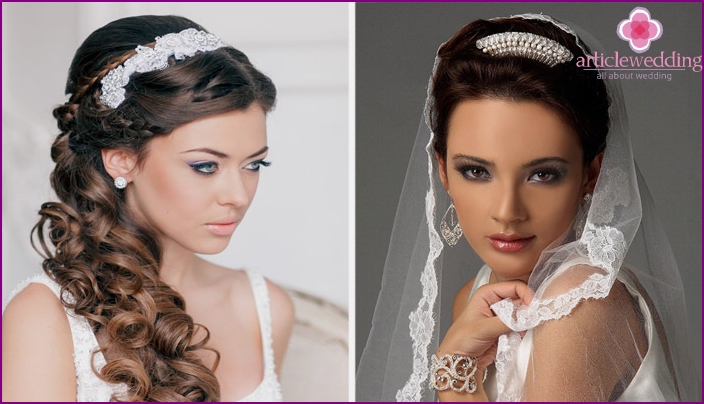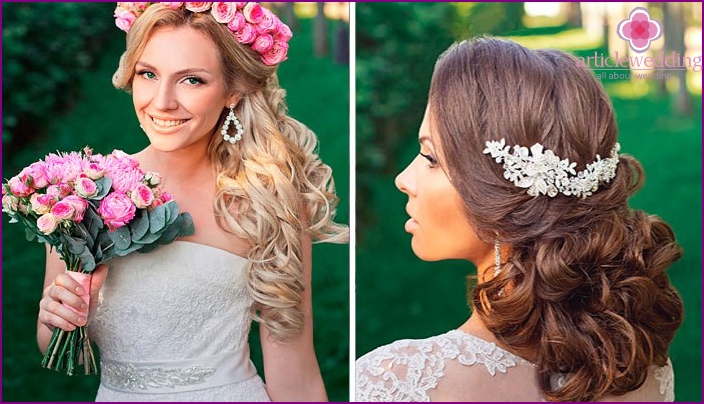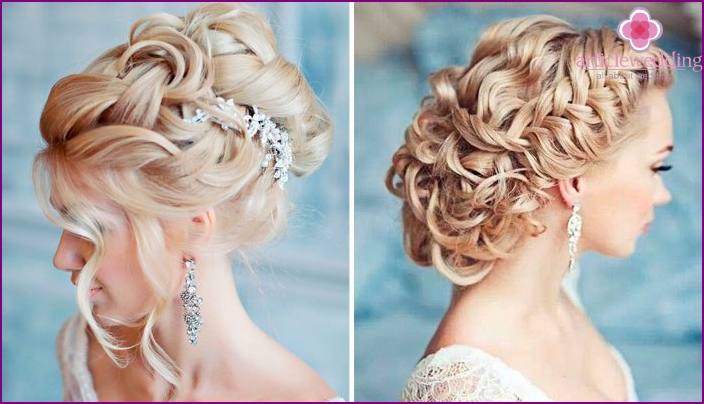 Wedding hairstyles with beautiful flowing hair look great, emphasize the natural beauty of the bride's youth, her romantic nature. When creating such a styling, remember that the hair is not overloaded with gel, varnish or mousse - then it will get a sloppy look, it will create a feeling «glued together».
What styling ideas did you like? Leave a comment.