Contents
---
---
Wedding fashion is changeable, and the traditional white veil is no longer a mandatory element of the bride's outfit. Girls for weddings increasingly choose hoops, tiaras, miniature veils. But the most relevant trend of recent years is wedding hairstyles with flowers woven into curls. Such decoration emphasizes the grace, beauty and style of the bride and groom, besides it looks incredibly impressive, and fits any wedding dress.
Variants of hairstyles with fresh flowers for long hair
Fresh flowers in the hairstyle of a bride with long hair must be combined with a bouquet of the bride or groom's boutonniere. Plants should be freshly cut so as not to lose their appearance during the wedding. Wedding stylists focus on the right combination: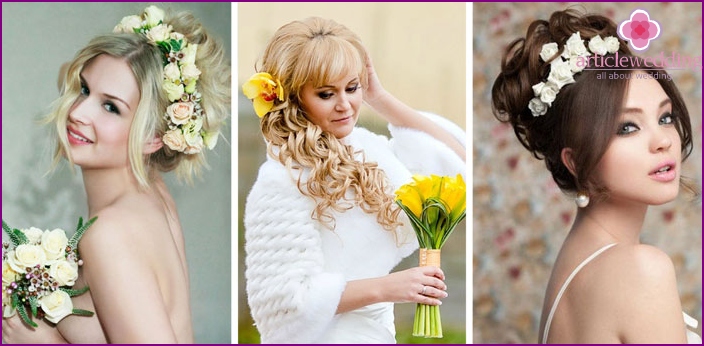 Curl lengths and flower type.
Hair colors and decorations.
Hairstyles and flower.
To preserve the freshness of the flowers, their ends are packed in special capsules. You need to purchase jewelry with a margin to replace a flower that has broken during the creation of a hairstyle. Select the type of plants based on the conditions of the wedding: season, place of celebration. The basic principle of creating wedding hairstyles with flowers on long hair is restraint in the volume and quantity of buds. Long styling is usually divided into two categories: curls loose or braided.
Picked curls on the back
Carelessly picked hair is the most popular direction of wedding fashion, because such a hairstyle fits absolutely any bride's dress, face type, therefore it is considered universal. Soft curls easily hide any imperfection of the face or neck. A cascade of curls formed from behind will give the bride a tender charm, and fresh flowers will effectively decorate her, as the beauties of ancient Greece used to decorate their heads. Green leaves will add colors to the image, harmoniously curling behind the curled bride's curls.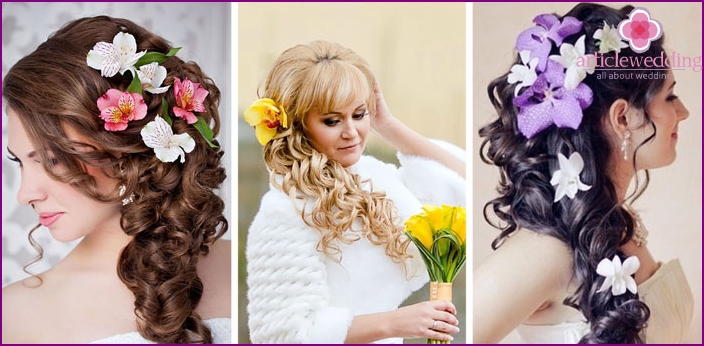 The most common flowers for long curls are:
Roses that have long become classics of wedding fashion. They do not have to be white, look chic on blondes pink or scarlet, and on brunettes - cream or yellow.
Freesia, which is inserted in small twigs or buds. It is very easy to choose the right shade of this plant, because freesia has a wide color palette.
Lily that looks very gentle on long hair. Only for the wedding you need to match the odorless variety, because this flower has a pronounced aroma, which at the end of the day can cause a headache.
The orchid will harmoniously complement the royal image of the bride, emphasizing her femininity. This flower will be appropriate at the wedding at any time of the year..
Alstroemeria, similar to a lily in miniature. But unlike lily, this flower is not allergenic, less fragile and does not have a pungent smell.
Greek braid with woven flowers
The Greek braid decorated with fresh flowers will allow the bride to create a unique and bewitching image. Such a wedding hairstyle will suit a blonde, brown-haired woman, brunette, and even a red-haired newlywed, so braids are becoming more popular as a wedding styling. Classical Greek braid is hair wrapped in an elegant hairstyle with a delicately open forehead, which gives an excellent opportunity for the photographer to take stunning pictures at a wedding photo shoot.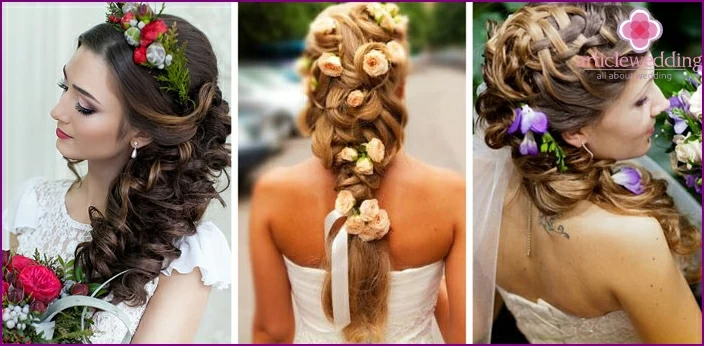 Hair twisted in a complex weave and decorated with fresh flowers, also claim to be the braid, turning the newlywed into a Greek goddess, descended from Olympus. Greek weaving is sometimes complemented by curls and curls, freely flowing along the back or going down to the side. This is a great option for brides who want to play a wedding in a medieval style..
Hairstyles using flowers on medium hair
Most modern brides have medium-length hair, so there are a lot of hairstyles for curls to the shoulders. With medium hair length, it is easy to experiment with any style: loose curls, buns, braids. But the stylist's main task is to choose a wedding option that perfectly suits the bride and groom in the style of the dress, face type, skillfully hiding flaws and emphasizing the dignity of the girl. Universal and stylish decoration of medium-length hair is fresh flowers, which allow you to create a masterpiece of art on the bride's head.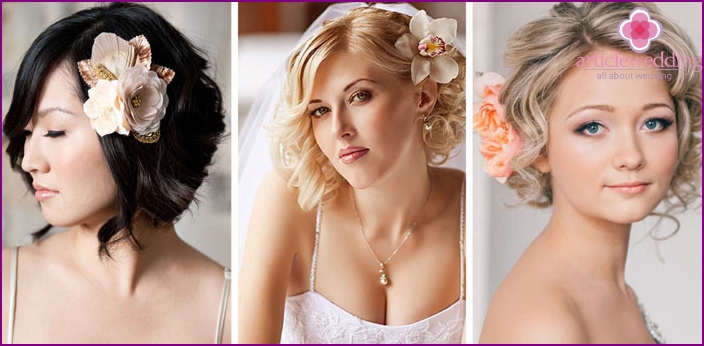 You can create a unique wedding look with a bob hairstyle, bangs and a large flower on the side. It will fit any oval of the face, and the bangs may be:
lush;
shortened;
long;
oblique;
straight.
Adding a small bouquet of flowers to the hair, the bride immediately becomes romantic. Newlyweds give preference to traditional white buds, but girls who love to deviate from the standards choose gentle pastel shades for their styling. The last peep of wedding fashion is turquoise, lilac, pink or purple buds in the hair of the bride. They are fastened with invisibles, hairpins, hairpins or a hoop..
Volumetric braid on its side
At all times, the braid was considered the best decoration of the bride, and now she does not enjoy the reputation of an obsolete hairstyle. On the contrary, she is experiencing a rebirth with new weaving: French, Dutch, spikelet. And an unusual configuration, for example, a braid on one side, will perfectly hide the insufficient length of the hair, giving it volume. Depending on what the bride wants to achieve, the braid on the side is woven from two, three or four strands.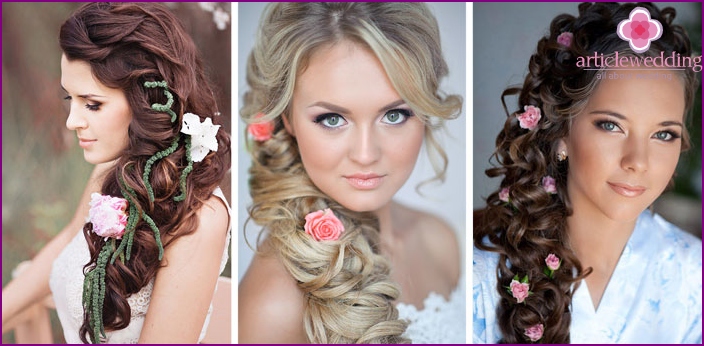 The classic option is to collect the combed hair on the left into a bun and divide it into the desired number of parts, gradually weaving lively curly flowers, small artificial buds, petals or plants into a braid. Bright shades of floral arrangements fully compensate for the simplicity of the hairstyle, making it festive and unusual. It is advantageous for the newlywed to look at a combination of weaving, for example, Dutch and French braids sideways or a combination of a classic braid with a waterfall of loose curls.
Loose curls with a wreath of flowers
The most common wedding hairstyle with flowers is loose curls with a wreath on the head. This trend will be at the peak of popularity for many more seasons, thanks to the fashion for eco-weddings and the original style of performance. They make wreaths for the bride with the help of large buds of roses, peonies, lilies and even orchids. The main thing is a light palette and volume, but small wildflowers also sometimes find their place on the bride's head.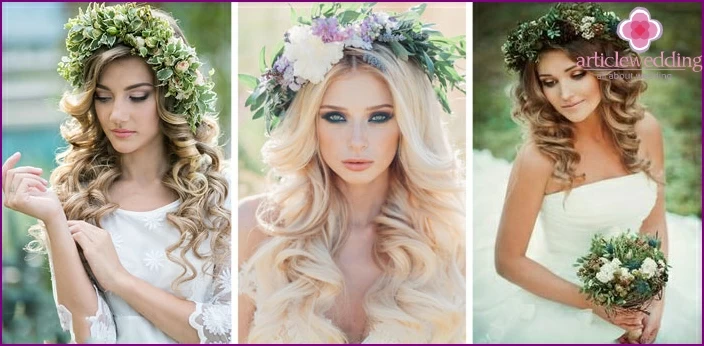 The wreath looks best with curled loose curls or with a French twist: selected strands of different lengths fixed on hairpins. Traditional wreaths are hoops, headbands or elastic bands with live or artificial flowers fixed on them. This female accessory has always been a symbol of femininity and beauty, therefore, loose curls with a wreath have successfully survived to our time..
Wedding hairstyles with flowers for short hair
Who says wedding styling is not possible on short hair? This opinion is fundamentally wrong, because a haircut is a new world with great opportunities to show your imagination. To make the look feminine even with an ultra-short haircut, you can add accessories in the form of live or artificial flowers. For example, to cut a haircut, decorating the side with one large bud. Or put on a veil with a beautiful flower, or fasten a headband decorated with many small petals on your head.
Small graceful roses look great on short hair. Especially if they are carefully woven into curls, which are now as popular as in the distant 30s. A bride with short hair will be able to become a queen at her wedding, even if she smoothly combes her hair back, giving her hair shine with a gel, and puts a hoop with several artificial flowers on her head. Only in this case, perfect makeup is needed, since all attention will be paid to facial features.
Hairstyle bun with flower side view
If the bride has a classic white dress, and she generally prefers classics over everything, then she will definitely like a bun hairstyle with a side decoration in the form of a white flower. Many celebrities when exiting to «shine» choose this classic but win-win styling option. Such a hairstyle must be entrusted to a professional, because it is difficult to make a beautiful bun on your own. Gives a bunch of sophistication a royal rose, a magnificent orchid and even modest wildflowers.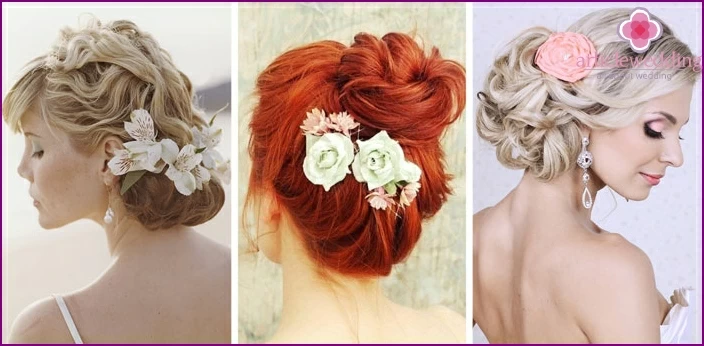 It is better to attach one large bud on the side. Often, brides prefer to add a short veil, which is attached directly to the flower. But so that this decoration does not look vulgar, you need to exercise restraint. Bright colors are suitable only for brunettes. They are allowed to fix yellow, red, purple flowers on a bunch. Blondes stylists recommend white, pink or pale lilac shades of buds. And only brown-haired women can use absolutely any color in their hairstyle.
Light curl styling
Curly hair turns the bride into a real seductress, but she looks modest and natural. Not surprisingly, curls and waves are popular with girls with different hair lengths. Wedding styling with light curls, decorated with flowers, is easy to do on your own using a special ironing for curls or curlers. The larger the curlers, the freer and softer the curls will look. To get spiral curls, you need to use the smallest size of curlers.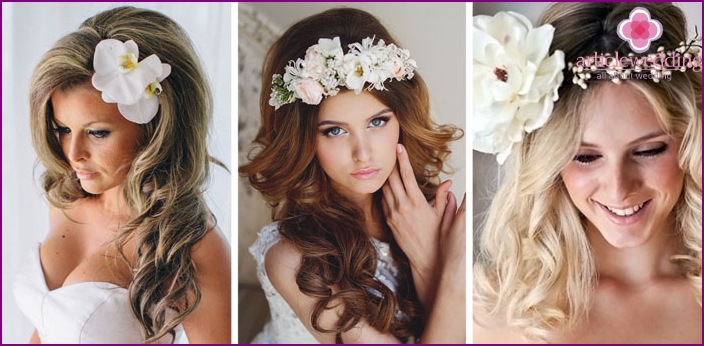 For example, a short bob can be turned into a chic wedding hairstyle with the help of volume at the roots, light curls and side parting. And for a cascading haircut, do the styling «feathers», when with the help of a hair dryer and a round comb several curls are pulled out, and the rest are left curled. Special lipstick or shine will make even the shortest haircut festive.
Hairstyle shell
There are a lot of options for laying French shells. It was created at the beginning of the last century, but is still only gaining popularity. Hairstyle Name «shell» speaks for itself - it looks like a sea shell. With the help of such an original styling and beautiful natural flowers, the bride will easily set stylish accents in her image. Over 100 years of existence, stylists have come up with many different modifications of the wedding styling of the shell, introducing a little fantasy, fairy tales, slight negligence and royal greatness into it.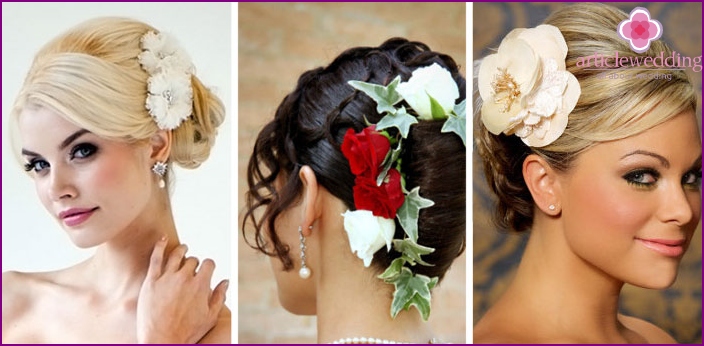 The shell option is completely dependent on the imagination of the bride and groom. For example, you can twist one strand into an exquisite curl or leave it free to frame your face. As ornaments for hairstyles, stylists use not only flowers of different shades, but also scallops, hair clips that are attached to the shell itself or silt around it. The legendary shell that Audrey Hepburn had in the film is especially popular among brides. «Breakfast at Tiffany's».
Video review of wedding hairstyles with fresh flowers
Wedding hairstyles with live flower buds are at the intersection of two arts: hairdressing and floristry, so it's better for newlyweds to give their hair to the hands of professionals if they want to create something exceptional on their heads. Selection and styling of floral elements is a very painstaking and delicate work, and independent experiments can easily spoil your mood on the day of the celebration.
Fresh flowers look much more beautiful and tender in a wedding hairstyle than all other jewelry, but require perfect make-up and a minimum of bright accessories in the outfit of the bride and groom. Beautiful buds emphasize the freshness and youth of the bride, go with any dress, make the image more tender and romantic. Check out our video selection of wedding hairstyles with a decoration in the form of fresh flowers:
Photo of hairstyles for a wedding without a veil with flowers in her hair
Live flower buds will decorate any wedding look. The bride will only have to buy a dress of simple cut of thin fabric, pick up a few discreet accessories, and the perfect look is ready! In addition, a girl with such styling will be comfortable at her wedding even without a veil. We have compiled for you a collection of the most beautiful wedding styles with flowers without using a veil.