Contents
---
---
Wedding fashion is a separate category in the fashion industry. She lives by her own laws, every year, changing fashion trends. To be in trend, you need to know not only about the latest styles of dresses and accessories, but also keep track of what shoes are now in fashion. Classic white boats are the unconditional and irrefutable classic, but recently, some brides prefer to choose white ankle boots for the celebration. Such girls are not afraid to experiment with the wedding image. In addition, they get not only beautiful, but also comfortable shoes.
Why White Wedding Ankle Boots Are Good?




The wedding, although a festive event, but throughout the day requires the bride and groom constant physical activity. That is, you have to spend all day «on foot». Here the advantage of ankle boots over high-heeled shoes is obvious:
Universality. Such a model will easily fit into any ensemble, whether it be a short or long puffy dress.
Relevance. It is permissible to wear ankle boots all year round. The variety of the model range allows you to shoe in them in the warm and cold season.
Convenience. Thanks to the ergonomic pad and the stable sole of these shoes, you will feel much more confident at the celebration, and your legs will not get tired while walking, dancing.
Exclusivity. White wedding ankle boots will add a special charm and a touch of personality to your festive look. The bride in such shoes will not go unnoticed.
Wedding Ankle Tips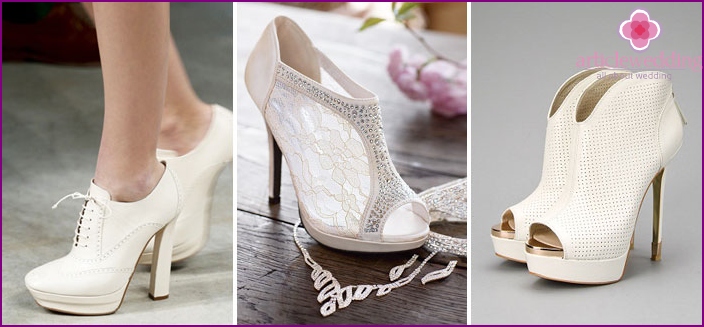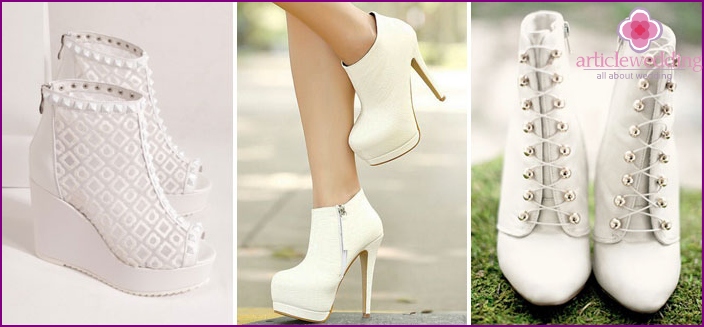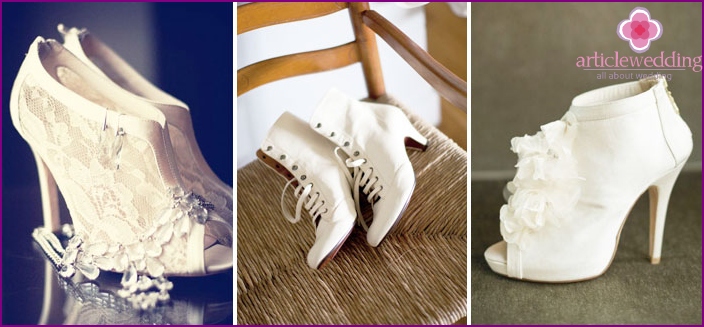 When choosing white wedding ankle boots, you need to know exactly which dress to go down the aisle. It is advisable to first purchase an outfit, and then pick up accessories for it. Shoes should complement the dress, and not go against it. Here's what you should pay attention to when buying:
The size. The main requirement for shoes is beauty and convenience. In the case of wedding models, practicality goes by the wayside, and comfort is more relevant than ever. Be sure to buy the product according to your foot size. Remember that wedding ankle boots should be comfortable and not cause discomfort.
Harmoniousness. Shoes should not attract more attention than a wedding dress. Follow the same style..
Decor Pay attention to how the shoes are trimmed. All jewelry should match your dress without getting out of the overall picture of the dress.
Heel. This nuance is at the discretion of the bride. But if in ordinary life you don't wear high heels, then you should not do this on your own wedding day. Also consider the style of the dress and its length.
Choosing the right model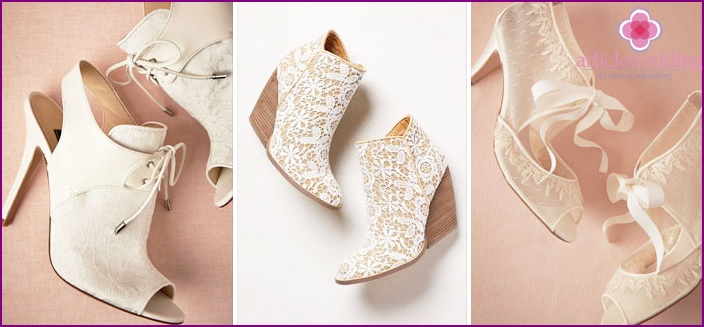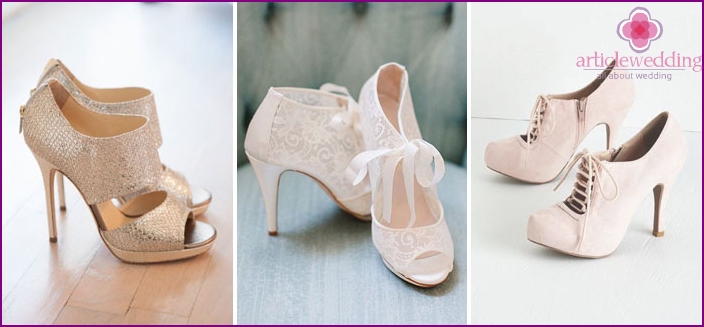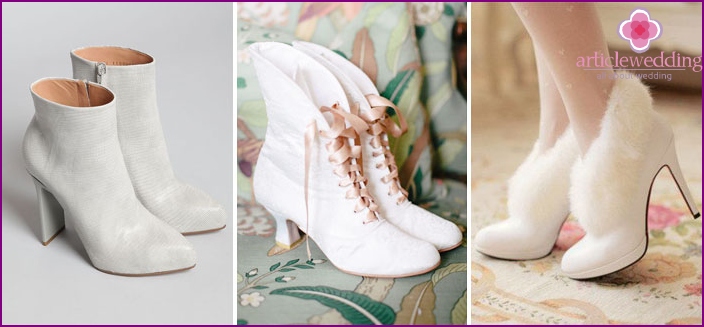 The choice of model of wedding ankle boots will depend on the time of the year when you decided to play a wedding:
If this is summer, then you can choose an interesting model with an open heel on a lace. Please note that the front of the shoe fits snugly on the foot, otherwise it will slip when walking.
Open-toed ankle boots are also great for the warmer months. Such a model should not have a too bulged sock, otherwise the load on the toes will be too much.
If the wedding is planned in the winter, then try to pick up beautiful white ankle boots trimmed with fur. If you wish, you can complement your outfit with a fur coat, then your winter wedding look will become simply irresistible.
In the off-season, such shoes are more relevant than ever. You can choose almost any model: high or low heels, with high or low shafts. The only advice is that it's not advisable to buy bridal shoes made of light suede, as this material tends to get dirty instantly.
Decor Elements
By itself, such a shoe model as ankle boots looks stylish and fashionable for over a dozen years, however, additional decoration will not be superfluous. Such shoes are able to reflect the individuality, brightness of the character of her mistress, complementing the wedding image with a certain mischief. But do not overdo it. If your dress has rich decoration and in itself is capable of attracting looks, it is better to prefer a simple classic shoe model without any additional design.
White wedding ankle boots can be decorated with completely different materials. But the most popular and common types of decor are:
rhinestones;
tapes;
lace;
embroidery;
applications;
lace;
fur.
Photo collection of stylish white ankle boots