Contents
---
---
A wedding is not only the happiest, but also a troublesome moment in the life of every girl. There is so much to do: find a cafe or restaurant, make a list of guests and send everyone invitations, pick up an outfit and remember about shoes. And the last detail - plays an important role, especially in the cold season. If it's winter outside, stylish wedding boots will be a great alternative to shoes. When choosing, pay attention not only to their beauty, but also to the functionality.
What white boots are better to choose for a wedding?
If the celebration is held in the cold season, white boots are ideal. The gentle, sophisticated dress of the bride looks original and spectacular in combination with such shoes. Thanks to a large selection of models of boots, each bride can easily create a refined, elegant, elegant and at the same time creative image. It can be short or long boots, leather, fishnet, on a high stiletto heel, on a stable heel or on a flat sole. Choose shoes for the style of wedding, dress and your own taste.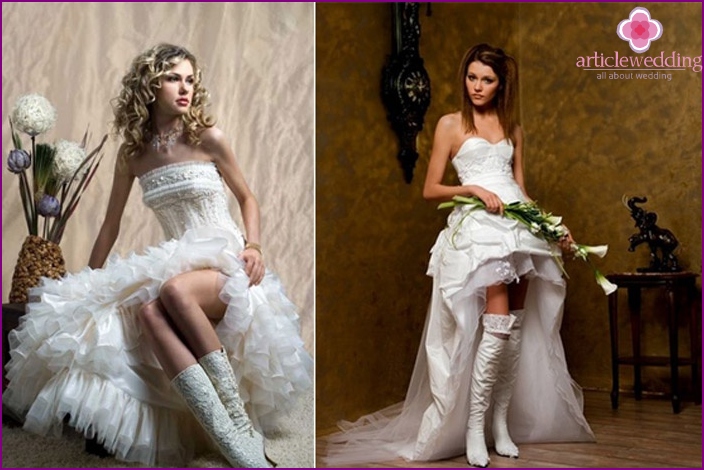 Classic Victorian Boots
A Victorian-style wedding is the decor of a banquet hall in pastel shades, diluted with bright accents (gold, blue, red). It is advisable to sew a young dress to order, and to complement the image, choose massive jewelry, heavy strands of pearls. Invitations are best written on old postcards with a beautiful calligraphic emphasis. Bridal bouquet should consist of roses, additions of forget-me-nots and peonies are allowed. The image of the young will be perfectly complemented by classic white Victorian style boots, without laces and with a small, comfortable heel (no pain!).
Stiletto Ankle Boots
Not only a traditional, but also a solemn version of wedding boots - these are sophisticated ankle boots with thin stiletto heels. Such shoes every day are becoming more popular among brides, which is not at all surprising, because it has a lot of advantages:
boots are universal - they are ideally combined with a magnificent, long or short dress;
such boots are truly exclusive;
they are very comfortable, and thanks to a stable sole, you will feel comfortable throughout the day, even during dancing;
these boots are appropriate in almost any weather, in different seasons.
If you want to create a natural and at the same time original, feminine, sophisticated look, then you definitely need to choose white ankle boots. Designers have created a truly unique model of boots that can reliably protect the bride's legs from the weather. But even after the celebration, they can be safely worn, they go well with both a wedding outfit and a white fur coat..
To look irresistible and to shine in the photo, opt for the varnish version of the boots, which stand out not only thanks to their material, but also to the texture. Having preferred white ankle boots, you will feel like a real queen, and spend the whole day in comfortable shoes. Boots with a shade of champagne look very interesting.

Treads
An original, but very beautiful option for the bride is white wedding boots. No matter how strange it may seem, this model acquires additional tenderness due to the white color. If you opted for a short dress with a long train, then over the knee boots are an ideal shoe option. They will reliably protect in bad weather, emphasize the beauty of slender legs, and also perfectly complement the delicate image of the bride.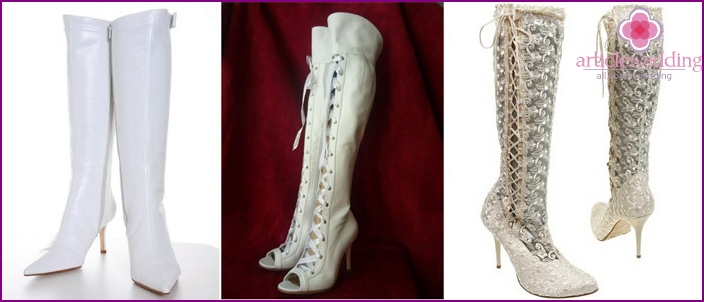 Ankle boots
The natural choice of many brides is elegant, modern, stylish and original ankle boots. This model is perfect for a wedding, especially if the bride plans to spend the whole day in boots without changing shoes. This option is completely without a heel, but it does not put the image of the bride to be refined, feminine.
A walk along the street can become an indispensable part of your wedding, because you still have to go to the photo shoot from the registry office and then to the restaurant. If you do not want to suffer from severe pain in a few hours, after uncomfortable high-heeled shoes, you should opt for wedding ankle boots with a mesh and without a heel, ideal for a summer or spring celebration. You can wear these shoes for a long time after the wedding and remember about a happy day.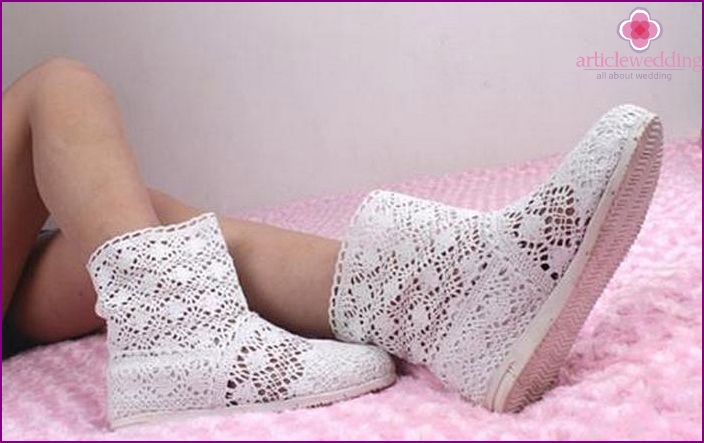 Lace on the shoelaces
Modern brides often wonder if it is worth choosing white lace boots with laces for a wedding, because outwardly they look more like underwear, so they can look vulgar. But such a model of boots goes well with a short flirty dress or outfit made in the Spanish style (a short dress with a chic long train). If you opt for a long outfit, it is better to refuse such lace boots, because not only will they not be visible, but under the skirt you may not feel very comfortable.
Such shoes are suitable for weddings in the summer, and do not worry that it will be very hot in boots. They are sewn from a special, well-ventilated material. This shoe model can be above the knee length or to the middle of the calf. Particular attention when choosing boots should be given to their color, they must fully match the shade of the dress. Recently, a game of contrasts has been popular - for snow-white wedding, along with stylists, stylists advise choosing shoes of the opposite color. When choosing lace boots, forget about it, otherwise it may turn out not just tasteless, but a vulgar image.

Correctly choose the size of the boots - they should fit your leg tightly and resemble a second skin. If they turn out to be large, as a result, the bootleg will begin to gather in ugly folds, and the whole image will look sloppy. And too small boots will cause great discomfort, and you will regret that you chose them. Such shoes with laces look very elegant and stylish, but satin decorative ribbon is often used.
Cowboy boots
If you decide to celebrate a wedding day in the fresh air, white cowboy boots will be the perfect shoe option for you. This model has recently become very popular among brides. For its manufacture, high-quality soft leather or suede is used, and the heels have a stylish wedge-shaped shape. These boots go well with a simple, deliberately sloppy wedding dress, but if you prefer an elegant outfit, these shoes should not be chosen.
Photo collection of white winter boots for a wedding