Contents
---
---
When the perfect dress has already been chosen, the moment comes for selecting shoes - the second main element of your image. She should not only like the bride and be comfortable, but also in harmony with the outfit. Before you go to the store, check out the photo of wedding shoes that will help you decide on the style in advance.
How to choose wedding shoes
The main thing in celebration shoes is convenience. You will have to spend the whole day from morning until late at night, so it's important to take the issue of choice seriously.
Choose the evening time of the day to try on - at this point the foot is slightly swollen. And the shoes chosen at this time will certainly not become a vice for you during the holiday.
Take a piece of your wedding dress with you - the shoes should be the same shade or two shades darker. Along with the ebb tide, satin-trimmed shoes are suitable, with a matte dress, crepe trim will look perfect, if it abounds in lace - pay attention to options with the same elements.
The material must be selected according to weather conditions. Best of all, genuine leather saves from surprises. Its price is higher, but it stretches along the leg, allows the foot to breathe, and in case of rain, the dirt will easily be wiped with a napkin.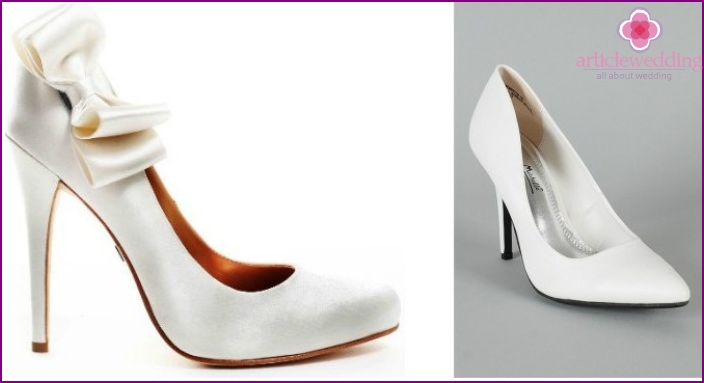 The style of the dress determines the style of the shoe. So, ballet shoes will look great with a shortened version of the outfit, decorated sandals or sandals are best for a dress in the Greek style. For silhouette «Princess» many options are acceptable - a wedge heel or a classic heel will work well. A straight silhouette will be in harmony with the boats, and the original pantsuit - with ankle boots. How wedding ankle boots can look, look at the photo.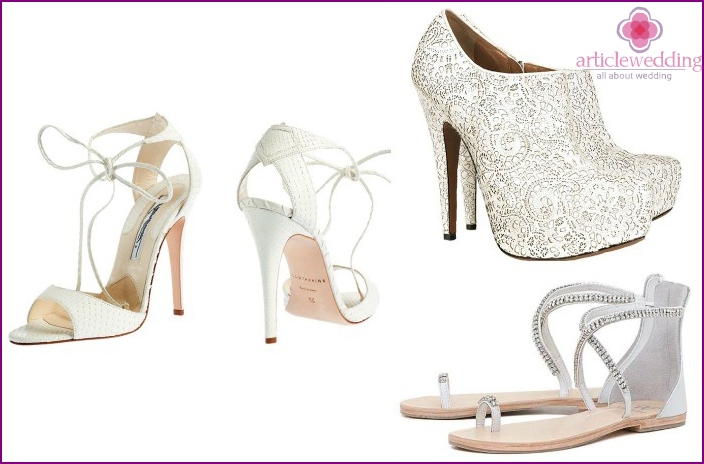 Buy shoes not in stores, but in specialized stores (e.g. Louisa Peeress).
If you wear stockings or pantyhose, you also need to be in them when trying on a store..
Consider the time of year - pick up elegant boots in the winter and sandals in the summer.
You can buy several models. For a walk - boats or ballet shoes, for painting in the registry office - a high hairpin, comfortable steady heel - for a festive banquet and the first waltz of the newlyweds.
Shoe styles
There are many different options for women's shoes for a wedding celebration and combined solutions, the main ones are presented in the photo:
Open models - sandals, sandals.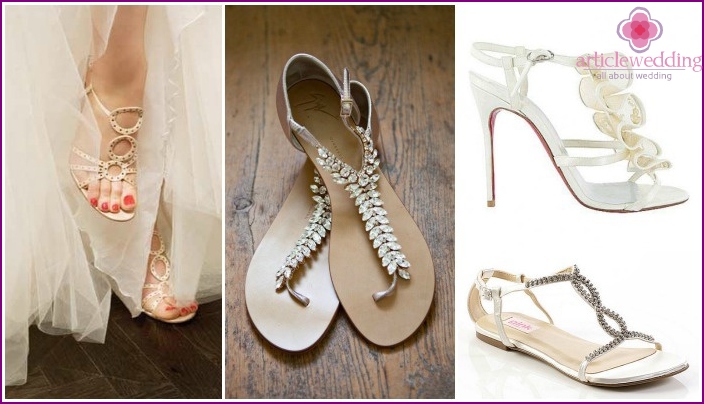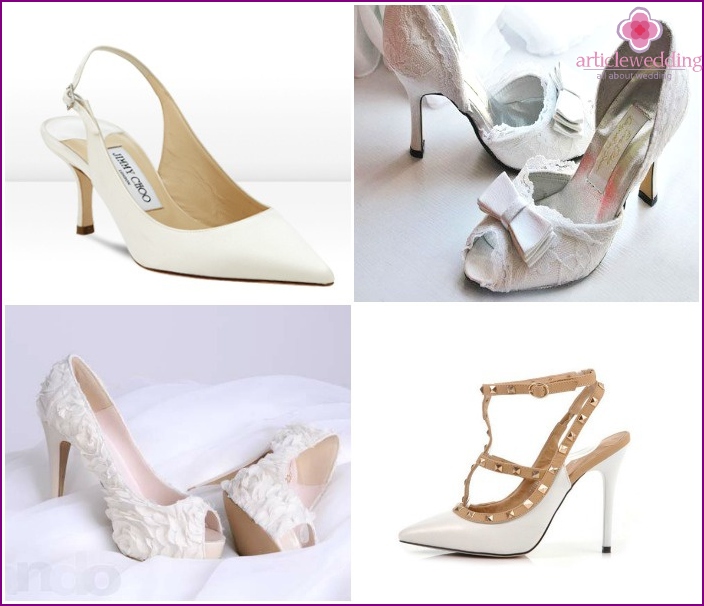 Classic - with a rounded or pointed nose.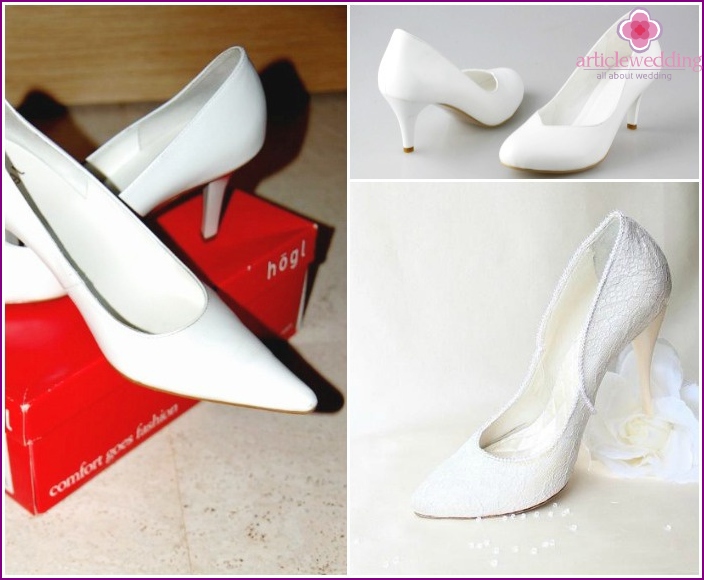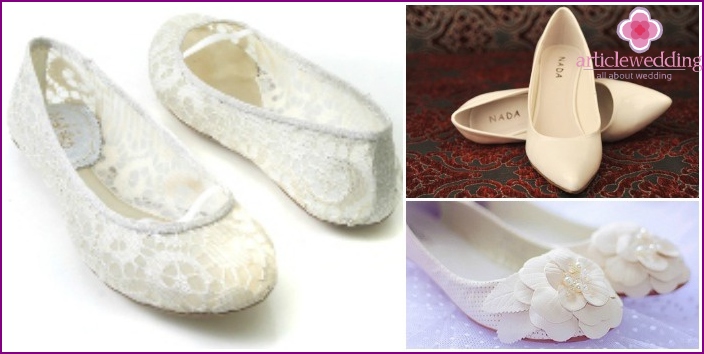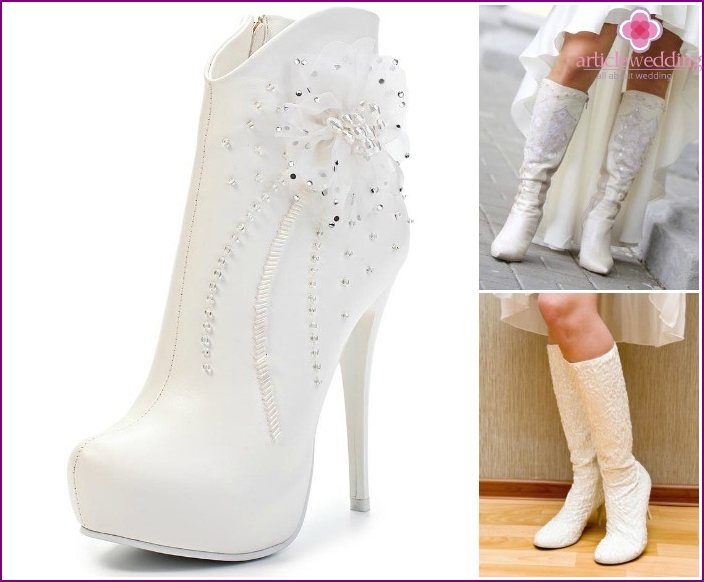 Low heels
Low speed models are comfortable and popular. Girls who choose this option value their comfort. Photos of wedding shoes with low heels are presented below.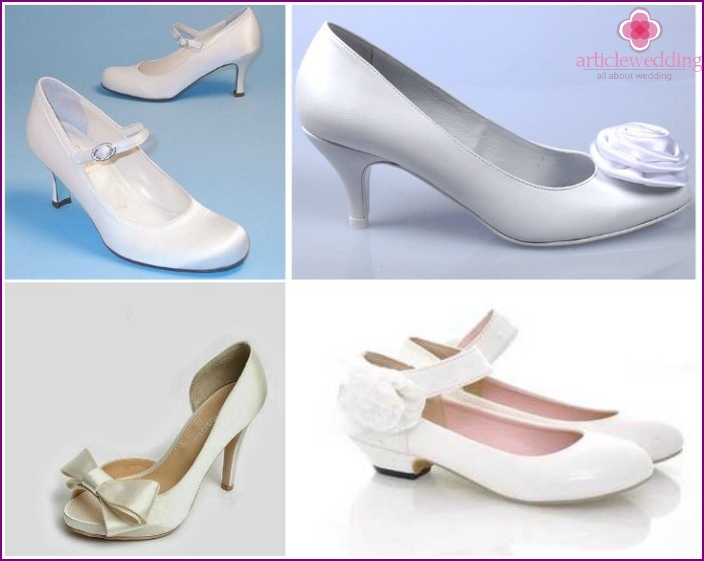 High heels
High heels slim any girl and visually lengthen their legs. If you know how to properly and beautifully stick to them, take a look at the photo of wedding shoes with high heels. Maybe this option is for you? Check out with Photo.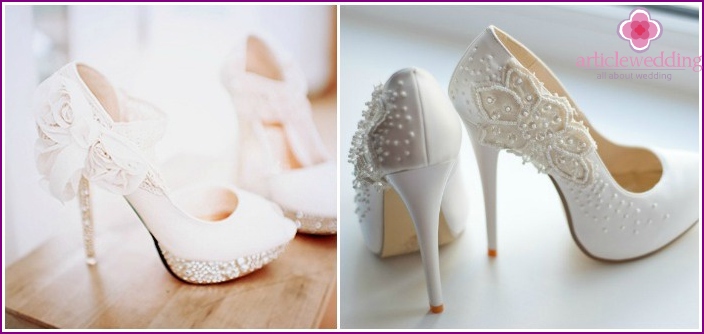 On the platform
If you want to be taller, but worry about sustainability, think about models on a platform with a heel. The extra height created by the platform will make walking easier. Here's what a pair of wedding platform shoes might look like.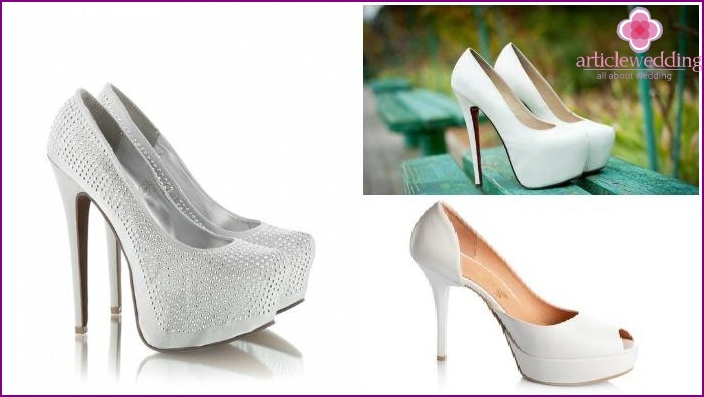 Wedges
Wedges are an interesting and unusual option for the ceremony. To see if you will like it, look at some photos of wedge wedding shoes.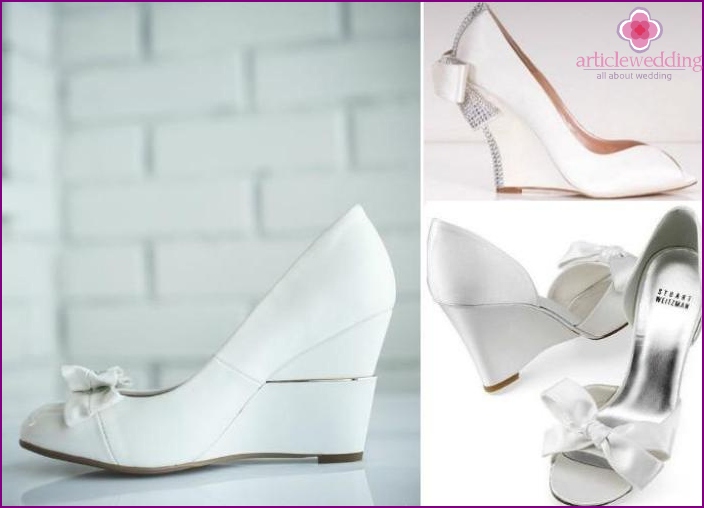 With lace
If your outfit is decorated with this elegant fabric, lace trim shoes will be a good solution for your look. In the photo - wedding shoes of different styles with lace.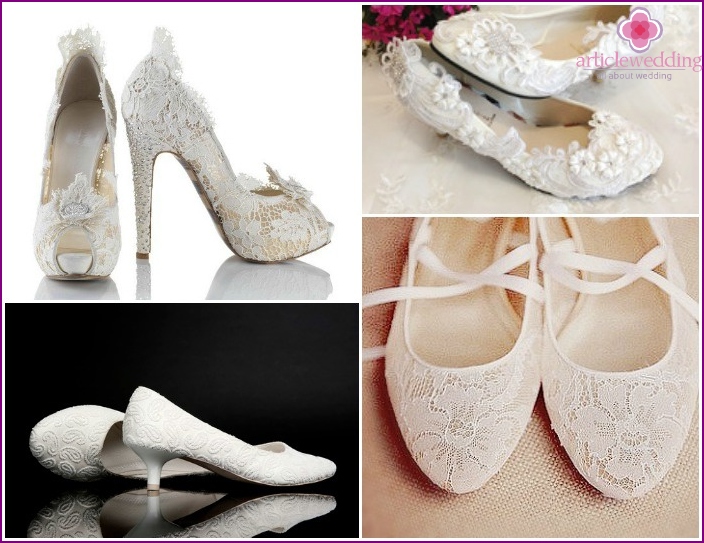 White shoes
White is a classic color for a celebration; most models of wedding shoes are made in this color. But do not forget that there are many shades of it, and two pairs of white shoes can vary greatly in tone. If you have chosen white to create your image, pay attention to the photo of white wedding shoes. Simple and no frills - they will become an elegant addition to your outfit.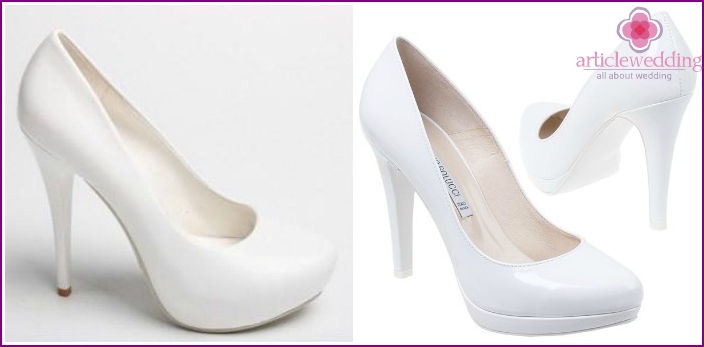 Colored shoes
Ivory color has gained great popularity. A pleasant, delicate shade of ivory dominates the photo of wedding shoes, presented below: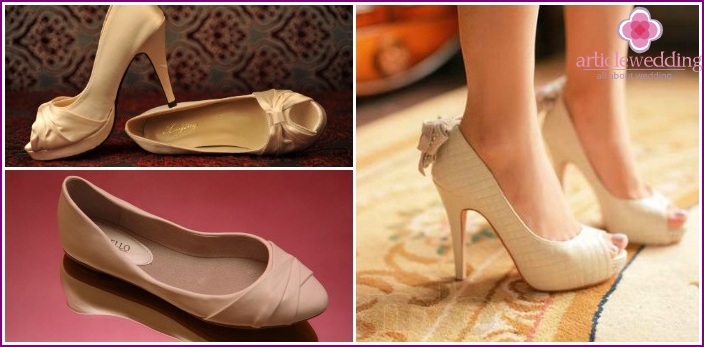 Red-colored wedding shoes may be suitable for girls with a bright nature. Skillfully combine it with red roses in a bouquet or accessories. A calmer version with a bright detail is a red sole. Bright models are presented on a photo: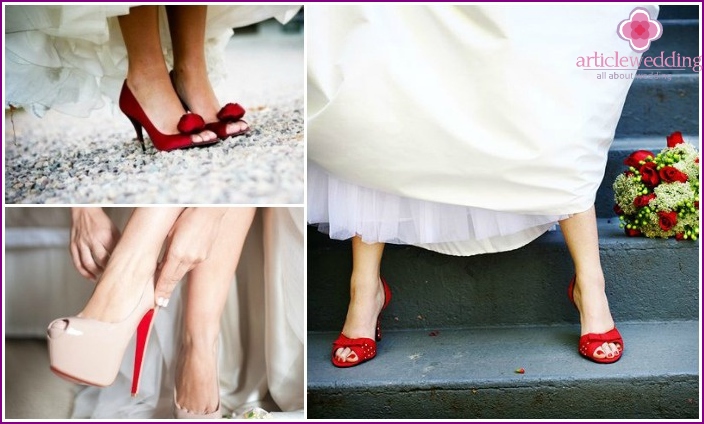 Take a look at the photos of several models of other bright colors.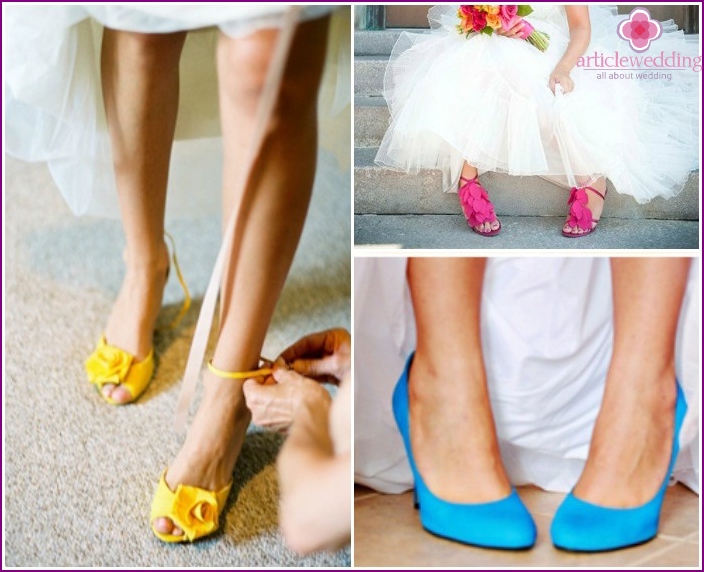 Useful tips from stylists
The recommendations of the stylists will help you make the right choice and avoid mistakes:
If your dress consists of certain decorative elements (beads, rhinestones, sequins, ribbons, sparkles), it is best that the same elements are on the shoes. However, if the outfit is full of them, prefer models with restrained decoration.
Pre-distribute. If you don't do this, on the day of the holiday, after a few hours, you can feel that your legs are very rubbed.
The skirt should be two to three centimeters above ground level. Come try on with new shoes so that your master sews the outfit.
To make the leg seem smaller, buy a model with a rounded cape. To lengthen the foot, on the contrary - select a pointed.
If you do not want to buy a new pair, give a chance to the old.
Every girl knows how difficult it is to find the perfect shoes. Selected for such an important day, they should look beautiful, go up to the dress and sit comfortably on the foot. Only in this case will the bride feel relaxed and comfortable during the celebration.
Tell us in the comments which wedding models you liked and what you would prefer to wear at your wedding.