Contents
---
---
Before the wedding, the bride spends a lot of time trying to find the appropriate details of the wedding image - dress, shoes, handbag, veil, jewelry. But what if no dress style fits or doesn't like? The culprit of the celebration can pay attention to an interesting and unusual option for a festive event: a women's original costume for a wedding. This type of clothing is suitable for ladies of the age who are getting married for the second time, to young girls who prefer elegance and simplicity to elaborate wedding dresses.
How to choose a women's wedding suit?
The tradition of putting on a costume for a wedding celebration instead of a classic dress came to us from Western countries. Modern Russian brides almost never use this type of clothing for marriage, however, many salons provide them with the opportunity to choose from several models of trouser or skirt suits. If the future bride and groom did not find a suitable style in the store, it should be searched on the Internet. What to look for when choosing such a wedding robe and creating an image with it:
Colour. To emphasize the tenderness of the bride, a classic white color is ideal. There are other acceptable shades for the wedding - milk, ivory, sand, champagne, cream, pale pink or pale blue. On brides who decide to choose an unusual dress style, less traditional colors for the wedding look beautiful - red, dark purple, blue and even black.
Material. In order to look great, it is better to choose suits from a beautiful fabric. For example, great options are shiny satin, delicate silk, crepe silk (crepe de chine), taffeta, velvet, linen.
Decor Women's wedding suit is an elegant type of wedding attire that does not accept unnecessary decor. To emphasize the solemnity of the moment, the bride can complement the image with an exquisite antique brooch. But a suit generously decorated with rhinestones, pearls, ribbons or beads risks looking ridiculous. You should not choose an outfit whose creators went too far using fabric decor, even if it is lace inserts, shuttlecocks, draperies.
Style. Each bride and groom wants to look great, so you need to choose a wedding suit according to the type of figure. Unfortunately, this type of elegant clothes is extremely rarely suitable for full girls, but there are options: sets with a pencil skirt or dress, a long jacket that hides full hips can look good on them. But thin brides can safely experiment, putting on models of an unusual cut - asymmetry and non-classical tailoring will only emphasize the refined image.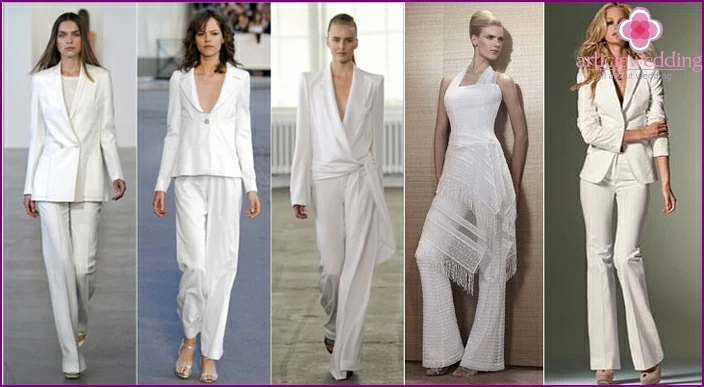 Veil. If the bride certainly wants to appear at the wedding celebration with a veil, it is worth choosing a model that will ideally suit the costume. You have to abandon the long, medium or even short magnificent veil - a woman should use an exquisite veil or just decorate her head with a stylish tablet hat. Hats will look good - wide-brimmed and classic, with some costumes diadems decorated with stone hairpins look appropriate.
Hairstyle. To emphasize the restrained image, you should give preference to neat, smooth styling options. A graceful tail with a fleece, a stylish bun, a hairstyle-shell or retro babette will do. Loose, beautifully styled hair will look good.
Accessories Great importance should be given to the selection of jewelry - pearl necklaces, modest necklaces and watches look good with a classic costume. Graceful belts look good with some costumes..
Shoes. You should also think about shoes: closed high-heeled shoes that will make the bride more slim will look perfect. Ballet shoes can also work, but they should not be worn in the trouser version..
Models of white wedding suits
As a rule, a wedding suit consists of a stylish jacket, trousers or skirt, as well as an elegant blouse matched to the tone. It is necessary to choose a style based on your own preferences and type of figure. But there are models of costumes that are different from the classics, which consist of unusual elements - for example, with a mini-dress or with a skirt-trousers. Each girl will be able to choose it to her taste. Below is a photo selection of these various models.
With skirt
If the newlywed wants to look feminine, elegant - she will suit the option of a classic suit with a skirt. The style of the skirt for the outfit may be different:
stylish miniskirt,
beautiful and strict pencil skirt,
mid-length flared skirt with pleats,
Maxi skirt.
Tight short models will emphasize the slenderness of the legs of the hero of the occasion, while the wide ones will hide lush hips.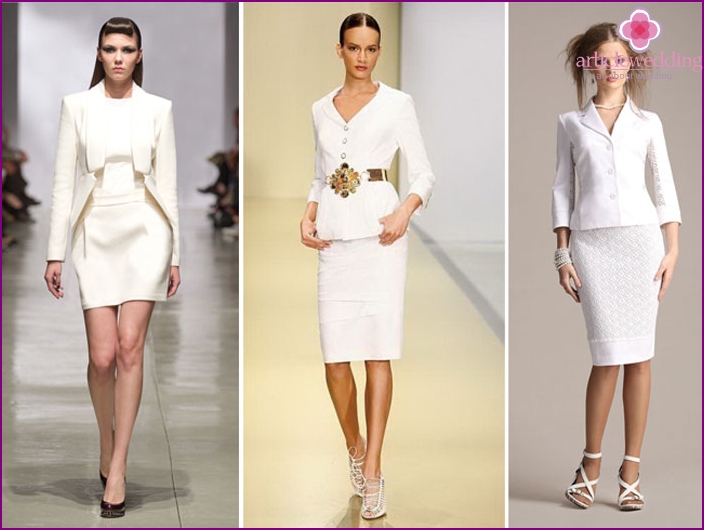 With pants
Pants - an unusual detail of a wedding dress, which will help to hide the flaws of the figure, make the image complete. The fabric can be decorated with embroidery, lace. You should not choose tight-fitting trouser models for a celebration, you should give preference to more rigorous or solemn models - straight styles, completely flared models or with a flare from the knee.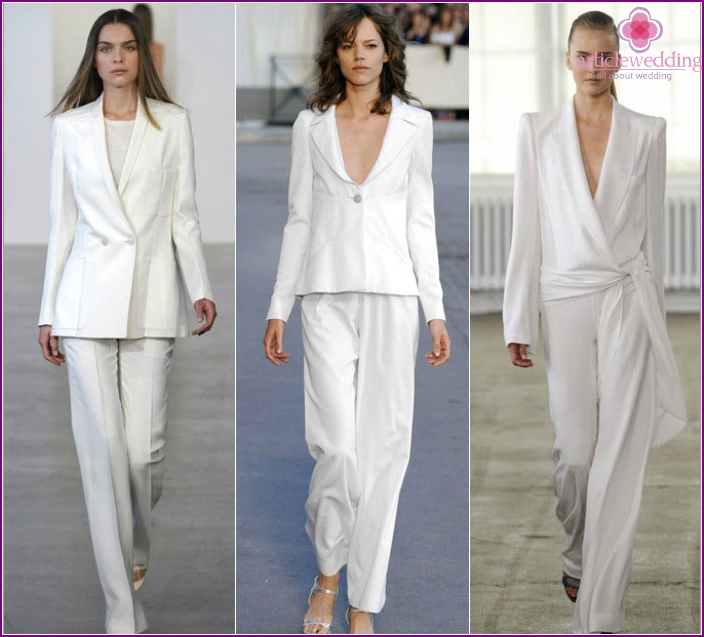 With a jacket
Almost never a wedding suit is worn without a stylish jacket. The bride should pay special attention to his neckline - he is able to emphasize a large breast or hide its small size. The fitted model of the jacket is suitable for brides with a thin waist (an elegant belt will emphasize it). Three-quarter jackets will look good on girls with full arms, and slender brides can choose a shortened sleeve.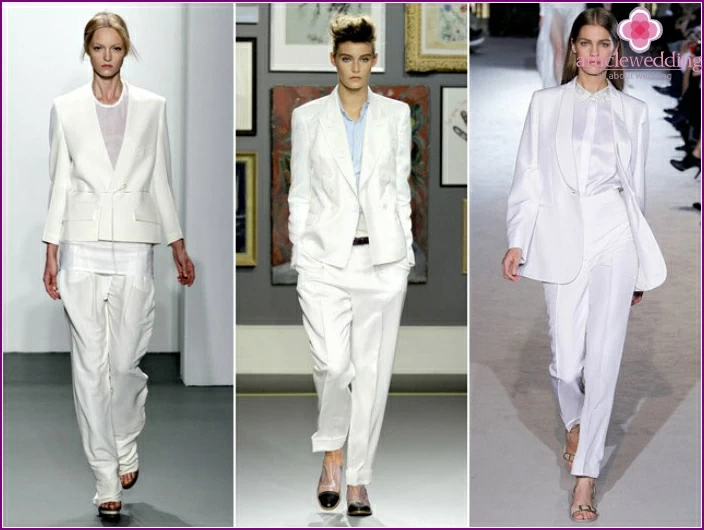 With mini dress
To demonstrate the long legs to everyone present, the hero of the occasion can choose a mini-dress as the main detail of a woman's wedding suit. A small dress that fits the figure favorably, together with a stylish jacket can create both an elegant and playful look. The material for the dress should be dense, in no case should you use stretching thin fabrics.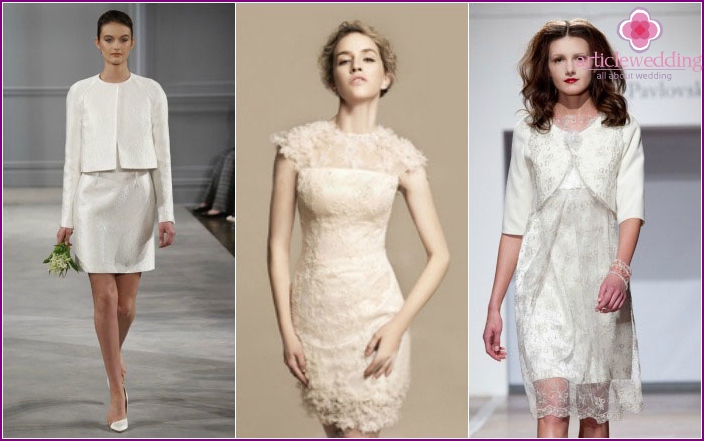 With trouser skirt
A skirt-pants is an option for brides who want to create a romantic, delicate image, but at the same time appear in front of those present in an elegant trouser suit. Wide trousers, visually creating the impression that the skirt is at the culprit of the occasion, can be sewn with cuts - so they emphasize the slender legs of the bride and groom. See a selection of photos with skirts-trousers: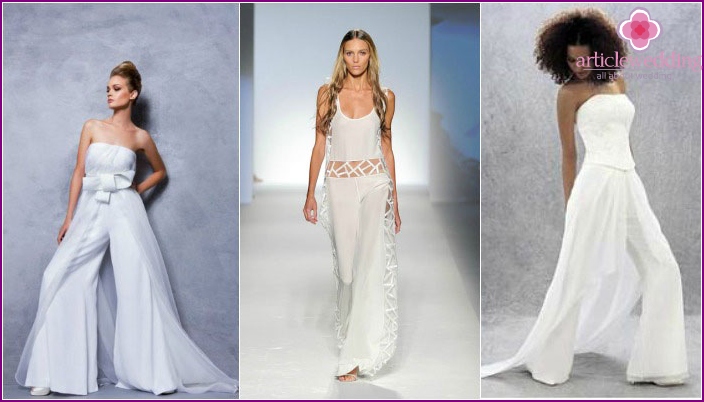 Video: a review of women's costumes by Victoria Dovgan
So that the choice fell on a suitable model, the bride and groom need to review a lot of photos. Then the bride will be able to visit wedding salons and ordinary costume stores, where she can easily find a suitable option for her attractive style. See a selection of photos with trouser suits for the wedding, made by Victoria Dovgan:
Photos of wedding suits of the bride 2016
Fashionable women's costumes for a wedding celebration from year to year provide different fashion houses. As a rule, these options for decorating the catwalks are much fewer than lush lace dresses, but, despite this, fashionistas have much to choose from. See a selection of original, elegant clothes that will decorate brides in the new 2016: